Jennifer Lopez's new music video for "Papi": cute or ridiculous?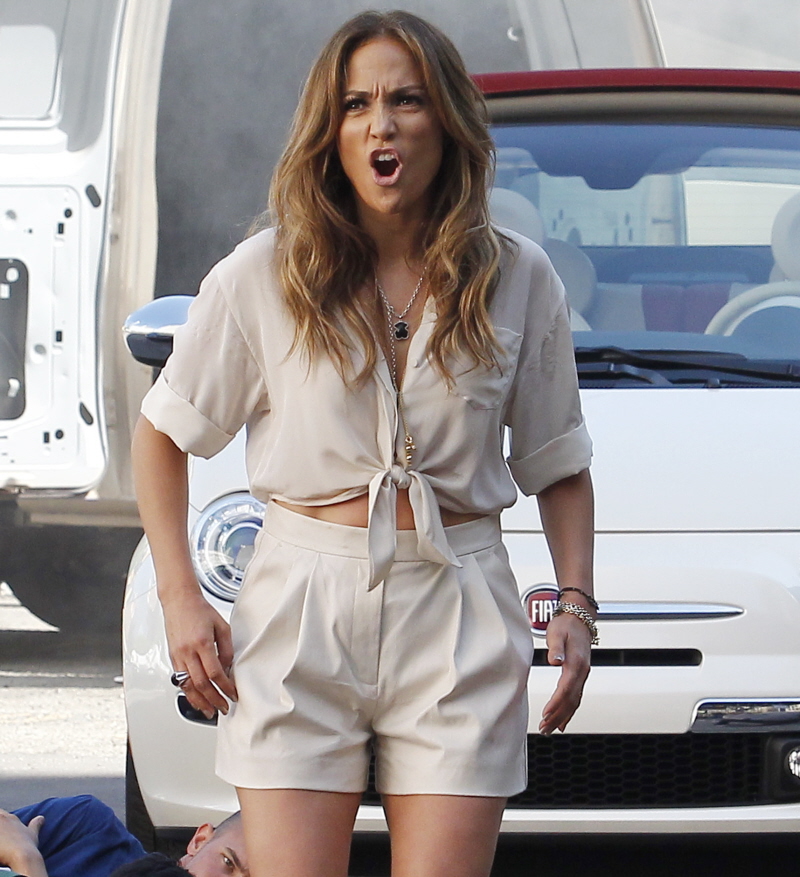 Have you seen Jennifer Lopez's new music video for "Papi"? It's actually kind of cute. It reminds me a lot of that totally awesome Sandra Bullock movie, Love Potion No. 9. God, I LOVE that movie. Remember when it used to come on TV, like, every day? Anyway, Jennifer Lopez takes a bite of a magic cookie because she's told that a small bite will bring back her "Papi". Jennifer accidentally takes a large bite, and because of that, every single dude she comes across gets caught up in the J. Lo Tractor-Beam of Lust. Except… it's not really lust. Because most of the guys seem like Jennifer's gay back-up dancers.
It's cute, right? I'm not hallucinating, right? It's one of Jennifer's most enjoyable videos in a while. Most of J.Lo's recent videos have been all about luxury and excess, this one is just about Jennifer thinking she's the hottest thing ever. Like, of course every dude out there is trying to chase her down. OF COURSE. Also, you may notice the very obvious product placement for Crown Royal, Blackberry and Fiat – that's on purpose. J.Lo got PAID.
Below are some new photos of Jennifer on the set of her new movie, Parker. Yes, that's Jason Statham. I don't even know whose idea it was to put Jennifer with Jason Statham, or who thought it would be funny to put Jason in a cowboy hat. According to Coming Soon, "The movie is based on the book series by Donald Westlake which revolves around a thief who, though at times is forced to be a killer, still lives by a code of honor that includes never stealing money from people who need it. His word is his bond, and if he is crossed he will strike back relentlessly." Sure. Jason and his gigantic cowboy hat will strike back.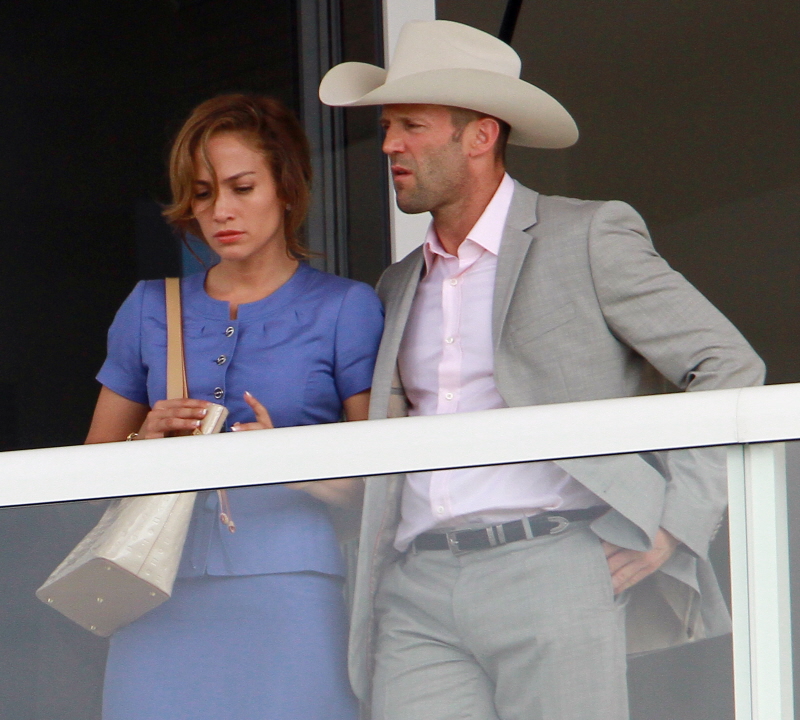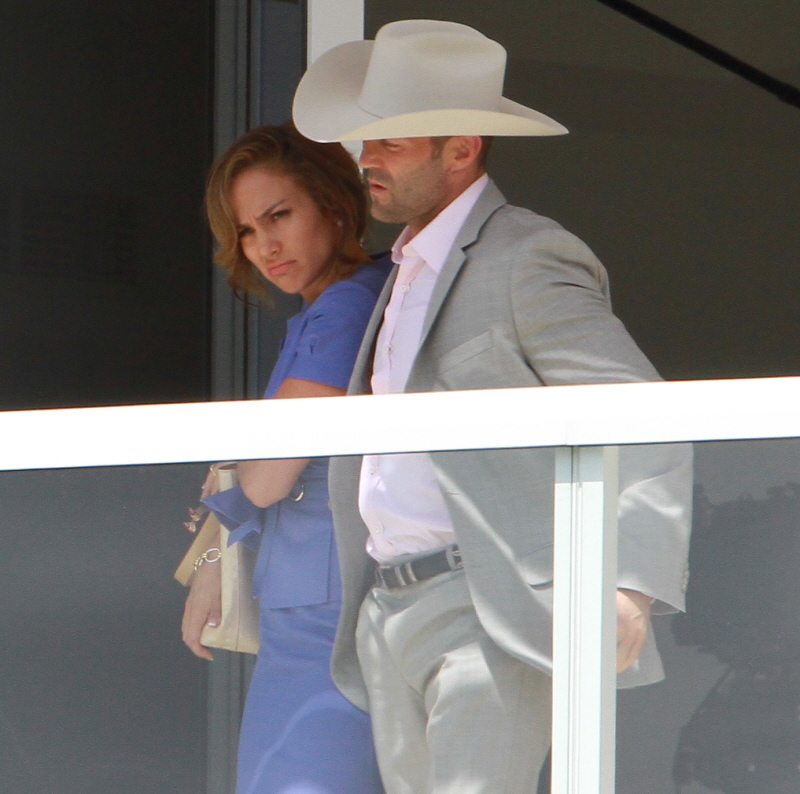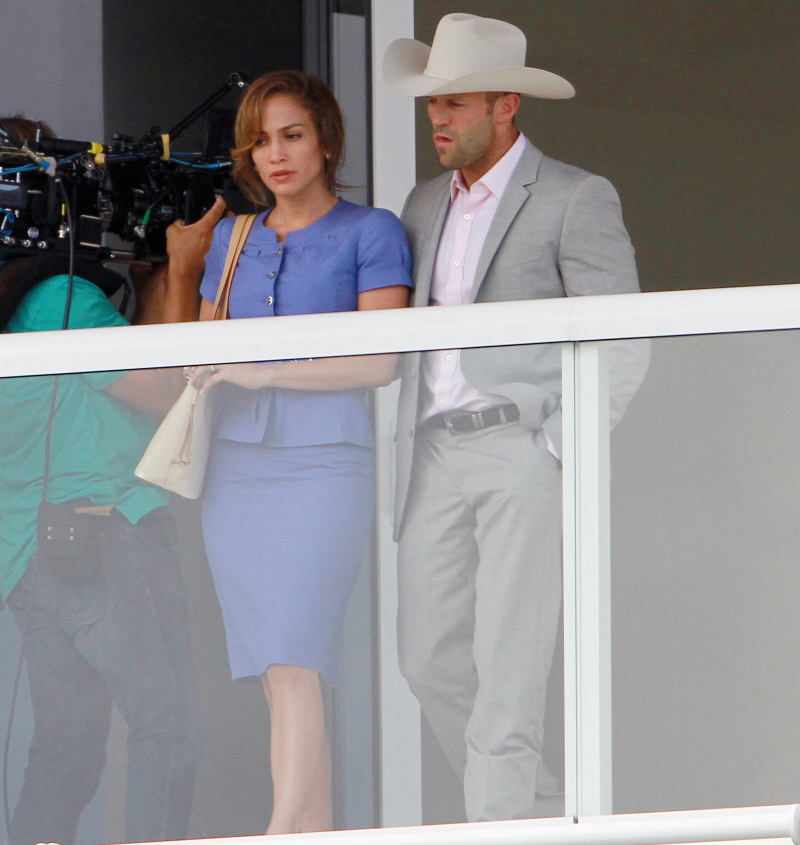 Photos courtesy of Fame.

Written by Kaiser

Posted in Jason Statham, Jennifer Lopez, Music

- Harry Styles & Kimberly Stewart going strong [Lainey]
- Demi Moore's new man is gross [D-Listed]
- Fug or fab: Emma Stone [Go Fug Yourself]
- Arrest warrant issued for Jenelle Evans [Reality Tea]
- Only God Forgives review [Pajiba]
- Hugh Jackman, scooter master [Buzzfeed]
- Who does Drew Barrymore call her sister? [Evil Beet]
- Cannes couples past and present [Popsugar]
- Arrested Development supercut [CDAN]
- Lea Michele's see through skirt [Celebslam]
- Cheating wife's lover escapes out of window [Movin925]
- Joe Francis is crazy [Starcasm]
30 Responses to "Jennifer Lopez's new music video for "Papi": cute or ridiculous?"