Alex Skarsgard for Out Magazine: "When you're bored, just have sex"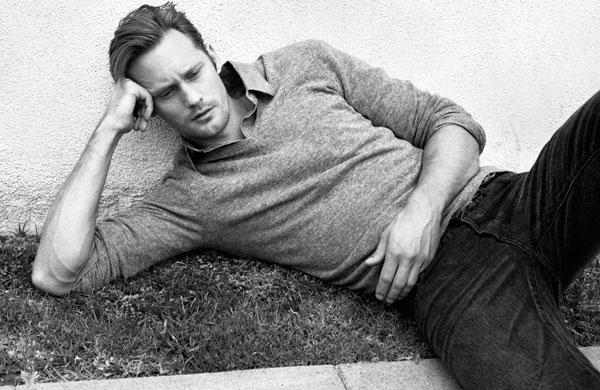 Out Magazine features the lovely Alex Skarsgard on the cover this November. The photo shoot is very similar to other pictorials we've seen with Skars lately: brooding, well-dressed and emphasizing his finely honed physique. The interview features Alex chatting with an Out reporter and his friend and fellow Swede Jonas Åkerlund, a music video director who helped Alex land a guest starring role in Lady Gaga's "Paparazzi." Alex and Jonas riff off each other while talking about their homeland. Out mentions that Sweden incredibly popular in the media lately thanks to high profile Swedish musician from and actors like Alex. Some of the interview was funny, and there were some semi-serious cultural differences brought up that rang true for me. I haven't been to Sweden, but I've lived in Germany for years and there are similar differences between US and German culture. Here's more:
Alexander Skarsgård: I love my country. I always love talking about it, especially as an expat. When you live there you bitch about everything, but when you move away, all you remember is how amazing and wonderful it is. You remember all the sunny days and forget the rainy days.

Skarsgård: There's something about the sincerity that I miss in America. When someone asks, "What do you think of this painting?" or "How do you like these shoes?" I would take a second and actually look at the shoes or painting and say, "I like it." Some people are kind of uncomfortable with that. When you ask, "How do you like my shoes," they say, "I LOVE THEM." They say, "YOU LOOK AMAZING; I LOVE IT!" At the same time, the reason Swedes can hold back is just because they don't want you to think that you're special or great or better than they are. At least when people in the U.S. like something, they say it.

Skarsgård: Even if you have money in Sweden, it's frowned upon to show off. In L.A., you see all these people driving around in yellow Hummers and wearing rhinestone dresses, and they live in fake palaces. Ingvar Kamprad, the founder of Ikea, was riding around in a beat-up old Volvo from 1980 until just a couple of years ago.

Skarsgård: And that always strikes me as weird because parents in the States freak out if their kids see a nipple or a butt cheek, but at the same time they're OK with their kids watching people bash each other's heads in with baseball bats. I notice in interviews in the U.S. all people want to talk about is nudity. You have a half-hour interview, and you spend 25 minutes talking about the nude scenes, and of course, if it makes sense as a scene, I'll do it. I don't even think someone — some guy who doesn't know any gay people or black people, who may have all these prejudices — if that guy watches the show and thinks, I really like this character, then you've done something pretty good.

Skarsgård: Also, I think part of the reason why there are so many musicians coming out of Sweden is you're encouraged to play an instrument, or to sing and be creative, from a very early age, and it's free. It's a combination of a good school system and the long, dark winters. Because that means people sit in their garages and play music for five months because it's too cold and dark to be outside.

Åkerlund: That's the boning season. [Laughter] And then it's spring, and that's also boning season. And summer's the best boning season.

Skarsgård: And that's also why we're so liberal and so cool with our sexuality — because we f$ a lot [laughter].

Åkerlund: How much time can you spend playing the drums?

Skarsgård: When you're bored, just have sex.
[From Out Magazine]
I don't think it's particularly sincere to be upbeat and super positive about everything, but I totally missed that aspect of the US when I lived in Germany. It just feels better to me to be positive, which Germans usually consider over-the-top the way we do it. Also, I totally agree with the nudity vs. violence in our culture argument. It bothers me that violence is so prevalent in the US but that normal non-sexual nudity is still considered taboo.
I love that Alex is cool with being on the cover of Out even though he's probably heterosexual. Some may think the verdict is still out on that one, given this drunken video of him biting and licking a dude, but I think he just messes around with his friends like that. It does give new meaning to the comments about having sex when you're bored though. The possibilities sound hot to me.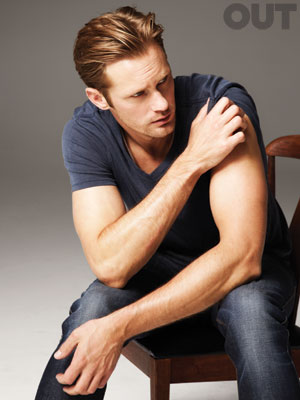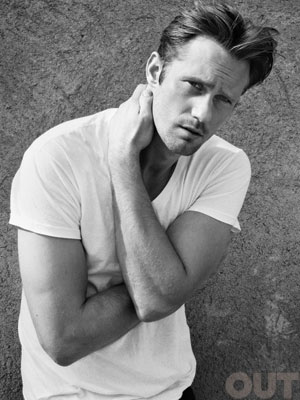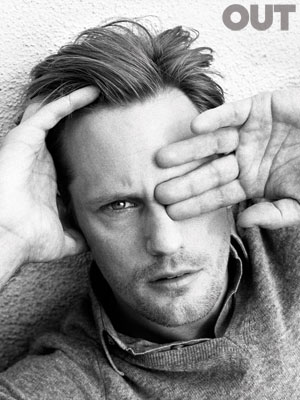 Written by Celebitchy

Posted in Alex Skarsgard

- Mariah Carey lip synced on American Idol [CDAN]
- Colin Firth is looking good [Lainey Gossip]
- Internet celebrity charged with murder! [D-Listed]
- What is Paz Vega wearing? [Go Fug Yourself]
- New bachelors on The Bachelorette [Reality Tea]
- Goodbye to The Office [Pajiba]
- Bachelor Sean's fiance cheats on him [Evil Beet]
- Britney Spears out with her man [Popsugar]
- Nina Dobrev works it [Popoholic]
- Cindy Crawford needs to lay off the 'tox [Celebslam]
- Who said it: Carrie Bradshaw or The Dalai Lama? [Buzzfeed]
59 Responses to "Alex Skarsgard for Out Magazine: "When you're bored, just have sex""