Dakota Fanning's suggestive Marc Jacobs ad banned in the UK for sexualizing a child

Do you remember this really obnoxious, offensive Dakota Fanning for Marc Jacobs' Lola perfume ad, above? Kaiser covered it back in June when it came out, and she mentioned back then Dakota's parents should oversee their daughters' photoshoots more closely, especially when it comes to their up-and-coming 13 year-old daughter, Elle. At least Dakota was all of 17 when she shot this ad, which is still underage but isn't 13, you know? Well the Advertising Standards Authority in the UK has banned that ad, saying that while Dakota may be over 16 she's styled to look like a much younger girl and that the photo appears to be sexualizing a child.
A provocative ad campaign for Marc Jacobs perfume featuring 17-year-old Dakota Fanning, the US actor who has starred in films including War of the Worlds and Charlotte's Web, has been banned following accusations that it sexualised children.

The magazine campaign, which featured in the London Evening Standard's ES Magazine and Sunday Times Style magazine, featured Fanning wearing a short skirt and holding a bottle of Marc Jacobs perfume in what the advertising regulator deemed a "sexually provocative" position between her legs.

The Advertising Standards Authority received four complaints from that the ad was offensive and irresponsible because it portrayed the young model in a "sexualised manner".

The press ad ran with the strapline "Oh, Lola!", the name of the perfume, which is produced and distributed by Coty UK.

Coty UK, ES Magazine and the Sunday Times Style magazine said they had not received any complaints about the campaign.

Coty said that most readers of the titles would be over 25 years of age – the target age for the perfume – and the type of picture was "similar to many other edgy images in those magazines".

The ASA said that the way the perfume bottle rested in Fanning's lap was "sexually provocative" and considered that the actress actually looked to be under the age of 16.

"We considered that the length of her dress, her leg and position of the perfume bottle drew attention to her sexuality," the ASA said.

"Because of that, along with her appearance, we considered the ad could be seen to sexualise a child. We therefore concluded that the ad was irresponsible and was likely to cause serious offence."

The ASA banned the ad in its first ruling since a Downing Street summit in early October attended by senior executives from from the media and retail industry – including broadcasters, magazine editors, trade bodies and advertisers – who updated the prime minister about cracking down on the "sexualisation" of TV programmes, advertising and products that may be inappropriate for children.
I appreciate how the Advertising Standards Authority tries to keep ads in the UK in check, particularly cosmetic ads. They've banned some overly photoshopped ads and required mascara ads using falsies to include disclaimers informing consumers. (They haven't been as aggressive towards ads for hair products that use models with hair extensions, however.)
This ad just goes beyond what should be acceptable for a young girl, though. I like that they're pointing out that Dakota was styled to look younger, not more mature, while holding a perfume bottle between her legs that looks like a phallic Georgia O'Keefe painting blooming from her crotch.
Getting back to Dakota and her little sister, Elle – they just did a photoshoot for notorious perv creeper Terry Richardson. I like that when you google his name this article on Jezebel is the fourth result. He doesn't care at all. Sexually abusing young models hasn't hurt his career one bit. I hope that the Fanning sisters had an entire entourage with them when they did this shoot.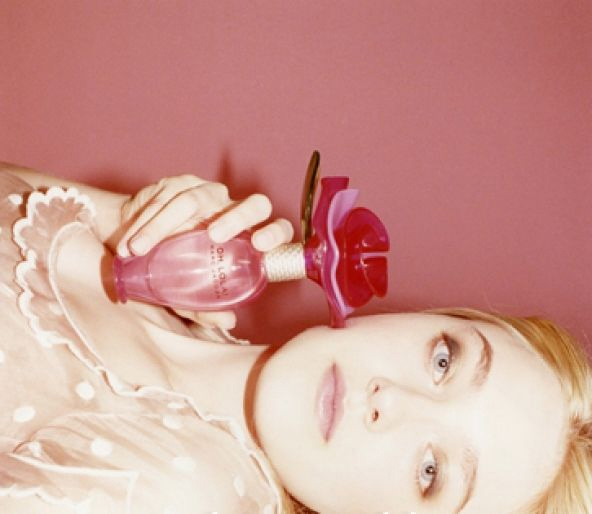 Written by Celebitchy

Posted in misc

- Zach Galifianakis is awesome [Buzzfeed]
- Prince at the Billboard Music Awards [D-Listed]
- Bieber's Billboard look [Go Fug Yourself]
- Married to Medicine recap [Reality Tea]
- Celebrity first marriages [Pajiba]
- The last Mad Men baffled a lot of people [Lainey]
- Karolina Kurkova's crazy hot dress [Moe Jackson]
- Jennifer Garner on set [Popsugar]
- Kitten vs. Lizard [CDAN]
- Doetzen Kroes' great butt [Celebslam]
- Shameless star Jeremy Allen White [OMG Blog]
- RIP Ray Manzarek [Bossip]
83 Responses to "Dakota Fanning's suggestive Marc Jacobs ad banned in the UK for sexualizing a child"