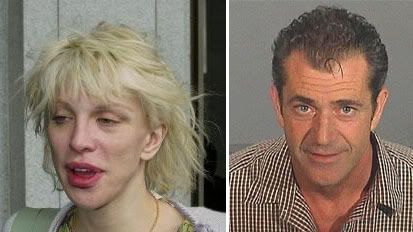 According to a Courtney Love fansite, Mel Gibson once visited her in her hotel room and staged an intervention for the troubled rock star. When a high Courtney refused to let Mel in, he waited until a delivery guy came to the door and then busted in. It's unknown exactly what happened in that hotel room over a year ago, but Courtney got sober soon afterwards and now considers Mel her personal saviour:
Mel Gibson's true role in Hollywood is not Resident Anti-Semite/Action Hero but rather Addiction Counselor to the Stars. A source close to Love reportedly said that Courtney considers Gibson a personal savior. Once, a year or so ago, Gibson apparently straightened Love out when she was in a bad place. "Gibson tried to enter her hotel room to help her but she would not let him in" this source reports. "He hung out until a delivery came to her room, and then he snuck in the door behind the delivery guy." According to the source Gibson talked Love down and convinced her to go back to rehab.
That's ironic and all considering that Mel never went to rehab himself after his high profile DUI arrest over a year after supposedly saving Courtney. He entered a "program of recovery" which was presumed to be outpatient since he never checked himself into a facility.
I didn't pay attention to Mel Gibson's two part drawn-out interview with Diane Sawyer because I was really sick of him at that point, but considering that he said he felt "powerless over everything," it's safe to assume that he's going to AA meetings.