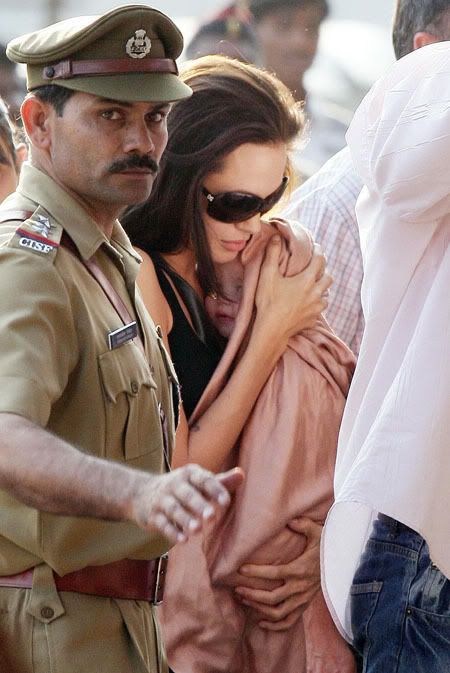 There's a report that Angelina wants to adopt an Indian baby that she plans on naming – get this – India. There were stories when Angelina was pregnant that she was going to have a boy and name him "Africa," because that's where she was at the time. Someone's making up a story that Angelina plans to adopt a baby now, which isn't much of a stretch considering that both she and Brad have admitted to wanting a soccer team full of kids.
Sources say the big-hearted actress and partner Brad Pitt have already applied to adopt a tot from an Indian orphanage. An insider said: "They hope to be able to bring the child home by Christmas.

"Brad would prefer a boy no older than 18 months to even out the sexes but Angie has told him she can't guarantee she won't fall in love with a little girl."

The source told US magazine Globe: "Whichever they end up with, they'd like to name the child India to honour its homeland." The pair are rumoured to have visited the Priva Darshini orphanage in the last month.
This is not true, because these two are stalked wherever they go and if they were at an orphanage we would have heard about it. I could be surprised, though, because I thought the story that they were going to leave Paris so that Angelina could give birth in Africa was total bullshit. I mean, who would believe that before it actually happened?
If Angelina does adopt an Indian baby then we can all move on from worrying about the plight of little Davie Banda-Ritchie. He's sure to be a hellraiser in his teens, but he'll be a snotty British emo kid instead of a disaffected indifferent American like Maddox, I mean India. (Or was that Africa? I forget.)