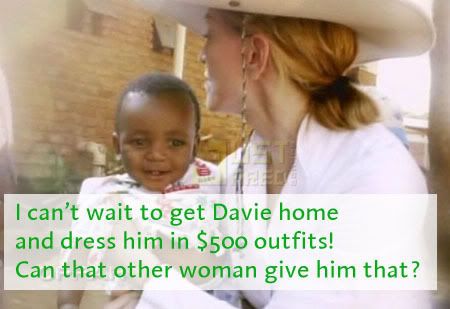 There's a report that a South African woman was interested in adopting baby David Banda, and that she was coming back for him shortly and presumably intended to live in Malawi for a year and a half according to adoption regulations there. These laws help protect vulnerable babies from being snatched by rich pedophiles and fickle sensationalist pop stars. Madonna is even said to have been told that this other woman wanted to adopt Davie, but just like the fact that the boy had a father, that obviously didn't deter her. Whatever Madonna wants, Madonna gets:
According to the administrator at the orphanage Lucy Chipeta, a South African national visited the orphanage a few months ago and expressed the desire to adopt David, whose mother died soon after delivery in September last year.

"I think David is a lucky boy," Chipeta said at the weekend adding that Madonna was told about the matter but she insisted on taking David.

The South African was expected to visit the country again to start the adoption process. She will have to look for another orphan now that David is Madonna's new baby pending finalisation of the adoption.

According to Chipeta, the orphanage presented to Madonna a set of orphans, some of them without both parents, but the pop diva fell for David although she was told about the impeding adoption by the South African.

David underwent an HIV test at a government hospital and was diagnosed negative. Madonna's own medical team conducted another test and confirmed the earlier results.
"But even if he was found to be HIV positive, Madonna indicated she would still take him because all she wanted was to know his HIV status," Chipeta said.
You can think, "Well, Madonna was there first, and who knows if this other person would have followed through with the adoption?" and that's partially valid. When the other woman had to rearrange her entire life to adopt Davie because she needed to live in Malawi for 18 months first, is it any wonder she went home to get her affairs in order first?
Davie is reportedly doing well, and Madonna has outfitted his nursery with enough crap to make his family's entire village self sufficient.
His father has said that he doesn't want to take Davie back despite saying earlier that he didn't really understand the fact that adoption is legally permanent. He also said that Madonna's claim on Oprah that his wife and two other children died of aids is not true and is incredibly stigmatizing to his family.
Moreover, Yohane Banda says that he did visit David at the orphanage often and that his mother and brother went to see the baby too. Madonna claimed on Oprah that none of Davie's "extended" family went to see him. It's possible that officials told Madonna a bunch of lies about Davie's family because they didn't want to jeopardize her huge donation. Why would she use the word "extended" though unless she knew that the boy's father had seen him at the orphanage?
People are saying that adoption laws need to be reformed so that other children can get a shitload of designer baby gear instead of a supported life in Africa, and maybe they have a point. The answer is not to let wealthy people donate orphanages and take home a baby in less than a month, though. There has to be some sort of compromise that protects children from predators while making sure that the people left behind get the support they so desperately need – without red strings attached.
The trolls are out in full force on these Madonna posts. If you don't agree with me you're welcome to give your opinion, which I respect. Most people who are on Madonna's side explain it clearly and logically. (Thanks Elisha!) Attacking people personally for having a different opinion than you do is called an ad hominem attack and it's the weakest argument there is. Calling someone fat instead of addressing their points is pretty unconvincing. It makes no sense.
Also, as long as something is making headlines I will cover it. (Mr. T) I do my best to listen to you and take your concerns seriously, but I have a job to do and if I ignore every story or celebrity that someone is sick of I'll have nothing left to gossip about.
Madonna swooped into a third world country and took home a baby with a father after a couple of weeks. She managed to completely flout adoption laws by dropping a bunch of cash on a Kabbalah-themed orphanage. Who knew that would be so polarizing an issue?