Exclusive: are Nicole Kidman and Keith Urban already married?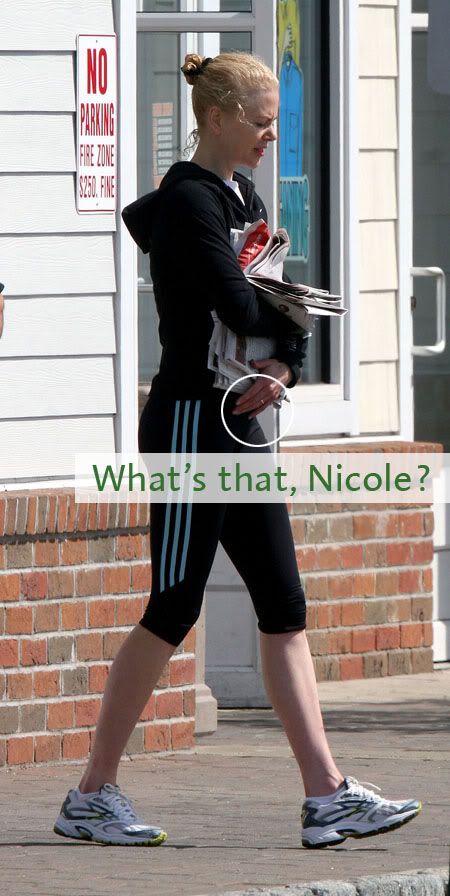 Nicole Kidman was photographed leaving a Starbucks in the Hamptons on 4/21 while clutching a pile of papers. Commentors on the bulletin board where we found the pictures note that she looks like she's covering a baby bump, especially in a side picture (shown inset) that seems to show a lower-stomach bulge. No one noticed that she's wearing what looks like a wedding ring on her left ring finger, though, suggesting she may have already married her boyfriend of less than a year, Keith Urban.
People have suggested Nicole is pregnant for a few weeks, and that she's planning a wedding to country singer Keith Urban. With these new pictures of Nicole hiding a baby bump and wearing a wedding ring, she may be confirming that both rumors are true.
Meanwhile someone made up the quote from Kidman wishing just Katie Holmes and her baby well, and seeming to deliberately leave Tom out:
The Australian actress was quoted yesterday saying "I hope mother and baby are doing well" after hearing news of Suri's birth earlier in the week.
However, Kidman's publicist Catherine Olin has vehemently denied her client ever passed on her good wishes to the happy couple.
She fumes, "I've been deluged with press queries on the back of this and I'm completely taken aback.
"Ms Kidman never issues statements about her personal life. I'm her publicist and I never released this statement."
If Kidman is indeed pregnant and married, the press will soon be focussing on her and not as much on her freaky ex and his new baby.
Pictures [via]
Written by Celebitchy

Posted in Babies, Keith Urban, Nicole Kidman, Photos, Weddings

- Friends reunion on Ellen [Popsugar]
- Lindsey Vonn watches Tigers kids [Lainey Gossip]
- George Michael fell out of a car going 70mph [D-Listed]
- Real Housewives of Orange County recap [Reality Tea]
- New Man of Steel trailer [Pajiba]
- Jared Padalecki's hot bod [Buzzfeed]
- Doctors confirm Taylor Swift's new boobs [Evil Beet]
- Catherine Zeta-Jones finished treatment [CDAN]
- Anna Paquin hates the paps [Celebslam]
- Lance Armstrong is gross [The Blemish]
- What is Barbara Palvin wearing? [Moe Jackson]
- This is Petra Nemcova? [SVC]
One Response to "Exclusive: are Nicole Kidman and Keith Urban already married?"