Beyonce claims she had a natural birth, Jay-Z reveals Bey's previous miscarriage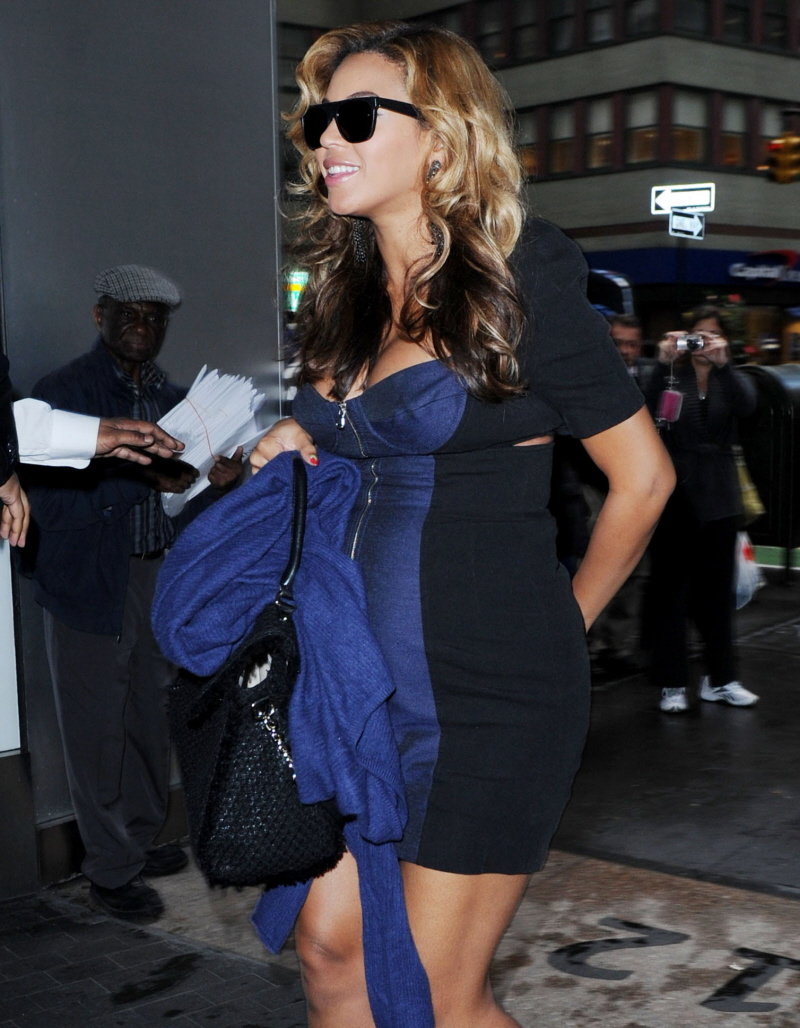 There are about 20 million stories regarding Beyonce, Jay-Z and little Blue Ivy, who was born on Saturday at Lenox Hill Hospital. Allegedly. For convenience, I'm just going to do all of the new stories in bullet points.
*A new (peasant!) father was trying to get into the neonatal intensive care unit to see his newborn, premature twins, but he was shut down by Bey and Jay's bodyguards – they shut down the entire NICU, allegedly, by shelling out $1.3 million to Lenox Hill. The father is pissed, and some of the parents who were manhandled by Bey and Jay's bodyguards are considering a lawsuit.
*However, the hospital denies both the "closing off the NICU" story and the "$1.3 million" story. A spokesperson for the hospital told TMZ: "The suggestion that the couple paid $1.3 million to rent an entire maternity floor is simply not true. The family is housed in an executive suite at the hospital and is being billed the standard rate for those accommodations. The family does have its own security detail on site. However, the hospital has been and continues to be in control of managing all security at the facility. We have made every effort to ensure minimal disruption to other families experiencing the births of their own children over the past three days."
*Jay-Z already has a song about his new daughter. It's called "Glory (feat. Blue Ivy Carter)". Apparently, it features a clip of Blue Ivy crying just moments out of the womb (whose womb?). Jay also makes a reference to a previous miscarriage that Beyonce suffered – that no one knew about before now. Sad. Here's the song, with the lyrics appearing in the video:
*Lastly, Bey and Jay issued a statement about the birth. According to the official story that Jay and Bey are now putting it out, there was NO C-section involved. Bey wants everyone to know that she was NOT too posh to push. I'm sure she'll be singing about the "pain" too, right? Here's the statement:
Hello Hello Baby Blue!

We are happy to announce the arrival of our beautiful daughter, Blue Ivy Carter, born on Saturday, January 7, 2012. Her birth was emotional and extremely peaceful, we are in heaven.

She was delivered naturally at a healthy 7 lbs and it was the best experience of both of our lives. We are thankful to everyone for all your prayers, well wishes, love and support."
[Via Us Weekly]
Do you believe her? Do you believe any of this? Do you believe that Beyonce was really and truly pregnant all of this time, that her magical bump kept going up and down in size on its own, and that she carried to full-term (while flying all over North America) and she went into labor and that she delivered naturally and vaginally? SERIOUSLY?!?!?!!? Granted, I feel bad now that I know Bey and Jay had gone through a miscarriage before… but I honestly think that piece of information can be used for the surrogacy case. Maybe Bey really did have problems conceiving and/or carrying to term, thus, they used a surrogate. I don't know. But I find the initial reports of a "scheduled C-section" versus "Oh, no, I had a natural birth!" contradiction to be just another in a long line of suspicious activities. Maybe Bey just decided "In for a penny, in for a pound." She's lied about so much, why not make up a fake natural birth?
Beyonce when she was seven months pregnant: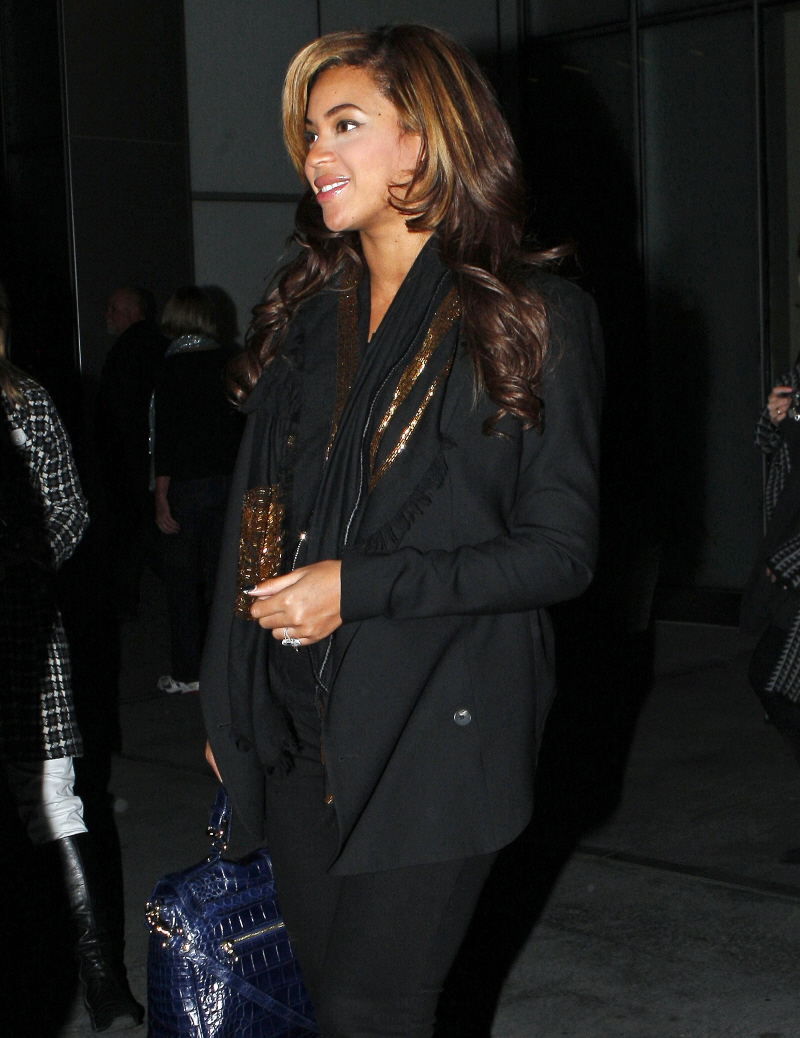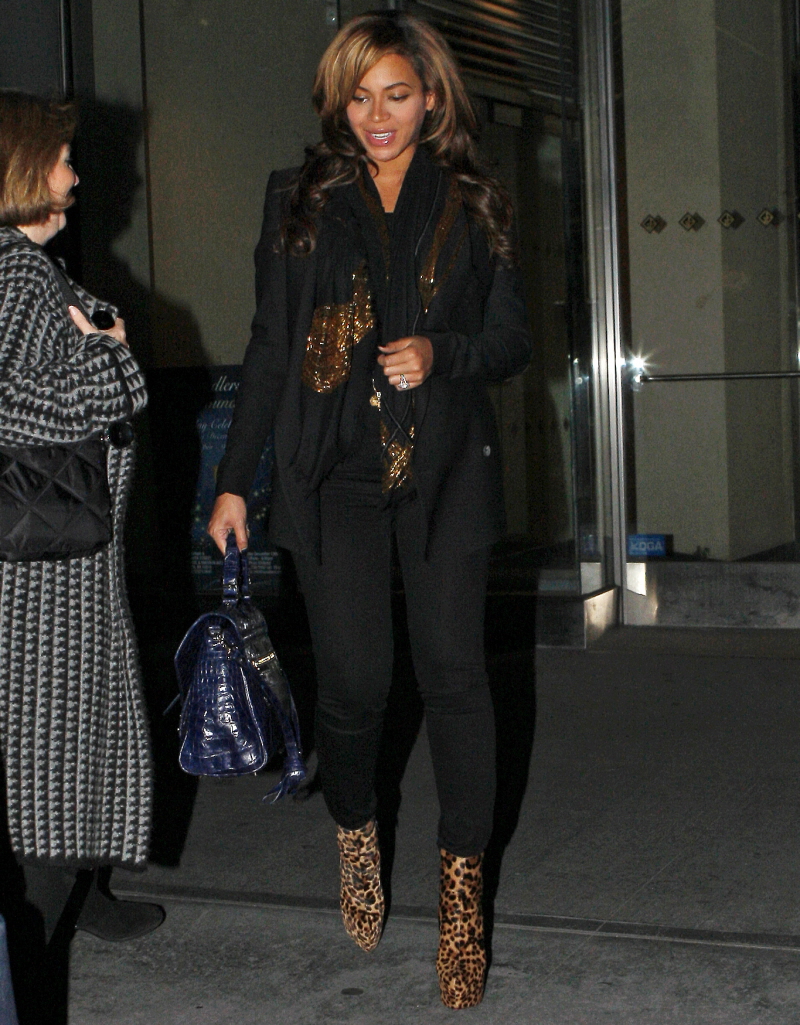 Photos courtesy of Fame.

Written by Kaiser

Posted in Beyonce, Births, Jay-Z

- Mariah Carey lip synced on American Idol [CDAN]
- Colin Firth is looking good [Lainey Gossip]
- Internet celebrity charged with murder! [D-Listed]
- What is Paz Vega wearing? [Go Fug Yourself]
- New bachelors on The Bachelorette [Reality Tea]
- Goodbye to The Office [Pajiba]
- Bachelor Sean's fiance cheats on him [Evil Beet]
- Britney Spears out with her man [Popsugar]
- Nina Dobrev works it [Popoholic]
- Cindy Crawford needs to lay off the 'tox [Celebslam]
- Who said it: Carrie Bradshaw or The Dalai Lama? [Buzzfeed]
306 Responses to "Beyonce claims she had a natural birth, Jay-Z reveals Bey's previous miscarriage"