Hulk Hogan takes son Nick to Las Vegas to celebrate his release from jail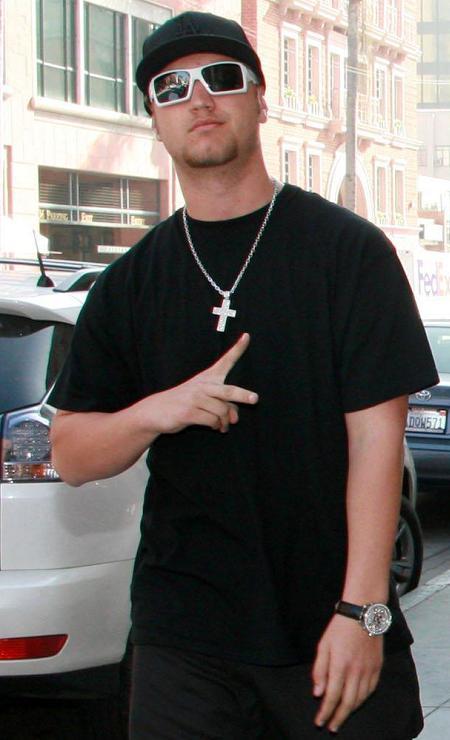 It's not uncommon to have a small celebration when someone returns home from jail. It's not a situation most celebs often find themselves in very often, but it happens. A tiny gathering with maybe a black and white striped sheet cake would not be totally inappropriate. But why settle for something so mundane when you're a Hogan and you can take your kid – who left his best friend in a vegetative state after drinking and drag racing – to a car show in Las Vegas?
Nick Hogan recently spent 166 days behind bars after pleading no contest to charges of reckless driving in an accident that left his close friend, John Graziano, critically injured. But clearly young Hogan is making up for lost time. Pop Tarts spies spotted the reality TV stars [including Nick's dad Hulk Hogan] checking into Sin City's Hard Rock Hotel & Casino (they're booked until Friday) and are poised to make an appearance at SEMA, an automotive trade show.

But according to an insider, the "Hogan Knows Best" father has gone to extra lengths to make sure his son stays out of trouble by having staff book Nick a standard room right beside his VIP executive suite. There is even a mysterious man (believed to be a parole officer) lurking around them at all times.

"Hulk made a big point of saying that this was a relaxing getaway and that Nick will be taking it easy and won't be partying," said our source. (Well, we certainly hope by now that Nick has learned the lesson that being underage and alcohol isn't a good combination.)

But Nick isn't allowing his post-pokey profile to shield him away from the limelight as he reportedly pranced around the hotel happily posing for pictures, signing autographs for fans and flirting with the hot young ladies that came his way.
[From Fox News' Pop Tarts]
In addition to the atrocity of taking his drag racing, fast car obsessed son on a nice little post prison vacation, Hulk was also stupid enough to repeat what he said on Larry King Live, noting, "There are no accidents, God has a plan that unfolds just as he wants it," when asked about John Graziano. What a lovely way to reassure yourself that your son isn't an asshole and you're not a terrible person.
The thought of Nick Hogan having a good time anywhere but a prison shower is horrifying. Clearly his parents will just continue to coddle him and remain as stupid as ever.
Here's Nick, Hulk, and Brooke Hogan leaving a medical centre in Beverly Hills in January. Images thanks to WENN.

Written by JayBird

Posted in Hulk Hogan, Nick Hogan

- Harry Styles & Kimberly Stewart going strong [Lainey]
- Demi Moore's new man is gross [D-Listed]
- Fug or fab: Emma Stone [Go Fug Yourself]
- Arrest warrant issued for Jenelle Evans [Reality Tea]
- Only God Forgives review [Pajiba]
- Hugh Jackman, scooter master [Buzzfeed]
- Who does Drew Barrymore call her sister? [Evil Beet]
- Cannes couples past and present [Popsugar]
- Arrested Development supercut [CDAN]
- Lea Michele's see through skirt [Celebslam]
- Cheating wife's lover escapes out of window [Movin925]
- Joe Francis is crazy [Starcasm]
17 Responses to "Hulk Hogan takes son Nick to Las Vegas to celebrate his release from jail"