Britney Spears' ex bodyguard claims she had orgies with female backup dancers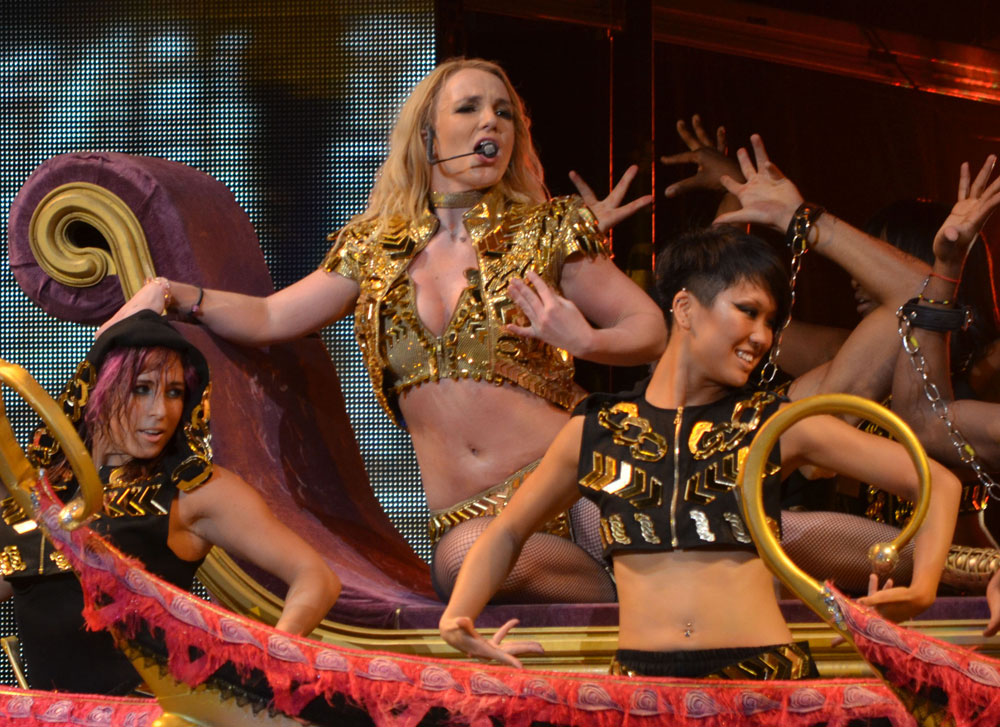 Britney Spears' ex bodyguard Fernando Flores seems to have made a career out of trashing her. The guy worked for Britney for four months in early 2010 and has steadily leaked/sold stories about her ever since. He claimed that she sexually harassed him, that she mistreated her sons including feeding them food they were allergic to and beating them with a belt, and that she did meth. (Really) When I first saw this guy's photo, on The Sun, I thought "wow, he's lost a lot of weight." Only I was thinking of a different bodyguard, a huge guy named Tony Barretto, who said almost exactly the same things about Britney in 2007, including the allegations of meth use, child mistreatment and inappropriate sexual behavior. Compared to all we've heard before, this latest story about Britney bragging about getting it on with her female backup dancers is pretty tame. Oh and Flores is writing a tell all book about Britney, since his lawsuit against her hasn't gone anywhere yet.
Former minder Fernando Flores, 31, says he is ready to lift the lid on threesomes, orgies and lesbian snogs during the Toxic singer's wild tours.

He claims he has lined up a million-dollar deal with a major publisher for the book, whose release is set to coincide with Britney's third marriage to Jason Trawick, 40.

Ex-cop Flores told a pal: "Britney has a huge sexual appetite and, from what she told me, her tours were an anything-goes environment.

"I heard stories of threesomes, orgies, girls making out — things that would make your hair stand on end.

"She had a lot of young, attractive dancers around her on tour, and things would get crazy. There was drinking, drugs, steamy sessions in hot tubs, all sorts of things."

Flores, of Orange County, California, told his pal how mum-of-two Britney once boasted of a steamy session with a gaggle of girls.

He said: "I was in her bathroom and saw this picture of her in a tub with some girls. It was very sexual. She told me, 'That was on tour and s*** got crazy'.

"I asked what she meant and she said they all got it on. Her and the girls."

Flores worked for Britney, 30, in 2010.

He tried to sue her for sexual harassment, claiming she repeatedly stripped in front of him and tried to bed him.

Flores launched his sexual harassment lawsuit in 2010 and is due to be heard in court this year. Britney's team have pledged to fight his claims and last night her spokesman hit back and denied the latest allegations.
[From The Sun]
This bodyguard is getting paid for these stories of course, but that doesn't mean they're not true. The fact that two bodyguards had very similar stories about Britney makes me think that they're probably accurate. I just hope she's cleaned up behind the scenes as much as she has on the outside, and that she's a better mother now. I really don't care if she got off with her backup dancers, if this is even true. If so, good for Britney. I think she was sleeping with Paris Hilton in the fall of 2007 when she was papped constantly with Paris and without underwear. I'm just throwing that out there, but I think those two were more than just friends at the time and that's why they were unable to stay "friends" afterwards.
There's another story about Britney, from Radar, that she's planning for a late summer wedding with her fiancee, Jason Trawick. They're hoping to have a destination beach wedding. Good for them and I really do want to see the photos. I'm happy for her and I like to see her looking so good and content. I hope she's laying off all the drugs, especially meth. I just read the first bodyguard's story again, from 2007, and I believe she was on a ton of drugs, illegal and otherwise, that contributed to her breakdown.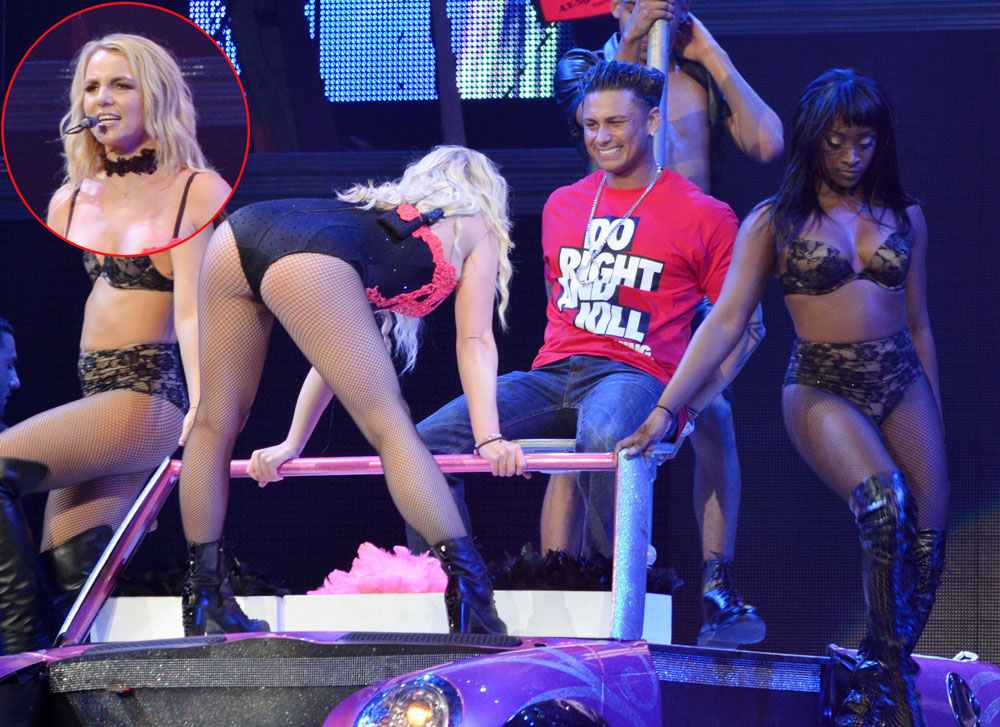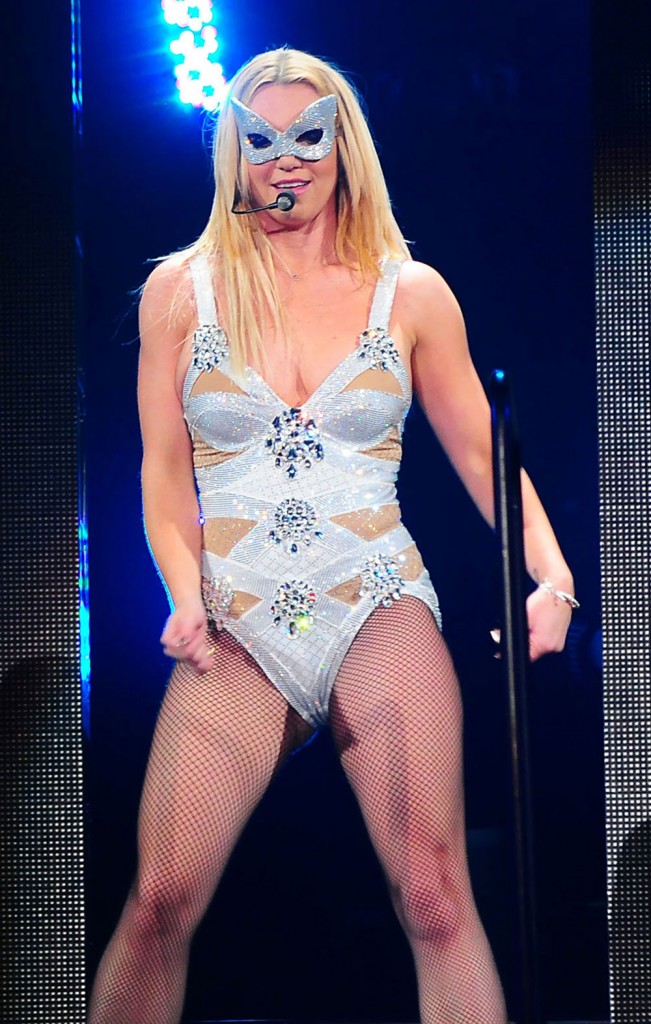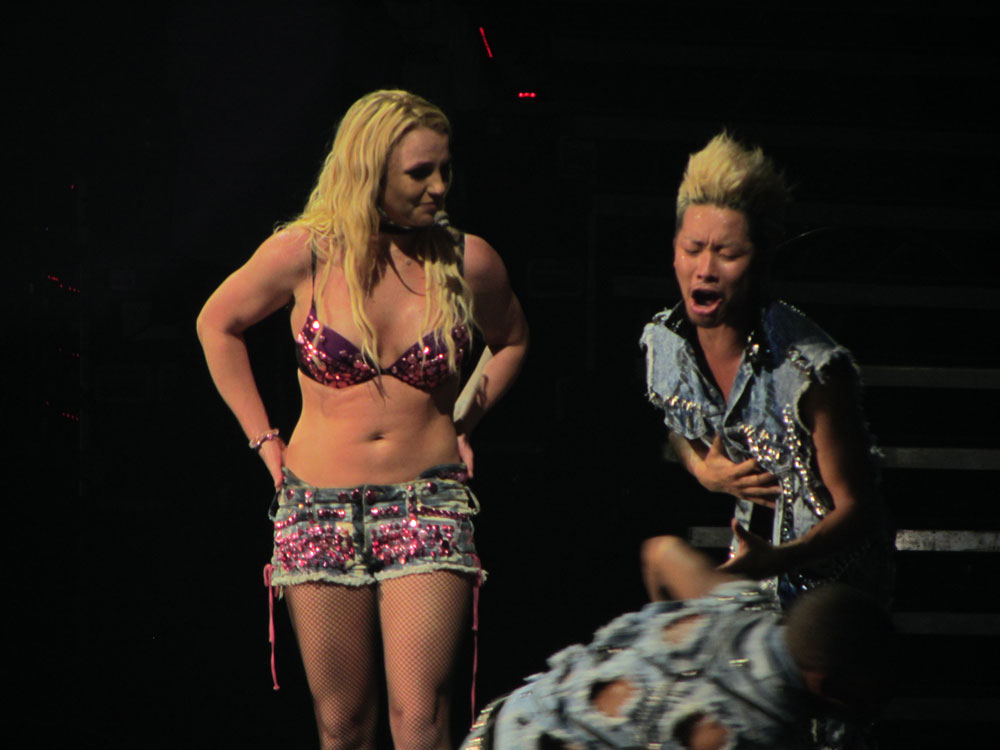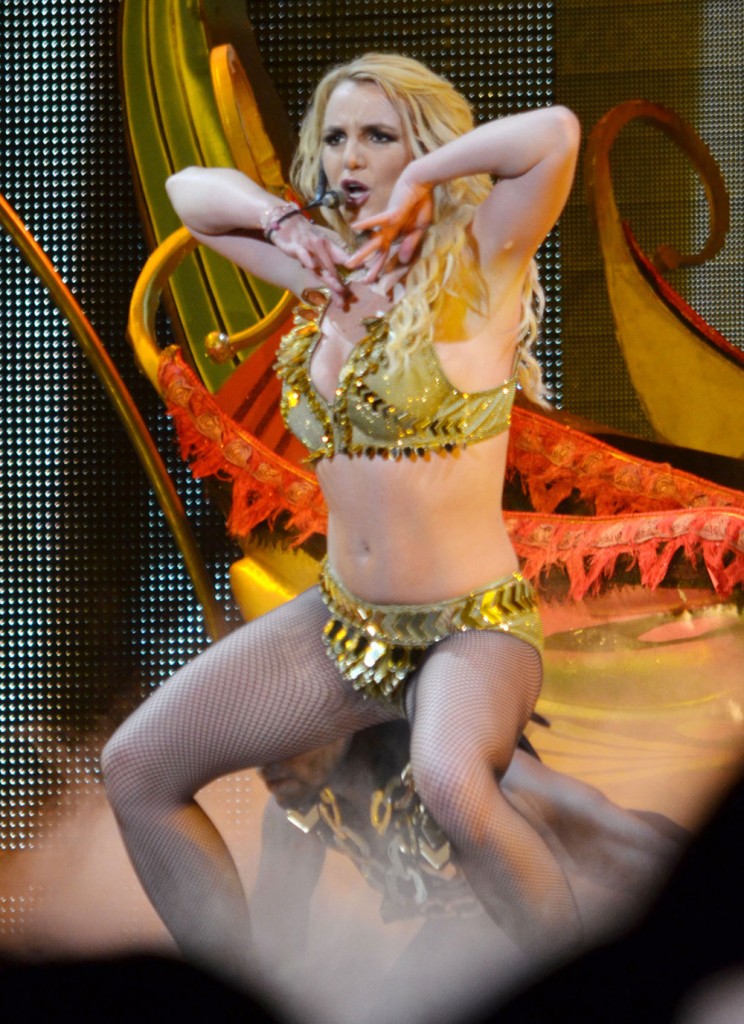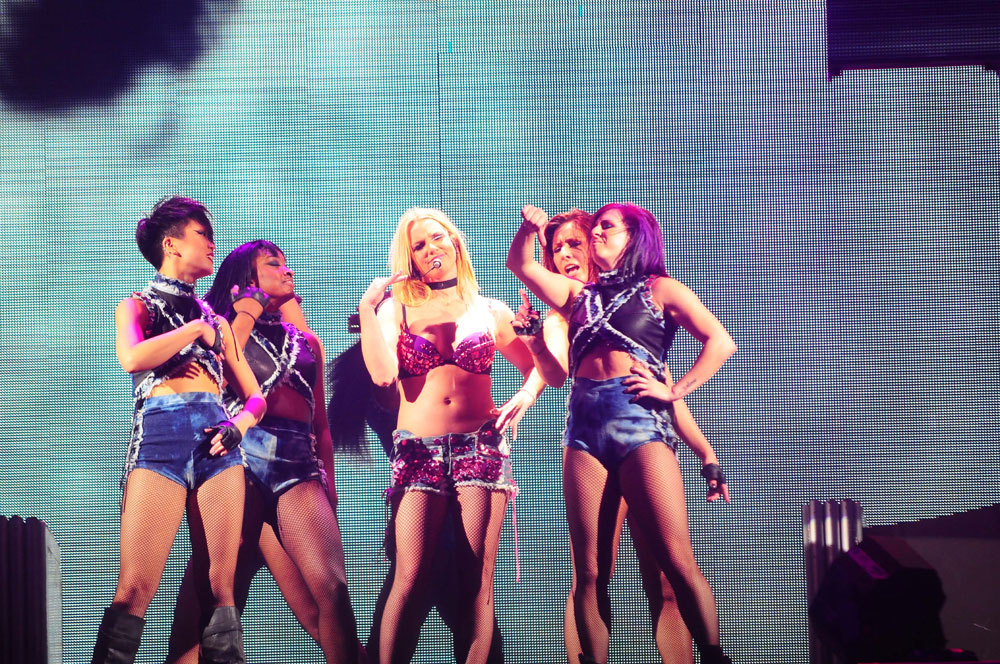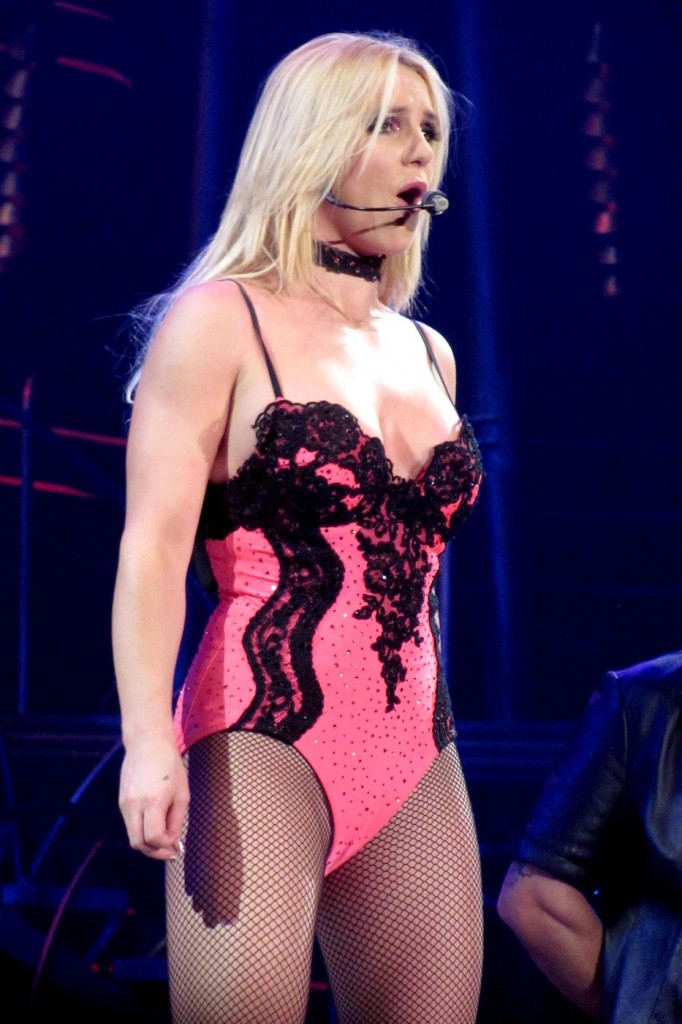 These photos are of Britney performing in October and December. She's shown with Pauly D in one photo. Those are some trashy outfits. Credit: WENN, Fame and Pacific Coast News
Written by Celebitchy

Posted in Britney Spears, Jason Trawick

- Friends reunion on Ellen [Popsugar]
- Lindsey Vonn watches Tigers kids [Lainey Gossip]
- George Michael fell out of a car going 70mph [D-Listed]
- Real Housewives of Orange County recap [Reality Tea]
- New Man of Steel trailer [Pajiba]
- Jared Padalecki's hot bod [Buzzfeed]
- Doctors confirm Taylor Swift's new boobs [Evil Beet]
- Catherine Zeta-Jones finished treatment [CDAN]
- Anna Paquin hates the paps [Celebslam]
- Lance Armstrong is gross [The Blemish]
- What is Barbara Palvin wearing? [Moe Jackson]
- This is Petra Nemcova? [SVC]
47 Responses to "Britney Spears' ex bodyguard claims she had orgies with female backup dancers"