Angelina Jolie in black Jenny Packham at the SAGs: trash bag fug or stunning?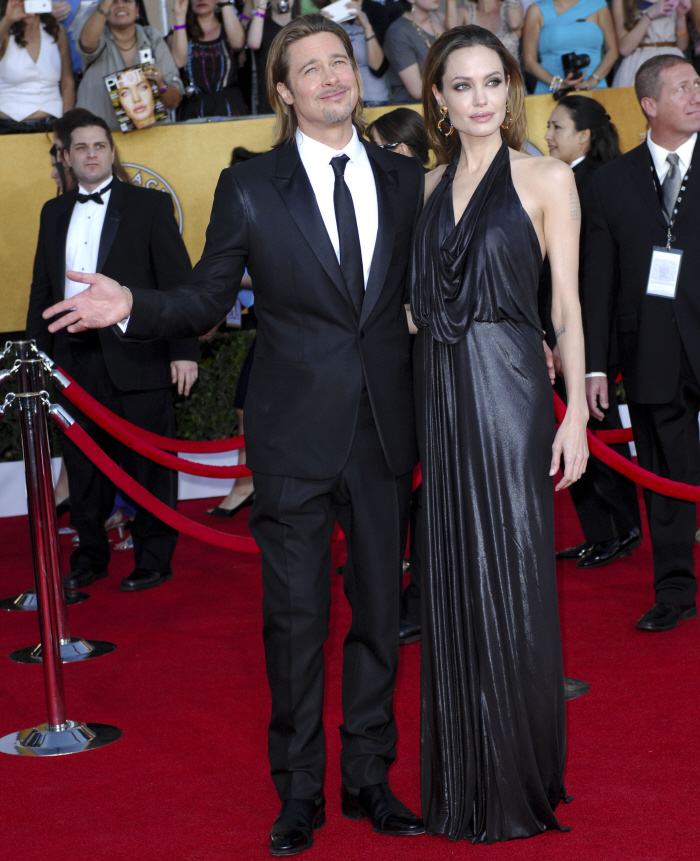 Just shoot me in the face now, because Angelina Jolie wore a shiny black (trash bag) sack dress to the Screen Actors Guild Awards, and I LOVED IT. The dress is Jenny Packham, and yes, this is a look we've seen on Angelina many times before. Initially, when I saw the dress, I thought it was leather, and it reminded me of the iconic black leather Versace gown she wore to the premiere of Mr. and Mrs. Smith in 2005. Of course, Angelina has worn variations on the black sack gown many times before, but that doesn't mean I can't still love the look on her, right?
This shiny gown is Jenny Packham, and it's not leather. It's some kind of treated fabric made to look like "liquid metal". It's an interesting treatment for a dress, and it suits Jolie. Plus, I like her styling here. Big hair (my favorite on her), big vintage jewelry – she wore "a bracelet and earrings by House of Lavande, a Platt Boutique bracelet, Gucci shoes and a Louis Vuitton bag." Some of said that this is more of a premiere look for Jolie, and I don't disagree. This is exactly the kind of thing she often wears to her own premieres. But for an awards show, does that mean this look is too "dressed down"? I don't think so.
CB told me that she thought Angelina's forehead looked Botoxy when Angelina was talking to Guiliana Rancic, but I had my Brangeloonie goggles on, so I missed that. I did think Brad looked a little bit… puffy/shiny? I suspect him of Botox more than her, but I'm speaking from my Jolie-specific girl-boner. Still, I was sad to see Brad lose the SAG award, but I think it might be a good sign that Jean Dujardin won and not George Clooney. It means Clooney doesn't have this bitch sewn up, and the Best Actor race is still a contest. Which means Brad will have to campaign even harder. Brad and Angelina should just f–king elope. Stop talking about marriage, and just do it. All for the sake of the Oscar campaign.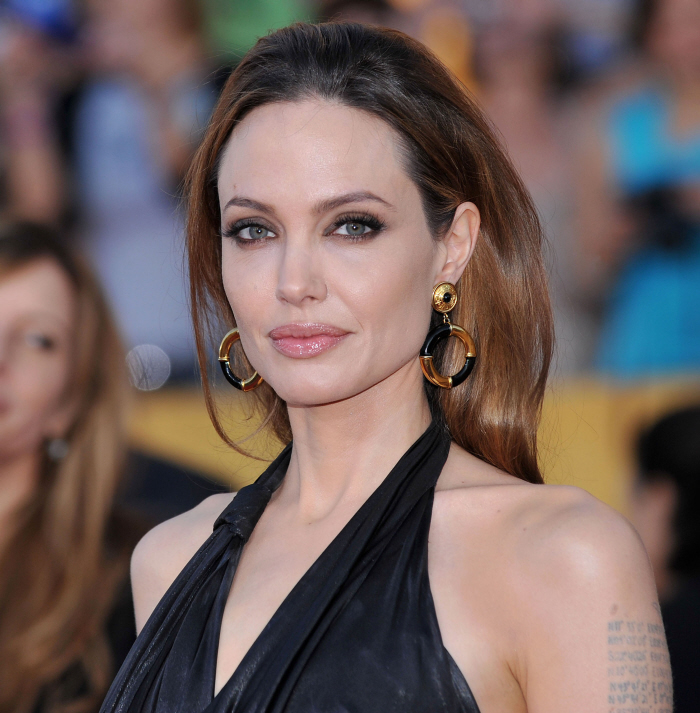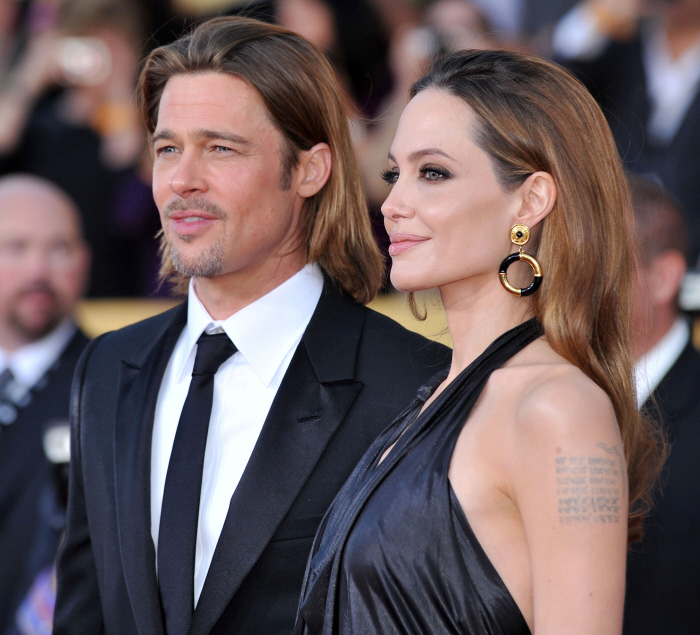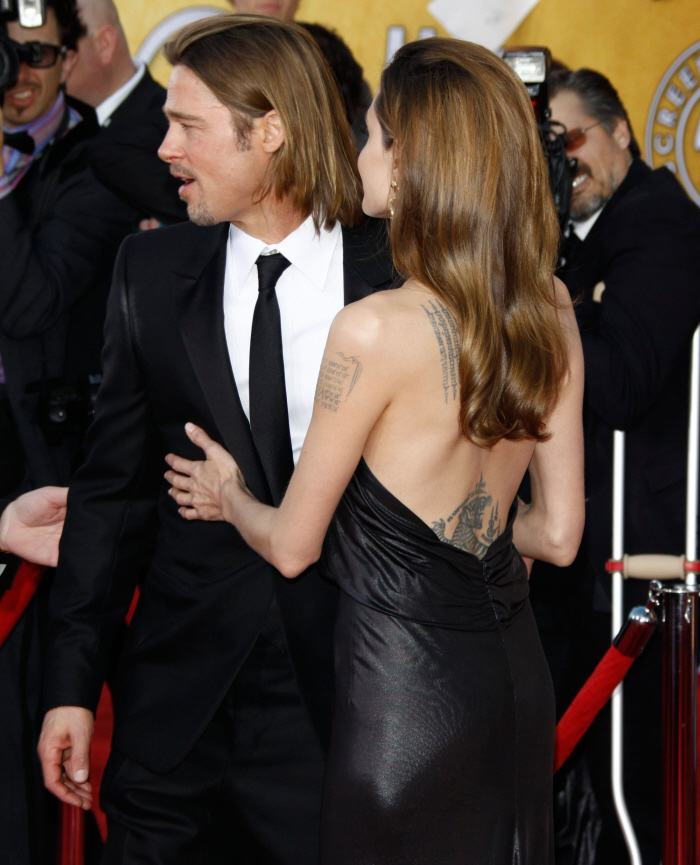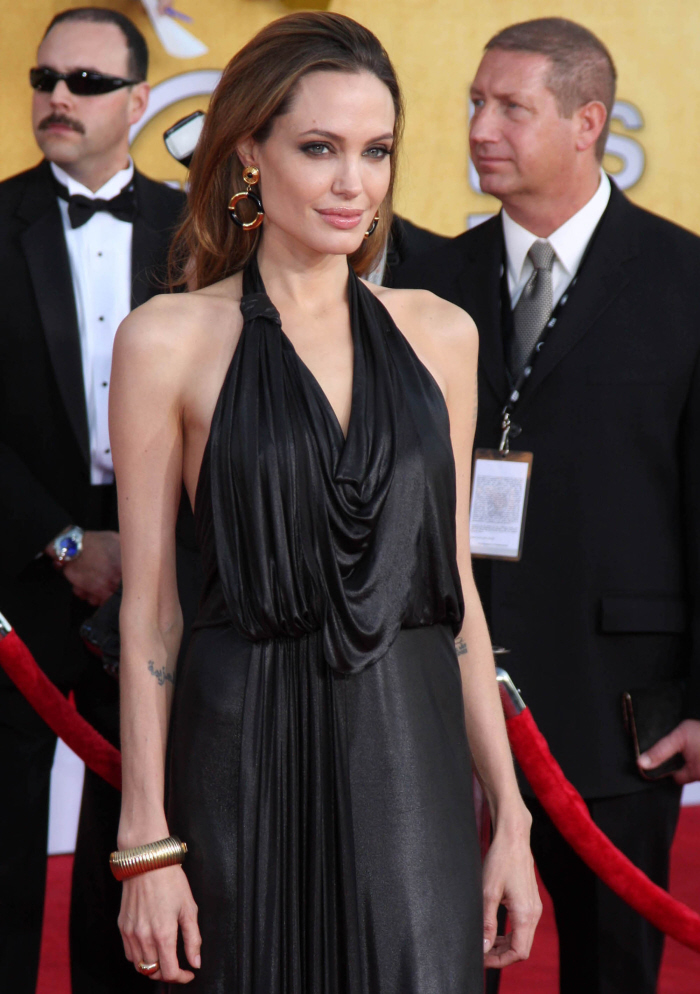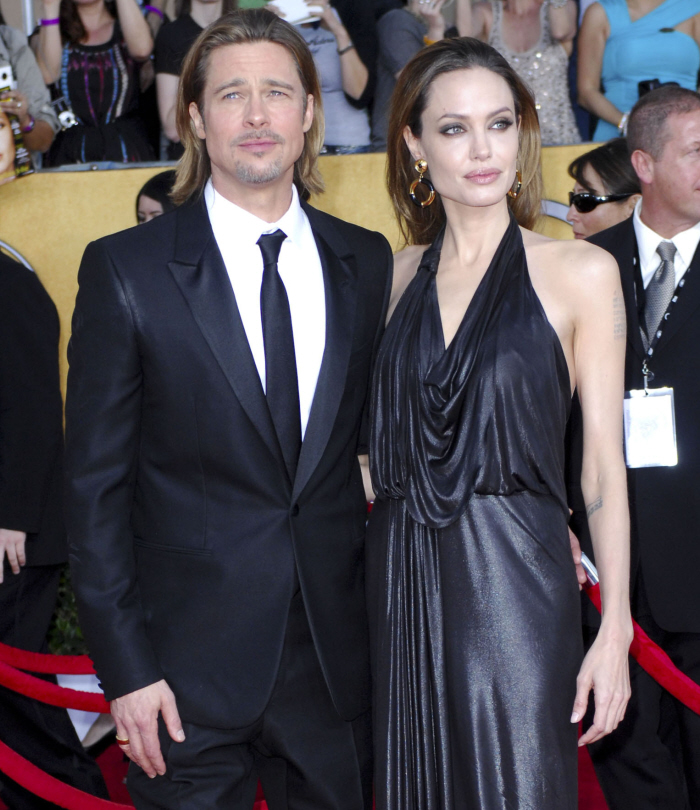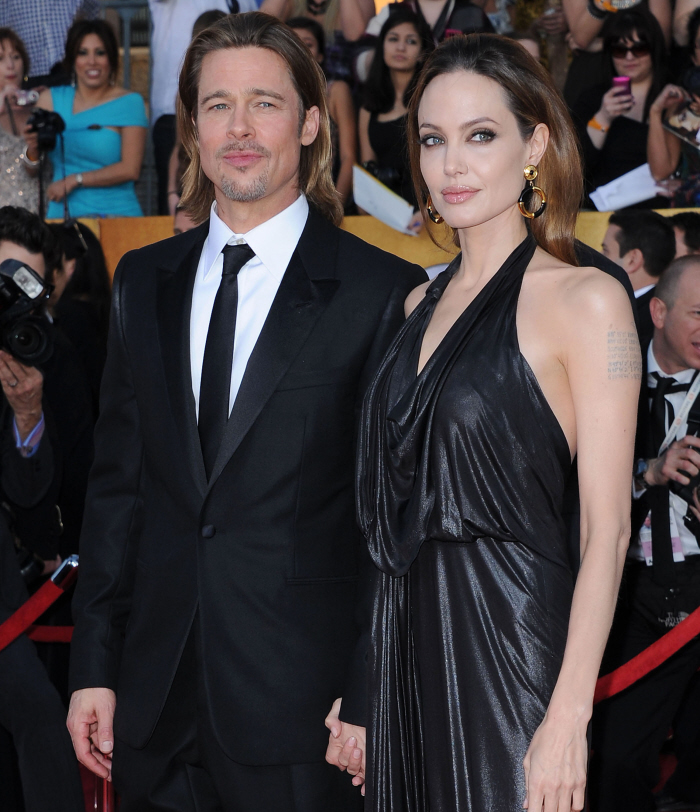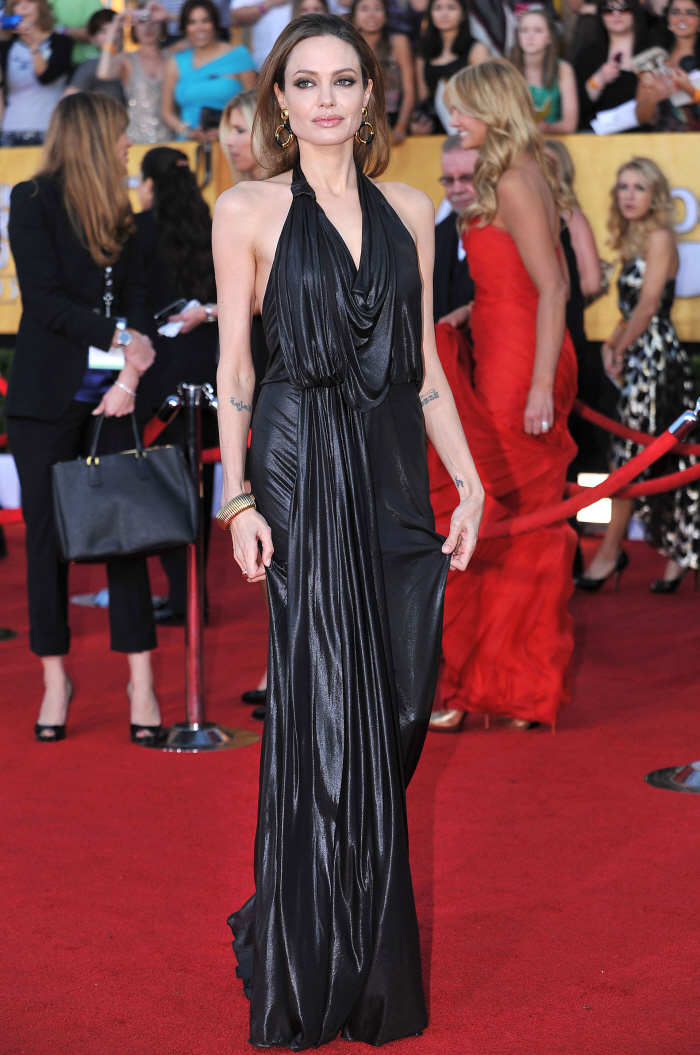 Photos courtesy of WENN.

Written by Kaiser

Posted in Angelina Jolie, Brad Pitt, Fashion

- Harry Styles & Kimberly Stewart going strong [Lainey]
- Demi Moore's new man is gross [D-Listed]
- Fug or fab: Emma Stone [Go Fug Yourself]
- Arrest warrant issued for Jenelle Evans [Reality Tea]
- Only God Forgives review [Pajiba]
- Hugh Jackman, scooter master [Buzzfeed]
- Who does Drew Barrymore call her sister? [Evil Beet]
- Cannes couples past and present [Popsugar]
- Arrested Development supercut [CDAN]
- Lea Michele's see through skirt [Celebslam]
- Cheating wife's lover escapes out of window [Movin925]
- Joe Francis is crazy [Starcasm]
248 Responses to "Angelina Jolie in black Jenny Packham at the SAGs: trash bag fug or stunning?"