Lucy Lawless as Wonder Woman?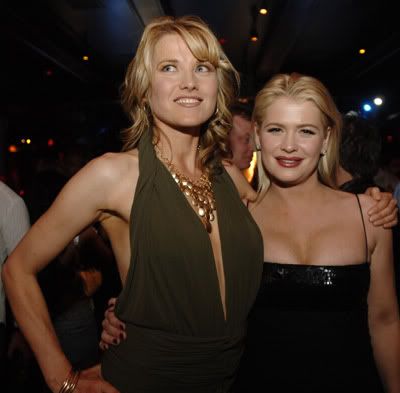 A contributor to Oh No They Didn't overheard someone on a bus in LA saying that they were working on the new Wonder Woman film and that Lucy Lawless is going to star in it:
Public transportation isn't always a drag. While showing my mom around our dirty city, I opened up my ears to the conversations around me. A music teacher (or so he claimed) was trying to pick up the girl sitting next to me.
He was telling her that he's been working on the background music for Wonder Woman (due out in 2007), and that Lucy Lawless will be playing the lead roll.
I know there's been a lot of speculation of who will be given the roll, and I know you can't trust every long haired mack you meet on the bus, but Hollywood's also chock full of insider information, if you know where to look, so, take it with a grain of salt, but if he were making it up, he would have picked someone more appealing to a woman than Xena.
The notion that Kate Beckinsale was in talks to play Wonder Woman originated as an April Fools' Blog post, while the rumor that Lindsay Lohan was vying for the part was recycled from a "Herbie: Fully Loaded" interview in which a reporter specifically asked her if she'd consider it. Given those sources, this is as good as any.
We read a while ago that director Joss Wedon said he was looking for a young Wonder Woman for a "coming of age" type film, so a 38 year-old Lawless in the lead doesn't make sense. It could be true, we'll just have to wait and see.
Here are pictures of Lawless at Maxim's 100th anniversary party in Las Vegas on 4/8.
Written by Celebitchy

Posted in Lucy Lawless, Movies

- Mariah Carey lip synced on American Idol [CDAN]
- Colin Firth is looking good [Lainey Gossip]
- Internet celebrity charged with murder! [D-Listed]
- What is Paz Vega wearing? [Go Fug Yourself]
- New bachelors on The Bachelorette [Reality Tea]
- Goodbye to The Office [Pajiba]
- Bachelor Sean's fiance cheats on him [Evil Beet]
- Britney Spears out with her man [Popsugar]
- Nina Dobrev works it [Popoholic]
- Cindy Crawford needs to lay off the 'tox [Celebslam]
- Who said it: Carrie Bradshaw or The Dalai Lama? [Buzzfeed]
One Response to "Lucy Lawless as Wonder Woman?"