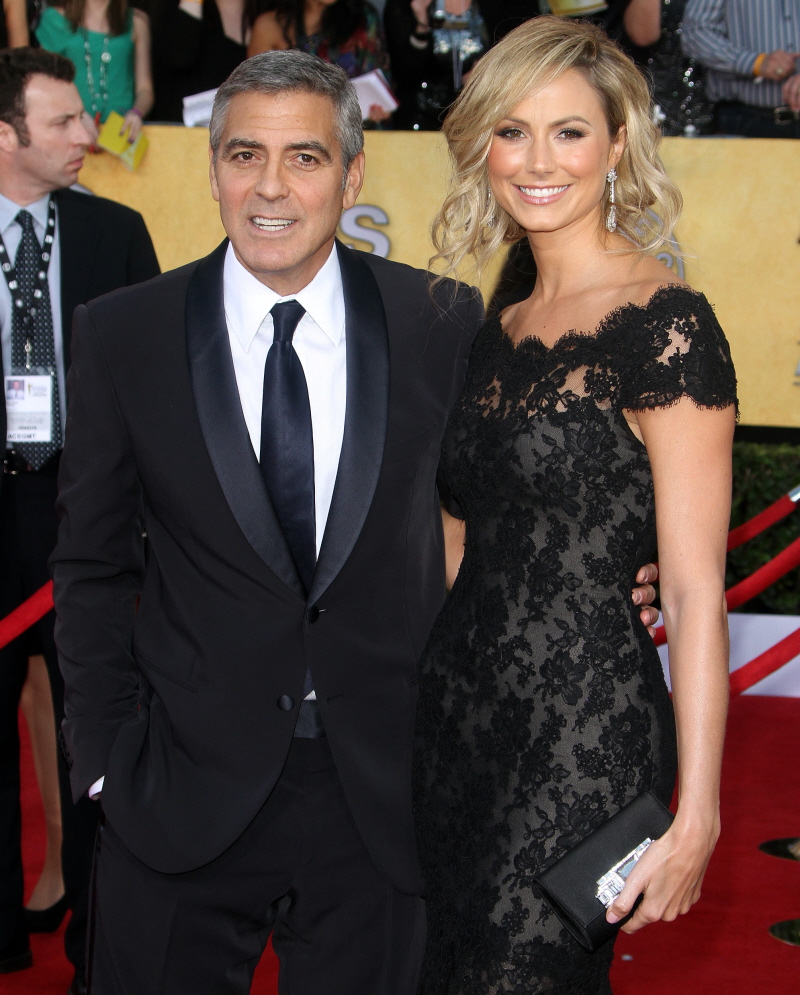 The difference between Stacy Keibler's behavior at the Golden Globes versus her behavior at the SAGs was stark. Keibler over-extended herself at the Globes, announcing that the Globes were "ALWAYS such a fun night" like she was always invited or something. On the Globes red carpet, Stacy got to pose by herself for a long time, and she got to put her two cents in for every interview. For the SAGs, Stacy got reeled in. She still got to speak, but you could tell that she had her orders: Be subdued. Calm down. This night is not about you. You are only the arm candy. You are replaceable. She barely got to pose by herself either. It wasn't her best night, but I guess it was a success, because she's still around.
All of this to say… I feel like Clooney's got Stacy on a tighter leash, perhaps literally and figuratively. Or is it Clooney that likes the leash? Nevermind, sorry I said it. Keibler takes direction and she stands back. Which makes this Enquirer story pretty dumb – it's all about Stacy issuing an "ultimatum" to Clooney about his Lake Como villa. Mind you, I do think there's something there – Stacy doesn't seem like the brightest bulb (they never are) and Clooney has barely gone back to Italy since he and Elisabetta Canalis split up. For both Thanksgiving and Christmas, Clooney took Stacy to Cabo San Lucas, not Italy. And this could be the reason…
It's "arrivederci" to Italy for George clooney's new leading lady Stacy Keibler! Keibler is dead set against living in Clooney's vacation villa on Lake Como because he played house there with his ex-galpal Elisabetta Canalis, the Enquirer has learned.

Pals close to Stacy say she wants a new place near George's beachside home in Cabo San Lucas, Mexico, instead.

"Stacy has been to Como for a short trip, but she told George, 'It's Italy or me' with respect to living there – and she means it!" a source divulged. "She thinks it's creepy staying in the home he shared with former girlfriends. Stacy wants them to either build or buy a remote, private house together in Mexico. She's even told George to find another girlfriend if he can't deliver."

Stacy is upset about the prospects of living in Elisabetta's shadow, said the source. "Elisabetta is a big celeb in Italy, and the last place Stacy wants to be is sitting in the house her man once shared with her love rival, only to see her face on TV," the source said. "It remains to be seen if George will bend to Stacy's demands or fly solo to Como from now on."
[From The Enquirer, print edition]
Dear Stacy: Good luck with that. Seriously. And a year from now when you're a cocktail waitress, I'll leave you a big tip, I promise.
So, is this really happening? Does Stacy think she's in a position (with the leash, mind you) to issue these kinds of demands? As I said, she's not the brightest bulb. So it very well could be.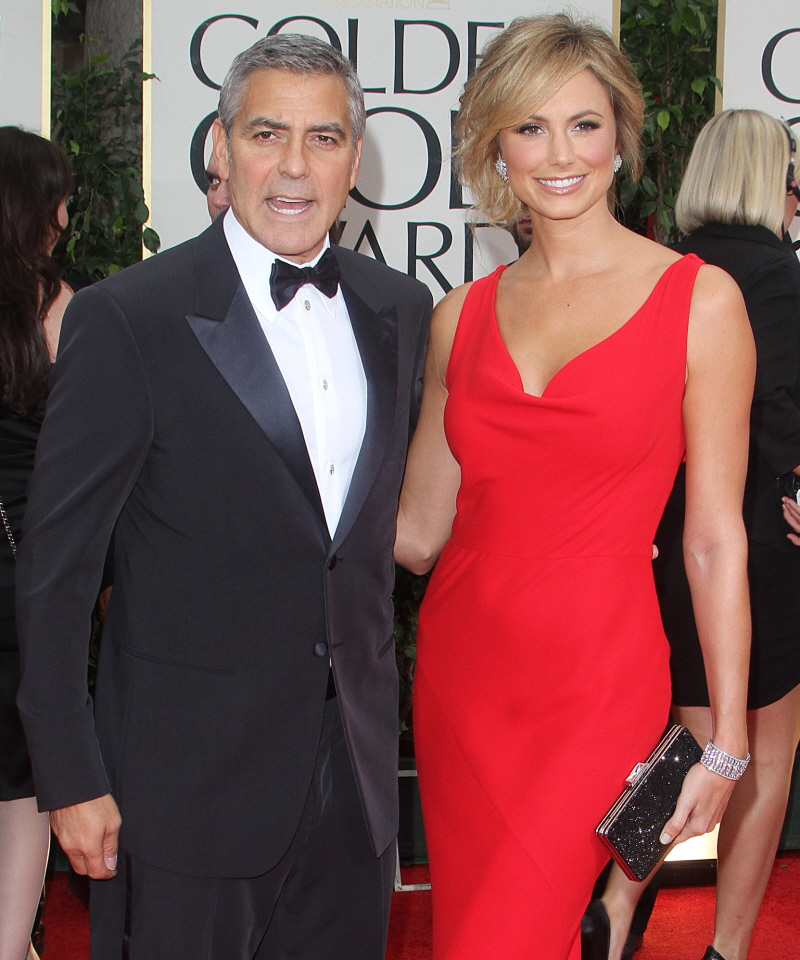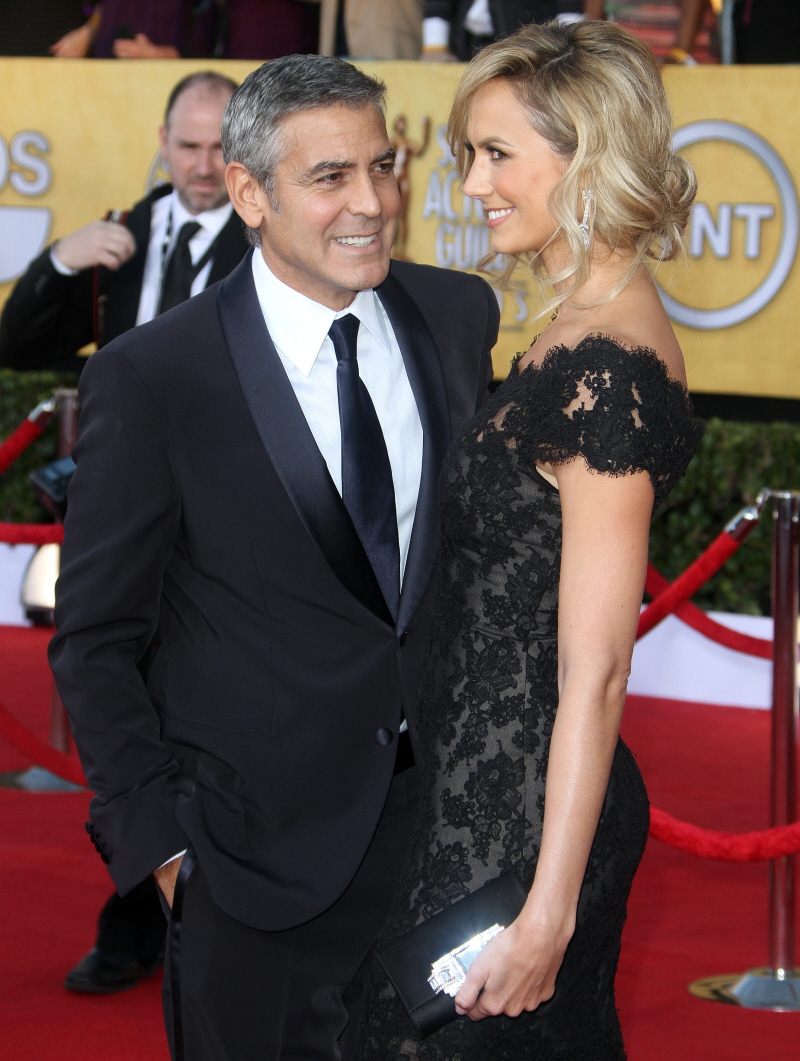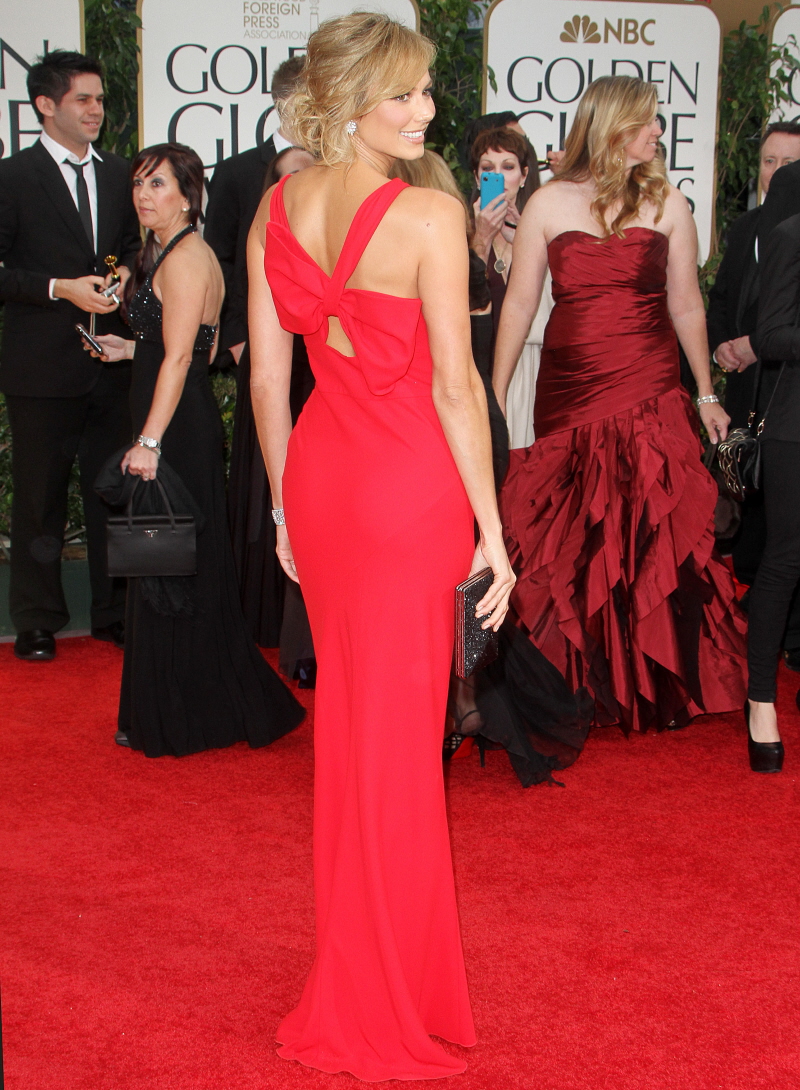 Photos courtesy of Fame/Flynet and WENN.