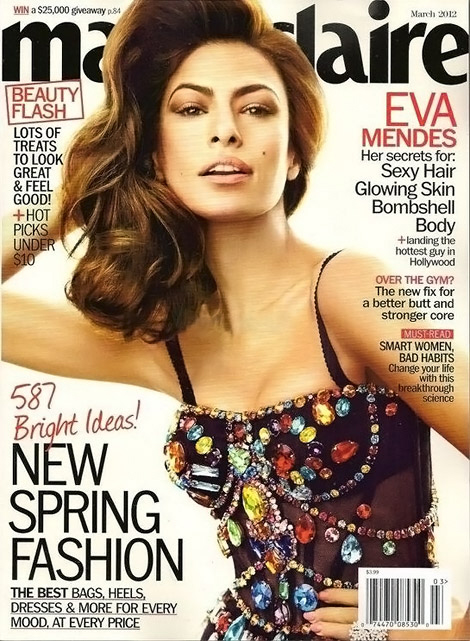 Here is Eva Mendes in Dolce & Gabbana on the cover of the March issue of Marie Claire Mag. Isn't this hideous? Eva is a pretty girl… sometimes. I'm actually not one of those people who think that she's the hottest thing, but she's got a great body, and she does have expressions where she looks… better. Of course, all too often, Eva has a serious case of drunkface, and this cover seems to have caught her in all of her drunkface glory here. Is it Photoshop? Or is that just how she looks?
There seems to be a newish interview with Eva too, but before I get to that, I'd just like to point out something interesting – there's been radio silence on Eva and Ryan Gosling lately, have you noticed? Ryan flew to Thailand for a film several weeks ago – that's why he missed the Golden Globes. By most accounts, Eva did not go with him. She's still in LA, and it seems like Ryan left her in charge of his beloved hipster dog George. I just thought it was worth mentioning – there hasn't been any tabloid articled about Ryan and Eva for weeks, because they haven't seen each other in weeks. Just my opinion: I kind of think Ryan might be over it? I hope he's over it. Because this relationship isn't helping his reputation as much as he thinks it is.
Anyway, here's the latest Eva interview I could find. It sounds like these are old quotes, but I Googled them and I couldn't find them in past interviews, so… who knows? She's not that interesting, and she says similar things all the time.
Eva Mendes has "to work" to stay in shape. The gorgeous actress insisted she isn't blessed with skinny genes and has to work out in order to stay toned. The 37-year-oldprefers to exercise and indulge occasionally rather than cutting out her favourite foods.

"[My philosophy] is to work out and eat what I want.," she told Health & Beauty magazine. "I'm not one of those actresses who they don't have to work at it. I do."

The Ghost Rider star also named her favorite health-savvy snacks.

Eva admitted she loves sweets but usually opts for healthier options. But if nothing else works, the Latina sticks to dark chocolate.

"I really like brown rice and vegetable, and always have a couple of apples in my bag. I always drink a glass of water with squeezed lemon juice before bed and when I wake up," she said. "I have a seriously sweet tooth, so I eat dark chocolate to satisfy any cravings."
[Via Yahoo News]
Ugh, I hate dark chocolate! It's too bitter. I wish my sweet tooth would be satisfied with dark chocolate, but it never is. My downfall will be peanut butter M&Ms. But other than that, I pretty much agree with her diet-and-exercise philosophy – work out, try to eat mostly good food but don't do extreme diets or anything.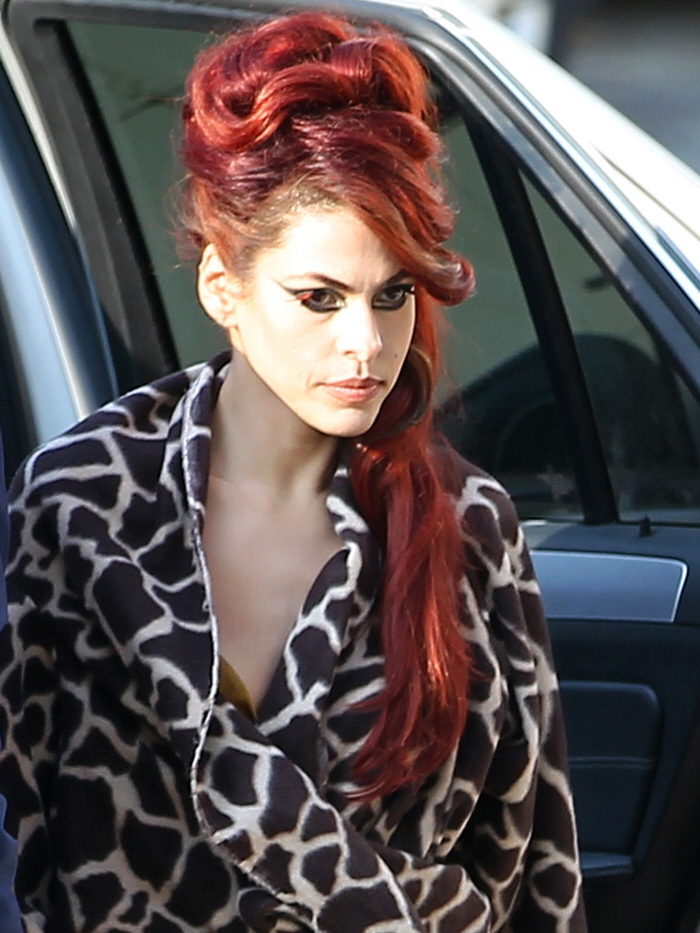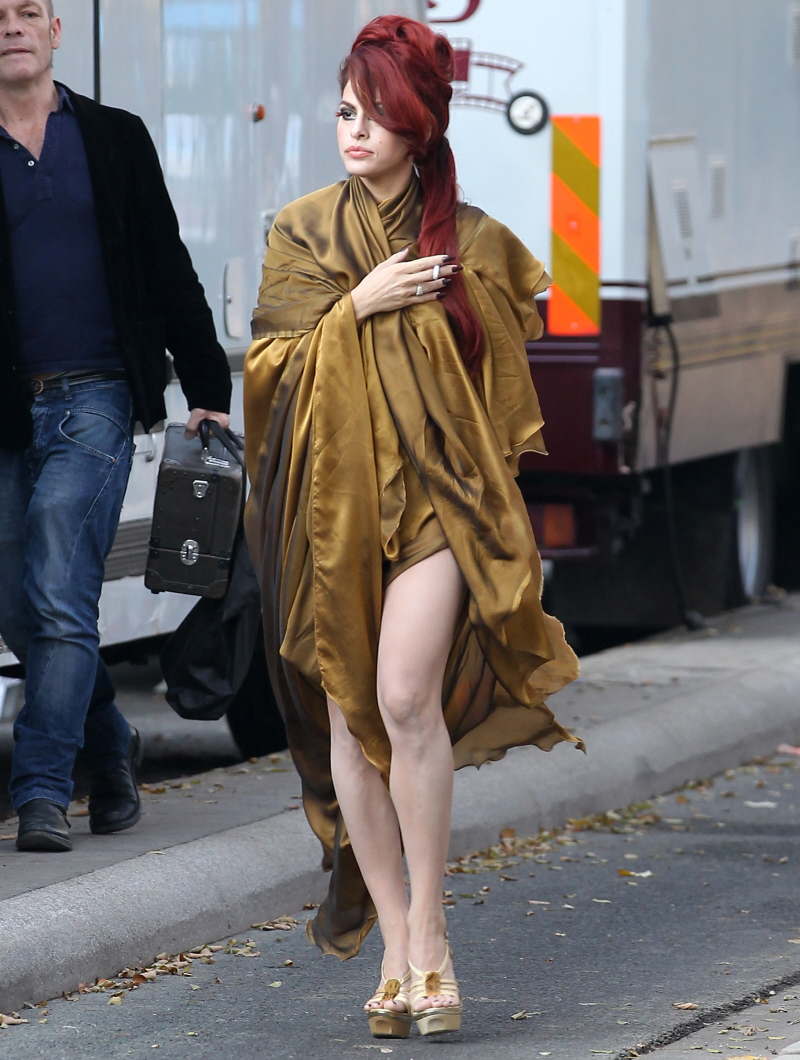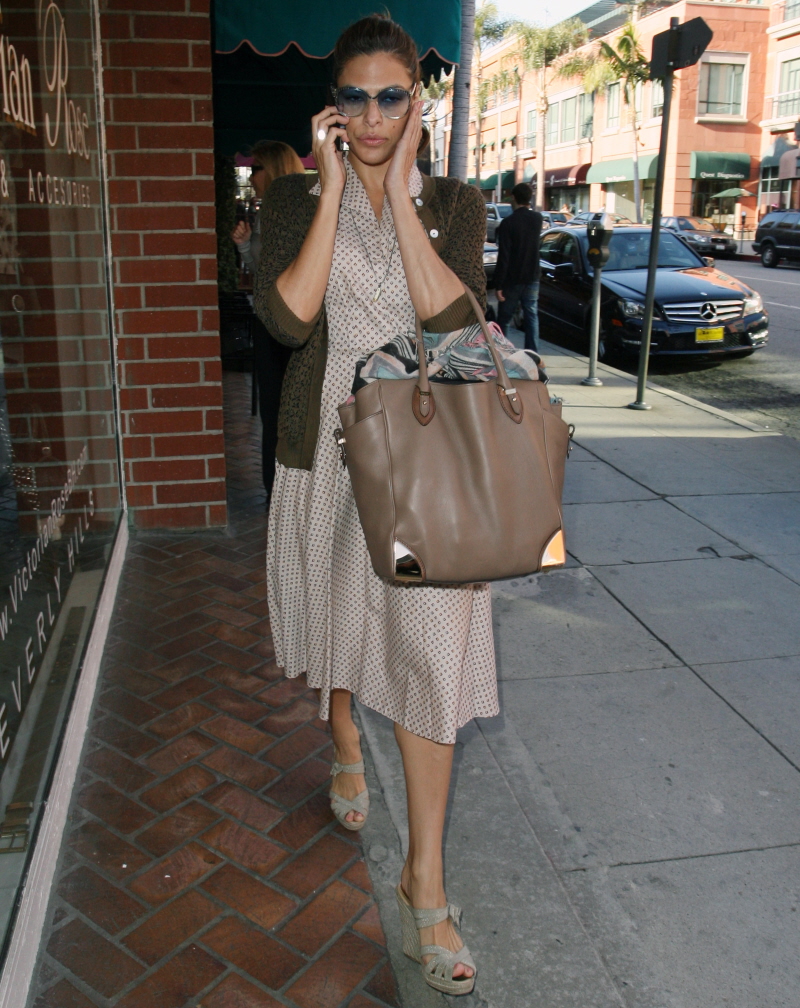 Marie Claire cover courtesy of The Fashion Spot. Additional pics by Fame/Flynet.