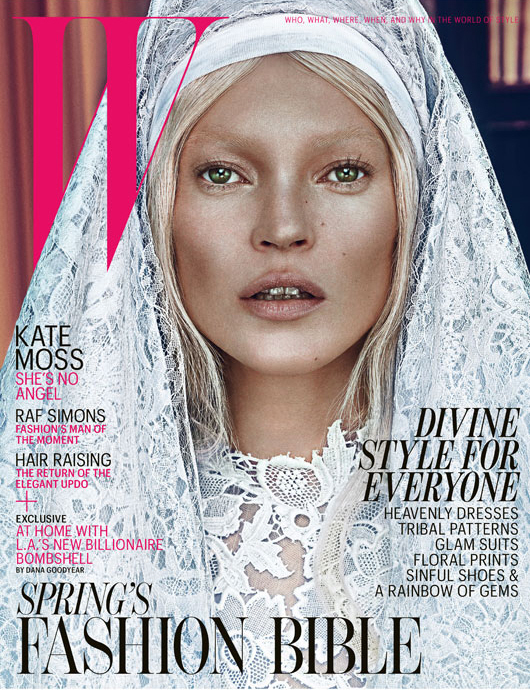 Kate Moss covers the March 2012 issue of W Magazine, and these are some selected images from the cover shoot – you can see the full slideshow here at W. She got TWO covers actually, although I have only three words for this Steven Klein shoot: What. The. Frick. In God's name, WHY? While I've never been all-about-Kate, I think she's rock-and-roll and I think she's one hell of a model. As in, she's intriguing and interesting to look at, and she's incredibly photogenic. This photo shoot is filled with a strange blend of religious and sacrilegious imagery, birds, spiders and corpse styling, and it's maybe the worst Kate has ever looked, right? Yes, the images are "striking". The last images of Lindsay Lohan are "striking" as well, but that doesn't mean I'm going to slap the "supermodel" label on a walking corpse.
Of course, W Magazine didn't get an interview with Moss. Instead, W got Will Self to write this oddly sycophantic piece about Kate and how she's aging yet not-aging. You can read it here – I'm not going to bother excerpting it. I will, however, put up some quotes from angry Christians who are royally pissed off with this photo shoot:
While the Kate Moss-W Magazine photos are a hit with aspiring fashionistas, they have caused outrage among conservative groups, RadarOnline.com can exclusively reveal.

"Clearly W magazine needs to generate some controversy to pretend it matters, so it's turned to today's standby and decided to bash Christianity," Dan Gainor of the Culture and Media Institute exclusively told RadarOnline.com.

"Everything W has done here, from making the issue the 'Fashion Bible' to having Moss hold a crucifix provocatively between her legs, is designed to provoke controversy and mock religion. We get it, hating Christians is certainly in fashion.

"Interestingly, W tried to create twin covers showing a good and a bad Kate Moss. Given how twisted W is for mocking religion, they should have stuck to just one cover — the bad — to reflect the magazine itself. While Moss can be faulted for appearing in this spread, it's the responsibility of the magazine's editors not to try to profit by denigrating faith. Instead of high-brow fashion, readers get low-brow bigotry," he concluded.
[From Radar]
You know how dumb I am? I didn't even get the whole "fashion bible" reference until that Radar thing. Anyway, even though I'm not going to get all up in arms over the religious stuff in the shoot, I do understand why these photos have upset the devout. Mostly the pics just upset me aesthetically, though. They made her look like crap!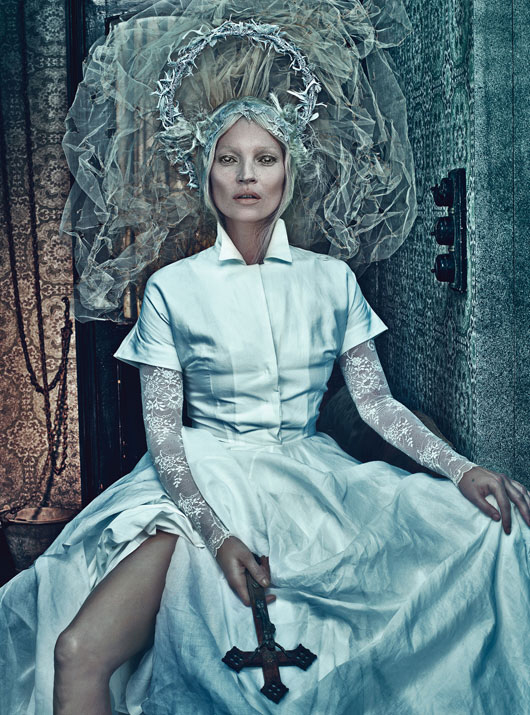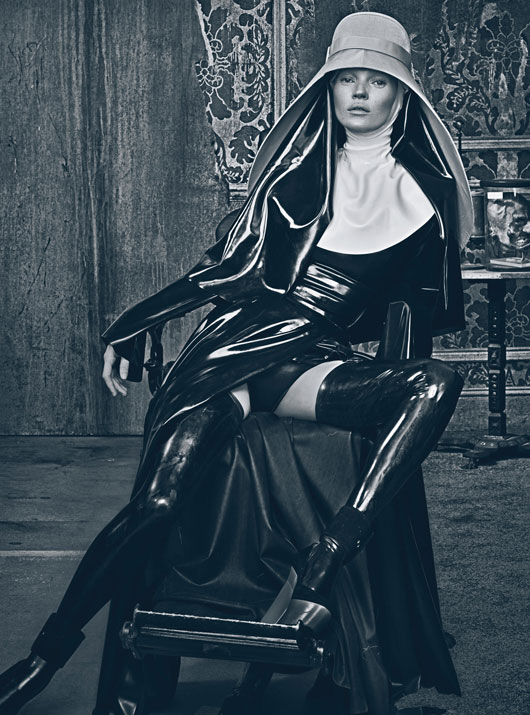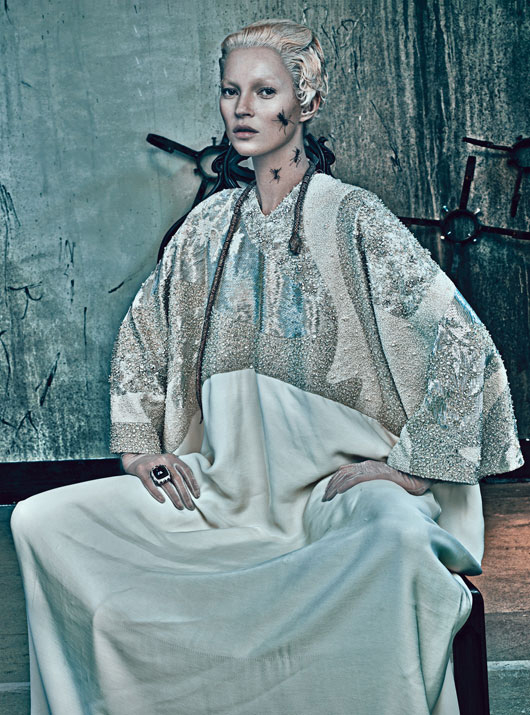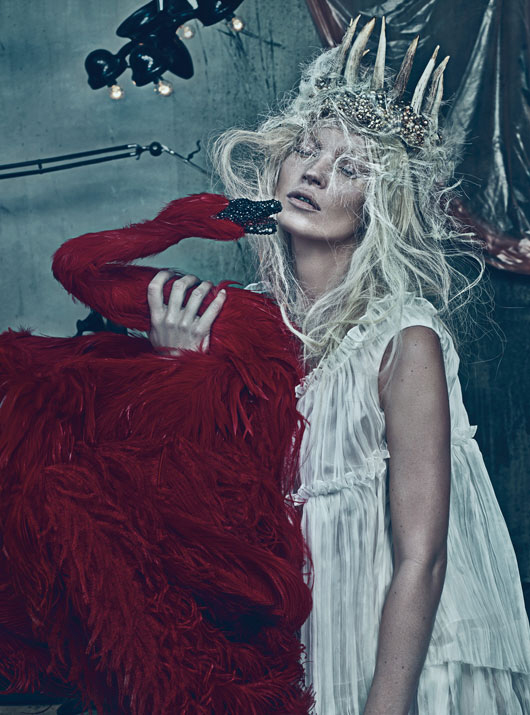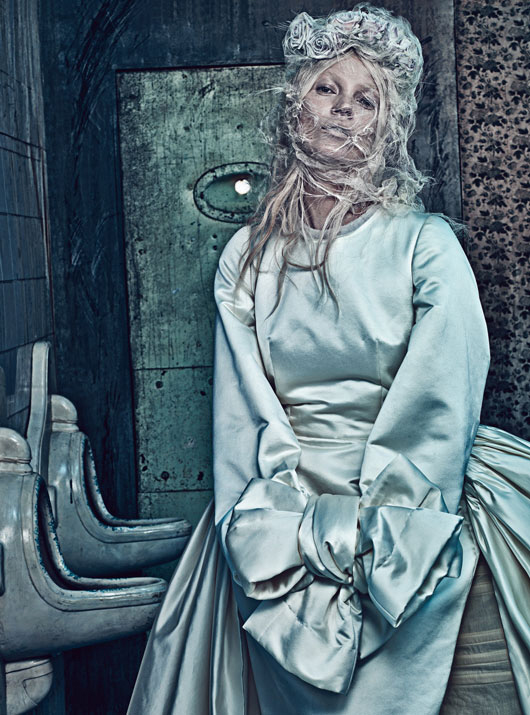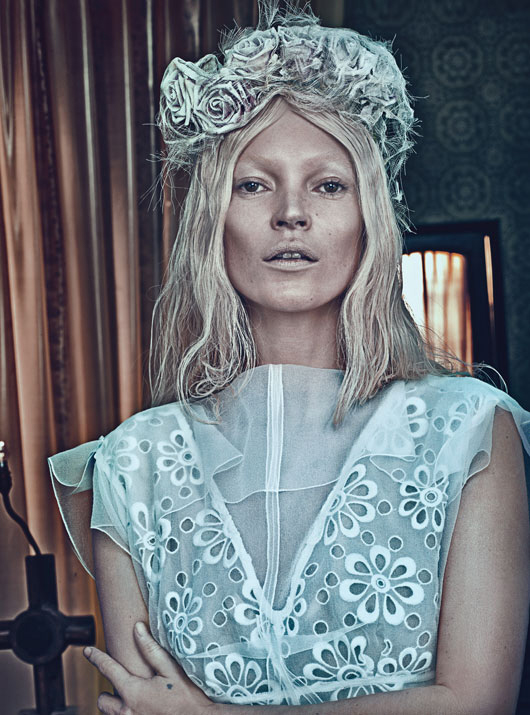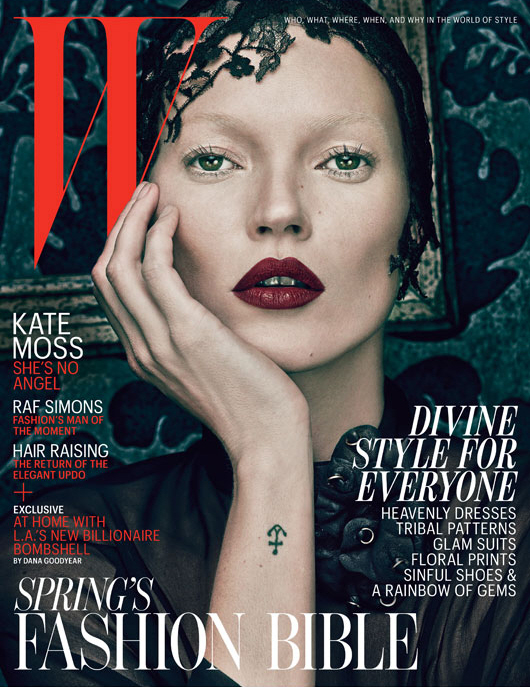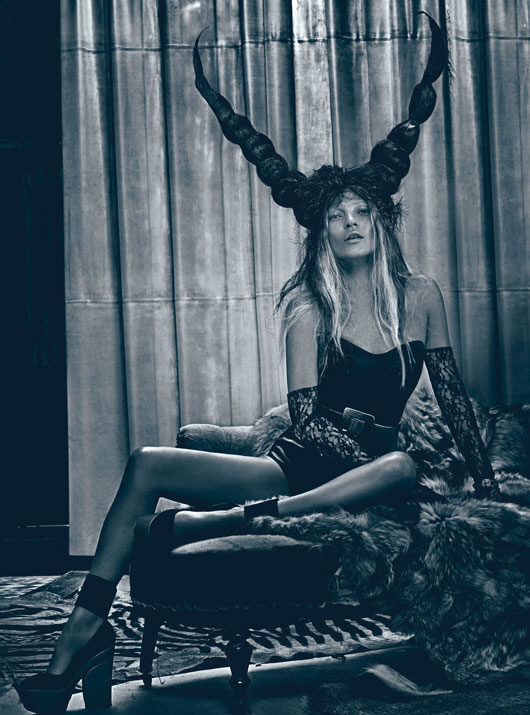 Photos courtesy of W Magazine's slideshow.