Lindsay Lohan was in court today, judge said she's "getting her life back on track"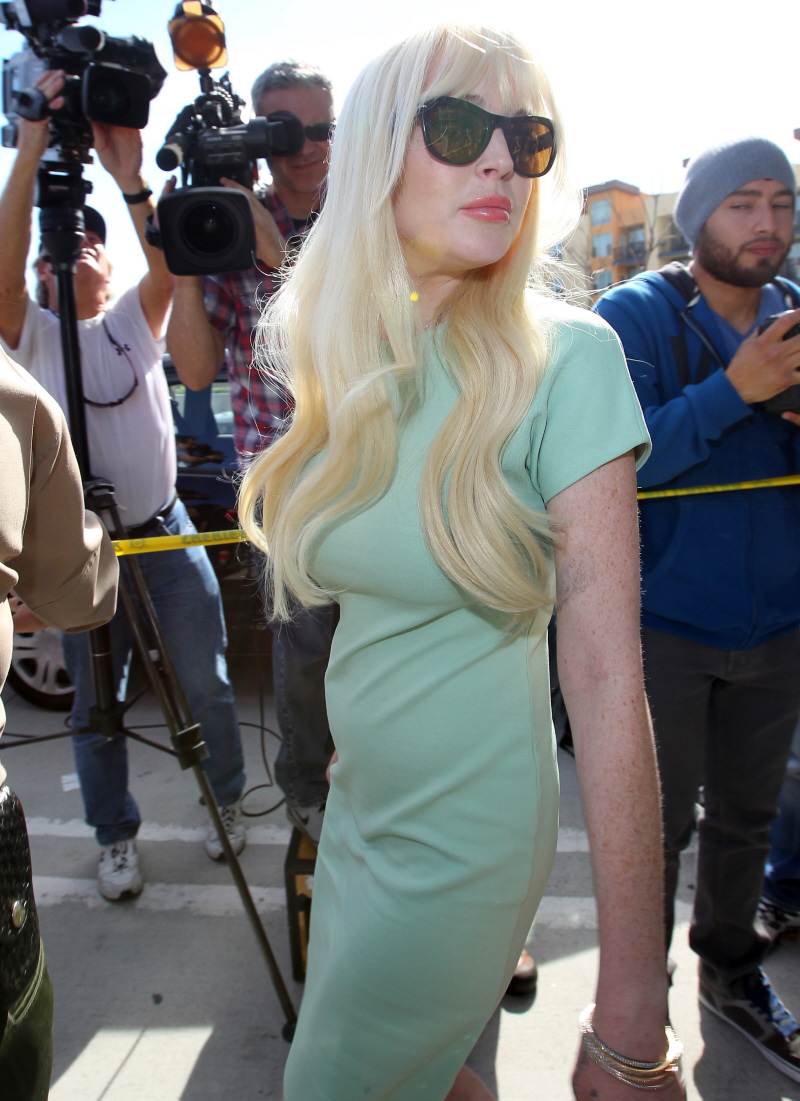 Lindsay Lohan was in court today. Do we have to talk about this court appearance endlessly? It wasn't her first, and it won't be her last. Surprisingly enough, even with all of the cracked-out Terry Richardson photo shoots and trainwreck appearances in NYC, Lindsay managed to complete her community service hours this month at the morgue (where she gets all of her fashion tips). As for the fashion… look, we've totally seen worse from LL. Yes, this seafoam-green (??) minidress isn't appropriate for court, but it's not completely INappropriate either. Her lips are still jacked. She's wearing candy-colored lipstick. Oh… wait… I think I just got it. Is she channeling 1960s Liz Taylor? Is that it? You know this crackhead plans her court outfits according to a very specific crackie system. I really think this ensemble is somehow related to Liz Taylor.
Anyway, here's what went down with the judge:
Lindsay Lohan just got yet another rave review from Judge Stephanie Sautner during her probation progress report hearing this AM — as Sautner proudly announced, "You're in the home stretch!"

Sautner was impressed — that for the 3rd time in a row, Lindsay completed her required community service and therapy sessions.

Sautner gushed, "You seem to be getting your life back on track."

Lindsay has ONE MORE progress hearing set for March 29th — by which date she must complete her final 14 days of community service at the L.A. County morgue, and 5 more therapy sessions.

If she stays on track, Lindsay will be placed on informal probation, meaning all she has to do is obey all laws.

Then again, that's been a tall order in the past.

TMZ obtained a copy of Lindsay's latest probation progress report …and according to the document she still owes $3500 in community service fees related to the jewelry theft case. The original debt was $3900.
Do you think she keep everything (relatively) together for one more month? Oscar weekend is going to be hard for her, you know. There will probably be LOTS of parties at the Marmont, which is LL's current home. Ten bucks says she gets into some kind of crack shenanigans this weekend. TEN BUCKS. But even then, it won't matter. The California legal system has wiped their hands of the Cracken. They just want her out of the system.
Update – video! She looks like hell here. Is that a wig?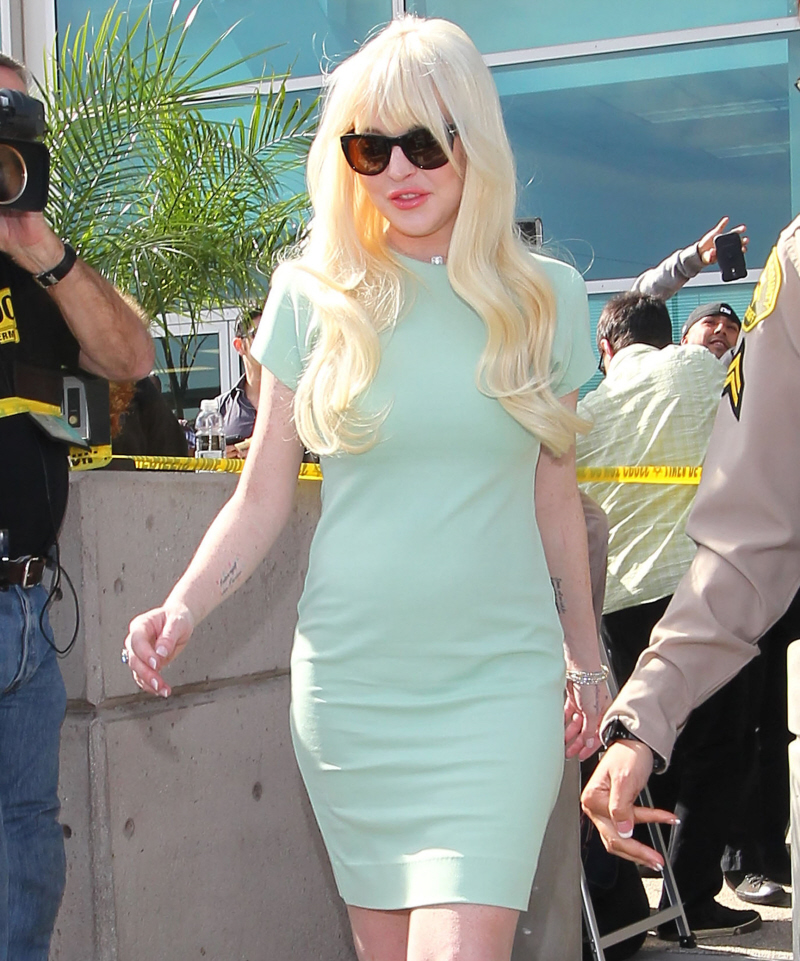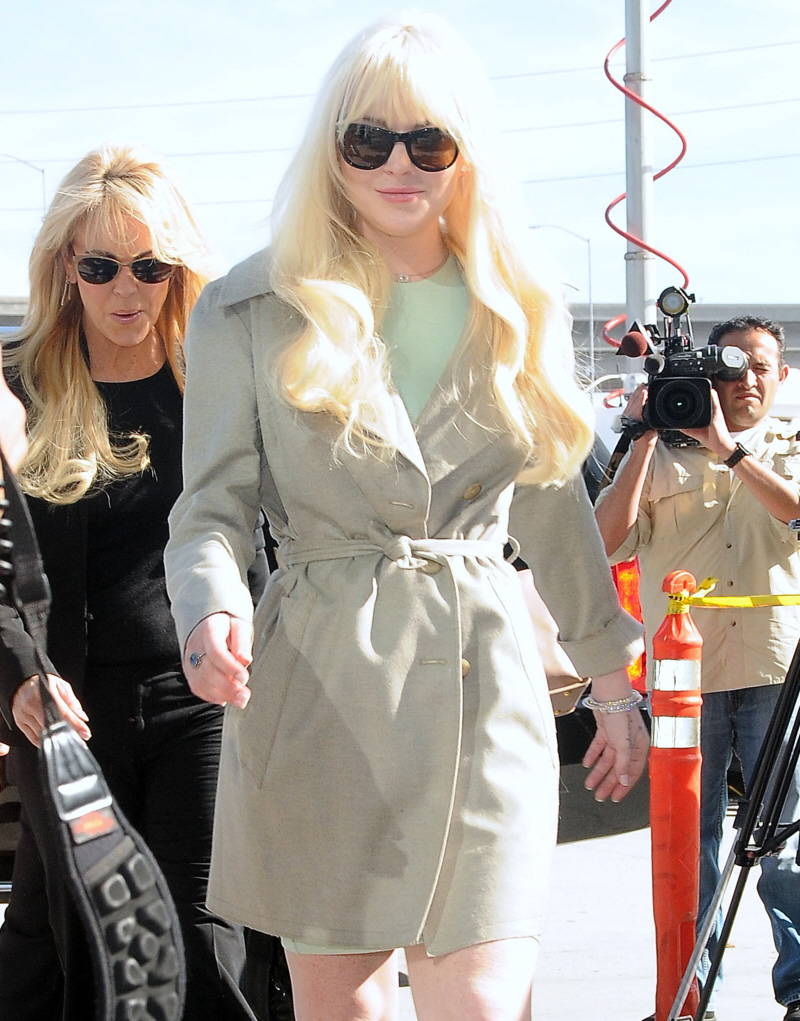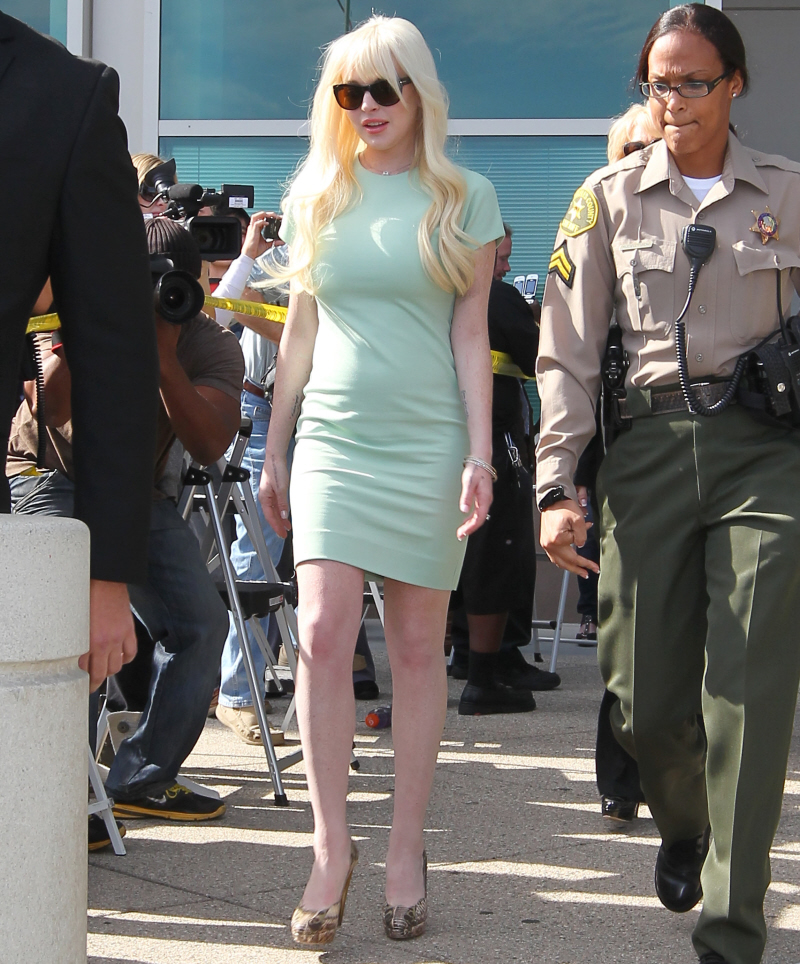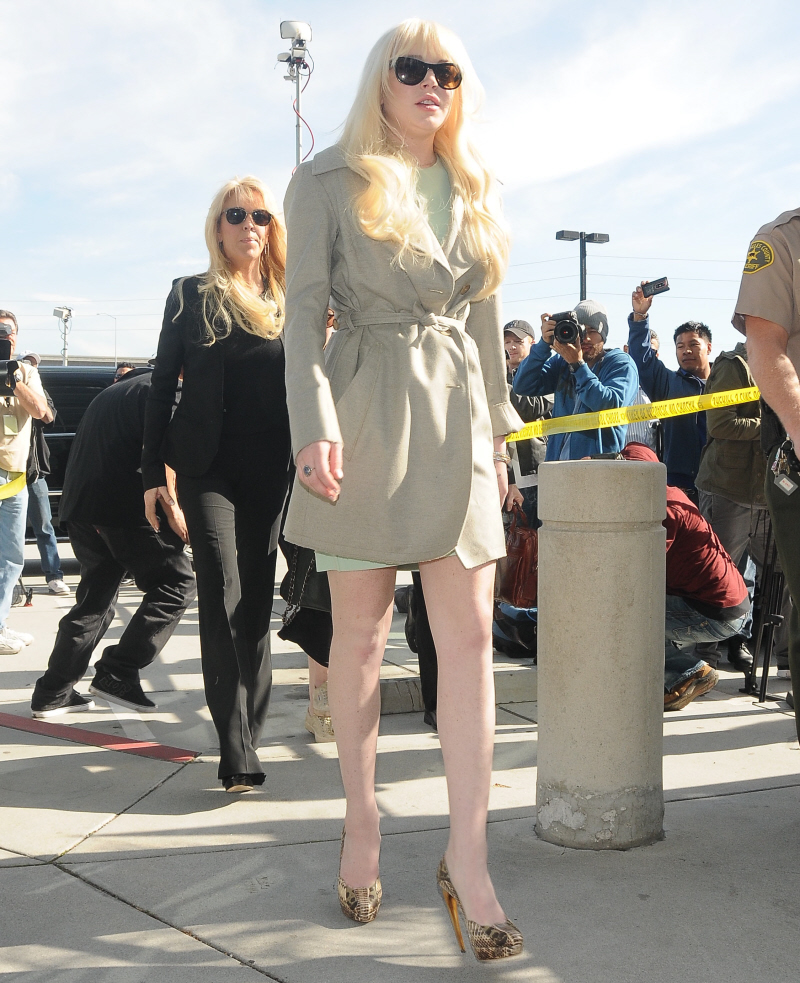 Photos courtesy of Fame/Flynet.

Written by Kaiser

Posted in Lindsay Lohan

- Friends reunion on Ellen [Popsugar]
- Lindsey Vonn watches Tigers kids [Lainey Gossip]
- George Michael fell out of a car going 70mph [D-Listed]
- Real Housewives of Orange County recap [Reality Tea]
- New Man of Steel trailer [Pajiba]
- Jared Padalecki's hot bod [Buzzfeed]
- Doctors confirm Taylor Swift's new boobs [Evil Beet]
- Catherine Zeta-Jones finished treatment [CDAN]
- Anna Paquin hates the paps [Celebslam]
- Lance Armstrong is gross [The Blemish]
- What is Barbara Palvin wearing? [Moe Jackson]
- This is Petra Nemcova? [SVC]
84 Responses to "Lindsay Lohan was in court today, judge said she's "getting her life back on track""