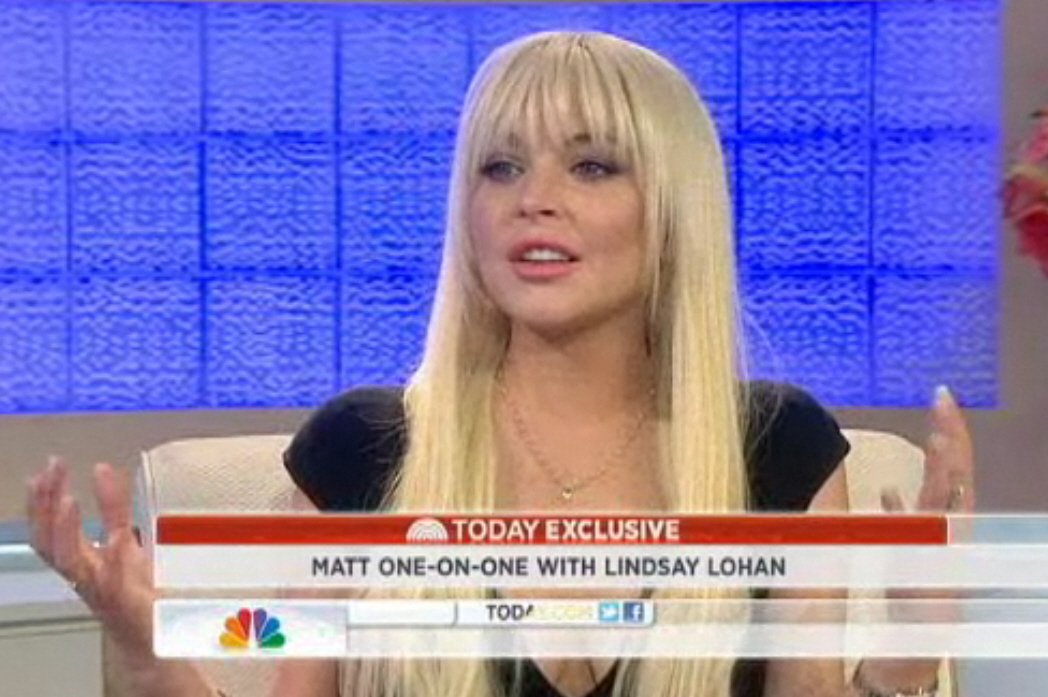 The Today show has finally released the full Lindsay Lohan interview. On Tuesday, Lohan sat down with Matt Lauer for her first "long" interview in years. The way Today has been billing this thing, I thought it was going to be at least 10 minutes of crack lies, but it's barely five minutes of crack-denials and distracting crack wigs (UPDATE: Ah, it's a two-part interview). We had a partial transcript of the interview yesterday (here) and a preview clip of the interview as well (here). You can watch this mess below, and I'll be adding some of my thoughts – in real time – after the video:
Here's Part 1 of the interview:
Visit msnbc.com for breaking news, world news, and news about the economy
0:25 – AHHHH!!! Good God, her face.
0:40 – Ah, a crack joke. She jokes about how "quiet" she's been.
1:06 Lauer: How are you wiser? Classic narcissist answer, "I've learned how to live my life in a way that I'm happy, and I can do the things that I want to do."
1:10: "I've grown." Yeah, with your bolt-ons and your jacked lips.
2:00 – Being in "denial" when she was 19 years old – "I think it was — it's a scary thing to have to kind of express to people … I wasn't as comfortable with myself then. I think it was a fear factor that I had about what was really going on. And, you know, I had to get that wakeup call." WHAT WAKEUP CALL?!!?!
2: 40 – She starts talking about being "lonely". Like she only partied and became a crackie because she was lonely. More like she wanted an audience, constantly. "Some of the main things are the people you surround yourselves with…. I just allowed a lot of people to be around me at all times, and I don't think they were necessarily there for the right reasons, and I wasn't concerned with all that."
3:00-ish – She trusts Mother Crackie. "I trust my family, my mom, my sister and my brothers. I have a really great group of people that I work with now."
Part 2 of the interview:
Visit msnbc.com for breaking news, world news, and news about the economy
This part has more cracked-out cackling. I can't even break down this part of it. I think my favorite part is when Lauer is like, "People think you're next crack shenanigan is coming soon." And she's like, "It's unfortunate!" But the look on her face is all, "Those people are so right. MOVE THAT CONE!!!" Oh, and around 4:30 she once again claims that by the age of 30, she'd like to have won an Oscar. For real.
Lauer is really kiss-ass in this interview – I mean, he's trying to challenge her on her cracked-out BS, but it's all about the follow-up questions. When she crack-cackles about her "sobriety" or when she can't state how long she's been sober, that's the time for a hard-hitting follow-up. I'd also like the point out the stupidity of Lohan's publicity campaign for the Liz Taylor part – she did this when she was connected to the Linda Lovelace project too. She went out and did all of this press before filming (and financing) even happened. She doesn't want to "work". She wants to talk about "working." She wants the shortcut, always.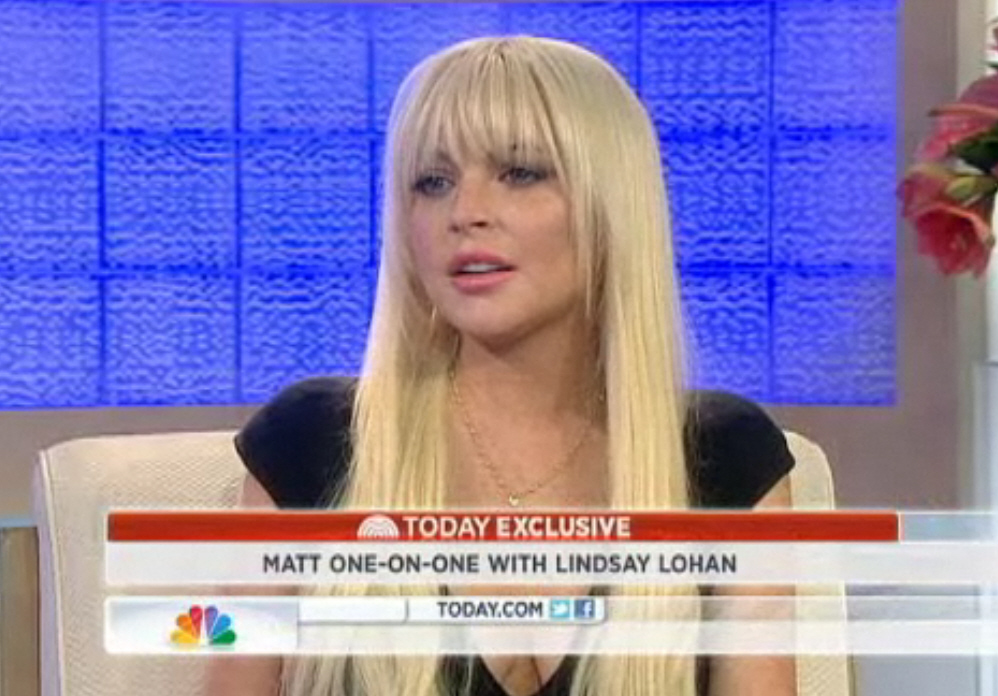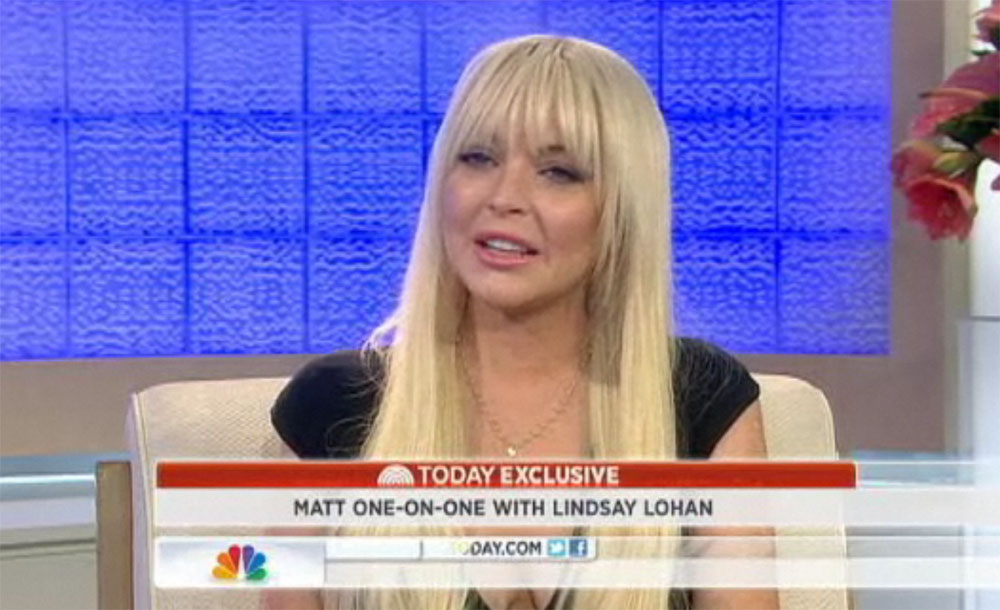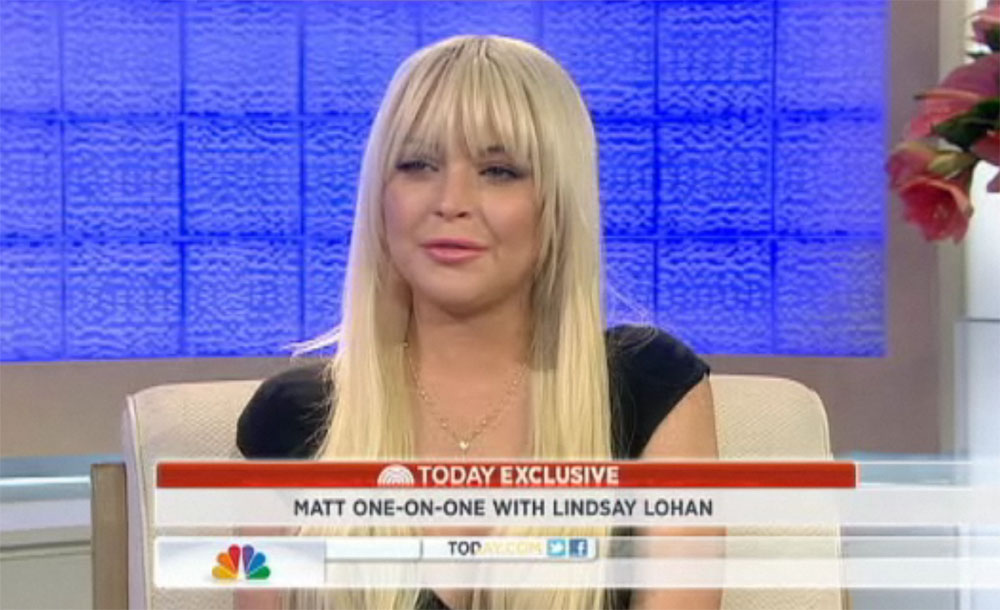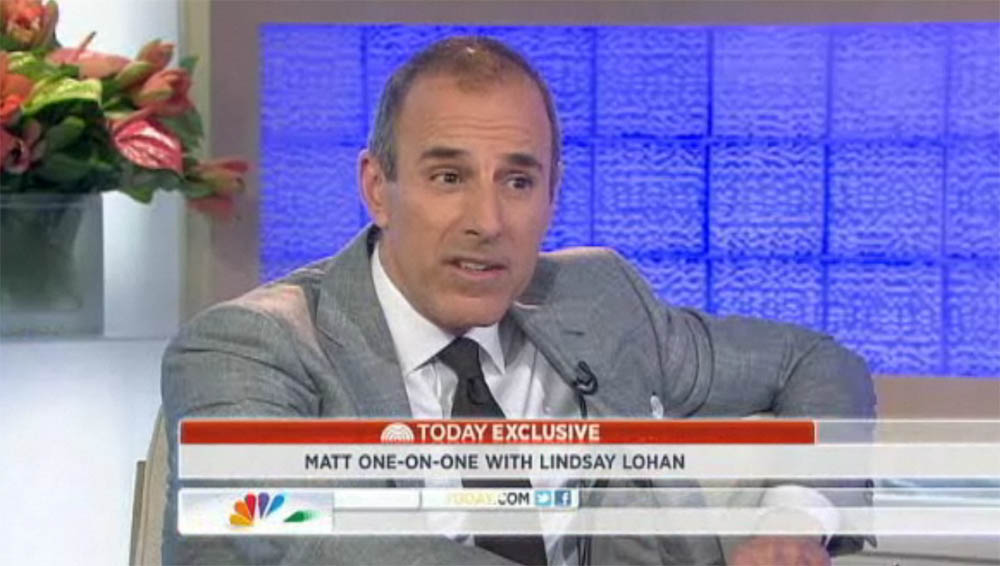 Screencaps from Today.