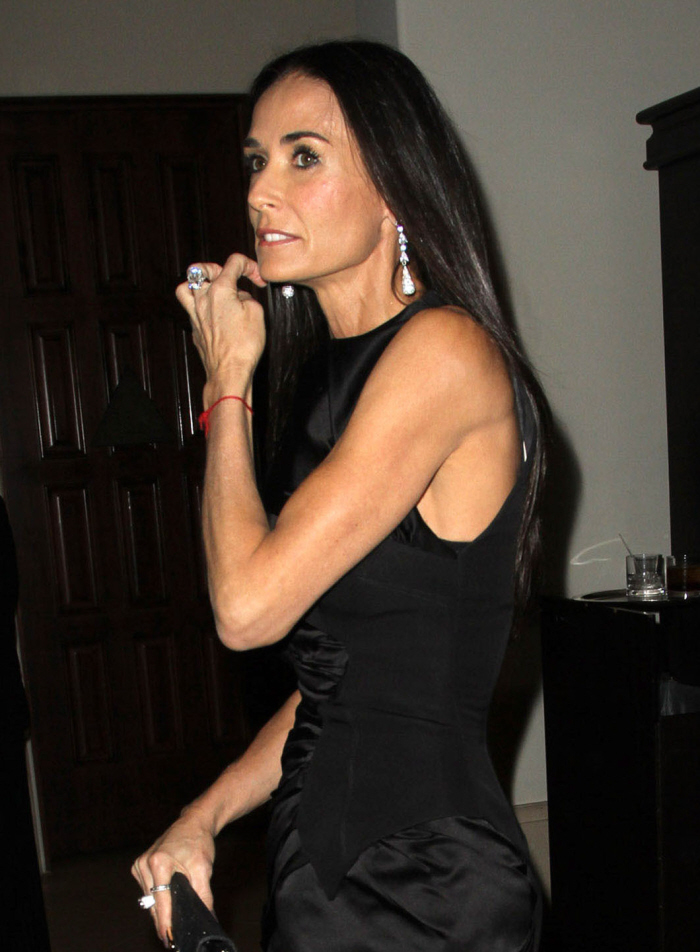 Last week, US Weekly ran a story that Demi Moore was "obsessing" over Ashton Kutcher, because she dared asked a friend for details about the new girlfriend Ashton escorted to an Oscars party. This was the same Oscars party that Demi co-hosted for the last two years and was conveniently absent from this year, having been away at rehab at the time. I was miffed at Ashton for seeming to plant this story of Demi as the desperate one, when he was the one looking like he was rubbing his new romance in and making sure that Demi heard about it. Some of you pointed out that Ashton and Demi have mutual friends, which explains why he went to that party, and that Ashton didn't owe it to Demi to stay away. You also schooled me that it takes two to end a relationship.
Anyway there's a similar story about Demi's desperation in UK's Grazia magazine, which is probably taking earlier reports and embellishing them. The details are convincing, though, and it's not farfetched to believe this is true. Allegedly Demi Moore is still contacting Ashton, and she freaks out when he doesn't get back to her text messages right away. Keep in mind that she was with this guy for the last nine years and they were married for six and a half years. She should definitely move on, but it's not like she's stalking some guy she went on a couple dates with. Here's more, via The Daily Mail:
One friend told Grazia magazine: 'Demi definitely isn't over him yet. Her mood right now relies solely on Ashton and how responsive he is to her messages and phone calls.

'If he doesn't message her back for a couple of hours or seems distant in a text, she starts freaking out. While she won't admit it, she is still completely infatuated with him and it's clear she wants him back.'

Demi is also said to have been thrown off after Ashton visited her in rehab.

The friend added: 'Demi is her own worst enemy, because she was doing great in rehab until Ashton came to visit her.

'He didn't actually make it down until a couple of weeks ago, after promising to go numerous times before that. As everyone expected, his visit really threw her off and she went from being relatively calm to very anxious and edgy.'

Meanwhile, it has also been claimed that Demi is 'in denial' over Ashton's reported relationship with Lorene Scafaria, after the pair made their public debut heading to a game of laser tag in Los Angeles on March 3rd.

A source told heat magazine: 'Demi doesn't know much about Lorene, as she's been shielded from the media while in rehab. Demi and Ashton have been texting regularly. She seems to be in denial about the fact he is thinking of settling down with another woman and is looking forward to seeing him.

'Demi's friends are worried she doesn't seem to have acknowledged Ashton's new relationship.'

Despite the fact that Ashton and Lorene looked very friendly as they stepped out in LA earlier this month, a representative for the Two And A Half Men star has maintained the pair are 'just friends'.
[From The Daily Mail]
Well if this is true then Ashton isn't doing Demi any favors by texting her back, visiting her in rehab, and giving her so much hope that they might get back together. Maybe that's why he brought that new girlfriend to the party: he wanted Demi to know that he'd moved on. It sounds like he was too chickensh*t to tell her outright. I'm not blaming him for the state of their relationship, and now I definitely see the other side of it. Demi isn't exactly a person who is able to stand on her own without a relationship, and she's going to try and cling to Ashton until he puts his foot down.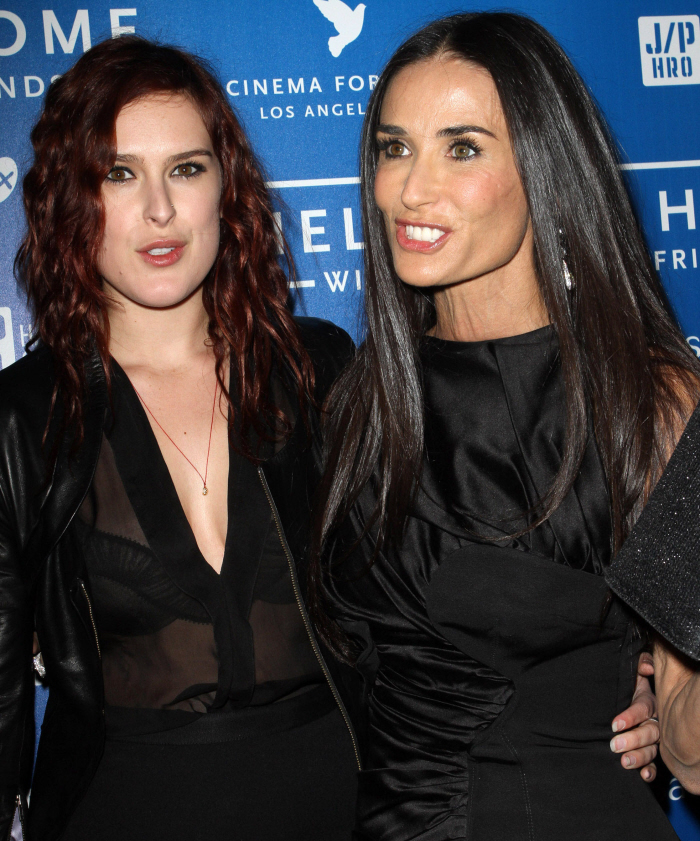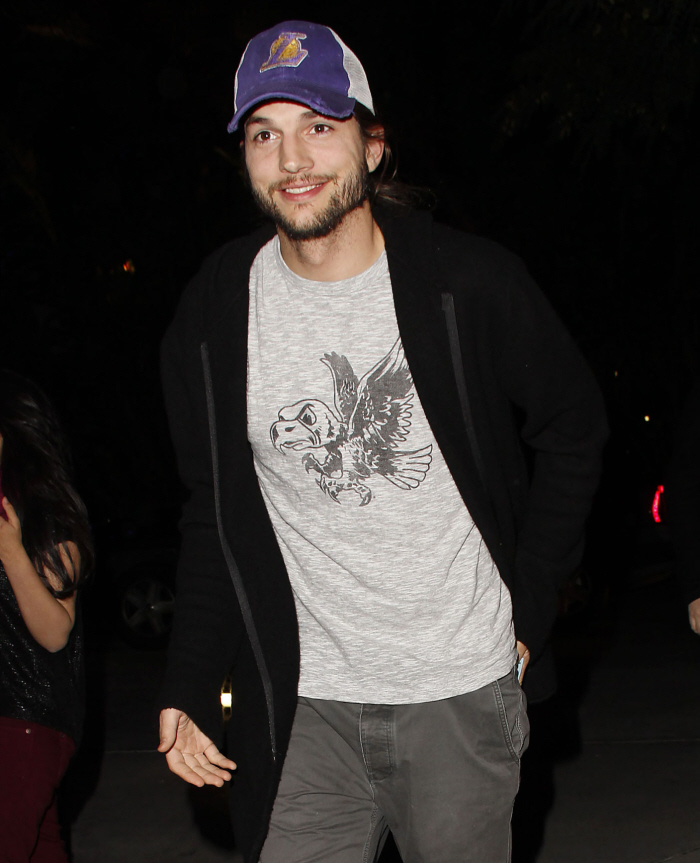 Photos courtesy of WENN.