Gabriel Aubry's pickup line: 'you're purtier than Kim Kardashian.' Would you pass?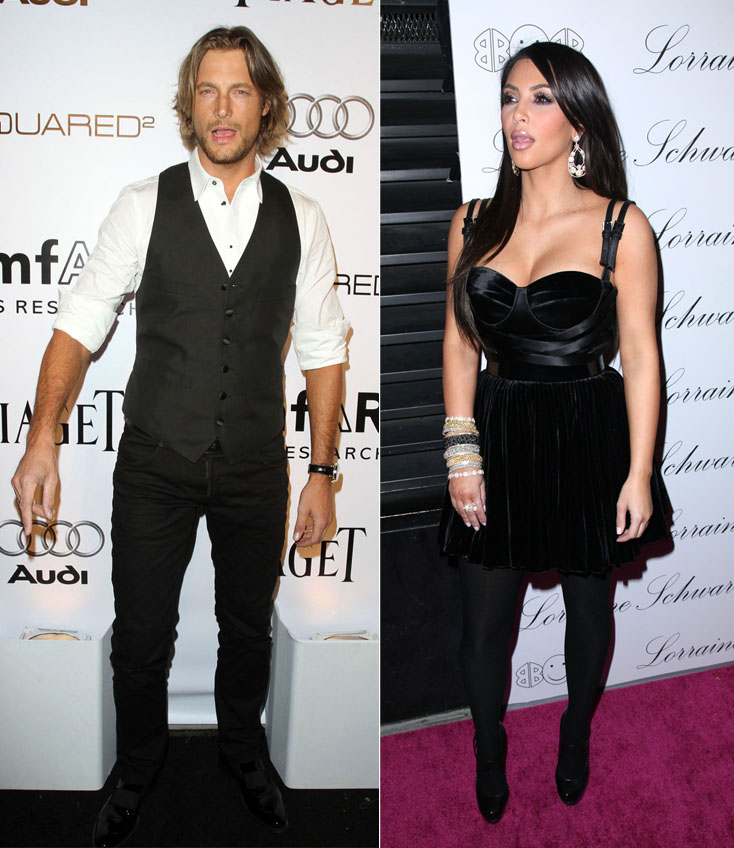 This is probably my favorite photo side by side I've ever made. It's from 2010
Ok, so that's not exactly what Gabriel Aubry allegedly said to a woman who spurned his advances, but it's close. We know that Gabriel maybe fake-dated Kim for a while to make Halle Berry jealous when their split was still fresh. He may have liked Kim or at least admired her dermatologist's handiwork, because he used her as an example of beauty in what sounds like the lamest pickup line ever, until you hear another line he reportedly used:
Gabriel Aubry is looking for love, but his cheesy pickup lines are blowing up in his face!

"Since Halle dumped him, Gabriel feels so alone," an insider told The Enqurier.

"But he's giving off such a whiff of desperation that he winds up alienating the women he meets."

On a recent Friday night, the hunky 36 year-old French Canadian model hit on a hottie during happy hour at the popular Mexican restaurant and bar El Compadre in Los Angeles.

"In his most super suave move, Gabriel asked her, 'Has anyone ever told you that you're more beautiful than Kim Kardashian?'" said the source.

The flabbergasted girl laughed in his face, according to the source.

At another recent Hollywood party, Aubry… Approached three gorgeous aspiring actresses.

"Gabriel told them, 'I'm here by myself tonight, ladies, but I certain don't intend to go home that way. Are any of you fine women interested in going for a ride to check out the view from Mulholland Drive?'" said the source.

"His come on went over like a lead balloon. The girls smiled at each other and then wandered off…

"Deep down Gabriel is basically a nice guy," said the source. "But nothing turns a women off more than a man who comes on as too needy."
[From The National Enquirer, print edition, April 2, 2012]
So if an incredibly beautiful tall, gorgeous (I could go on) hunk of man like Gabriel Aubry moseyed up to you and said either of these things you wouldn't go home with him or even give him your number, would you? More than these lame lines, it's the neediness aspect that makes even the best specimens look unattractive. I once went out with a guy who looked like Keanu Reeves, but he just called me so much and seemed so into me that I couldn't reciprocate. There's a fine line between being open and accessible as a potential boyfriend and just seeming like you can't cope and are clingy. I hope none of this is true at all, though. Aubry seems like a nice guy, but not like he's this stupid or needy. Even if he is, there are plenty of women who would look up at that, smile and thank their lucky stars. L.A. is a different story. It's like its own little world.
This might be true, though. "Beautiful" Kim Kardashian is said to be the one who dumped Gabriel back in late 2010, right before she started dating Kris Humphries. Memories.
Here's Gabriel doing what he does best, being a hot dad. These photos are from yesterday. Gabriel took Nahla to The Grove, so he knew he'd be photographed.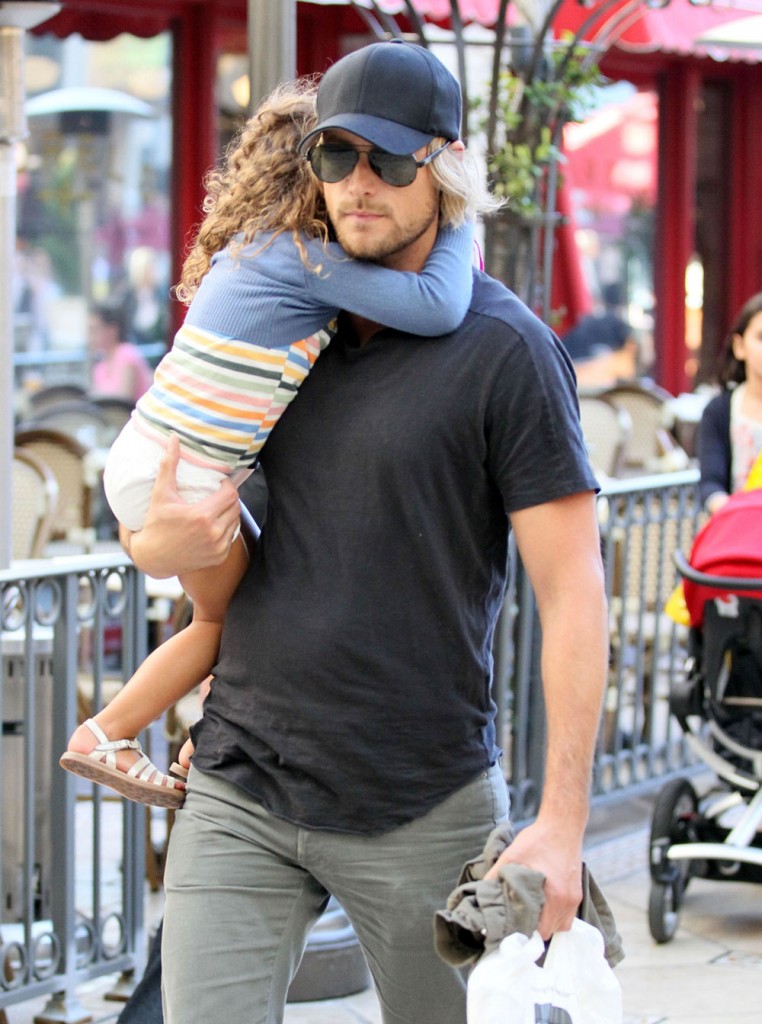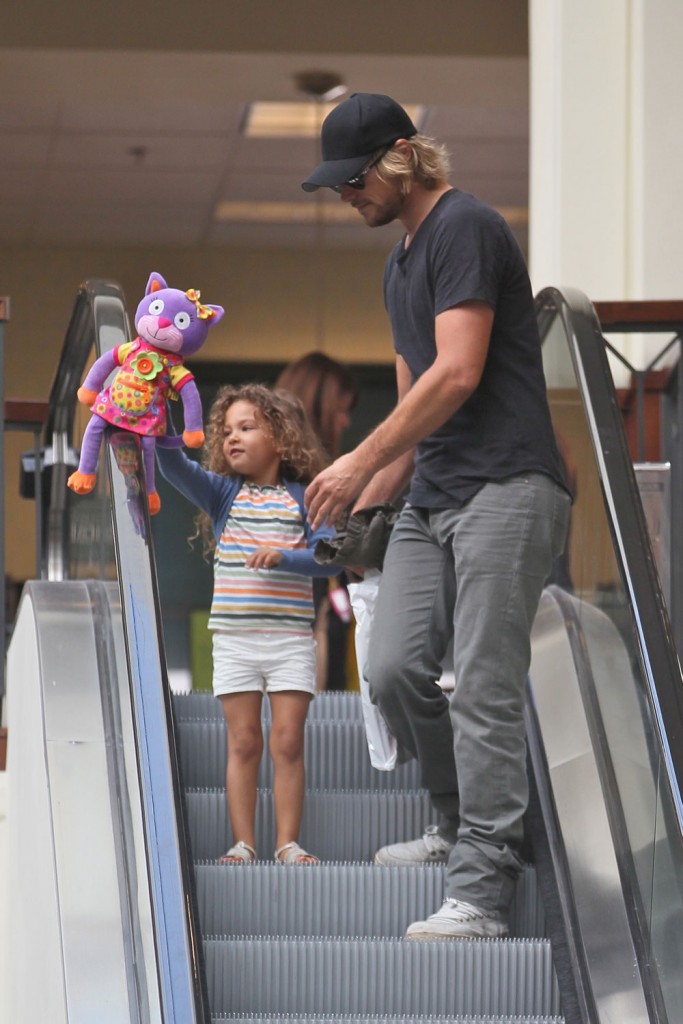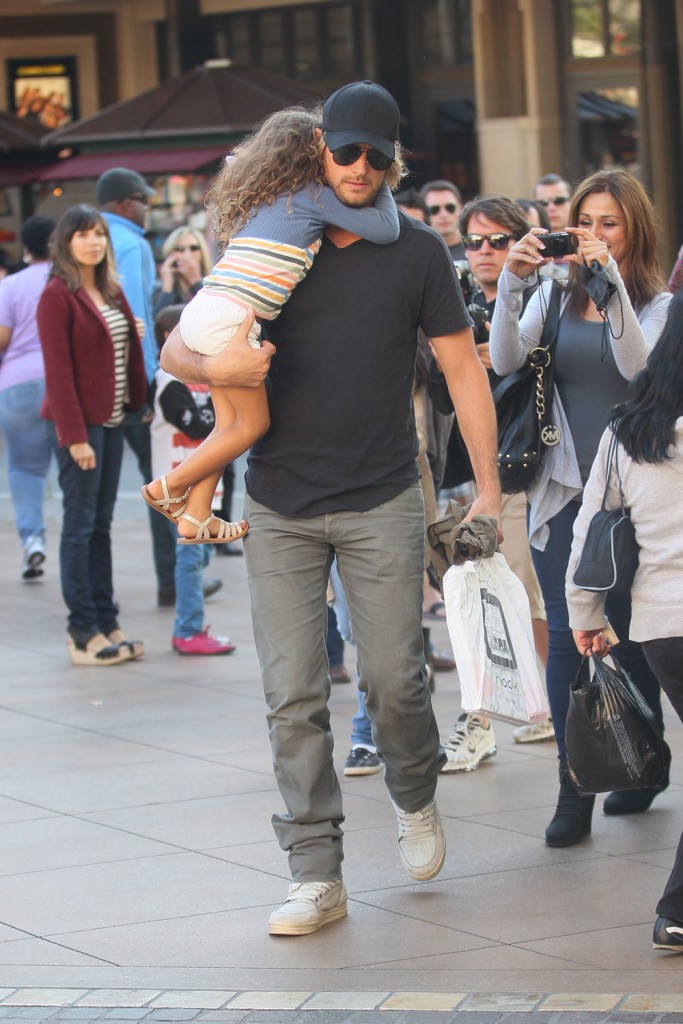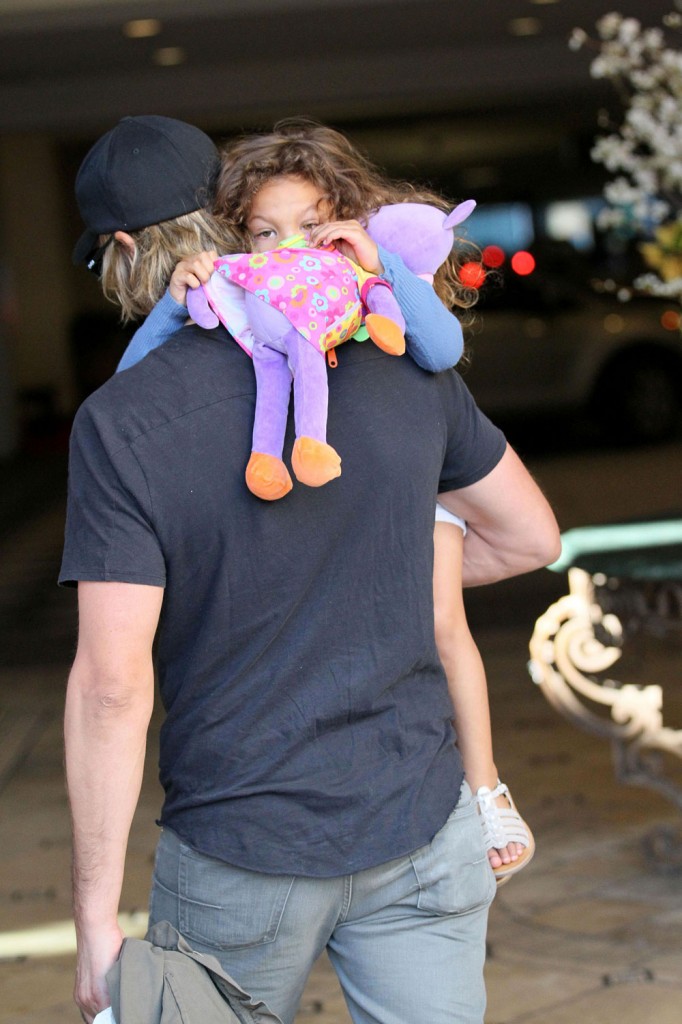 Credit: Owen Beiny / WENN.com
Written by Celebitchy

Posted in Gabriel Aubry, Kim Kardashian

- Friends reunion on Ellen [Popsugar]
- Lindsey Vonn watches Tigers kids [Lainey Gossip]
- George Michael fell out of a car going 70mph [D-Listed]
- Real Housewives of Orange County recap [Reality Tea]
- New Man of Steel trailer [Pajiba]
- Jared Padalecki's hot bod [Buzzfeed]
- Doctors confirm Taylor Swift's new boobs [Evil Beet]
- Catherine Zeta-Jones finished treatment [CDAN]
- Anna Paquin hates the paps [Celebslam]
- Lance Armstrong is gross [The Blemish]
- What is Barbara Palvin wearing? [Moe Jackson]
- This is Petra Nemcova? [SVC]
84 Responses to "Gabriel Aubry's pickup line: 'you're purtier than Kim Kardashian.' Would you pass?"