Meet the new Susan Boyle, Jonathan Antoine, the 17 year-old with the golden voice

This video is amazing. I've watched it about five times now. It makes me cry every time and I want to keep watching it over and over again.
Remember when Susan Boyle first sang on Britain's Got Talent in 2009? I do, and I remember being mesmerized by her talent. Before Susan there was Paul Potts, but no singer has ever quite captured the worlds' interest like Susan – until now. Meet Jonathan Antoine, an overweight 17 year-old who comes across as shy and admits on camera that he was bullied as a child. He sang on Britain's Got Talent over the weekend along with his friend, 16 year-old Charlotte Jaconelli, at the urging of their school music teacher. When the two of them came on stage both the judges and audience were skeptical. Like Susan Boyle, once Jonathan started singing it was immediately obvious that he has a voice for professional opera. It's incredible to watch. Here's more on this story, thanks to Ace Showbiz:
One contestant has emerged as a standout in the sixth season of "Britain's Got Talent". In a Saturday, March 24 episode of the reality series, Jonathan Antoine stole the show after taking the stage to perform Celine Dion and Andrea Bocelli's "The Prayer" with his vocal school classmate, Charlotte Jaconelli.

Appearing on the stage in a faded shirt and baggy trousers, Jonathan earned a cynical comment from Simon Cowell who judged him based on his plain look before listening to his voice. "Just when you thought it couldn't get any worse," he told fellow judge Carmen Electra.

The judge on "The X Factor (US)", however, was left stunned after watching Jonathan's performance. "You're a future star," the British producer praised the 17-year-old boy, who has since drawn comparisons to Susan Boyle and earned a new nickname "SuBoy".

When Simon expressed his worry that Charlotte would hold him back, Jonathan refused to dump her and insisted they would remain as a duo. All four judges, including David Walliams and Alesha Dixon, gave "yes" to the two singing hopefuls, with Simon finally realizing that Charlotte complements Jonathan.

Being interviewed after the performance, Jonathan opened up that Charlotte gave him confidence. "I really didn't think I'd be going up on stage today if I didn't have Charlotte by my side. Charlotte has been a really big help for me in terms of confidence," he admitted.
[From Ace Showbiz]
I thought that was sweet that Jonathan insisted on staying with Charlotte. She's obviously a dear friend to him and I loved what she said about how she would always defend him. Given what he said, it's not likely he would have auditioned without her. Charlotte can sing but you can tell that she's not on the same level as Jonathan. Almost no one is, that kid is amazing.
The one thing that might hold Jonathan back, and I'm not being facetious, is the fact that the YouTube videos featuring him singing have the embedding disabled. People will find ways around that, like I did, but it's a shortsighted move by ITV and Britain's Got Talent. It doesn't matter though, this kid is on his way to fame and riches, and I hope that it all goes very well for him.
On a side note, look at Simon Cowell's face at 3:20 into the video. He looks like he's adoring this kid. Simon knows he's got his next moneymaker.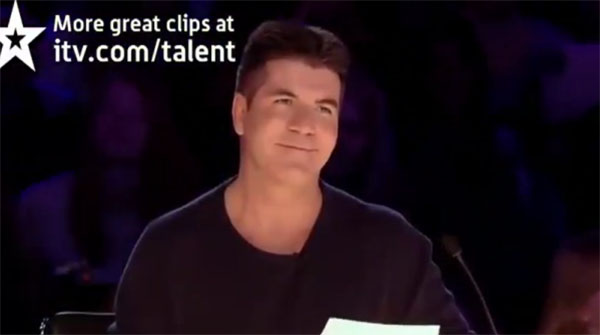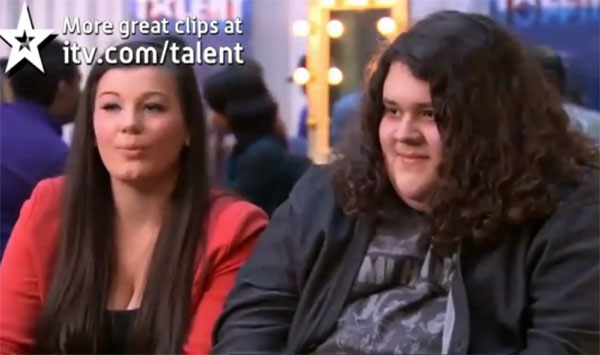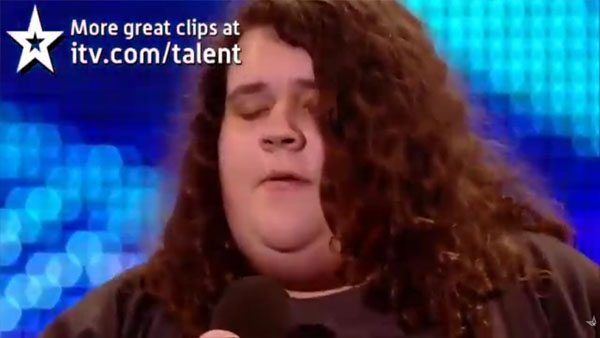 Here are Celine Dion and Andrea Bocelli singing "The Prayer"

Written by Celebitchy

Posted in Music, Simon Cowell

- Harry Styles & Kimberly Stewart going strong [Lainey]
- Demi Moore's new man is gross [D-Listed]
- Fug or fab: Emma Stone [Go Fug Yourself]
- Arrest warrant issued for Jenelle Evans [Reality Tea]
- Only God Forgives review [Pajiba]
- Hugh Jackman, scooter master [Buzzfeed]
- Who does Drew Barrymore call her sister? [Evil Beet]
- Cannes couples past and present [Popsugar]
- Arrested Development supercut [CDAN]
- Lea Michele's see through skirt [Celebslam]
- Cheating wife's lover escapes out of window [Movin925]
- Joe Francis is crazy [Starcasm]
75 Responses to "Meet the new Susan Boyle, Jonathan Antoine, the 17 year-old with the golden voice"