K-Fed told Britney not to come to his show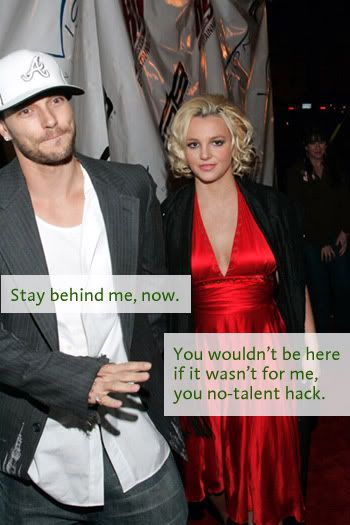 We were right that K-Fed's jealousy of Britney's fame is what kept her from his concert. Kevin is said to have told Britney over dinner to stay away from his show at Pure nightclub last Friday, even though she was planning on coming and was already in Vegas to support him:
The fledgling rapper, who is desperate to kick-start his music career, is said to have
ordered his pop singer spouse to stay away from the showcase
, at which he played two songs from his forthcoming debut album, 'Playing With Fire', over fears she would "upstage" him.
The 'Toxic' singer – who has a son, Sean Preston, with 28-year-old Federline – is said to have been devastated after he broke the news to her on a dinner date at plush Las Vegas restaurant Nero.
One onlooker said: "It was a full-blown war of words. It was a very bad night for Britney.
"Kevin didn't want Britney overshadowing him on the red carpet. Britney fled the restaurant and raced up to her suite alone, boycotting his performance."
Britney was seen fleeing to her suite in tears. An earlier report had Britney jealous that Federline had invited Paris Hilton to come, (although Paris sent her parents instead) but it makes more sense that K-Fed's jealousy is what kept her away. Earlier rumors had the couple fighting over the fact that K-Fed thought that Brtiney stole his thunder at his performances.
Kevin Federline cannot rap and would have no career if it wasn't for his talented wife. He was said to have turned down an earlier offer from Britney to get professional production help on his album. He's a fool for not accepting Britney's support, and for telling her to stay away from his shows. She will hopefully come to her senses and leave him soon.
Written by Celebitchy

Posted in Britney Spears, Kevin Federline, Relationship trouble

- Zach Galifianakis is awesome [Buzzfeed]
- Prince at the Billboard Music Awards [D-Listed]
- Bieber's Billboard look [Go Fug Yourself]
- Married to Medicine recap [Reality Tea]
- Celebrity first marriages [Pajiba]
- The last Mad Men baffled a lot of people [Lainey]
- Karolina Kurkova's crazy hot dress [Moe Jackson]
- Jennifer Garner on set [Popsugar]
- Kitten vs. Lizard [CDAN]
- Doetzen Kroes' great butt [Celebslam]
- Shameless star Jeremy Allen White [OMG Blog]
- RIP Ray Manzarek [Bossip]
One Response to "K-Fed told Britney not to come to his show"