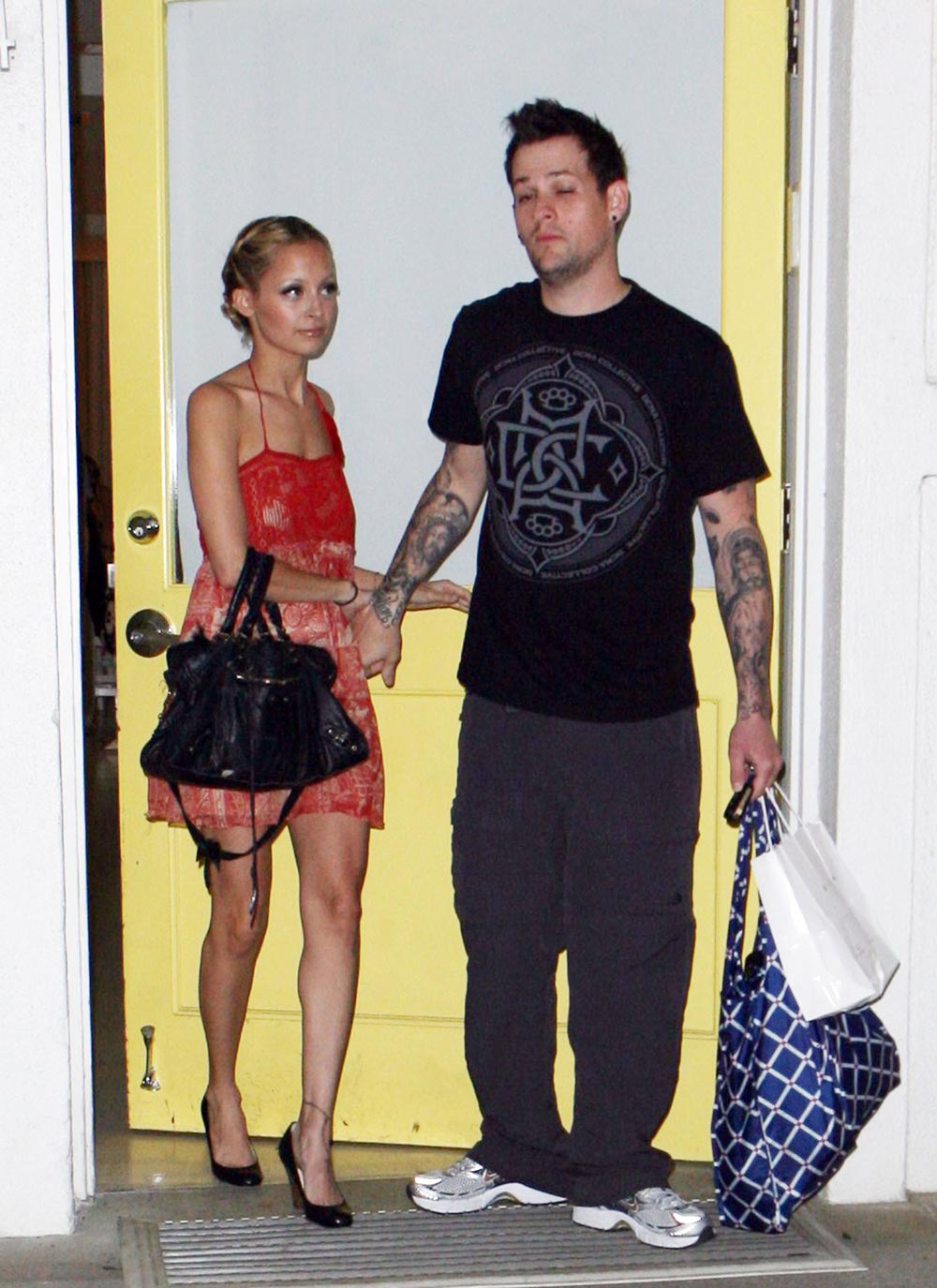 Nicole Richie and Joel Madden have adorable 10 month old daughter Harlow together and recently moved into a new home. They've confirmed their engagement, with Joel saying in September of last year that he would definitely marry a then-pregnant Nicole. He said "Obviously, marriage is in our future. I don't know when or where or how, but right now our priority is our family and is the baby." It's over a year later and we still haven't heard about wedding plans for these two.
Joel told People Magazine in an interview this October that they wanted more kids and "If it could be as easy as Harlow, sure." As for their wedding plans, Nicole was noncommittal saying simply "When we get married, everyone will know. It will happen when it happens."
Maybe Nicole has just learned to have lower expectations about her wedding because Joel keeps putting it off. According to the National Enquirer, Joel wants another baby but Nicole has told him that he better put a ring on her finger first.
Marry me or we're not having any more children! That's the ultimatum Nicole Richie has laid down for boyfriend Joel Madden as he pleads with her to have another baby, sources tell the Enquirer.

Nicole… welcomes the idea of adding to their family – but not until Joel gives her a ring and commits to a wedding date.

"Nicole's ultimatum has been a long time coming," a pal revealed. "She's sick and tired of Joel dragging his feet every time the subject of marriage comes up."

Joel has a long list of reasons why he thinks their wedding should be postponed. Earlier this year, he said it was because he wanted to wrap up his band Good Charlotte's tour. But when the tour started winding down over the summer, Joel said he didn't want ot get married until they bought another house in LA.

The two spent months house-hunting before finally settling on a home in the Hollywood Hills, but Joel then announced he wanted to focus on the Nov. 25 release of Good Charlotte's new album, "Greatest Remixes." He also wants to follow through with plans to open a tattoo parlor with his twin brother Benji.

"It's pretty evident to Nicole that Joel will keep coming up with excuses unless she puts her foot down," explained the pal.
[From The National Enquirer, print edition, November 24, 2008]
There was a story in June that Joel told Nicole he wanted her to convert to Christianity before they got married, but maybe that was just another way for him to put it off.
Another tabloid story in Star this June had Nicole and Joel planning a lavish wedding over the summer. In retaliation to what he called a fake story Joel posted a photo of a wedding cake on his blog with the title "WE DID IT!! NICOLE AND I FINALLY GOT MARRIED!! click here for the pictures!!" Inside was a Photoshopped picture of two monkeys in wedding attire. Maybe that revealed a little more about Joel's feelings about marriage than he intended.
Nicole and Joel are shown leaving a hair salon on 10/13/08. Joel looks like he's lost weight. Credit: Fame