Brad Pitt & Angelina Jolie really are engaged. For real this time.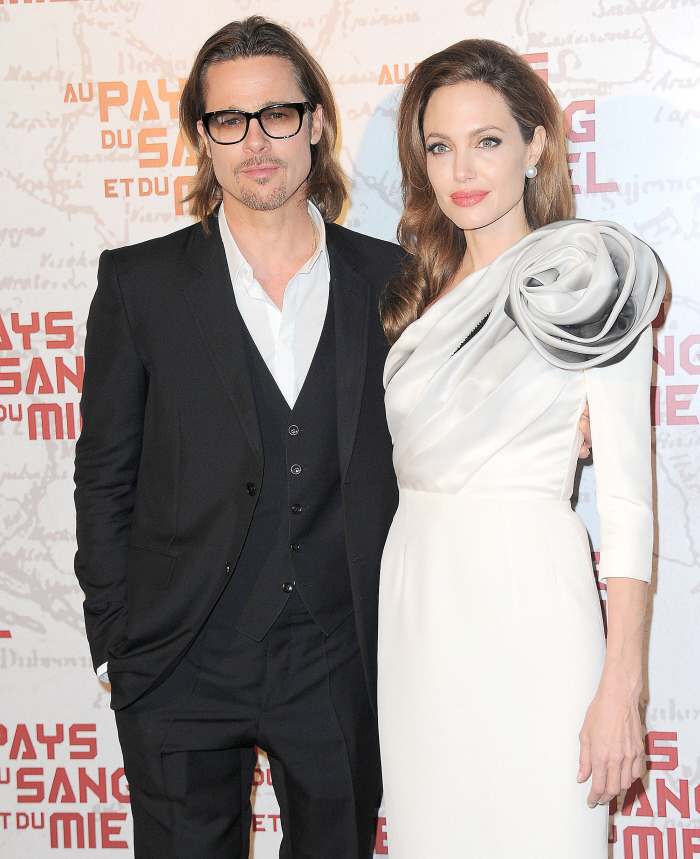 No really. For real this time. This story is courtesy of The Hollywood Reporter, and was then confirmed by People Magazine, not a tabloid. THR started things off with an exclusive photo – go here to see it – of Angelina wearing a pretty decent-sized diamond-looking ring on her left hand. THR says the ring was designed by Robert Procop, and it's totally an engagement ring. Totally! Because Brad's manager Cynthia Pett-Dante just told People Magazine, "Yes, it's confirmed. It is a promise for the future and their kids are very happy. There's no date set at this time."
Who is Robert Procop? He's about to be a household name, we predict.

The Beverly Hills jeweler and former CEO of Asprey & Garrard, the British jewelry company to the English royal family, confirms to The Hollywood Reporter that he has designed an engagement ring for Angelina Jolie. A rep for the jeweler says, "I can confirm that, yes, Robert Procop did indeed design an engagement ring for Angelina Jolie, designed in collaboration with Brad Pitt."

Jolie was seen wearing the ring two nights ago, April 11, at a private viewing of the Los Angeles County Museum of Art's Chinese Galleries. She attended the small gathering with Pitt as well as their son Pax. Neither the ring nor the engagement has been confirmed by Jolie's representatives, who could not immediately be reached for comment.

Procop tells THR: "Brad had a specific vision for this ring, which he realized over a yearlong collaboration. He wanted every aspect of it to be perfect, so I was able to locate a diamond of the finest quality and cut it to an exact custom size and shape to suite Angelina's hand. Brad was always heavily involved, overseeing every aspect of the creative design evolution. The side diamonds are specially cut to encircle her finger. Each diamond is of the highest gem quality."

If Pitt and Jolie truly are engaged — long hinted at by every tabloid and weekly imaginable — it makes sense that Procop would be the designer who would have created the ring with Pitt. Procop's "The Style of Jolie" jewelry collection on his website was designed with the star, and she's worn a multitude of his pieces on the red carpet, including to this year's Producers Guild Awards. The first funds from Procop's collaboration with Jolie have been dedicated to the Education Partnership for Children in Conflict to build a school in Afghanistan. Procop also created pieces of jewelry for Jolie for The Tourist.

Procop's had one very good week: When Robert Downey Jr. and his wife Susan stepped out for the L.A. premiere of The Avengers for the first time since the Feb. 7 birth of their son, Downey told the press he and his wife were wearing amethyst jewelry from Procop in honor of their son's birthstone. Downey also wore a purple Gucci suit, and the couple joked that they were bringing a little bit of their new son Exton with them.

News of the potential engagement should come as no surprise to readers of The Hollywood Reporter. In January, Pitt told THR that he and Jolie did hope to one day tie the knot for the sake of their children.

"We'd actually like to," he said of making Jolie his wife, "and it seems to mean more and more to our kids. We made this declaration some time ago that we weren't going to do it till everyone can. But I don't think we'll be able to hold out. It means so much to my kids, and they ask a lot. And it means something to me, too, to make that kind of commitment."

At the time, Pitt declined to comment on whether he had proposed yet. "I'm not going to go any further," he said, "But to be in love with someone and be raising a family with someone and want to make that commitment and not be able to is ludicrous, just ludicrous."
YAAAAAAAAAAAAAAAYYYYYYYYYY!!!!
By the way, in case you were all, "Who the eff is Robert Procop again?" He is not just some mangy famewhore jewelry designer – he actually knows Angelina Jolie. They worked together on "The Style of Jolie" jewelry line, remember that? So, is it on? Perhaps. I want a better look at the ring, though. It looks like a gigantic emerald-cut diamond. Nice.
Anyway, I'm very happy for them. Good for them. OMG FLOWER GIRLS!!! Vivienne and Zahara will totally be flower girls. Shiloh will fight it. She'll want to be a groomsman. EPIC!
(You know this is totally about The Leg. And Michael Fassbender. Of course. And please, people – try not to go overboard talking about She Who Shall Not Be Named.)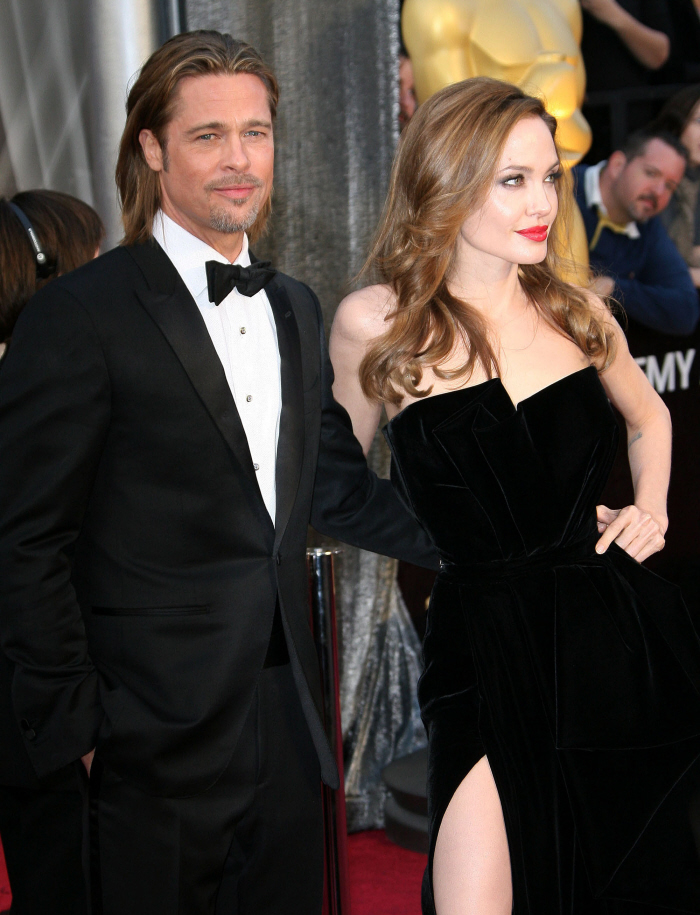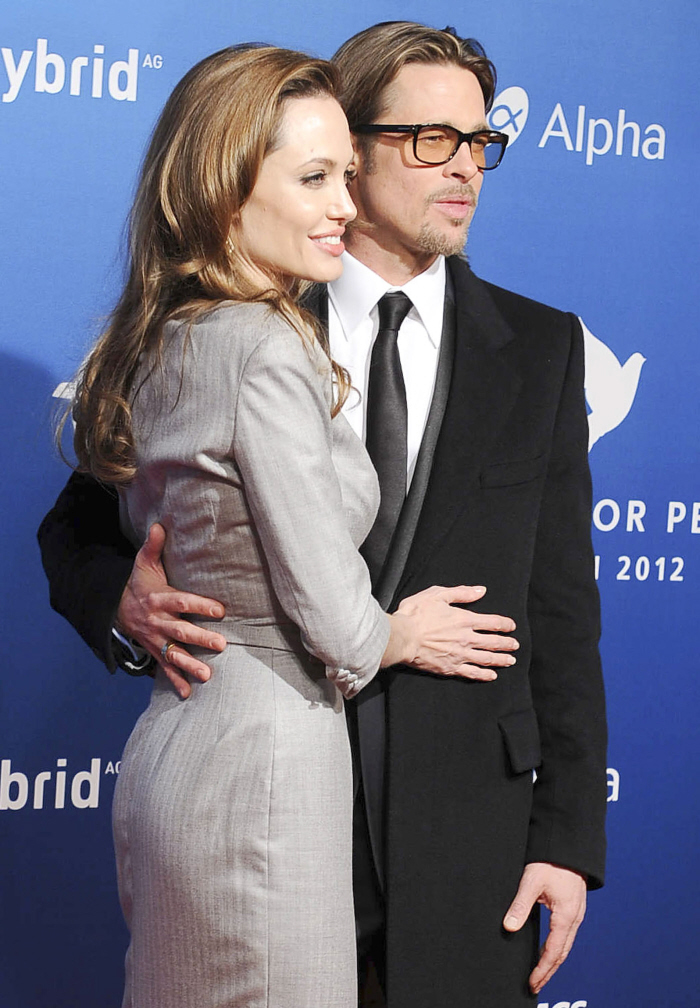 Photos courtesy of WENN.

Written by Kaiser

Posted in Angelina Jolie, Brad Pitt, Engagements

- Mariah Carey lip synced on American Idol [CDAN]
- Colin Firth is looking good [Lainey Gossip]
- Internet celebrity charged with murder! [D-Listed]
- What is Paz Vega wearing? [Go Fug Yourself]
- New bachelors on The Bachelorette [Reality Tea]
- Goodbye to The Office [Pajiba]
- Bachelor Sean's fiance cheats on him [Evil Beet]
- Britney Spears out with her man [Popsugar]
- Nina Dobrev works it [Popoholic]
- Cindy Crawford needs to lay off the 'tox [Celebslam]
- Who said it: Carrie Bradshaw or The Dalai Lama? [Buzzfeed]
319 Responses to "Brad Pitt & Angelina Jolie really are engaged. For real this time."