Chris Hemsworth, humble hot guy: "We all have the same insecurities"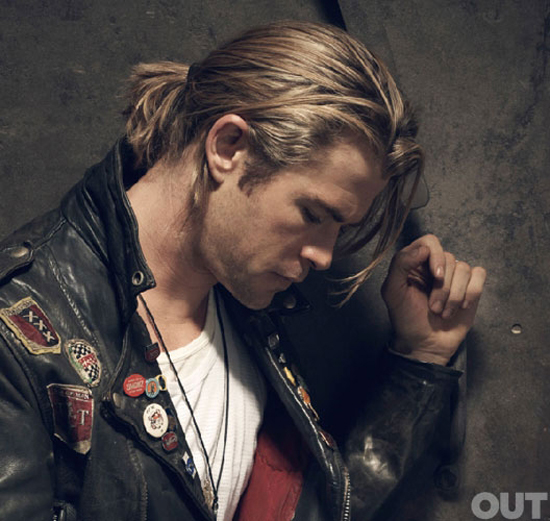 Hiiii, Thor! Yep, it's that time again to talk about Chris Hemsworth, who appears in the May issue of Out Magazine to promote The Avengers, which just needs to hit theaters already because May 4 still seems like far too long to wait. As you can see from these images, the photoshoot is another lovely hybrid of the scruffy vs. pretty dichotomy that Hemsworth straddles so well. Sigh, the above photo is just …. well, let's say that I want to straddle something too. In the interview, the guy comes off as entirely humble and genuine, and while he's not as verbally entertaining as fellow Avenger Chris Evans has been during recent interviews, there's definitely something bubbling under Hemsworth's surface that makes him very appealing. Did you know that he's good buddies with Channing "Charming Potato" Tatum? Indeed.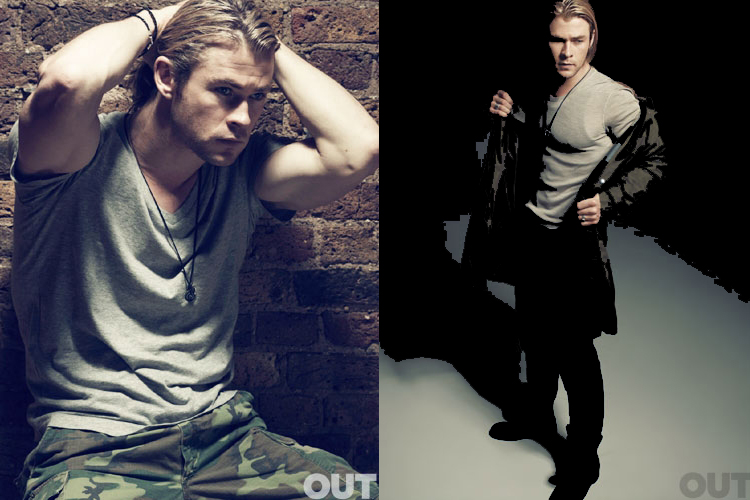 On being known as "Thor": "Being that size, you are very quickly stereotyped. Clearly, you can't be talented if you're that bulky. He's going to be a meathead, you know? You do wonder if you'll be restricted and not allowed to do anything else. But what it gives you far outweighs those negatives. Kenneth Branagh, Natalie Portman, Anthony Hopkins — this was not your average blockbuster superhero thing."

On being visible: "Channing [Tatum] made a good point about audiences these days having ADHD. You can't keep away for too long. Stars are pumped out. We live in a different age. The movie is a lot bigger than the star. There are plenty of guys you can throw into action roles, but you have to capitalize on it."

He's already seen Snow White and the Huntsman: "Charlize and Kristen and I all could not believe how amazing it was."

On his success: "All this was mostly luck I'd love to say it's all about hard work, and, yes, that's a component, but I know so many actors who are hard workers who it's just not happening for. I'm not about to complain."

On Liam's success: "I'm reminded, now that my little brother's working a lot, how much more interesting he is. So I give him a punch when I see him."

On getting attention for his looks: "That's… interesting," he muses, as if he has never considered it before. But a good-looking man gets looked at, surely? "It's so easy to sound fake sincere when you talk about looks or whatever, but I never thought, Oh yeah, great, I look like this, therefore I ought to get that. We all have the same insecurities."

On his feminine side "My mum always used to say to me that, out of her three boys, 'Chris, you were the girl,' I'd speak to her about far more things than [my brothers] would and far more things than she needed to hear about, too. I was a chatty kid."
[From Out Magazine]
It's nice to know that even Thor has his share of insecurities, but the interview also mentions that he went on countless auditions for about a year and almost considered heading back to his native Australia when Joss Whedon finally cast him in Cabin in the Woods, which I still need to go watch in the theater. I do recall seeing him in A Perfect Getaway a few years ago and being impressed by his incredible presence even though he was substantially uglied up for that movie. These days? Chris Hemsworth remains the perfect blend of scruffy and pretty.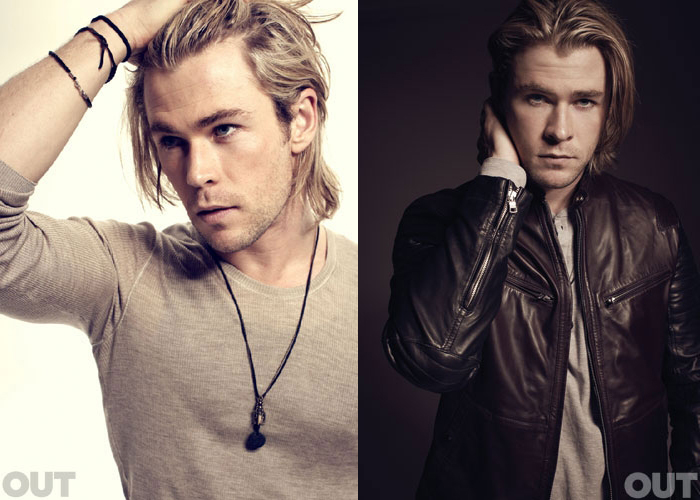 Photos courtesy of Out Magazine
Written by Bedhead

Posted in Chris Hemsworth

- Zach Galifianakis is awesome [Buzzfeed]
- Prince at the Billboard Music Awards [D-Listed]
- Bieber's Billboard look [Go Fug Yourself]
- Married to Medicine recap [Reality Tea]
- Celebrity first marriages [Pajiba]
- The last Mad Men baffled a lot of people [Lainey]
- Karolina Kurkova's crazy hot dress [Moe Jackson]
- Jennifer Garner on set [Popsugar]
- Kitten vs. Lizard [CDAN]
- Doetzen Kroes' great butt [Celebslam]
- Shameless star Jeremy Allen White [OMG Blog]
- RIP Ray Manzarek [Bossip]
20 Responses to "Chris Hemsworth, humble hot guy: "We all have the same insecurities""