Jessica Simpson's baby TMI commences: Maxwell is "eating like a champ"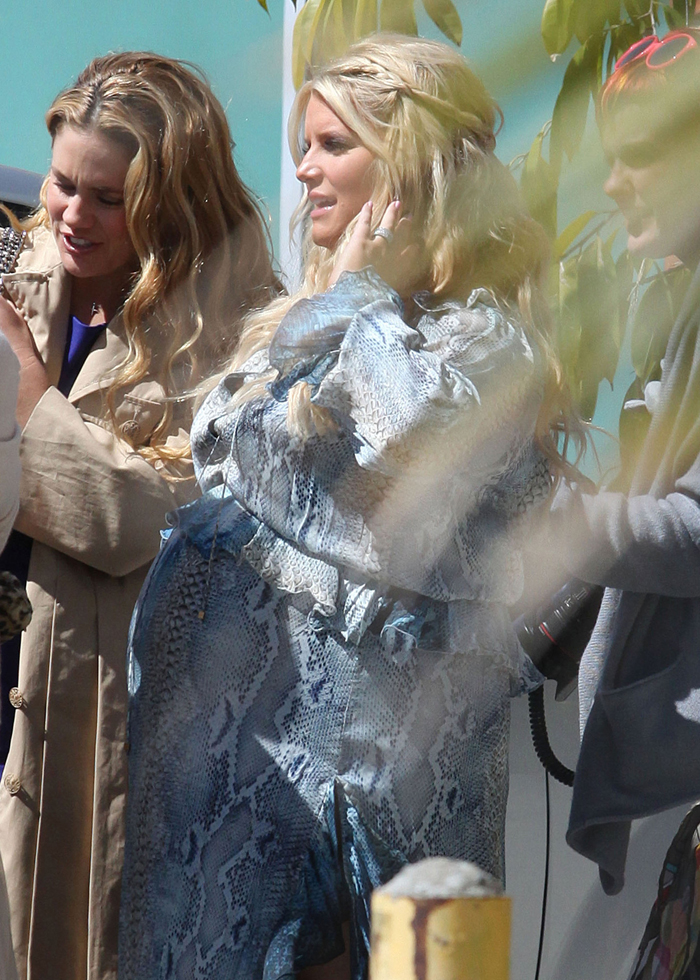 So I'm sort of laughing because I just got an email from Kaiser that reads, "And so it begins…" — which is, of course, in reference to Jessica Simpson's inevitable, post-pregnancy TMI. It turns out that even without Jessica's direct involvement (she's obviously still in recovery), there are already stories about her childbirth process (just like Kaiser totally predicted this would happen). In particular, TMZ claims to have photos of the Cedars-Sinai VIP suite in which Jessica gave birth. The alleged arrangements are rather luxe and virtually stomp all over what In Touch claimed would be a mere $2800 per day birthing suite. In fact, TMZ claims that Jessica has spent $3784 per day on a 3-bedroom, 2-bath suite that puts Beyonce's $3,200 per night suite to shame. Well, a new Us Weekly story aims to refute any claim of an extravagant birthing suite and also goes into lovely (read: overkill) detail about baby Maxwell's immediately established eating habits. Gird your stomachs, y'all:
Maxwell Drew Johnson has a maximum appetite!

Just one day old, Jessica Simpson's baby daughter (who weighed 9 lbs. 13 oz. at birth) is "eating like a champ and has a big appetite" while staying with mom at the hospital, a source tells Us Weekly.

"The birth went smoothly," adds the source of Maxwell, born Tuesday morning at Cedars-Sinai Medical Center in Los Angeles.

The singer/designer, 31, and fiance Eric Johnson "are over the moon about the baby," the insider says.

Although she's set to remain at the hospital for "the next few days" to recover, Simpson "is already up and walking around," the source adds — and bonding with her little girl.

"Everyone is marveling at what a natural Jessica is," the source tells Us. "She was born to be a mom!"

As previously reported, Simpson's family — parents Joe and Tina, sister Ashlee — and Johnson's parents were in the hospital for the baby's birth. "That's how Jessica and Eric wanted it," explains the insider

One rumor that's apparently unfounded: TMZ's claim that Simpson et al are ensconced in a super-luxe birthing suite costing nearly $3,800 a night (more than the $3,200-a-night NYC suite used by Beyonce and Blue Ivy Carter n January).

"She does have a suite at Cedars, but it is definitely not in the $4,000 a night price range," the insider says.

Gushed Simpson and former NFL pro Johnson, 32, in their Tuesday birth announcement: "We are so grateful for all of the love, support and prayers we have received. This has been the greatest experience of our lives!"
[From Us Magazine]
So obviously, the "source" that Us Weekly spoke with was Papa Joe, right? And you know he was totally there and watching Maxwell doing her "eating like a champ" routine. At first, I was slightly skeptical that Jessica was able to breastfeed so early (it took three days before I was able to with my daughter) after just giving birth on Tuesday morning, but it seems that it's perfectly normal to do so on the first day (if you're lucky!). Kaiser also adds that since Jessica was pregnant for at least eleven months, it's amazing that Maxwell didn't come out speaking full sentences. And I'd like to add that it's a bloody miracle that Maxwell didn't arrive and immediately request deep-fried Oreos from the menu. Good gawd, I still can never imagine eating crap like that, pregnant or not.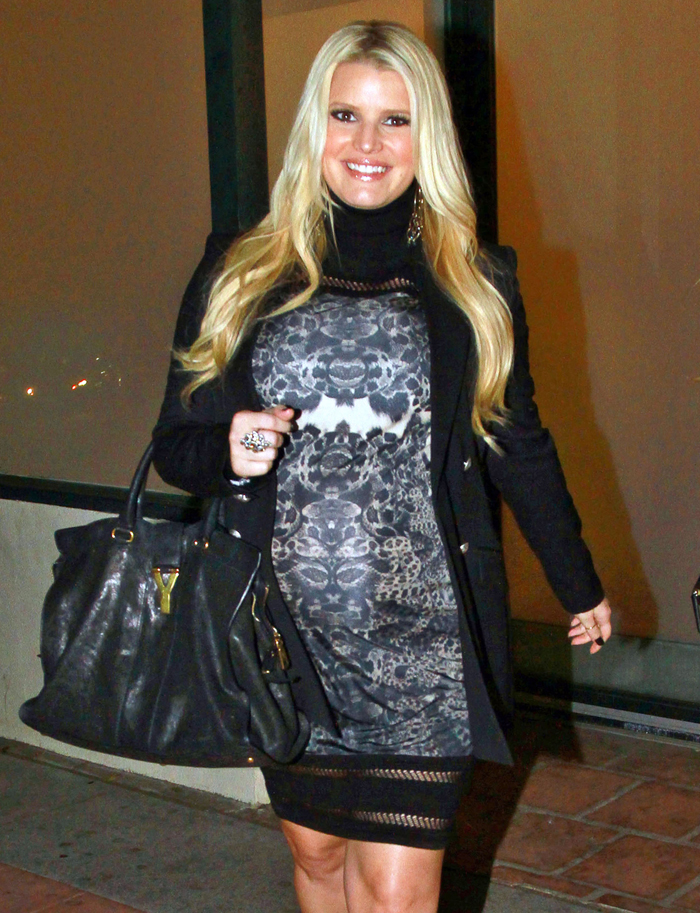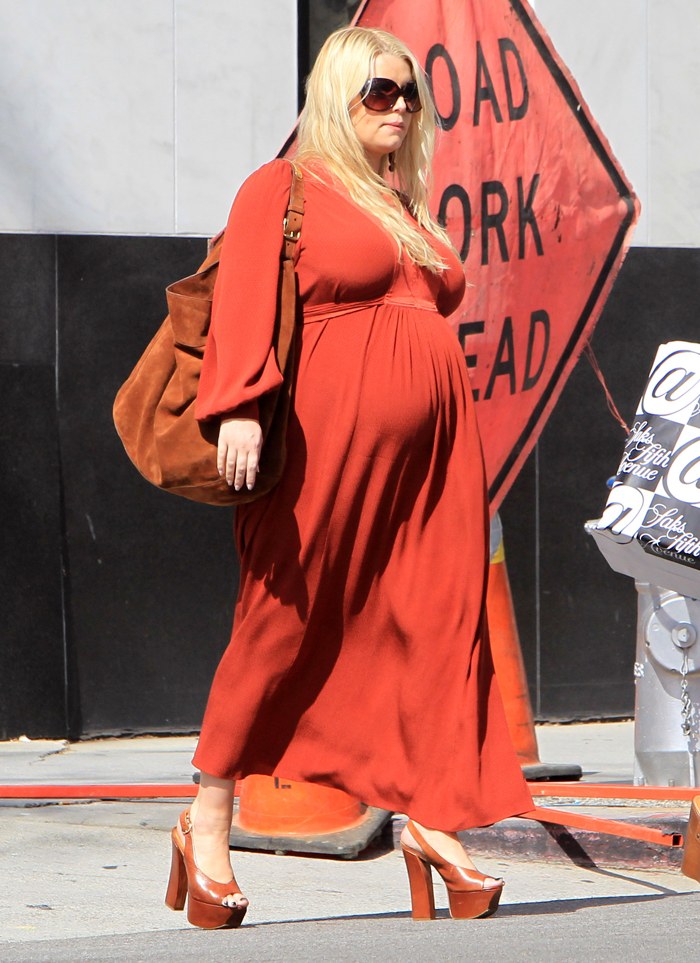 Photos courtesy of Fame/Flynet
Written by Bedhead

Posted in Jessica Simpson

- Harry Styles & Kimberly Stewart going strong [Lainey]
- Demi Moore's new man is gross [D-Listed]
- Fug or fab: Emma Stone [Go Fug Yourself]
- Arrest warrant issued for Jenelle Evans [Reality Tea]
- Only God Forgives review [Pajiba]
- Hugh Jackman, scooter master [Buzzfeed]
- Who does Drew Barrymore call her sister? [Evil Beet]
- Cannes couples past and present [Popsugar]
- Arrested Development supercut [CDAN]
- Lea Michele's see through skirt [Celebslam]
- Cheating wife's lover escapes out of window [Movin925]
- Joe Francis is crazy [Starcasm]
49 Responses to "Jessica Simpson's baby TMI commences: Maxwell is "eating like a champ""