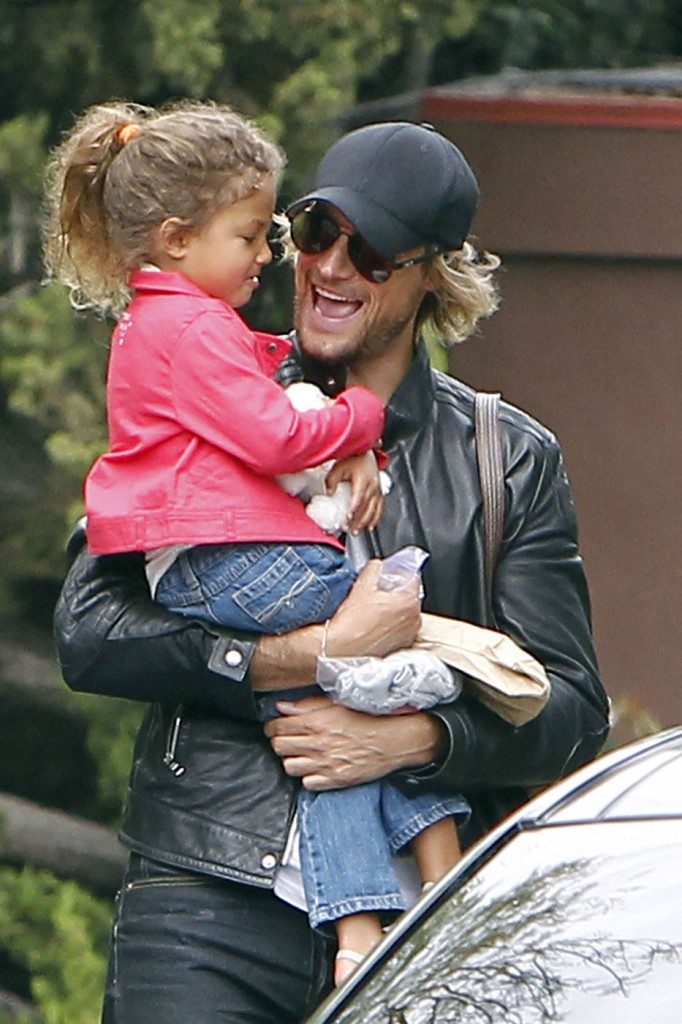 I'm surprised how long it's been since we've heard news about Halle Berry and Gabriel Aubry's custody battle. Things have been relatively quiet since Halle confirmed her engagement to Oliver Martinez in mid April. Halle has made it clear through her actions in court (and with various happy family photo ops) that she's looking to replace Gabriel with Oliver as Nahla's father. She's been working to push him out, and Gabriel has been pushing back to assert his parental rights. His latest move involves asking for a "substantial increase" in his child support from Halle, to $20,000 a month. He didn't have the right paperwork when he went to court with his request so the judge postponed a ruling on it. It sounds like a huge amount to me, but I'm far from that income bracket. I think that if the tables were turned and we were talking about a mother making substantially less than a father this wouldn't be an issue. (Or maybe it would. This is around the same amount that Melissa Etheridge's ex gets for two children, she's asking for more than that, and it sounded outrageous to many of you.)
Here's more, thanks to TMZ. Radar also has this story, but they don't have a firm amount on the support Aubry is asking for. As I usually mention in these stories, Radar gets their information from team Gabe and TMZ is team Halle.
Gabriel Aubry is asking the judge in his custody war with Halle Berry for a half a million bucks in attorney's fees, and $20,000 a month in child support, TMZ has learned.

Gabriel was in court this morning, expecting to argue his case for the huge increase in child support, but the case was continued because the paperwork wasn't filled out properly. Gabriel was extremely upset the matter was put off.

Sources tell us … Gabriel believes he's entitled to the money because he needs a proper environment to care for 4-year-old Nahla.

As we first reported, Halle wants to move with the child to Paris, which would have a direct impact on Gabriel's request for additional support.
[From TMZ]
During their split, it came out that Aubry made an estimated $700,000 a year working as a model. US Weekly claimed at the time, back in 2010, that Halle used to mock Gabriel and call him a "loser" for not earning multi-millions like she did. I don't think this is about the money for Gabriel at all. He probably does fine on his own and doesn't necessary need the extra child support from Halle. I think this is about him making sure that he's asserting his rights as a parent, and that his daughter remains nearby. Some will call him greedy though. $20k a month is what K-Fed got for two kids and he had primary custody.
It's customary in these type of cases for the richer parent to pay the other's attorney's fees. Halle Berry's net worth is estimated at around $70 million and some reports claim she earns $16 million a year. Given the crap movies she's been in lately, that's probably no longer accurate.
Gabriel is shown picking up Nahla at school on 4-24-12. Look at him carrying her Hello Kitty bag! photo credit: Juan Sharma, PacificCoastNews.com. Halle and Oliver are shown at the beach with Nahla on 4-21. Halle is also shown with her friend at the mall on 4-27-12. I liked her hair better before! Credit: Osvaldo/FameFlynet Pictures