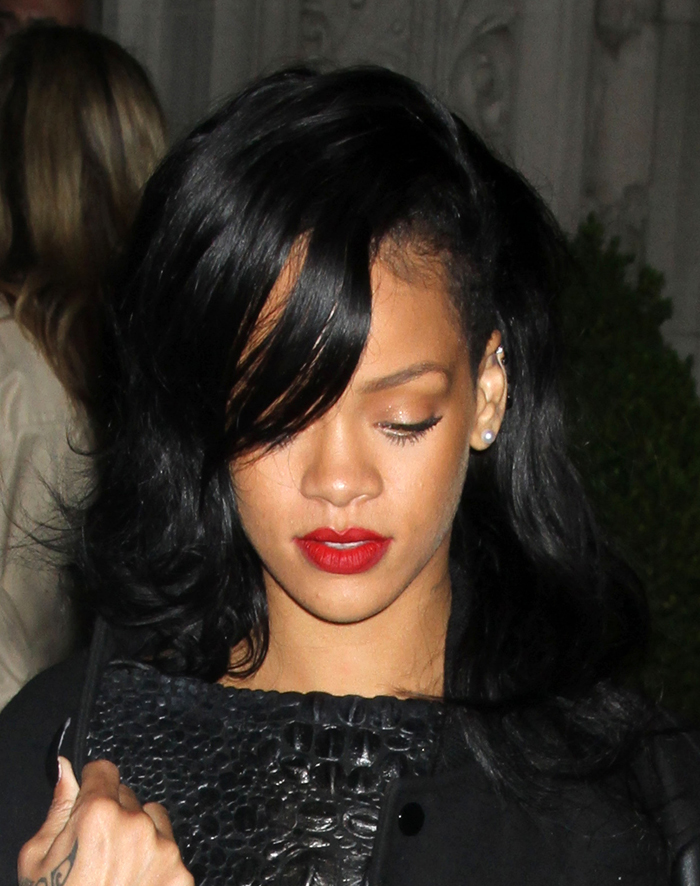 Here's a photo of Rihanna at an after party that followed the Met Gala. She's still wearing her sleek, black Tom Ford gown but has changed up her lipstick, opting for bold red instead of the tasteful nude shade she favored at the Gala itself. Clearly, RiRi can only tolerate the "classy" look for so long, and she probably partied her ass off (more on that in a bit) for several hours. This is a precursor to a few stories, the first of which is Rihanna taking this week's cover of Star magazine (you can see a thumbnail of the cover itself at Hollywood Life) with a story about her "deadly party binge" habits that have formed in the aftermath of the Chris Brown relationship. Allegedly, Rihanna has been driven to heavy substance abuse (not to mention racist twitpics) because she's so distressed over Chris' new tattoo of his girlfriend's face:
Rihanna's friends are reportedly very worried that her partying has gotten "out of control." According to Star, Rihanna reportedly freaked out when Chris Brown got a tattoo of his girlfriend Karrueche Tran's face on his arm – and you'll never believe what that caused her to do!

"When Chris got the tattoo," the source says. "Rihanna freaked out. She's been obsessed with the thought that he's going to marry Karrueche and she'll never be able to get back with him. She's heartbroken and in a bad place."

Isn't that just so sad? A source goes on to say that Rihanna gets tired of just sitting in her hotel room so she goes out and parties late and drinks by herself.

"When people tell her she's a role model, she goes crazy," the source says. "She doesn't want to hear it. If anything, she rebels and goes out and does something even more shocking than the time before."

The source says that Rihanna posted the photo of herself with a white substance at Coachella, and pretended to be in a lesbian relationship just to rebel.

"Rihanna loves being a bad girl and shocking people," the source adds. "She says she's having fun, but it's clear she's acting out because she's in a lot of emotional pain."
[From Hollywood Life]
It's difficult to analyze the Star take on Rihanna's partying until the full story is released in a day or so, but I can fully believe that she's been on a bender lately. She's quite enraptured with the idea of "danger" and seems to have a devil-may-care attitude about just about everything. Here's a particularly troubling vision from a photo (that Rihanna posted on her own Twitter stream) of her own arm (those are her Met Gala talons) with a IV attached: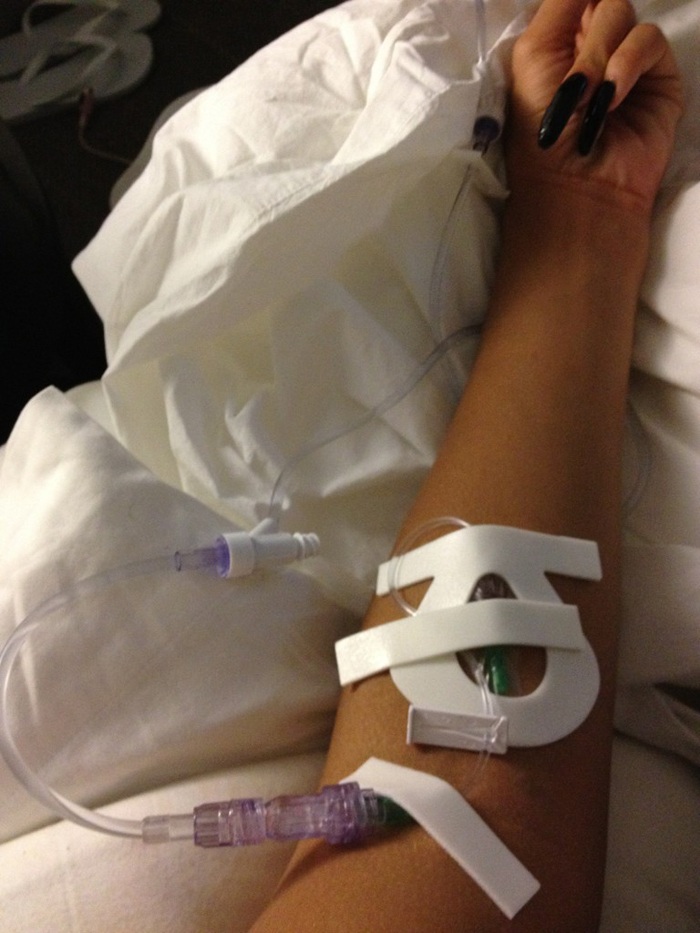 Rihanna was rushed to hospital after partying at the Met Gala in New York on Monday night.

The You Da One hitmaker tweeted a picture of herself attached to an IV drip in a hospital.

She was suffering from "exhaustion and dehydration," according to MediaTakeOut.

However, after a brief stay in the undisclosed medical center, she was discharged and allowed to fly back to her home in Los Angeles, arriving in California earlier this morning.

It comes just days after the 24-year-old singer pulled out of a Saturday Night Live rehearsal due to her tiredness.

The star has certainly been burning the candle at both ends in recent months and the new issue of America's Star magazine claims she is "spiraling out of control."

"Rihanna loves to party but this past month she's gotten really out of control," an insider tells the publication. "She's been drinking almost everyday and talking about smoking weed a lot too."
[From Daily Mail]
When I first glimpsed the IV photo, I wasn't sure where the incident had taken place, and it could've happened in her hotel suite. It would be completely possible that Rihanna is prone to dehydration (all that alcohol takes its toll), and perhaps she even has a team to hook her up whenever she feels the need. The Mail story alleges that she was actually in a hospital emergency room though, which sounds like trouble for sure.
Meanwhile, RiRi also let it slip while at the Gala that she's currently working on her own fashion line. Yes, it will be a very trashy fashion line, but does she really need the cash that badly? I'd like to see Rihanna take a break for awhile. Even if she is rather immature in her social behavior, the girl's been though a lot — a world tour, filming and promoting Battleship, plus the Chris Brown stuff — over the past few years. She needs some rest before it's too late. And if these ominous stories are correct, she may need some rehab too.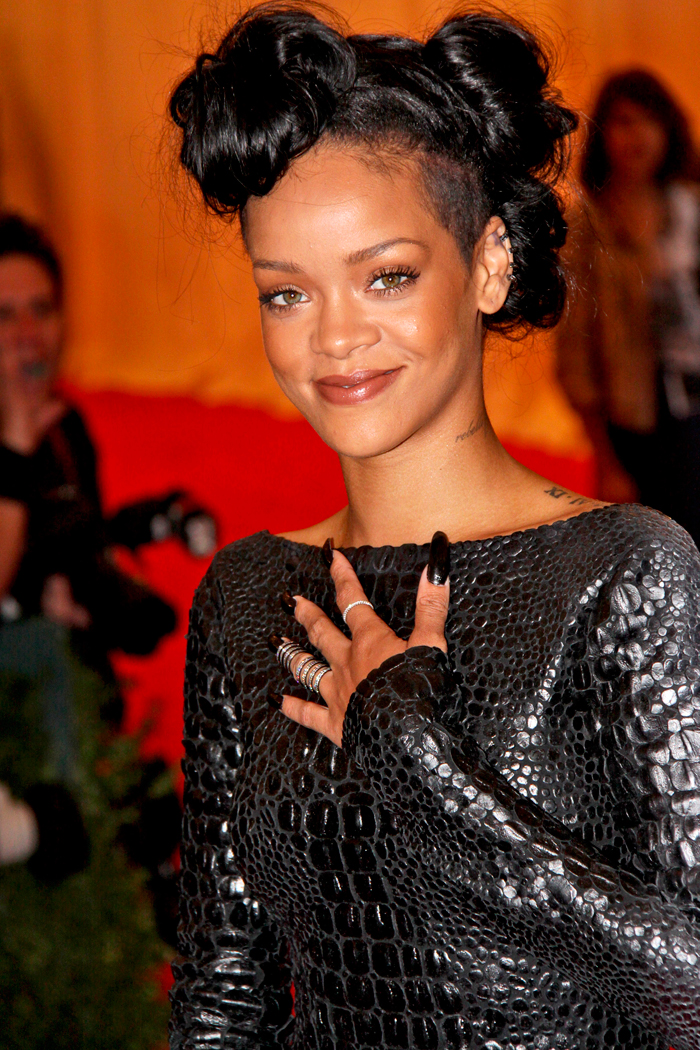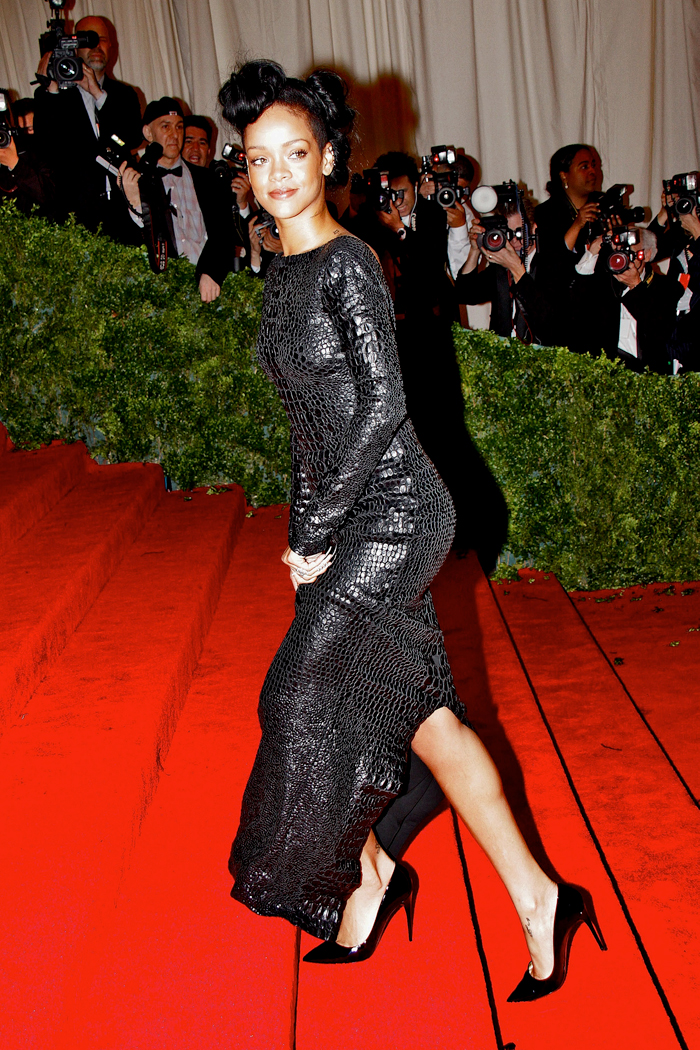 Photos courtesy of Fame/Flynet, WENN, and Twitter