When Christina Aguilera gets mad: 'the people in makeup act like a pit crew & rush in'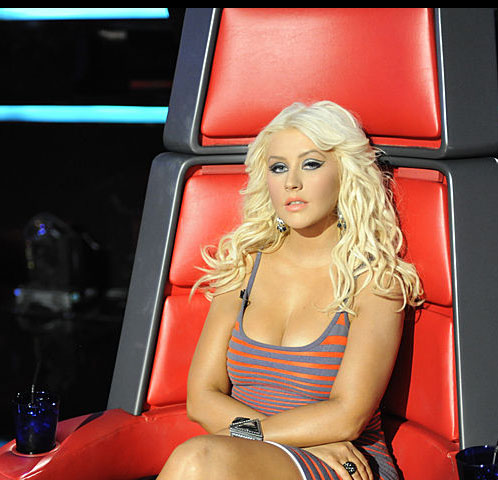 Yesterday we learned all about Christina Aguilera and Adam Levine's ongoing feud, which those of you who watch "The Voice" have known about for some time. The show had its finale on Tuesday night, and the drama between two of the judges has overshadowed most of the news about the winner. "The Voice" earns excellent ratings and is going to continue on for a third season, of course. This has at least one of the other two judges, Cee Lo Green, worried about how this is all going to play out when half the panel members can't get along. I think he's half-confirming that those stories we heard about shouting and name-calling backstage are true. Aguilera and Levine aren't just yelling at each other when the cameras are rolling. Here's more:
"It's getting a little old and a little inconvenient for everyone," Green, 37, told Us Weekly of the bitterness between Aguilera, 31, and Levine, 33, which came to a head on Monday's show when Aguilera slammed Levine's singer Tony Lucca over a "derogatory" cover of Jay-Z's "99 Problems."

Although Green tells Us he was only peripherally aware of the brouhaha that went on behind the scenes regarding Lucca's song choice, the coach wants the negativity to end — and fast.

"Adam hasn't come to me and spoken to me [about his issues] and neither has Christina. But whatever it is, I'm hoping that we can get over it," Green admits. "It's not something that we should carry over into season three. I want the integrity of the show intact."
[From US Weekly]
Some of you floated the theory that this whole thing was staged for ratings, but I think that it's genuine. Aguilera is a narcissistic diva who takes things personally because it's all about her, and Levine is a jerk who enjoys pushing her buttons.
As for Aguilera's issue with Levine's contestant Tony Lucca, who was on The Mickey Mouse Club at the same time she was as a teen, one of their former co-stars told TMZ that XTina and the other young girls on the show were all "in love" with Tony, who was the "alpha male" on the show back then. So that might explain why she gave him such a hard time.
A source tells Hollywood Life that XTina is so difficult on the set, that the crew "hates her." Hollywood Life has a ton of stories on this, including some exclusive quotes from Lucca that make it seem like he's their insider source. The crew has supposedly worked out a whole system for dealing with XTina when she gets in a tizzy during rehearsals. This description cracked me the hell up.
"When things get heated — on and off set — the people in makeup have been told to go to Christina and work on her so she doesn't start complaining or yelling. If she starts carrying on and making a scene [with the other coaches], the people in makeup act like a pit crew and rush to her to keep her quiet."
This is just what we've been hearing from the tabloids, so I don't doubt it. Their source also claims that they doubt XTina will be around next season. I'm not so sure that's true, though, when her antics get so much attention. There are plenty more stories on Hollywood Life about XTina, and I won't bother to recap them all. You can read them here. It's all about how she's a nasty piece of work on set. Lucca claims he won't even get into the same elevator with her she's so unbearable.
As you probably already know, Christina not only wore a dress on the finale of The Voice that was so precariously low cut it looked like her boobs were about to pop out, she also wore what amounted to studded granny panties. Here are some photos of that, thanks to Hollywood Life.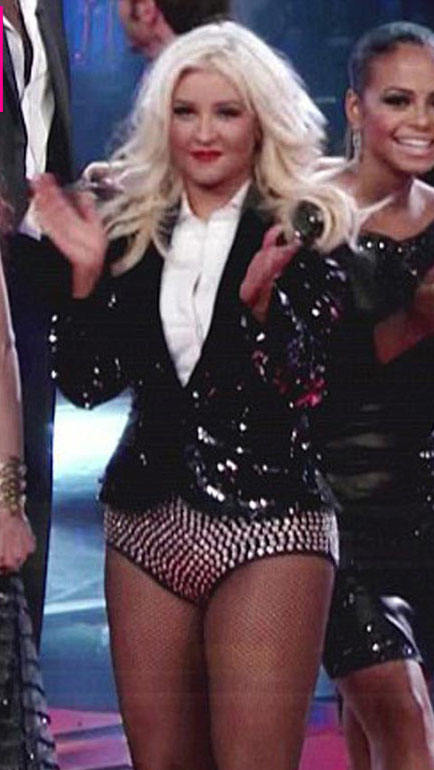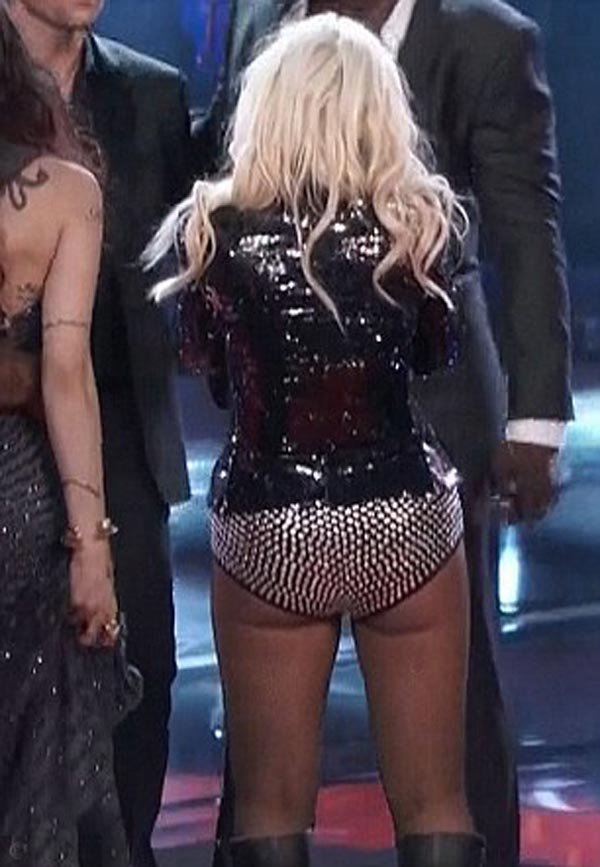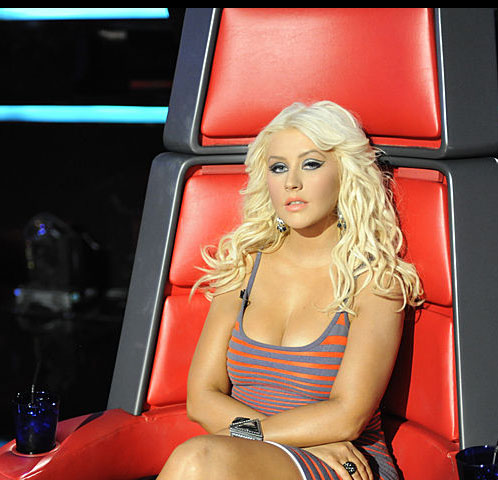 Some photos credit: NBC
Written by Celebitchy

Posted in Adam Levine, Christina Aguilera, Diva

- Who butchered the National Anthem? [D-Listed]
- Rob Lowe never ages [Lainey Gossip]
- What is Vanessa Hudgens wearing? [Go Fug Yourself]
- Summer guide to reality TV [Reality Tea]
- Game of Thrones recap [Pajiba]
- Tan Mom's music video [Buzzfeed]
- Amanda Knox is broke [Starcasm]
- Backstage at the Billboard Awards [Popsugar]
- Miley is still stuck in the 90s [Popoholic]
- Blind Items revealed: Adam Levine [CDAN]
- Hugh Hefner bought Crystal Harris a house [Celebslam]
- What happened to Aimee Teegarden? [The Blemish]
65 Responses to "When Christina Aguilera gets mad: 'the people in makeup act like a pit crew & rush in'"