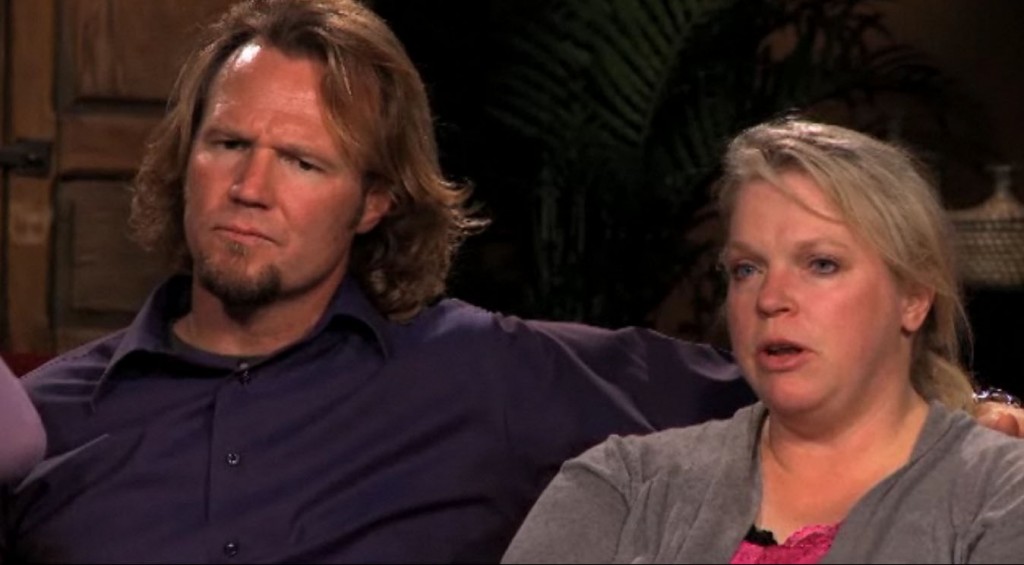 Of all the women on Sister Wives, second wife Janelle is my favorite. She's the smartest, the most pragmatic, and she's the family's financial planner. She was also the only wife to have a full time job outside of the house. (Meri had a part-time job, which she lost due to the show. I wouldn't suggest that being a stay at home mom is not a full time job, it's more than that, which is why I'm making the distinction.) At least she was before they all moved to Las Vegas on the money they made from the reality show.
It turns out that Janelle was also smart enough to leave Kody, at least for over two years. After she had her fifth baby with Kody ten years ago, (they have six kids together) Janelle left, going to live with her mother for several months. (Janelle's mother married Kody's dad, and became his second wife three months before Kody married Janelle. Really this happened. So Janelle was probably living with her father in-law, Kody's dad, at the time too.)
Janelle then got her own house with her kids, where she lived apart from Kody and the then two other wives for two years! She eventually moved back in with Kody when he announced that he was moving to Utah with Meri and Christine and the other children. This is just one of several revelations in a new book they have out, Becoming Sister Wives and I'll include a couple more below. Radar has a few stories out about this and I'm just compiling them into one: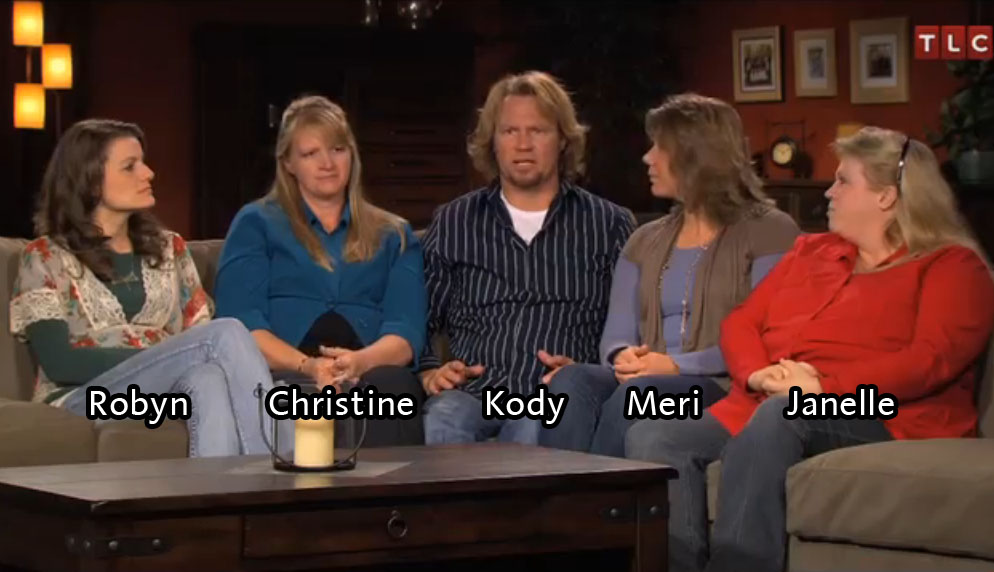 Janelle moved out and lived separately for over two years
"During the eighth year of our marriage, I gave birth to my fifth child, Gabriel," Janelle writes, adding she "sank into a horrible postpartum depression.

"I felt overwhelmed by having had so many children in quick succession, and felt seriously depressed at our lack of financial means."

"I also had a particularly nasty fight with Meri — one of the worst we'd ever had," she writes. "I was at my breaking point. I couldn't see my way out of my depression. I told Kody I was leaving. That night, I got into the car and drove to my mother's house. My kids and I stayed with my mother for several months until I found my own place. My job paid a decent salary, which allowed me to buy a better car in addition to my own home. I started to build a life for myself outside the sisterhood."

"Two years after I'd established myself in my own house, Kody told me that he was moving the family to Utah. 'Okay,' I told him. 'See you later.' No way I was going to give up the peace and independence I had found."

Janelle writes that space was key however, as the "big house changed everything.

"We were able to be together as a family in a normal and relaxed way," she writes. "I had my own space, but my kids had their siblings and the other mothers in the same building."


Christine once left for three days
"When Kody let slip that he had selected Robyn's wedding dress himself, Christine was devastated and walked off set," Janelle writes. "The show has to fit into an hour of television, so the necessary edits make it look as if she returned immediately."

While the magic of editing might have made it seem like the tiff was resolved in an instant, in reality, Janelle writes Christine "didn't come back for three days.

Kody talks fulfillment, sex
"To be honest, I'm not sure if any one of my wives could fulfill all of my needs, nor do I believe that I am fulfilling all of theirs," he writes, before going into detail over the specific things that make each of his better halves so special.

"Janelle and I can talk business. With Christine I can enjoy the lightness of being together," he writes. "With Meri the world is structured and organized, her house is peaceful and in order. When Robyn came into the family, she brought about an emotional honesty that required me to start dealing with things I'd avoided."

Regarding sex, Kody writes, "All I'm going to say is that my marriages aren't different from anyone else's in that respect.

"The one constant is that I keep my marriages distinct and discreet," Kody stresses. "There is no overlap, no 'sharing,' nothing untoward or salacious."
I watched most of the first episode of "Sister Wives" this season, and Christine is having all sorts of problems with Kody. She's the last wife prior to Robyn coming in, and she had just had a baby when Kody started dating Robyn. It was a lot to deal with, and in the episode I saw she told Kody she didn't feel like he wanted to be with her anymore.
Why did the show make it seem like Christine came right back after she got mad that Kody picked out Robyn's dress? You know she was upset and overwhelmed at the whole situation of a fourth wife, and that the issue of the dress was just a convenient place to direct her anger. It seems like TLC would realize that showing the extent of that drama would have brought in ratings. The Browns must have worked out a deal with producers to gloss over it.
So now we know that Janelle left for two years. She got convinced to come back into the fold, maybe in no small part by her mom. Janelle was the one who ended up taking care of the finances and bringing in the bulk of the money (along with Kody) until the reality show dollars started coming in. I want something better for her, and it sounds like she was close to having it.