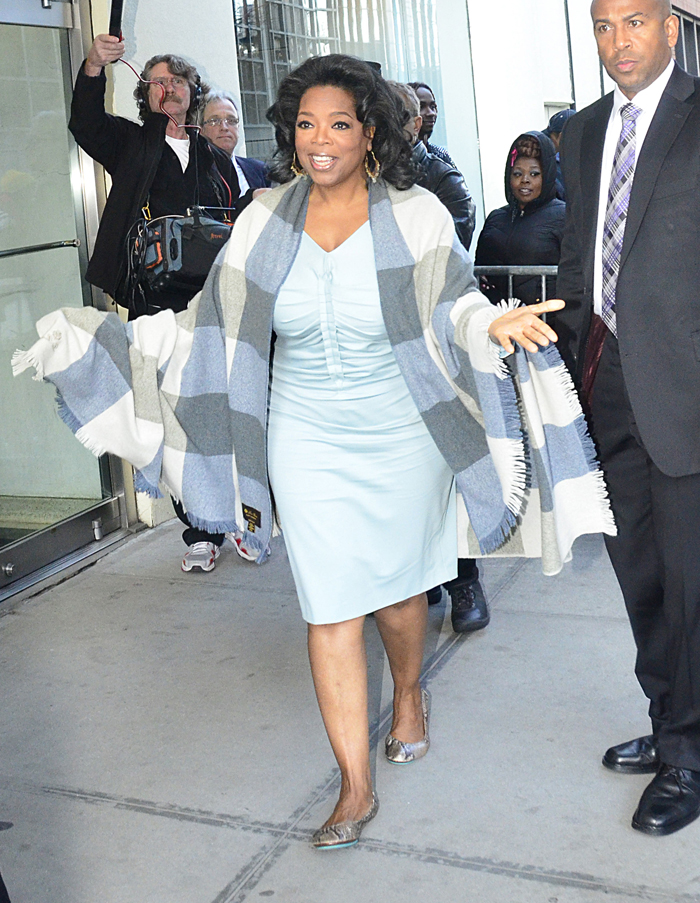 Here's some photos of Oprah in New York City in early April to promote her OWN Network. Just the fact that Oprah was hitting the talk show promotional trail is a sure sign of panic because Oprah never had to promote her own show. For decades, people went to Oprah to promote their own crap, you know? Now Oprah's in their shoes and scrambling to save OWN, which has been a disaster from nearly day one with terrible ratings and Discovery quickly learning that their supposedly brilliant acquisition was quickly transforming into a money pit.
Just in the past year, the signs have been pointing towards OWN's imminent demise. First Oprah begged Nielsen viewers to watch her flailing network, and then Oprah bitchfought with Rosie O'Donnell over the latter's cancelled show. Then Oprah offered Rosie's slot to Wynonna Judd, who told her to shove it, and it was later revealed that Oprah offered reality shows to John Travolta, Will Smith, and Tom Cruise, all of whom were decidedly not interested. Now the Enquirer has a story about Oprah being demoted and stripped of her decisionmaking powers at OWN, where she remains CEO in name only. Uh-oh:
In one of the most humiliating developments of her legendary career, Oprah Winfrey has been stripped of executive powers at her struggling OWN network. The media mogul was reduced to tears when her chief financial backer decided to curtail her control over the network she had worked her fingers to the bone to launch, say sources.

As ratings sputtered and hundreds of millions of dollars spiraled down the drain, execs at Discovery Communications, which co-owns the Oprah Winfrey Network, made the strategic move in a desperate, eleventh-hour bid to save it. While Oprah retains her titles of CEO, it's in name only, revealed an insider.

Oprah had exercised complete control over OWN since its launch in January 2011, and Discovery bigwigs supported her even as it turned into a financial disaster.

"They now realize that she was too inexperienced to run the network," said the insider. "So she was stripped of her power. She's no longer in a position to make executive decisions or hire staff without consulting top Discovery executive first."

After getting the bombshell news in a closed-door meeting, Oprah "came out feeling as if the wind had been knocked out of her," said the insider. "For Oprah, this is a bitter personal failure and a devastating blow to her ego. The unexpected demotion has sent her into an emotional tailspin so severe that friends are deeply concerned for her. They fear it could trigger one of drinking and eating binges.

As The ENQUIRER reported in our May 21 issue, Oprah has turned to alcohol more and more as OWN tanks, and she's recently taken to doing shots of tequila!
[From Enquirer, print edition, June 9, 2012]
Surely, this is not the beginning of the end for OWN but perhaps the middle of the end for the network, and it's only a matter of time. Sure, it's gotta be a major blow to Oprah's ego to realize that she doesn't truly rule the television world, but I honestly don't see why she didn't just retire after ending her own show. There's still time to do that, of course, but I doubt she'll truly give up until OWN is officially put out of its misery by Discovery.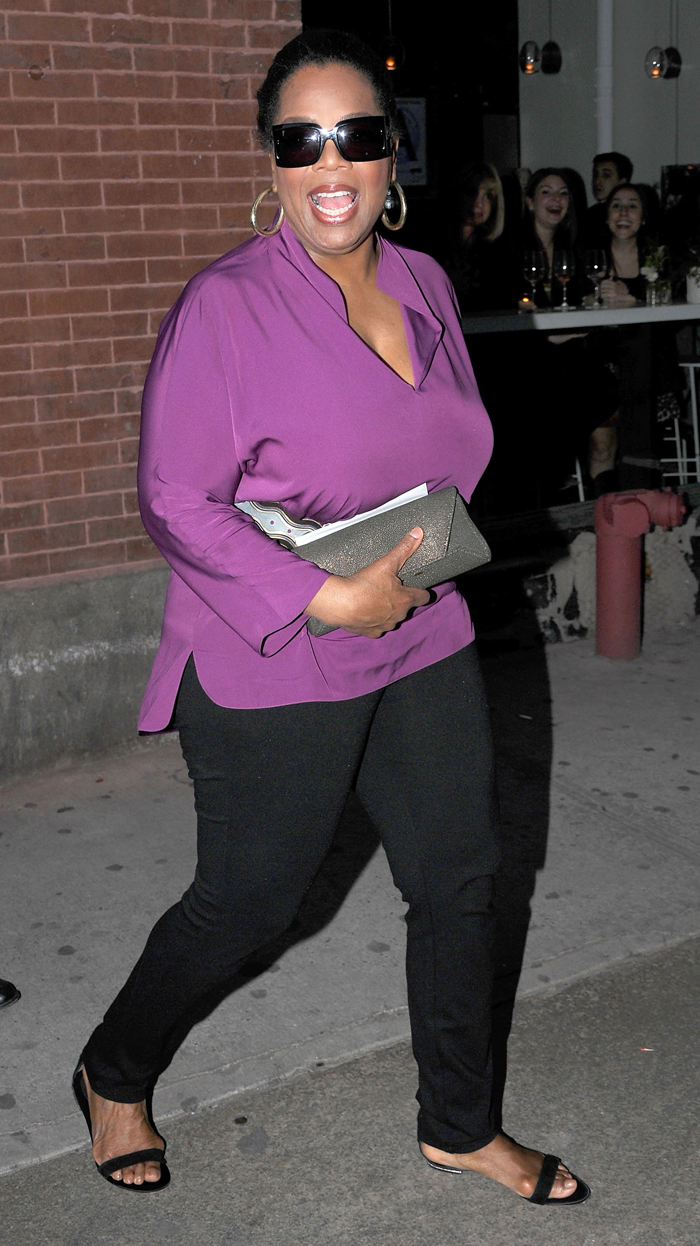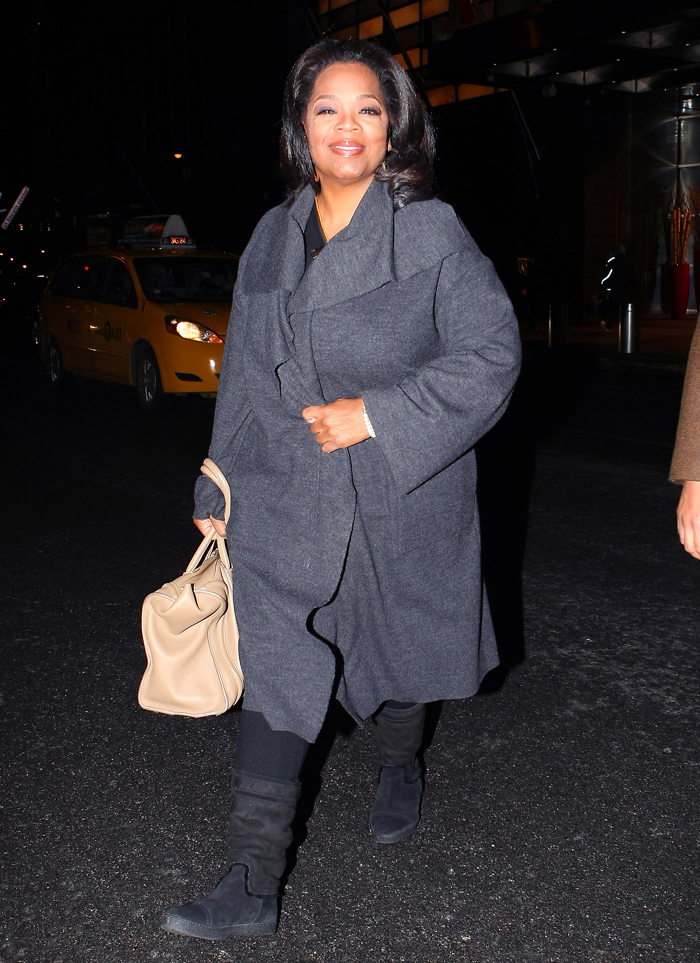 Photos courtesy of Fame/Flynet and WENN