Jennifer Aniston & Justin Theroux's casual photo-op in Paris: super-cute?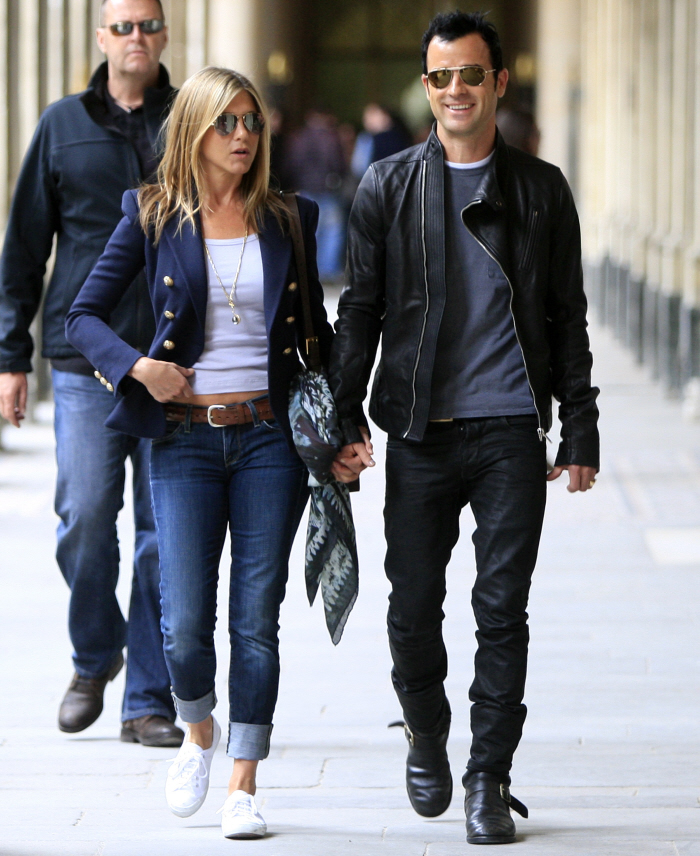 Jennifer Aniston and Justin Theroux are in Paris. Thank God. I'm actually really grateful that JustJen came outside and walked around Paris in full view of the paparazzi. It's been forever and a day since we had new candid photos of them together, and these photos should get me through the summer. Jennifer is so thoughtful! Apparently, JustJen arrived in Paris on Sunday, and they immediately checked into a luxury hotel on the Right Bank, but they only stayed there for a night and then switched hotels on Monday. According to People Mag, they've already taken a walk in the Tuileries Gardens, gone shopping at the boutique Colette, and a stop by the Palais-Royal.
I think both of them look pretty good in these photos – they look relaxed and happy and coordinated but not matchy-matchy. I wonder if one of them (or both of them) puts thought into that. Is it like, "Hey, baby, we're going to walk around Paris – shades of blue and black?" Justin's pants are still too tight for my taste, but at least they're not those ridiculous skinny jeans that we was wearing all of last year. I really like his leather jacket – Aniston should totally borrow it, because I kind of hate her dated navy blazer. That kind of blazer was super-popular in the early 1990s. Didn't Julia Roberts wear the same blazer in Pretty Woman? Those giant gold buttons are hypnotizing – Duchess Kate woulf adore this buttony blazer. As for Jennifer's jeans – she's always trying to make a new jeans-style "happen" but I rarely see the appeal in her pants-style. Those jeans look super-tight in the crotch too.
In case you're wondering "WHY?" for this photo-op… Rock of Ages comes out on June 15th. Justin adapted the screenplay, and he's been doing the red carpet premieres solo. Like, Jennifer thinks it's a bridge too far to walk a red carpet with him, but they'll totally do a posed photo-op in Paris? Celebrities are so bizarre.
Still, their body language seems very relaxed. While I think both of them have ulterior motives in this relationship, I do think they're for real, and I buy that they adore each other.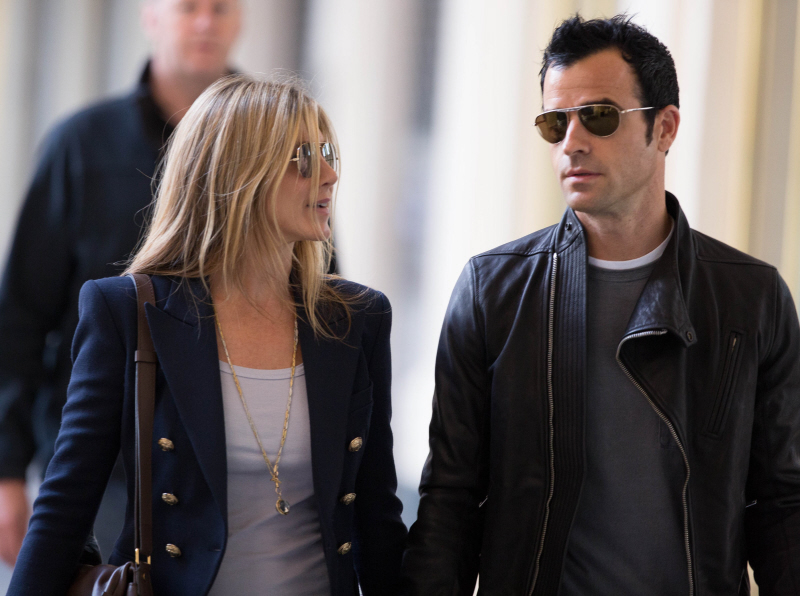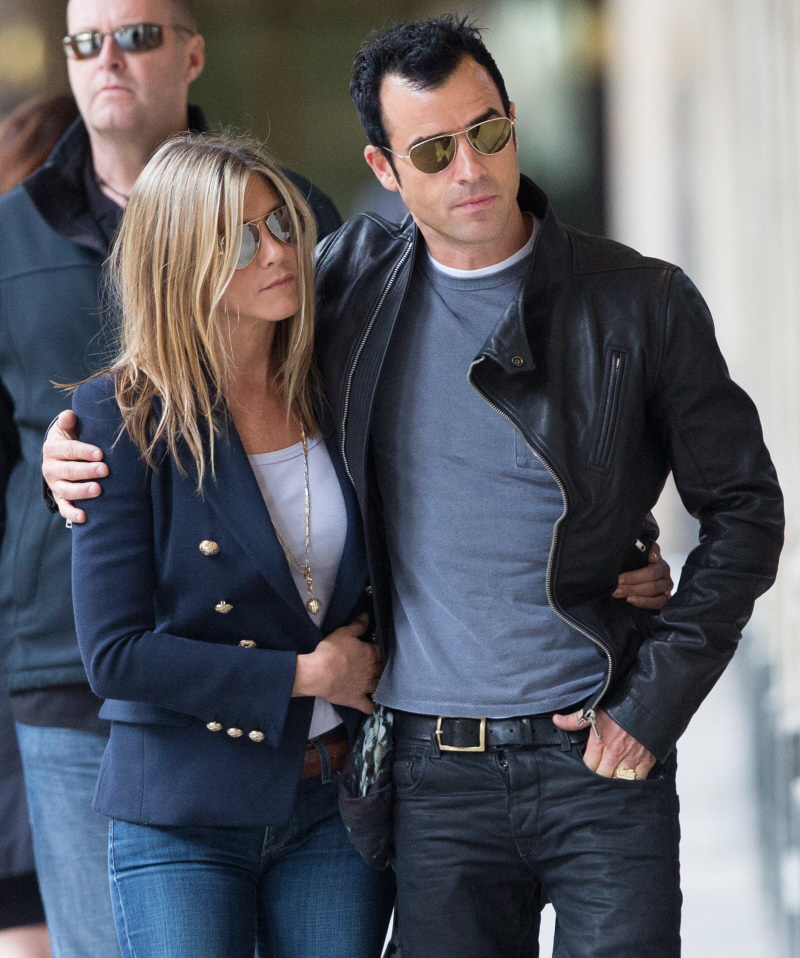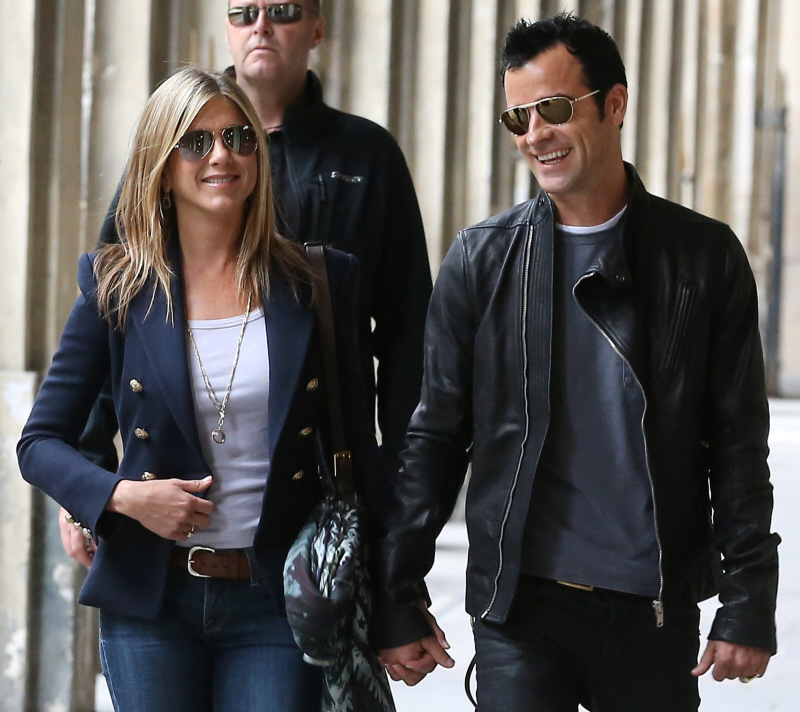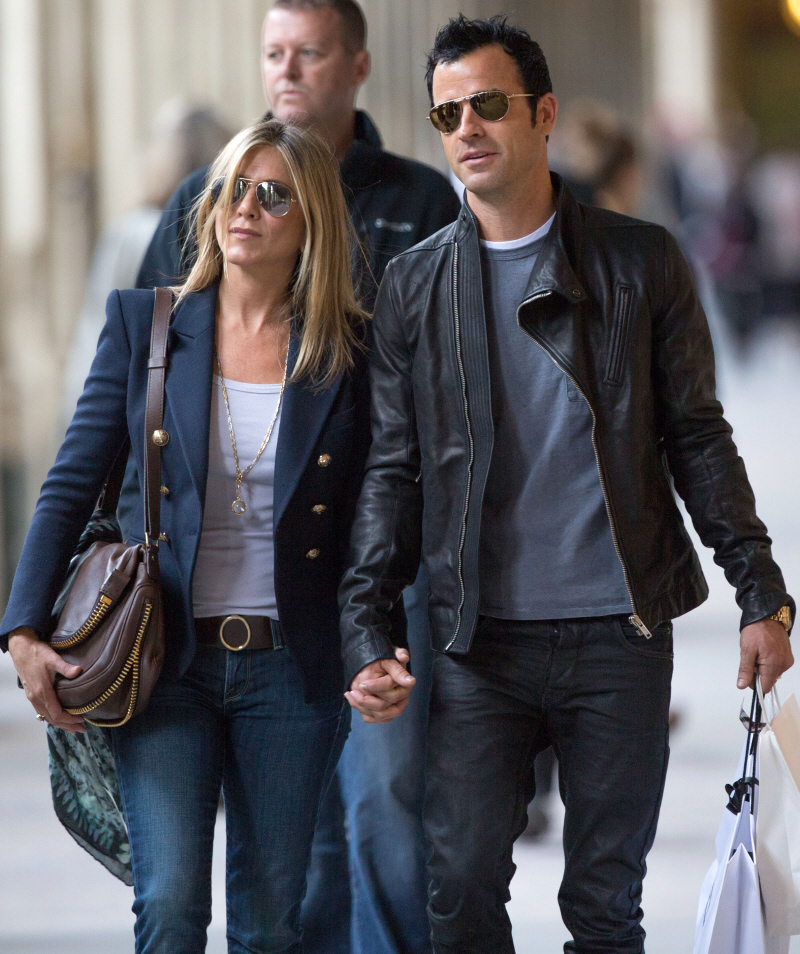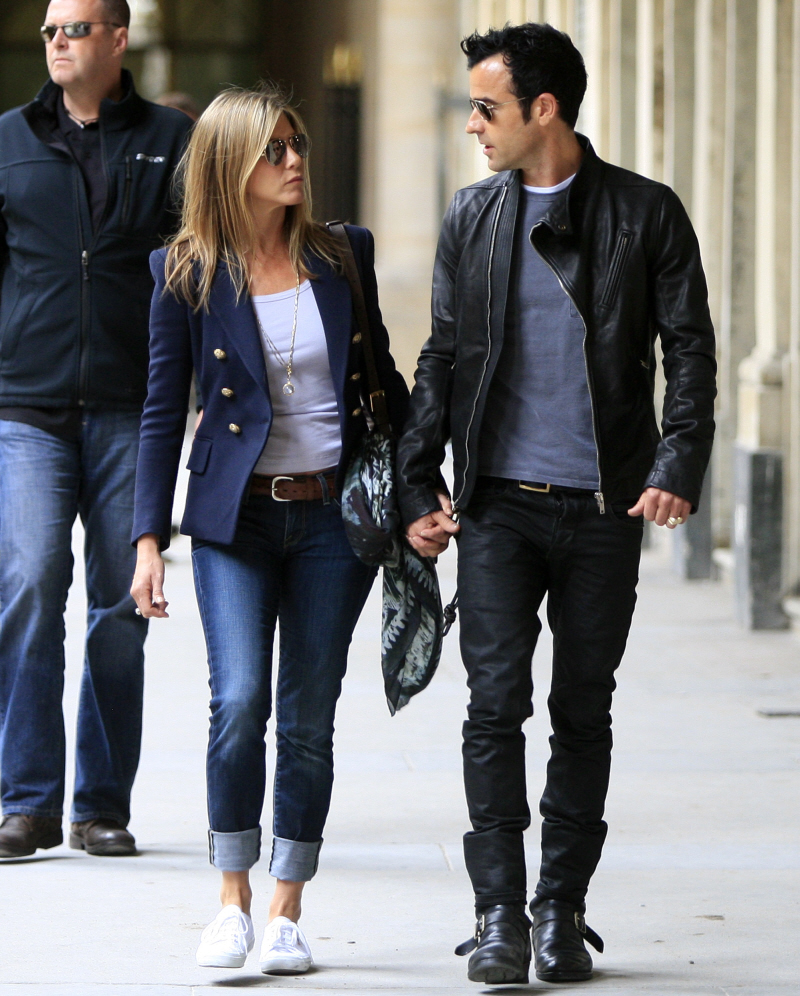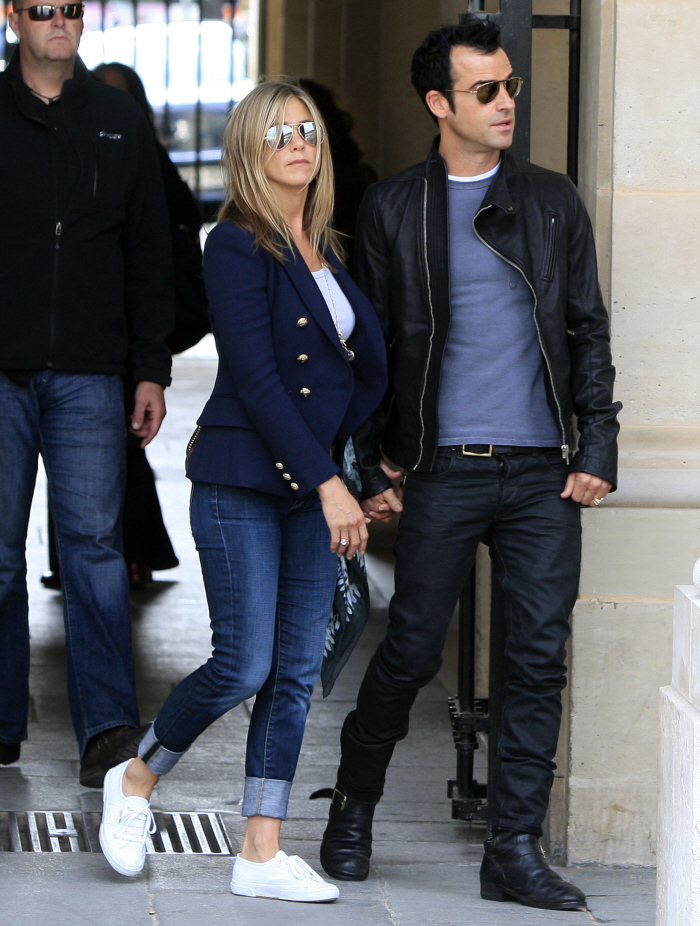 Photos courtesy of Fame/Flynet.

Written by Kaiser

Posted in Jennifer Aniston, Justin Theroux

- Friends reunion on Ellen [Popsugar]
- Lindsey Vonn watches Tigers kids [Lainey Gossip]
- George Michael fell out of a car going 70mph [D-Listed]
- Real Housewives of Orange County recap [Reality Tea]
- New Man of Steel trailer [Pajiba]
- Jared Padalecki's hot bod [Buzzfeed]
- Doctors confirm Taylor Swift's new boobs [Evil Beet]
- Catherine Zeta-Jones finished treatment [CDAN]
- Anna Paquin hates the paps [Celebslam]
- Lance Armstrong is gross [The Blemish]
- What is Barbara Palvin wearing? [Moe Jackson]
- This is Petra Nemcova? [SVC]
141 Responses to "Jennifer Aniston & Justin Theroux's casual photo-op in Paris: super-cute?"