Tom Cruise admits Suri was "taken aback" by his 'Rock of Ages' eyeliner & nails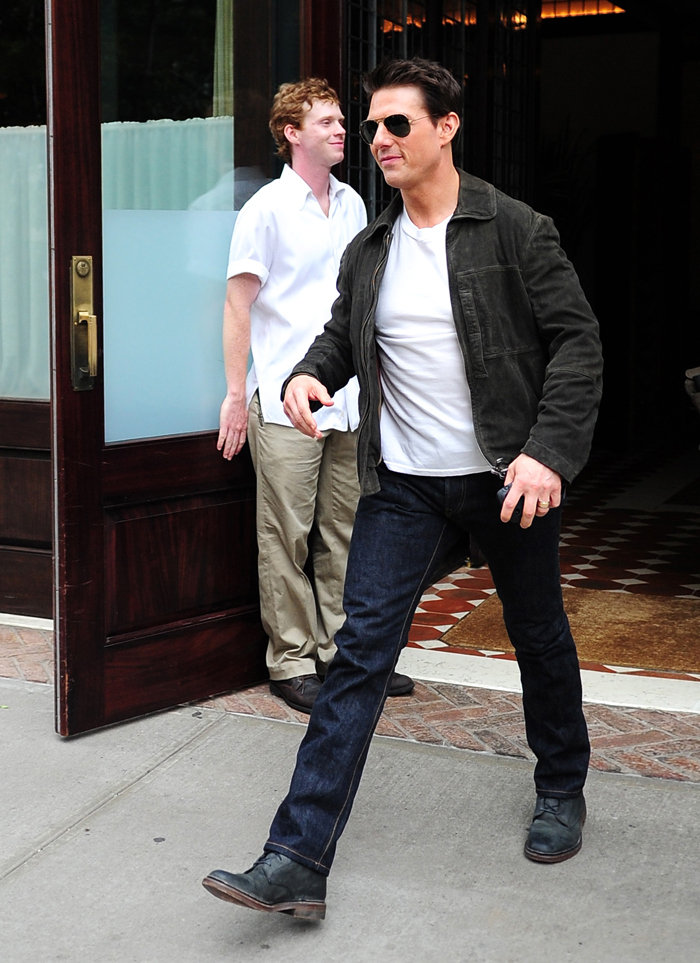 After premiering Rock of Ages in both Los Angeles and London over the past few days, Tom Cruise is back in New York City. You know what that means, right? Soon we'll receive a blitzkrieg of "loving family man" photos while Tom strategically paps himself with Katie and Suri for days on end to promote his latest movie. It's a classic Cruise move that never fails to materialize.
At the moment, Cruise has started his paparazzi tango with photos of he and Suri leaving the Greenwich Hotel together, sort of. Suri's way ahead of dad in these pictures, which could be a good lead in for discussing this story. Quite hilariously, Tom has admitted that Suri got all freaked out whenever she saw him in his Stacee Jaxx hair and makeup, which is Tom's subtle way of insisting that he doesn't prance around his own home looking like this or that. Or at least, he never does so when Suri is awake: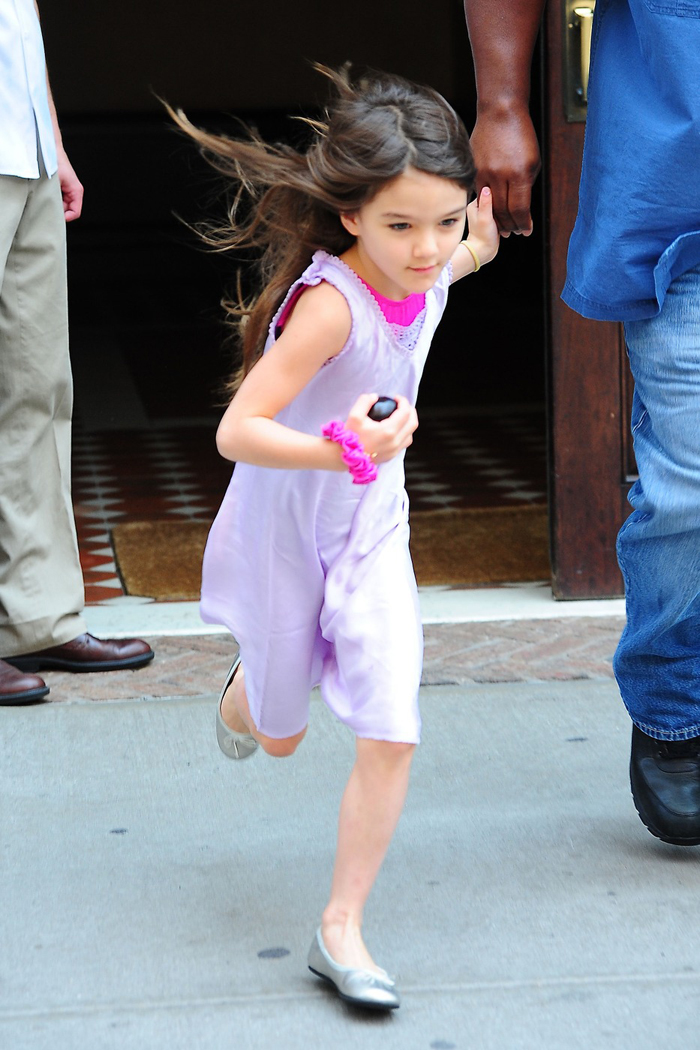 To become glam rocker Stacee Jaxx in the film adaptation of Broadway's Rock of Ages, Tom Cruise spent a lot of time in hair and makeup — and the results terrified his little girl, Suri, 6.

"When I had the eyeliner on and the painted nails, she was a little taken aback by that. She was like, "What is happening to my daddy?'" Cruise, 49, laughed during an interview on Ryan Seacrest's KIIS-FM radio show Monday.

Cruise added that his daughter with wife Katie Holmes, 33, "really likes the singing" in the movie, which also stars Julianne Hough and Russell Brand. "When she shows up on this set … here I am with black nail polish and eyeliner. She just kind of takes it all in."

Suri's experience on the Rock of Ages set was much different than on her father's previous films, including Mission: Impossible – Ghost Protocol and Knight and Day.

"I joke with friends because she goes to Kate's set and there's hair and makeup, and it's a very nice set," Cruise said. "Then Suri comes to my sets and she's got to wear a hard helmet, there's explosions going off, Dad's all bloody and he's bruised!"
[From Us Weekly]
Tom has also taken advantage of this latest round of press (which ain't over yet by a long shot) to reassure the general public that a Top Gun 2 script is in the works. Further, Tom reminds us that he is a very comedic man who is unimaginably comedic in Rock of Ages:
Cruise's cameo in Tropic Thunder was the first indication that he had a sense of humor, and he soon began to regain public favor. Starting Friday, the actor has another lighthearted turn in Rock of Ages, a star-studded musical in which Cruise plays debaucherous hair rocker Stacee Jaxx.

The role allows Cruise to show off his comedic side yet again, though the actor insists he's found humor in his more serious films as well.

"Comedy has always been part of the stuff that I've done," Cruise said Friday evening in Hollywood at the Rock of Ages premiere, which was followed by a concert from '80s rockers Poison and Def Leppard.

"Even in serious movies or Risky Business– even in Rain Man — there's different kinds of comedy that you have even within drama."
[From LA Times]
So Tom's character is actually supposed to be funny even though he's looking oh-so-serious in all of the trailers and stills? The studio certainly isn't marketing this version of Stacee Jaxx as anything but an unironically stone-cold serious mess. I guess we'll have to wait and see what audiences think when the film comes out this weekend. Meanwhile, Cruise has also assured NPR that even though he loved playing a(n anti-)sexy rock star, he won't be quitting his day job. Thank Xenu for that small blessing.
Back to the main part of this story though — can you imagine being on a movie set and having your (exceedingly heterosexual) dad walk up to you looking like this? Poor Suri.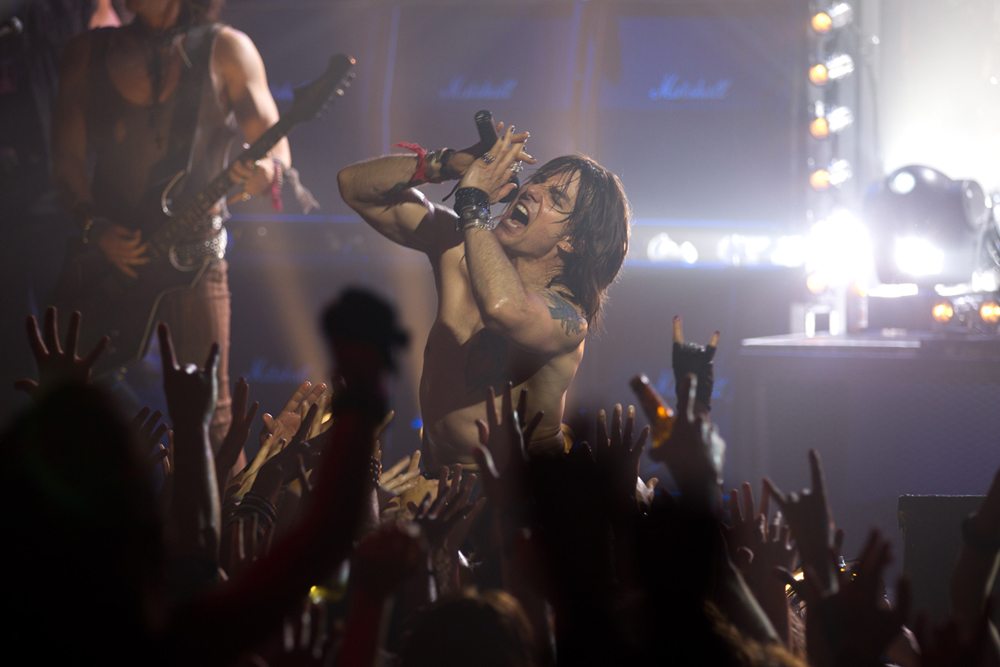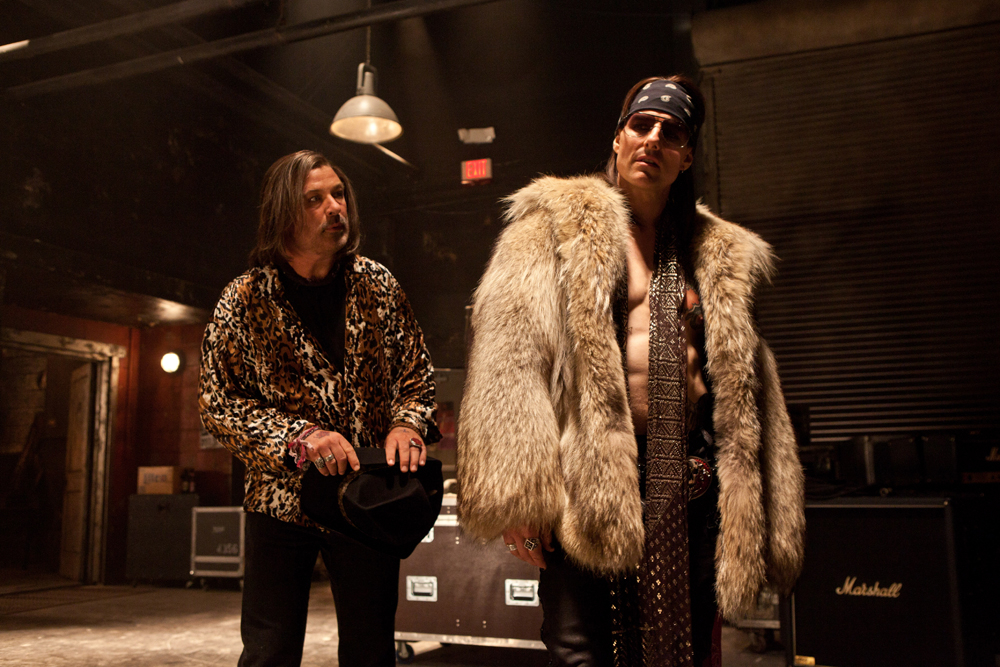 Photos courtesy of Fame/Flynet, Pacific Coast News, AllMoviePhoto, and W magazine
Written by Bedhead

Posted in Suri Cruise, Tom Cruise

- Zach Galifianakis is awesome [Buzzfeed]
- Prince at the Billboard Music Awards [D-Listed]
- Bieber's Billboard look [Go Fug Yourself]
- Married to Medicine recap [Reality Tea]
- Celebrity first marriages [Pajiba]
- The last Mad Men baffled a lot of people [Lainey]
- Karolina Kurkova's crazy hot dress [Moe Jackson]
- Jennifer Garner on set [Popsugar]
- Kitten vs. Lizard [CDAN]
- Doetzen Kroes' great butt [Celebslam]
- Shameless star Jeremy Allen White [OMG Blog]
- RIP Ray Manzarek [Bossip]
26 Responses to "Tom Cruise admits Suri was "taken aback" by his 'Rock of Ages' eyeliner & nails"