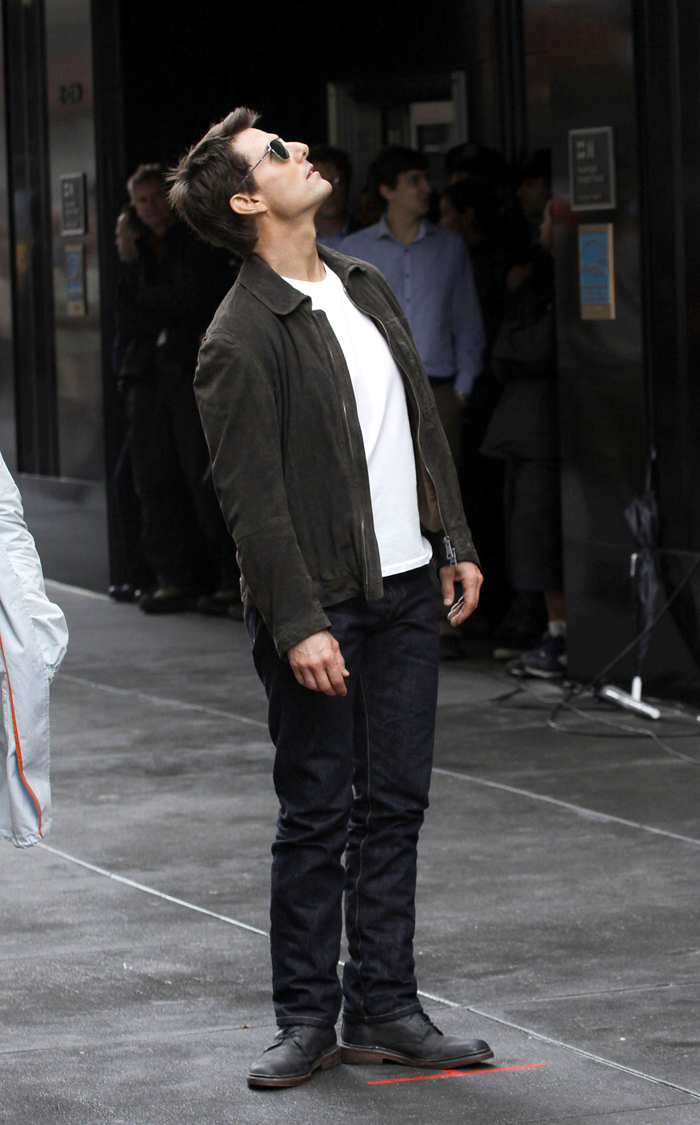 Tom Cruise is still filming scenes for Oblivion at the foot of the Empire State Building, and I just couldn't resist posting this photo of Tom gazing up at the building with a look on his face that just says, "Damn it, these lifts aren't quite tall enough…." Naturally, Cruise is such an obsessive multi-tasker that he's not only shooting a movie in NYC this week but also coasting through various promotional duties for Rock of Ages, and he's now strategically revealed that he and Katie are not really trying for another baby. In fact, Tom says he's happy to be the father of three children, and it sounds like a definite declaration that he's not looking to have another at all, right?
Three is enough for Tom Cruise.

The Rock of Ages star, who is dad to Suri, 6, with wife Katie Holmes, and Conner, 17, and Bella, 19, with ex-wife Nicole Kidman, says he's not planning to add to his family anytime soon.

"I'm so happy with three," the he tells PEOPLE magazine in an exclusive new interview.

The iconic star, who turns 50 on July 3, plans to spend his birthday with his family while shooting the movie Oblivion in Iceland. For Cruise, time with his loved ones is all the celebration he needs for his major milestone.

"I'm enjoying every second with Suri that I have. And I'm enjoying the relationship with my older kids, and the way it is right now," he adds.
[From People]
Seriouslly, I give Tom a hard time most of the time, but I do think it's sweet that Tom acknowledges not only that one child is enough for Katie and himself but that three children are enough for him. The fact that he's paying lip service to Connor and Isabella scores at least a point or two and makes them seem a little less … neglected.
Meanwhile, I find it slightly hilarious (and a little bit disgusting) that the NYPD was fawning over Tom yesterday as he shot his Oblivion scenes. I would think that police officers could be a little less visibly giddy while standing next to a movie star. Oh well.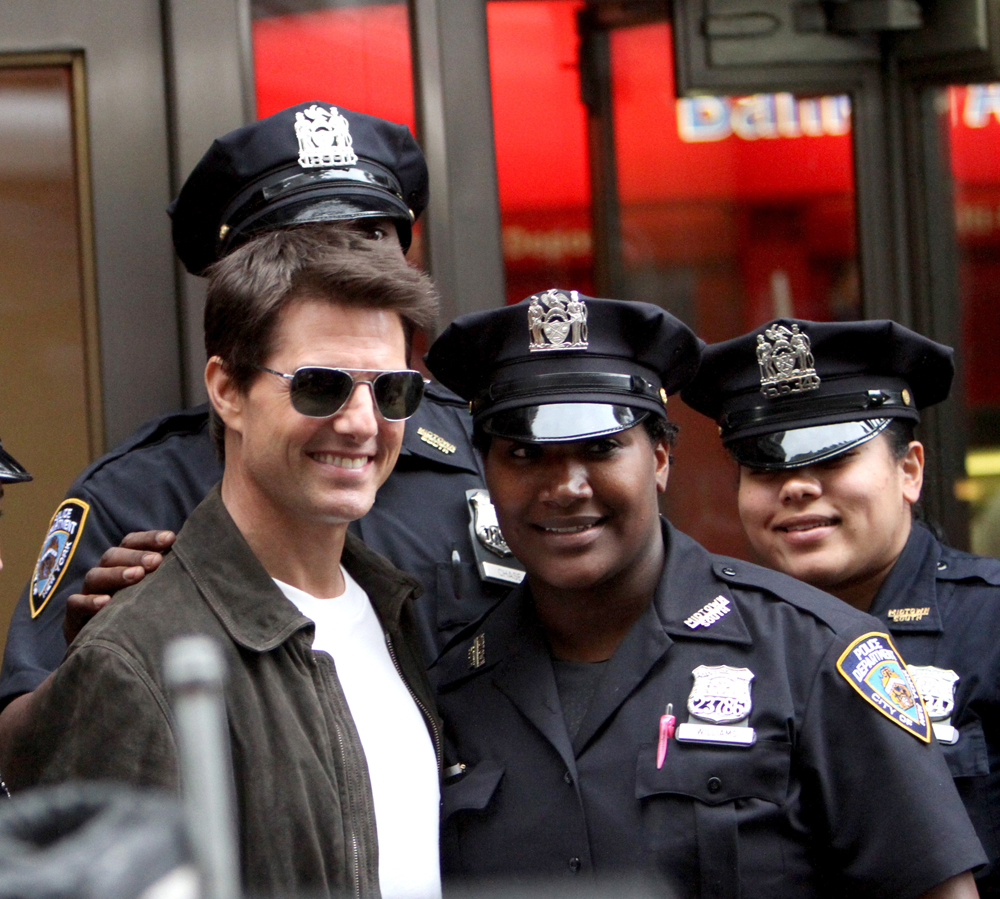 After filming wrapped for the day, Tom was off to the Friar's Club with Suri in tow, and you can see some photos of Suri wearing a princessy dress at the event here. The odd thing about this Friar's dinner is that it wasn't a traditional "roast" in the sense that people got up and made some good-natured but slightly tacky jokes about Tom. Nope. There was no joking about Tom to be had at all last night. Instead, the Friars Club was "honoring" Tom with an Entertainment Icon Award, and everyone who got up to speak only proceeded to relentlessly kiss his ass. Strange, right?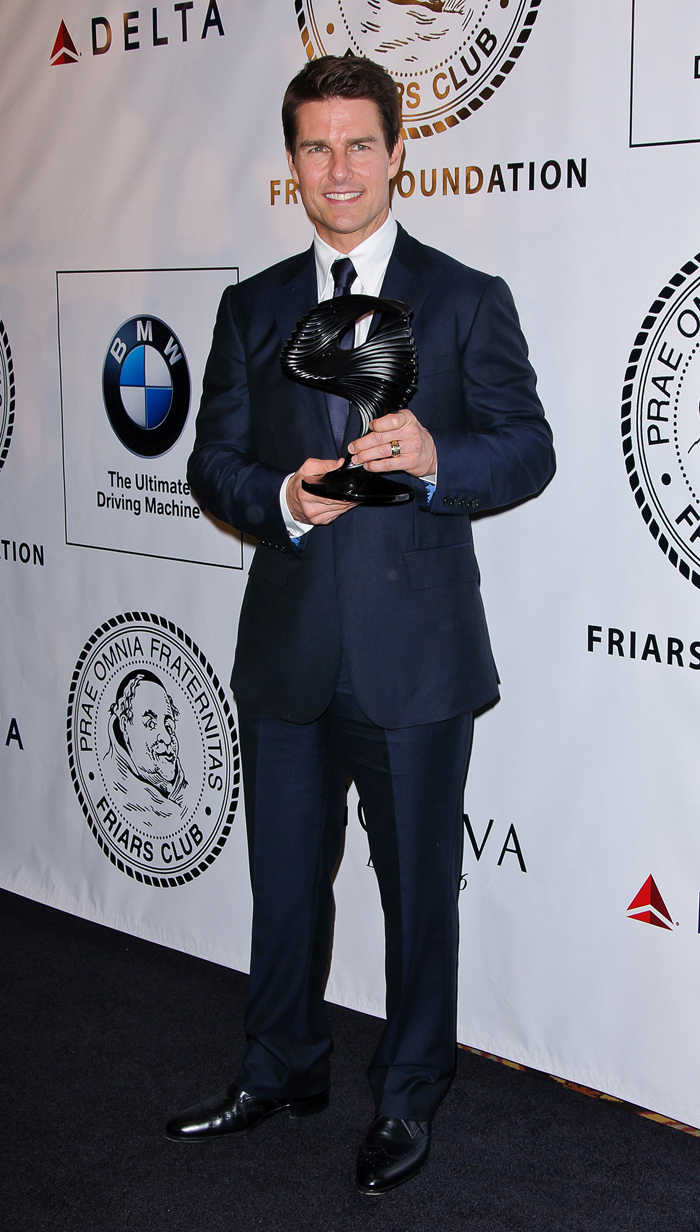 Suri Cruise stayed up way past her bedtime on Tuesday to see her father, Tom Cruise, receive the Friars Club Entertainment Icon Award. The six-year-old and half-brother Connor were Cruise's dates for the evening. "My wife couldn't be here tonight. I have to thank her-she made this suit for me," Tom told the crowd in the Waldorf-Astoria ballroom. "She couldn't be here. She's in China, actually, working. And my oldest daughter, Bella, who couldn't be here, she's also working-the women are all working in my life," he quipped.

Unlike the traditional Friars Club events, this was not a roast but a tribute, and Cruise is only the fourth person ever in the organization's 108 years to receive the Entertainment Icon Award. (The others were Douglas Fairbanks, Cary Grant, and Frank Sinatra.)

Alec Baldwin, who co-stars with Cruise in Rock of Ages, out on Friday, hosted, and told the crowd that Tom Cruise taught him how to handle stress. "Here's what Tom Cruise taught me: When you feel stressed, when you feel overwhelmed, when you are multitasking on a level you might not be capable of, pause and hum the tune to Mission Impossible. I swear to god, it focuses you. [Hums M.I. theme.] Coffee down. Hang up the phone. Pick up the dry cleaning. [Humming.] Head to the elevator. Put the dog in, drop off the dry cleaning, call Mr. Important back on the phone. Your wife's out of the shower, the clothes are there. [Humming.] Back downstairs, coffee, close the deal, wife's dressed, you're a hero. It works every time."

Other speakers included Cruise's former co-stars Kevin Pollak, Bill Hader, and Cuba Gooding Jr., who admitted to us before the ceremony that he was just a little disappointed that it wasn't a roast. "Not that I won't say something funny," Gooding warned us. (That turned out to be: "I have to say this: Connor-and he's going to be mad at me-but I'm your real daddy.")

Pre-dinner we also spotted Rock of Ages choreographer Mia Michaels in a quiet corner, polishing up her speech. She too had wanted to poke fun at Cruise, but didn't. "For me and my relationship with Tom, I think it's much more about a toast than a roast, for sure. He affected my life in a most profound way as an artist, so I really can't say anything bad about him. It was my first feature, and it was quite a journey. It was so great."
[From Vanity Fair]
You know, I'd hate to think that Tom's camp orchestrated this entire event and told the Friars to "honor" him instead of "roasting" him because if it's a roast, that's the entire point — to affectionately poke fun at the subject in question. But does this mean that Tom can't even handle that sort of joking about himself? Tom also seems very sensitive about Katie not attending the dinner either, but maybe he was just warding off more questions about why Katie's been conveniently away at work lately while he promotes his movie. I can't say I blame him for being defensive about that.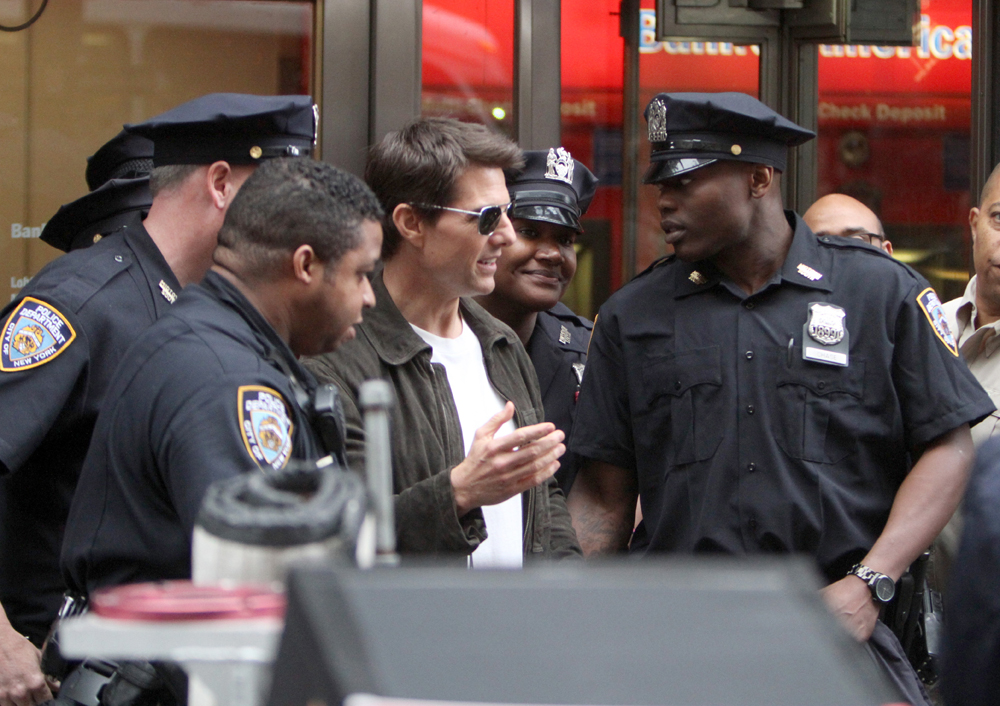 Photos courtesy of WENN