Kristen Stewart in beaded Balmain for 'SWATH' Sydney premiere: pretty?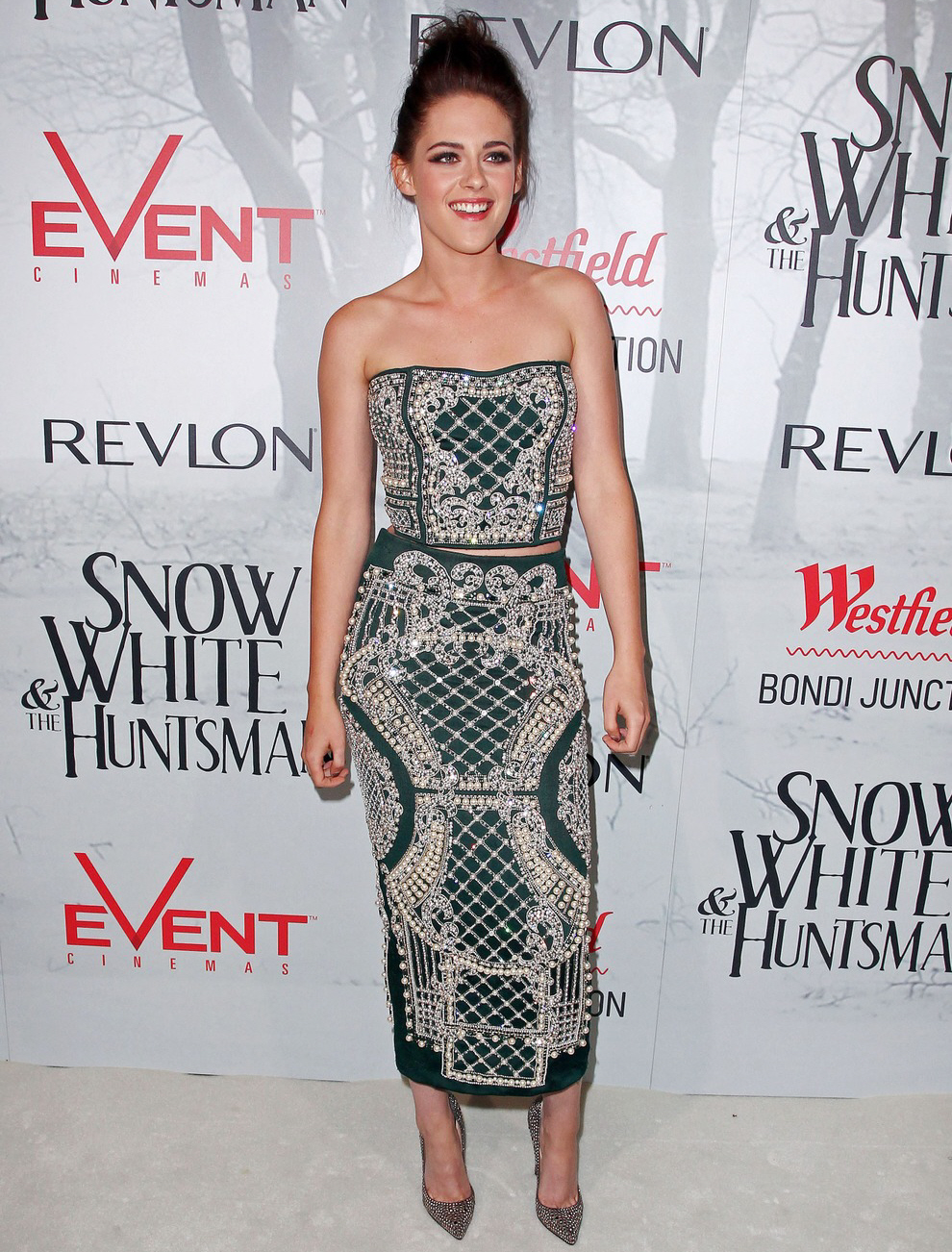 Kristen Stewart and Chris Hemsworth were in Sydney, Australia yesterday (today?!?) for the Australian premiere of Snow White and the Huntsman. I don't know where Charlize Theron was – I saw photos of Charlize getting on a plane, and I thought she would be at this premiere too. But Kristen is enough. Kristen is who we want to see. Sort of.
For the premiere, Kristen wore this Balmain "gown". That's how it's being described – a "gown". Look at the details though – this is a (fancy) tube top/bustier and an awkward skirt. If it was actually a gown, I might like it. If the House of Balmain had actually made an executive decision on the best length for the gown, I would have liked it even more. This is neither a full-length gown, nor tea-length. It falls somewhere in between, and that's awful. The effect it gives Kristen is that she's short, stubby and in need of a tailor. Now, all that being said, I do like the idea of the dress – dark green with lots of silver beading, strapless and showing off her figure. All of that is a good idea, it's just the execution that leaves something to be desired.
I do love her hair like this, though. Some will say it's not fancy enough for a red carpet, but I really like that she tried a big, high, messy bun. From the neck up, I have no complaints. Her skin looks gorgeous too. And I'm throwing in a little Chris Hemsworth, because I know how to keep my bitches happy.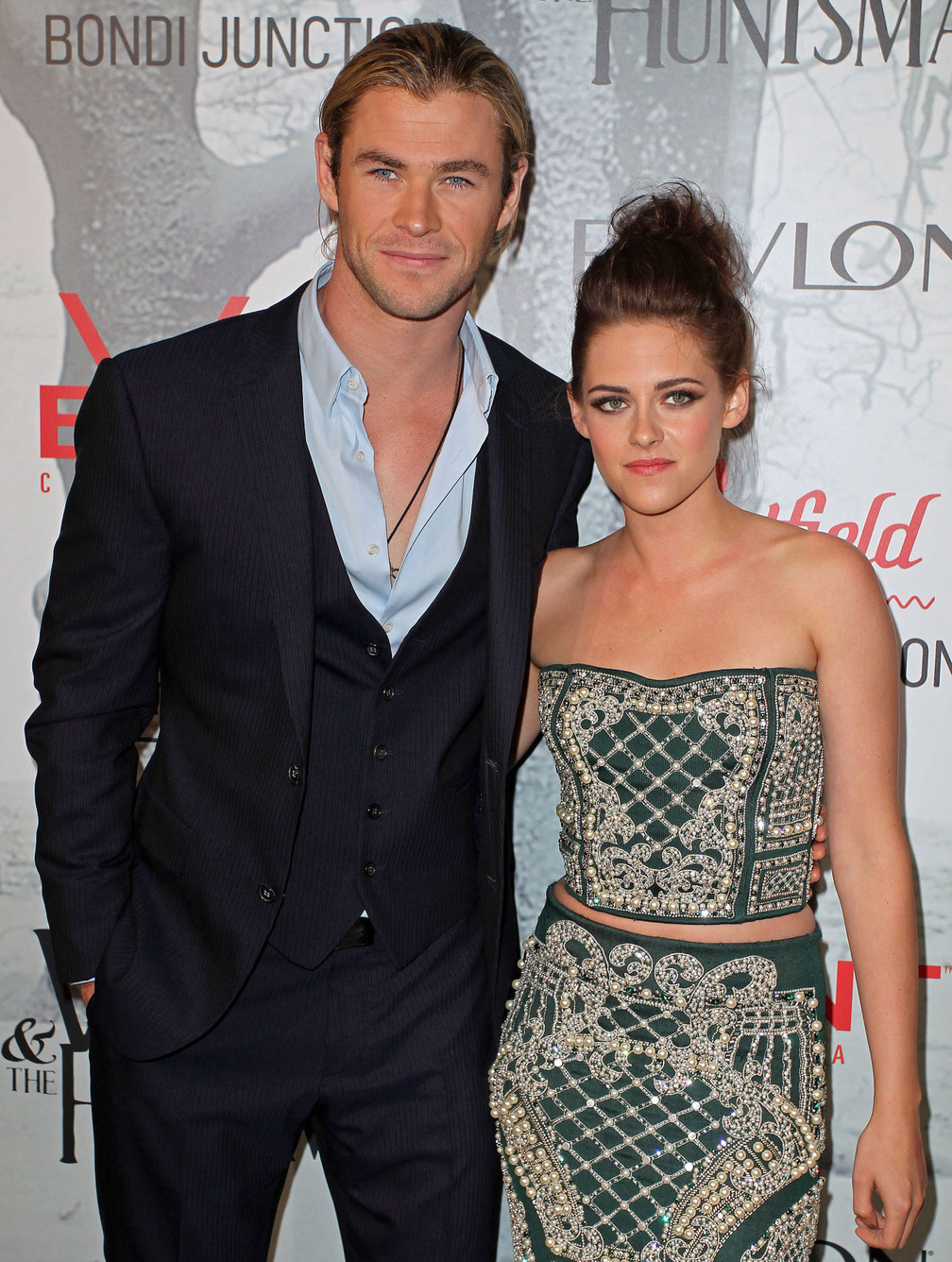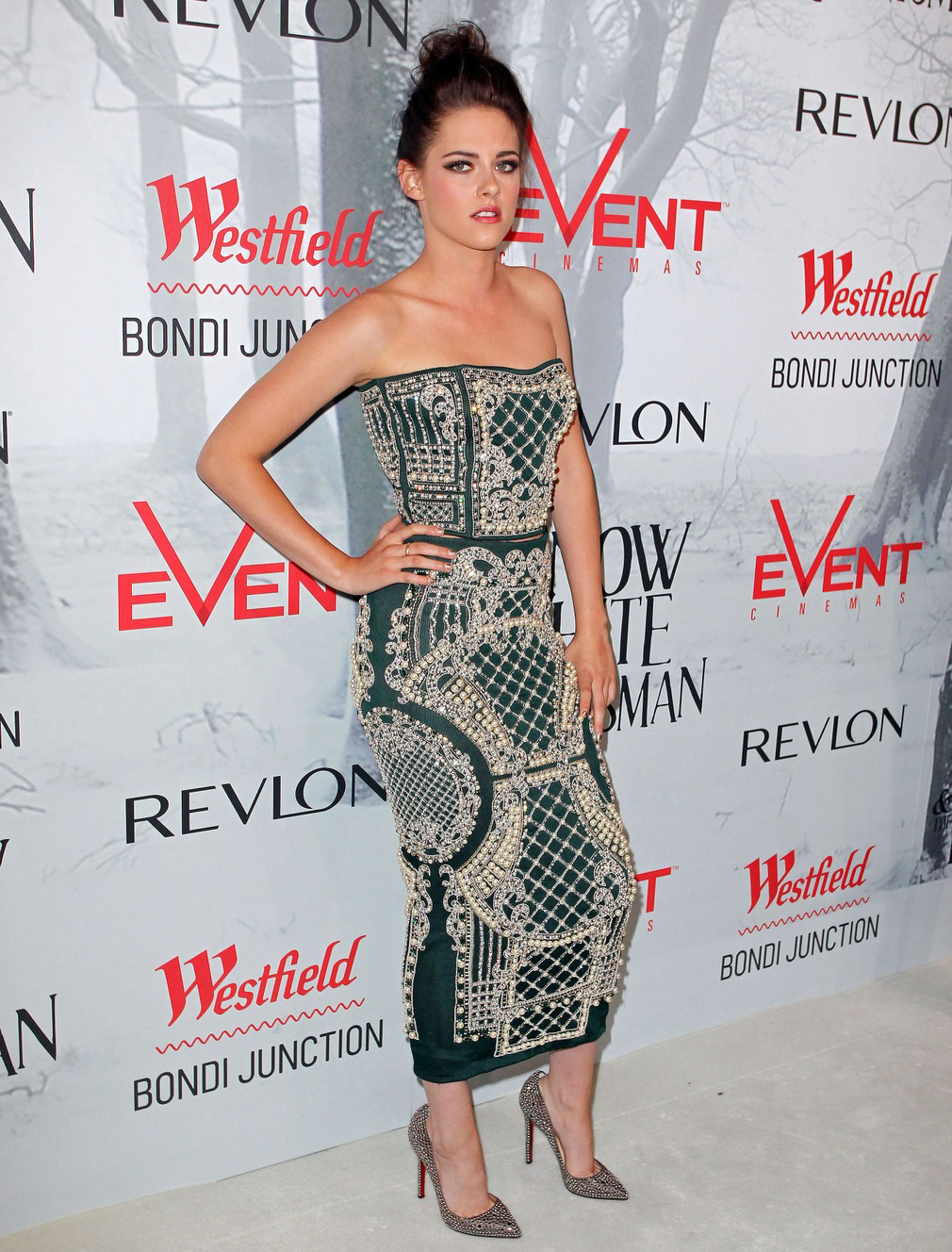 Photos courtesy of Pacific Coast News.

Written by Kaiser

Posted in Chris Hemsworth, Fashion, Kristen Stewart

- Mariah Carey lip synced on American Idol [CDAN]
- Colin Firth is looking good [Lainey Gossip]
- Internet celebrity charged with murder! [D-Listed]
- What is Paz Vega wearing? [Go Fug Yourself]
- New bachelors on The Bachelorette [Reality Tea]
- Goodbye to The Office [Pajiba]
- Bachelor Sean's fiance cheats on him [Evil Beet]
- Britney Spears out with her man [Popsugar]
- Nina Dobrev works it [Popoholic]
- Cindy Crawford needs to lay off the 'tox [Celebslam]
- Who said it: Carrie Bradshaw or The Dalai Lama? [Buzzfeed]
88 Responses to "Kristen Stewart in beaded Balmain for 'SWATH' Sydney premiere: pretty?"