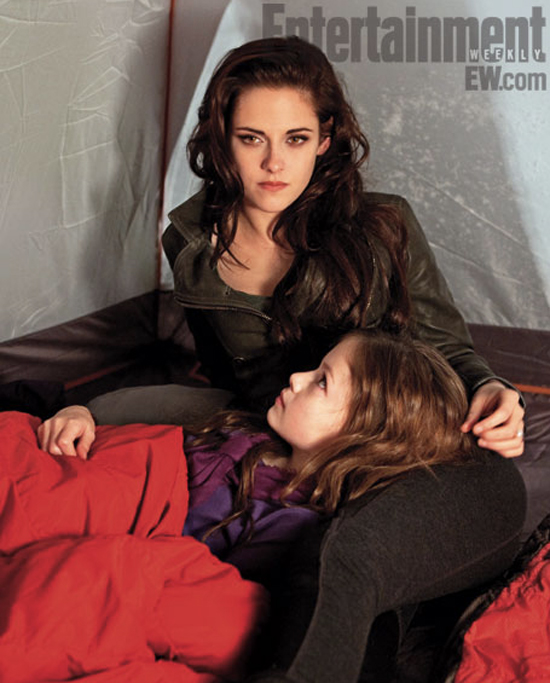 Here are some new images from the issue of Entertainment Weekly that we previewed last week. These photos, of course, are geared to give the first real glimpse of Edward Cullen and Bella Swan's new progeny, Renesmee (Mackenzie Foy). Many of you commented last week on what a ridiculous name (it's an amalgamation of Bella and Edward mothers, Renee and Esme) has been bestowed upon this half-vampire child, and I agree. But it's not outside the realm of ridiculousness that has already been spawned by Stephenie Meyer's vegetarian vampire universe, so it makes sense at least in that regard.
Now the new trailer has debuted for Breaking Dawn: Part II, and it's not nearly as funny as that teaser from a few months ago in which Bella stalked Bambi. Still, it's worth watching just to marvel at the fact that nothing really happens in this sequel (as far as the book is concerned), yet the movie will still make hundreds of millions of dollars. Here's that trailer: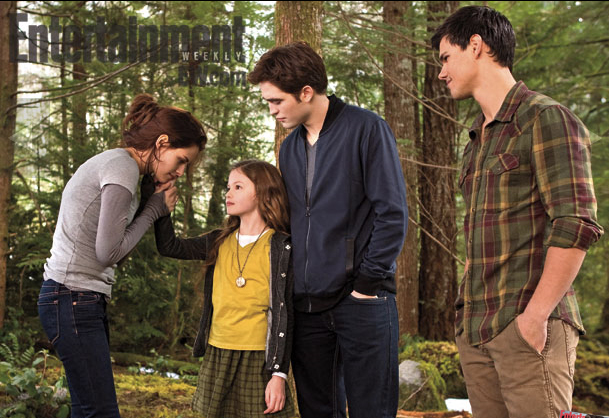 So the Cullens will now officially "go to war" with the Voltari, but those of us who have (unfortunately) read the book know that the actual "battle" that takes place is a real buzzkill. But they make them run in this trailer! That's exciting, I guess. Not really. Yet I find it amusing when Jacob greets vampire Bella, who looks exactly the same as human Bella with red eyes. Of course, she's still Bella. Because she's played by Kristen Stewart, who doesn't have a very large range as an actress even though she's the highest paid in Hollywood. This movie will be insufferable, and it won't even have the campy, headboard-crushing humor of the first installment. What a shame.
Oh, and here's the amusing moment when Emmett, played by Kellan Lutz, attempts to arm wrestle with Bella and fails miserably. My own (nonexistent) money is on Lutz being the fastest member of the Cullen clan to disappear into obscurity once this franchise finally ends. Bye bye, Lutzy.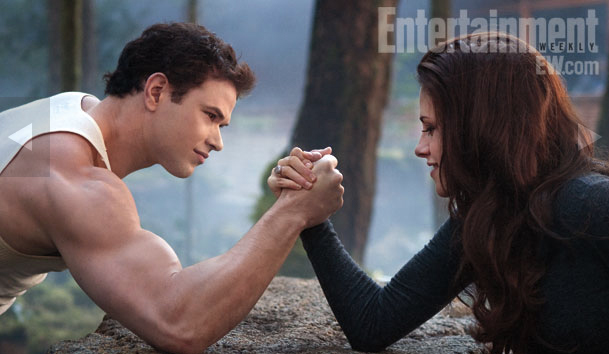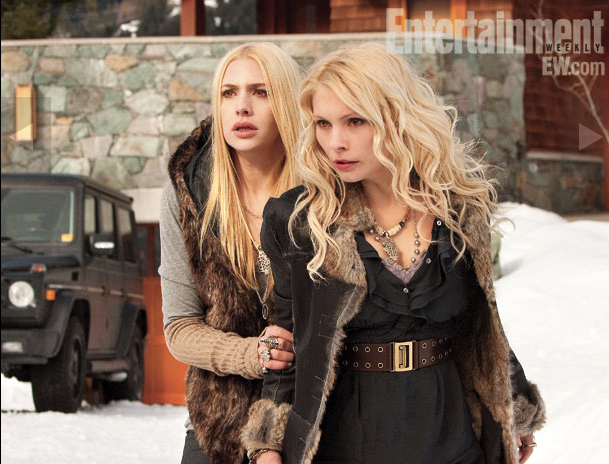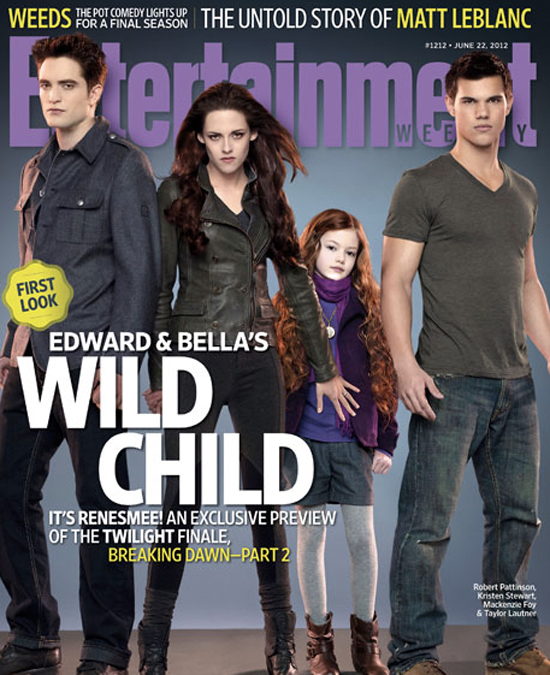 Photos courtesy of EW.com