Angelina Jolie donates $100K to Syrian refugees, writes essay for World Refugee Day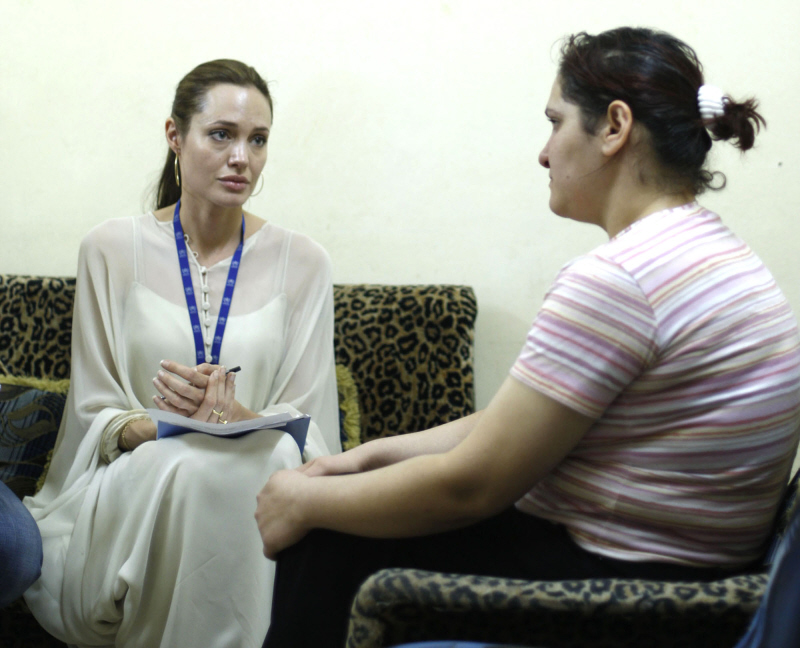 I totally forgot that yesterday was World Refugee Day. Damn! And there I was, focusing solely on Angelina Jolie's "Maleficent: Texas Ranger" ensemble. The UNHCR already released Angelina's World Refugee Day PSA a week ago, and while she was working on her film in England, Angelina made sure to time two pieces of news for the significant day. One, she wrote a first person essay which was published on the UNHCR's website. Two, she donated $100,000 to the UNHCR's operations geared towards Syria and the unfolding humanitarian crisis there. Here's her essay:
UNHCR believes even 1 person forced to flee is too many. And it's true. Every individual refugee matters. Each has their own story. Each has suffered and survived more than I could ever bear. And yet, they rise up to live another day.

We risk forgetting the individual when we speak in numbers, but the numbers tell an important story. In the past year 4.3 million people have become displaced. There are still 2.7 million refugees from Afghanistan. 12 million people are stateless. And for the fifth consecutive year the number of forcibly displaced people worldwide exceeded 42 million.

Sadly, a person who becomes a refugee is likely to remain one for many years – often stuck in a camp or living precariously in the city of a developing nation. 70 per cent of refugees under UNHCR's protection have been in this situation for more than five years. Their safety and well-being depend on the continued generosity of those countries who have kept their borders open to refugees, and on the vital efforts to deliver humanitarian assistance wherever and whenever it is necessary.

Unfortunately, the world is producing displaced people faster than it is producing solutions to displacement. And the solutions are not exclusively humanitarian – they are also political. The international community should rededicate itself to preventing conflict, addressing it when it erupts, and solving it more quickly, for that is the only way to create durable solutions for the refugees whose strength inspires us on this World Refugee Day.

Angelina Jolie, 20th June 2012
It's basically her "state of the refugees" address as a special envoy for the UNHCR. She's listing facts, not opinions, and offering a generalization as to where the majority of people should be able to find common ground – that refugee crises occur when there's conflict, and dealing with the conflicts would be more productive than dealing with another refugee crisis.
In addition to those good works, The HALO Trust announced a new initiative to bring "added transparency to humanitarian landmine clearance." You can now view landmine-affected areas on Google Earth, and the narration for the program is done by Angelina. Jolie is described as a "longtime HALO supporter" – she toured HALO's headquarters last year, she's toured landmine-affected areas and she funded a massive de-mining initiative in Cambodia too. You can read more about the new program here.
Once again, here's Angelina's PSA: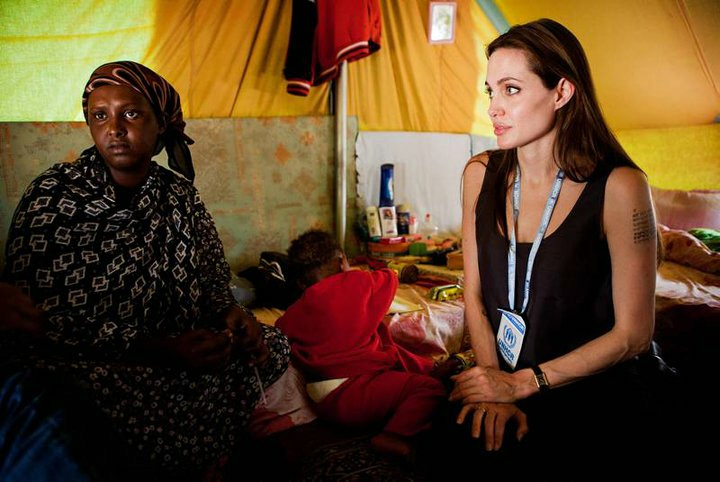 Photos courtesy of WENN.

Written by Kaiser

Posted in Angelina Jolie

- Harry Styles & Kimberly Stewart going strong [Lainey]
- Demi Moore's new man is gross [D-Listed]
- Fug or fab: Emma Stone [Go Fug Yourself]
- Arrest warrant issued for Jenelle Evans [Reality Tea]
- Only God Forgives review [Pajiba]
- Hugh Jackman, scooter master [Buzzfeed]
- Who does Drew Barrymore call her sister? [Evil Beet]
- Cannes couples past and present [Popsugar]
- Arrested Development supercut [CDAN]
- Lea Michele's see through skirt [Celebslam]
- Cheating wife's lover escapes out of window [Movin925]
- Joe Francis is crazy [Starcasm]
112 Responses to "Angelina Jolie donates $100K to Syrian refugees, writes essay for World Refugee Day"