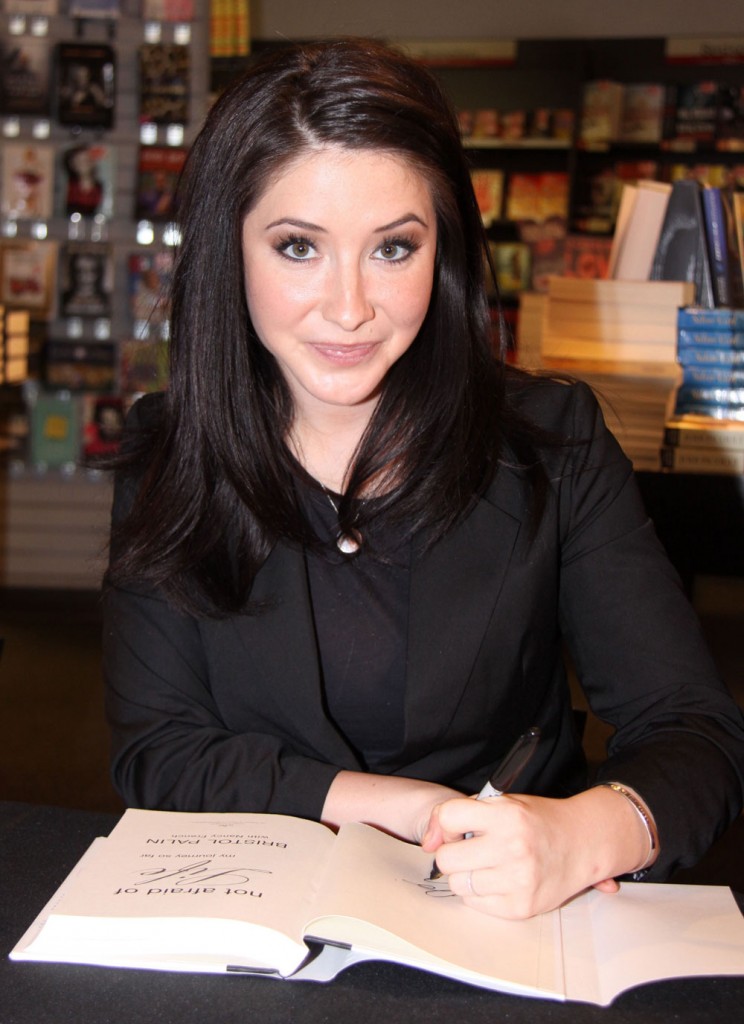 We've heard that Bristol Palin's reality show is just awful and not even on par with the very low bar set by other family reality shows. The numbers are in for the show's debut and they very much reflect that. The premiere of "Life's a Tripp" only had about 726,000 total viewers, which is less than half the debut number for Roseanne Barr's one-off reality show, "Roseanne's Nuts," according to Deadline. I'd like to point out that Kirstie Alley's reality show, "Kirstie Alley's Big Life" also got double those ratings with a 1.4 million premiere. So Bristol's show is not long for this world, which should come as good news to most people, not that many of us beyond the gossip-obsessed are paying attention to it.
As an aside, remember when Bristol and her baby daddy Levi reunited briefly, got engaged and were on the cover of US Weekly? That was in July, 2010. They swore in the accompanying interview that they were waiting until marriage to have sex again. (They had a child together and Bristol admitted that they had sex many times, even though she tried to claim the first time was when she lost her virginity to Levi while blackout drunk.) Well Bristol has another boyfriend, Gino, and she's been with him seriously for at least a year and a half, going by when we first heard about him. (An article earlier this year claimed they'd been "on and off for three years," which would have overlapped with her brief reunion with Levi. Either way, they've been together awhile.) Bristol tells In Touch that she and Gino are waiting to have sex until marriage. Good for her I guess, and why again is she volunteering this information? She said the same thing back in January, so I guess she's sticking with it.
"Gino and I are going to wait until marriage," she says of her pipeline worker boyfriend, Giacinto "Gino" Paoletti, also 21. "I'm doing what's best for me. It's between me and God, and I know it's right."

"Since I have this platform, I want to use it for good…

"I want to let girls know that this isn't ideal, this isn't fun, this isn't easy.

"Gino's an awesome male role mode. He takes Tripp fishing, takes him out on the Jet Skis and shows him off to his friends. He just loves Tripp endlessly, and I am so thankful for that…

"Gino is on the same path; he has the same faith as I do. I'm blessed to have him by my side."

"[Levi] hasn't been an active father to Tripp, He hasn't been paying child support. I don't wish that on anyone."
[From In Touch, print edition, July 2, 2012]
I don't mean to split hairs here, but if she's been with this guy for this long, why is she saying they're "going to wait until marriage" to have sex not that they "are waiting until marriage." It just sounds like she's revising history after the fact. Again, good for them if that's their conviction on the matter. It sounds kind of sweet if you forget everything you know about Bristol.
Bristol has to have some kind of career now that her reality show dreams are being shattered. Since she's not going to college she could always go back to lecturing on the abstinence circuit for big bucks. That's probably her plan here.
Also, to address the quotes about how Levi is a deadbeat dad, Levi's new pregnant girlfriend said that he's been trying to see his son, but that he refused to appear on Bristol's reality show. After that, Bristol supposedly shut him out. I could buy that side of the story but I don't believe Levi is a devoted dad, either.