Blake Lively in Zuhair Murad at the LA 'Savages' premiere: busted or beautiful?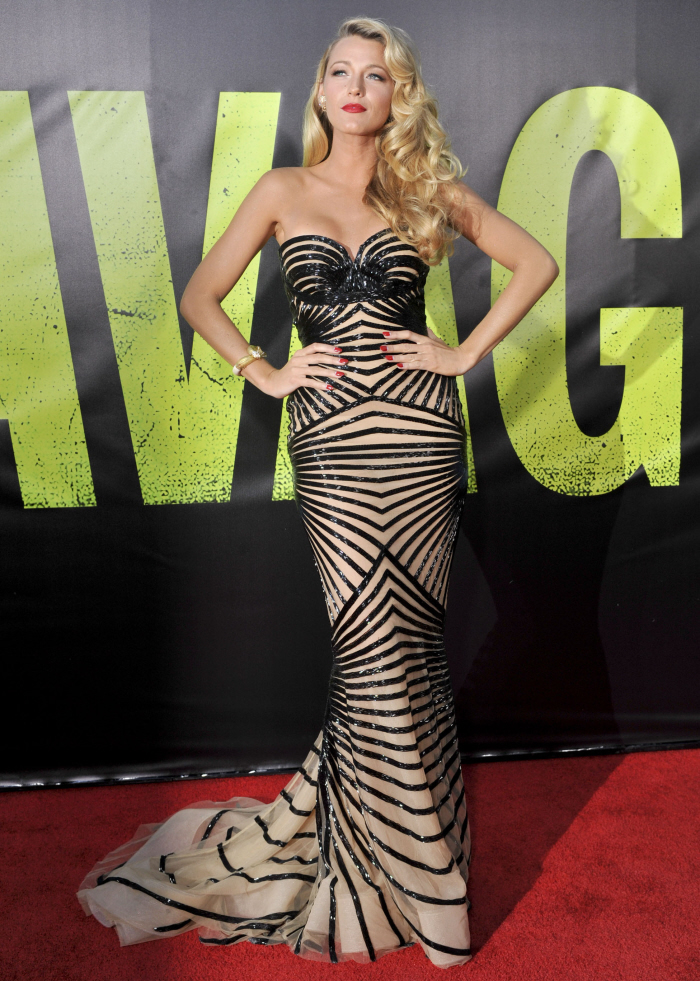 Last night was the big LA premiere of Oliver Stone's Savages, which comes out in America on July 6 – not this Friday, but next. Almost all of the stars from the film were at the LA premiere. The one person who didn't show up: newlywed Aaron Johnson, who might be on his honeymoon and thus, had a good excuse for not coming to the premiere of one of his first big American films. CB has covered John Travolta's wiggy appearance on the red carpet, and I shall cover the rest of the photos.
I think it's fair to say that Blake Lively was the big "star" of the red carpet. Salma Hayek didn't look all that great, and Blake really pulled out all of the stops. Blake wore this Zuhair Murad couture gown, which is like an optical illusion dress that looks poured onto her. You can say whatever you want about this girl's face (eh) and her "game" (eh): but you cannot deny that Blake has a KILLER figure. Look at her body in this gown. It's amazing. I would love to have her figure. And yes, I know her boobs are man-made. I would still love to have all of it. As for the dress – it's not my favorite thing that I've ever seen her wear, but hey, at least it's not Marchesa. And at least Blake isn't falling out of it.
As for the overall styling… am I alone in thinking her makeup looks rough? The lipstick shade is too bright, the earrings don't really go with the dress, and her hair looks awful. The blonde looks over-processed, and I just feel like she's going for the "Glamour Barbie" look. Maybe I'm being too critical because I'm overwhelmed by jealousy for her figure, though. Or maybe Blake shouldn't brag constantly about styling herself because she really does NOT have an eye for it.
Oh, and Ryan Reynolds was nowhere to be seen? I guess Blake had to do the premiere stuff as a single girl.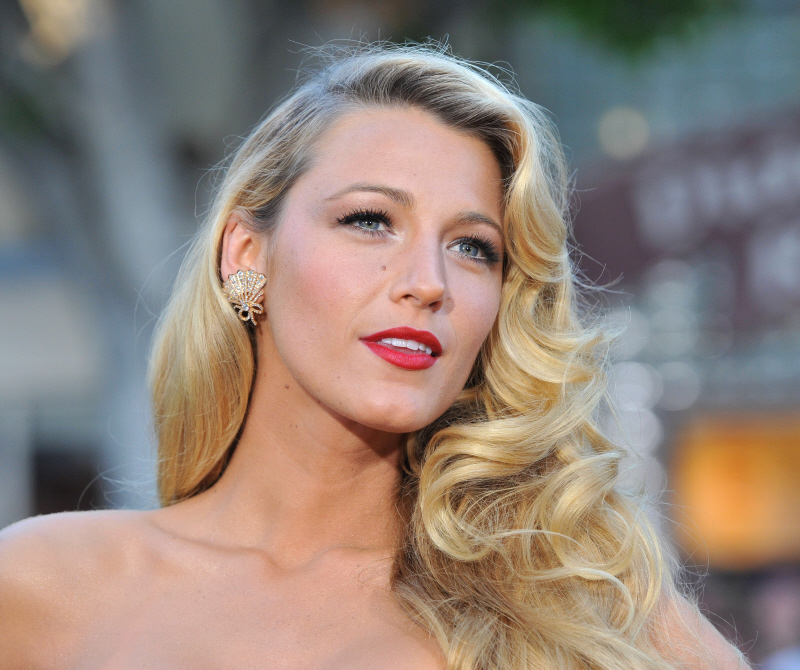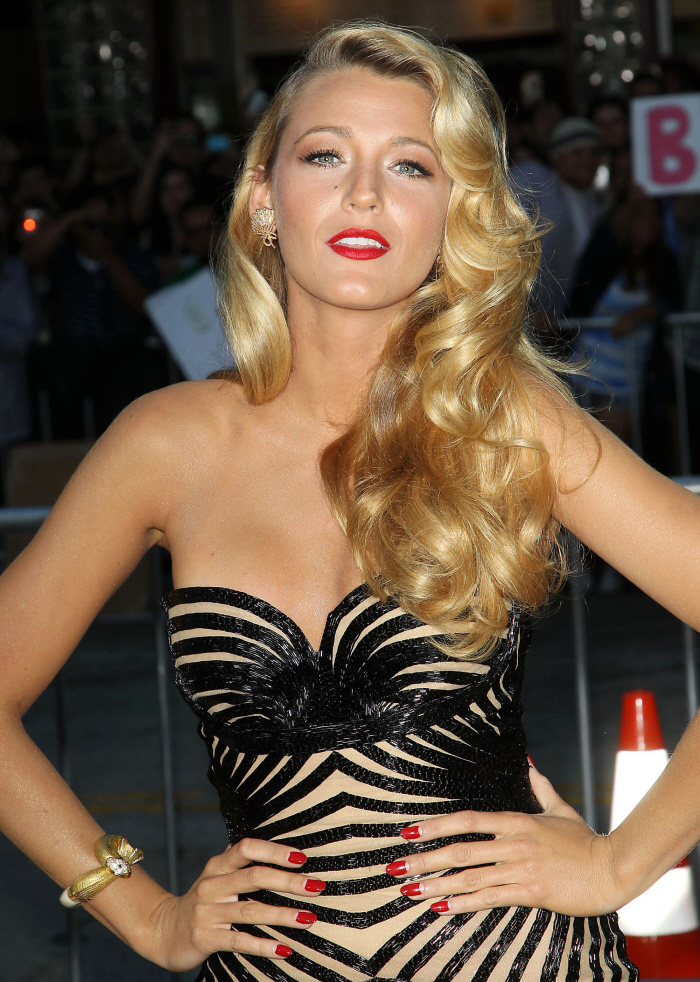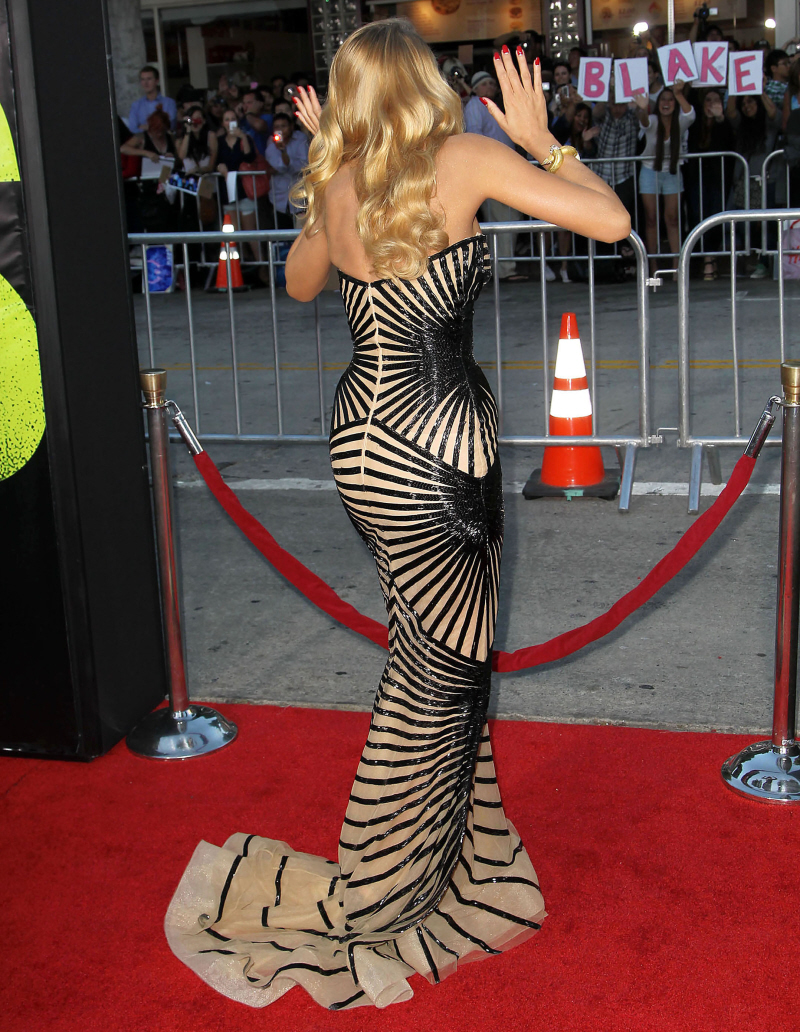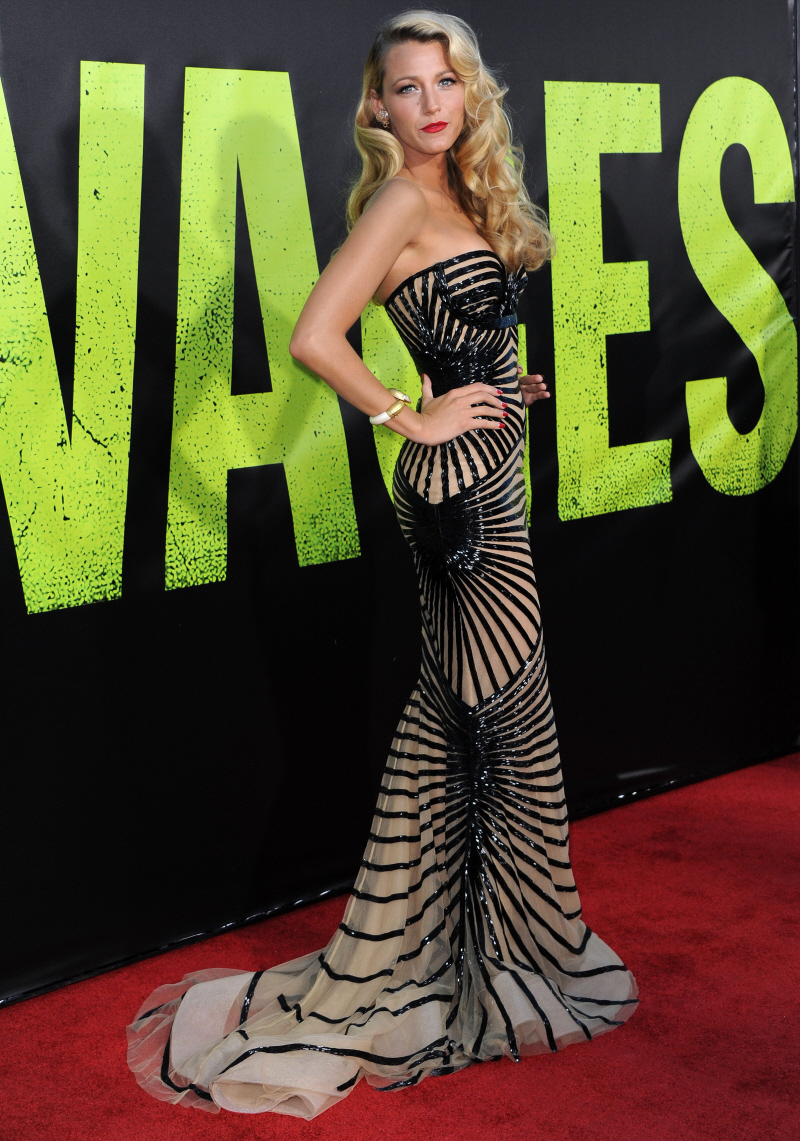 Photos courtesy of Fame/Flynet and WENN.

Written by Kaiser

Posted in Blake Lively, Fashion

- Who butchered the National Anthem? [D-Listed]
- Rob Lowe never ages [Lainey Gossip]
- What is Vanessa Hudgens wearing? [Go Fug Yourself]
- Summer guide to reality TV [Reality Tea]
- Game of Thrones recap [Pajiba]
- Tan Mom's music video [Buzzfeed]
- Amanda Knox is broke [Starcasm]
- Backstage at the Billboard Awards [Popsugar]
- Miley is still stuck in the 90s [Popoholic]
- Blind Items revealed: Adam Levine [CDAN]
- Hugh Hefner bought Crystal Harris a house [Celebslam]
- What happened to Aimee Teegarden? [The Blemish]
148 Responses to "Blake Lively in Zuhair Murad at the LA 'Savages' premiere: busted or beautiful?"