Uggie the Dog in a gold collar at his Grauman's ceremony: try hard or adorable?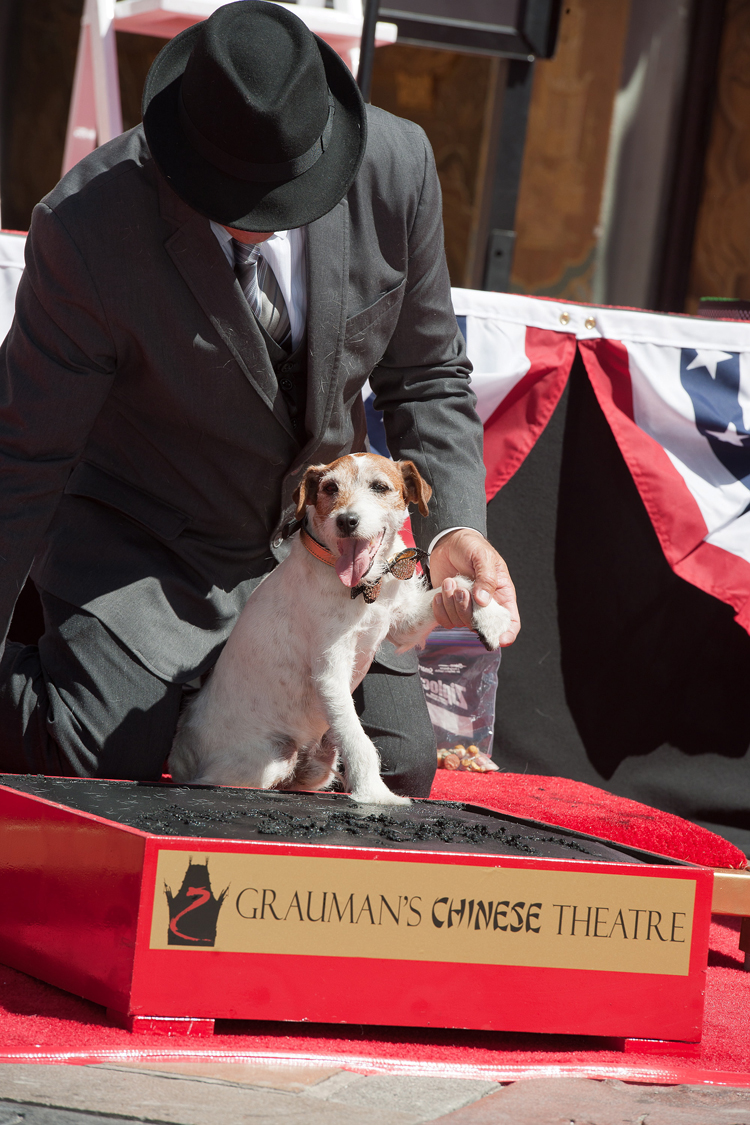 Here are some photos of Uggie the Dog (from The Artist) at his hand-and-foot ceremony at Grauman's Chinese Theater in Hollywood. Uggie is the very first canine to receive this honor, and I very much appreciate that his stylist didn't put him in a too-short dress that would have been improper for squatting to do the requisite paw prints. Here's a better look at that gorgeous gold collar on Uggie. It's very dressy, and while it's not quite as civilized as the black tie he wore for awards season, I think it's just perfect for this occasion. This is all about Uggie, you know? As of this ceremony, he's retiring from showbiz, and I'm tearing up (a little bit) just thinking about it: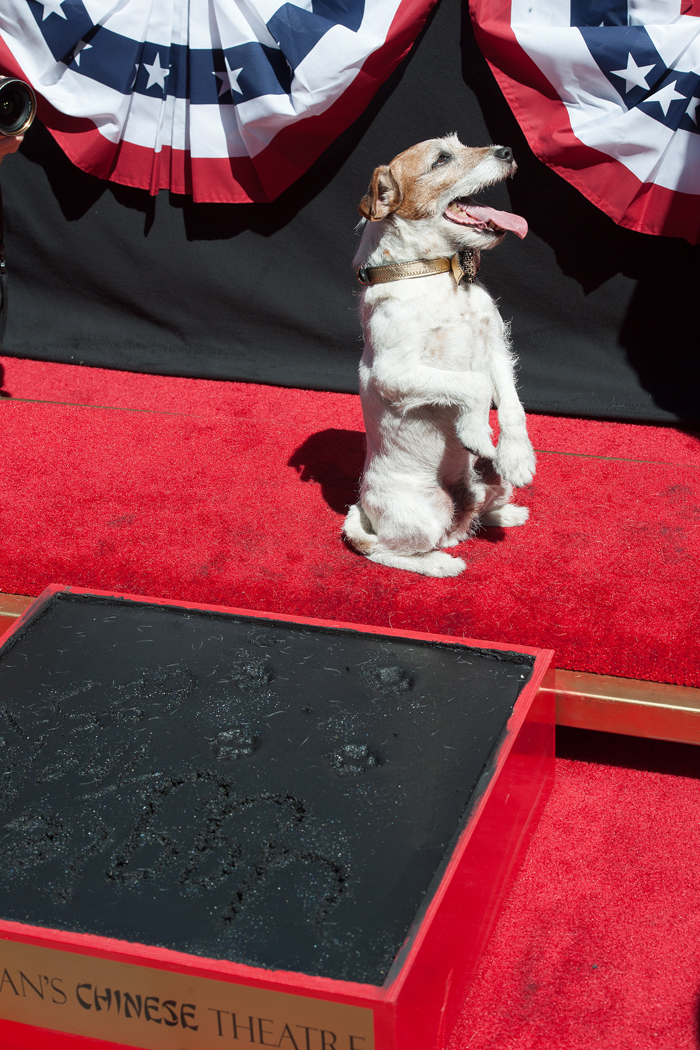 Uggie, the Jack Russell who became synonymous with Oscar-winning film The Artist, becomes the first dog to leave his prints outside Hollywood's Grauman's Chinese Theatre.

Dressed in a black bow tie, Uggie sank his paws in cement in a ceremony that also marked his retirement from the movies.

Uggie, 10, who hit the big time as French actor Jean Dujardin's cute sidekick in the silent movie, will appear at charity events, his trainer said.

"Everybody thinks I am great trainer. I don't think so. I think he is just a great dog," trainer Omar von Muller said at the paw print ceremony, thanking Uggie's fans and his thousands of followers on Twitter and Facebook.

Filmed in black and white, The Artist won five Oscars, including best picture, in February. The Blu-ray version of the movie sees its release on Tuesday. Fans mounted a campaign to have Uggie nominated for an acting Academy Award in his own right, but the pooch was ineligible under rules that say acting awards can only go to humans.

Uggie, who also performed in Water for Elephants, has made appearances around the world since The Artist was released last year. He won the 2011 Palm Dog award at the Cannes film festival in May and the Golden Collar Award in Los Angeles in February.
[From The Telegraph]
I hope that Uggie makes the most of his (relaxing) retirement, and he's probably very serious about taking a load off instead of just threatening to leave and coming back a month later with a new movie or record album. Uggie doesn't seem like the kind of diva who would "retire" just for attention, and sadly, he will also be sidelined by his mysterious shaking syndrome too. The good news is that his vet says "it is neurological and he is not suffering." I'll miss the little Uggster, but maybe he'll pop into a Hollywood event from time to time.
Here's a few photos of Uggie and his pals. I'm pretty sure one of them functioned as his figurative Justin Theroux at the event. Damn publicists.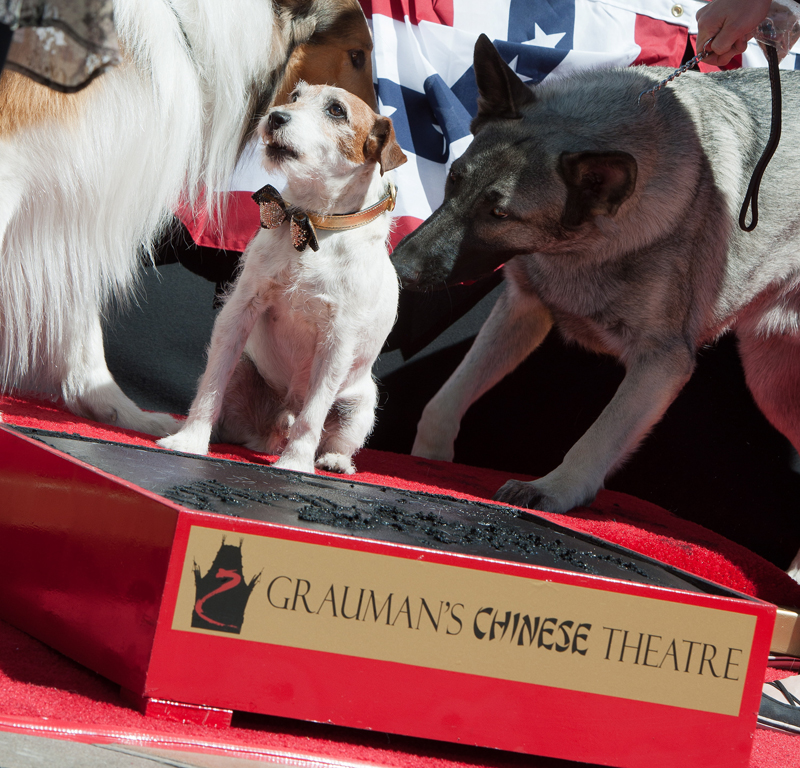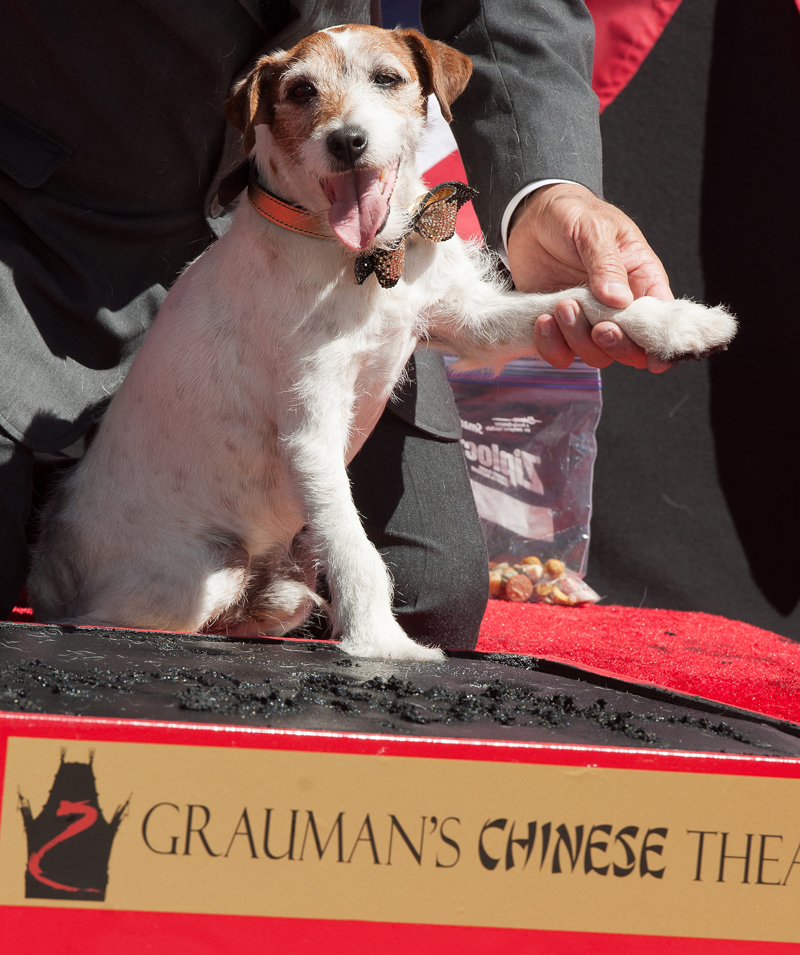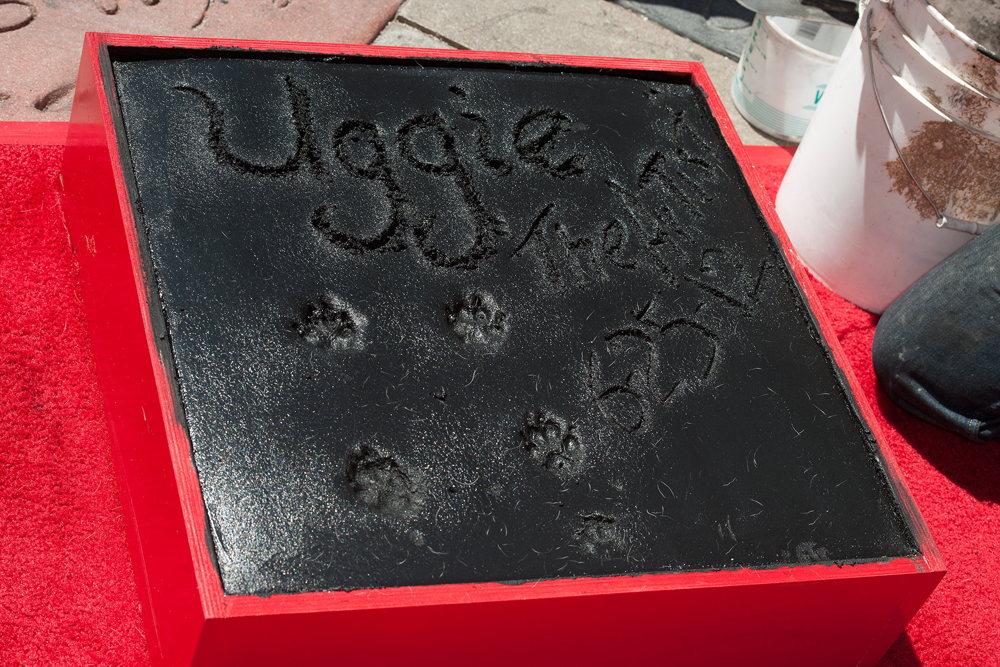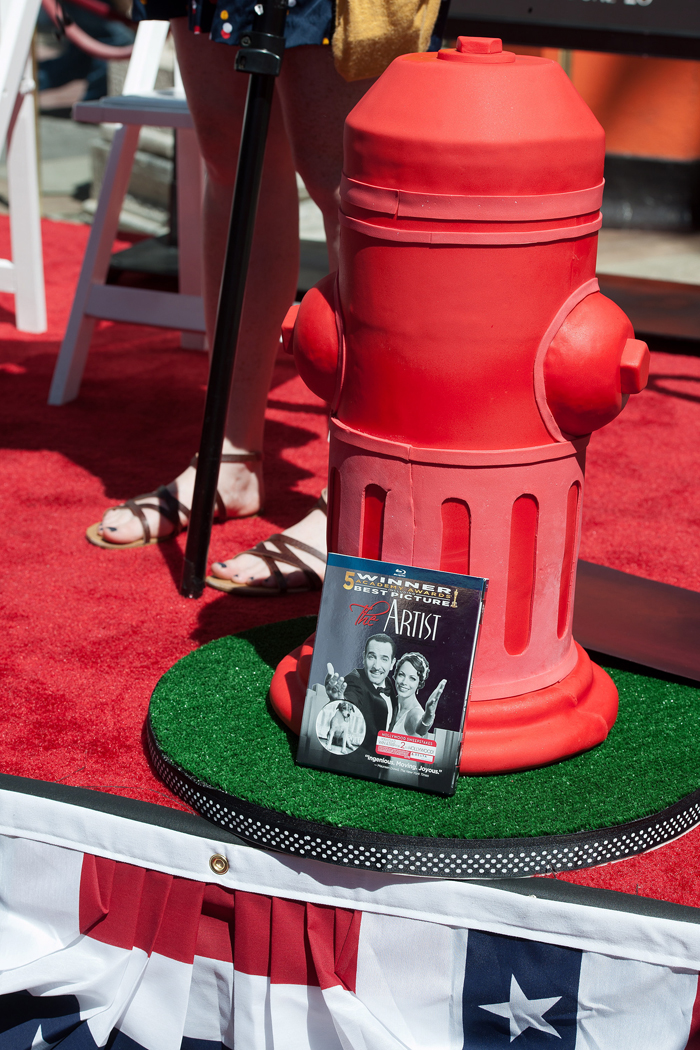 Photos courtes of WENN
Written by Bedhead

Posted in Uggie

- Harry Styles & Kimberly Stewart going strong [Lainey]
- Demi Moore's new man is gross [D-Listed]
- Fug or fab: Emma Stone [Go Fug Yourself]
- Arrest warrant issued for Jenelle Evans [Reality Tea]
- Only God Forgives review [Pajiba]
- Hugh Jackman, scooter master [Buzzfeed]
- Who does Drew Barrymore call her sister? [Evil Beet]
- Cannes couples past and present [Popsugar]
- Arrested Development supercut [CDAN]
- Lea Michele's see through skirt [Celebslam]
- Cheating wife's lover escapes out of window [Movin925]
- Joe Francis is crazy [Starcasm]
39 Responses to "Uggie the Dog in a gold collar at his Grauman's ceremony: try hard or adorable?"