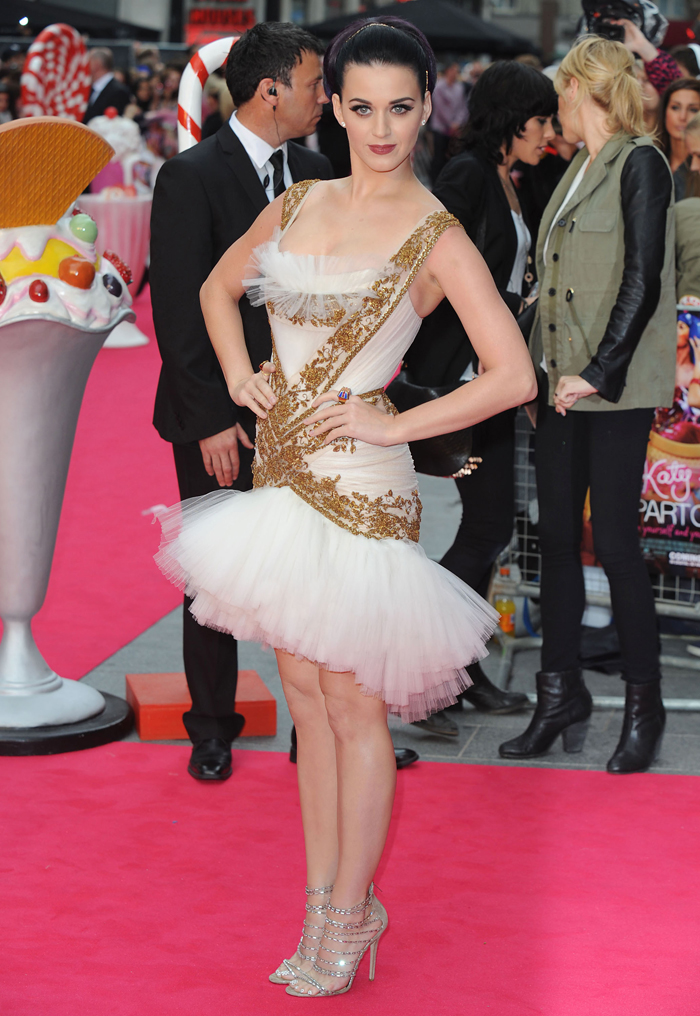 Katy Perry walked the red carpet last night for her London premiere of her Katy Perry: Part of Me 3-D movie, and her look wasn't nearly as fashion foward as the slightly amazing red, strapless Dolce & Gabbana dress she wore for the Los Angeles premiere. Here she wore a gold and white Marchesa dress, which is very Ice Capadey by nature. Perhaps Katy only wore this dress to impress Harvey Weinstein so that he'll turn her into a real movie star, or maybe she actually likes this ugly thing. With Katy, one never knows — she's clearly trying to work this dress, but it's just such a terrible design.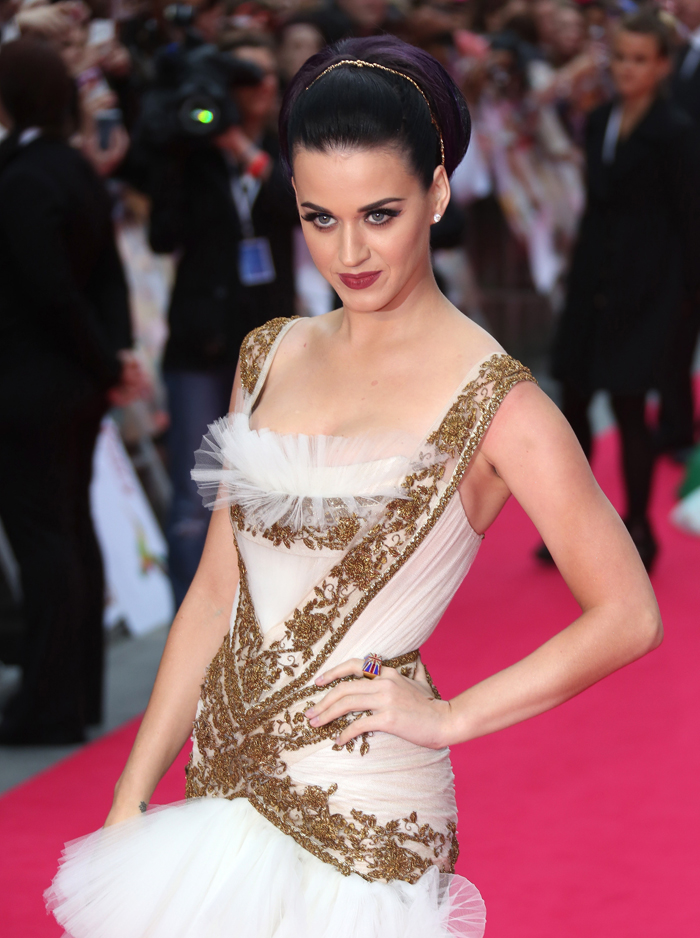 Katy's makeup was overdone as always, and her hair looked pretty cartoony and mushroom-like amidst a matching gold headband. So much makeup!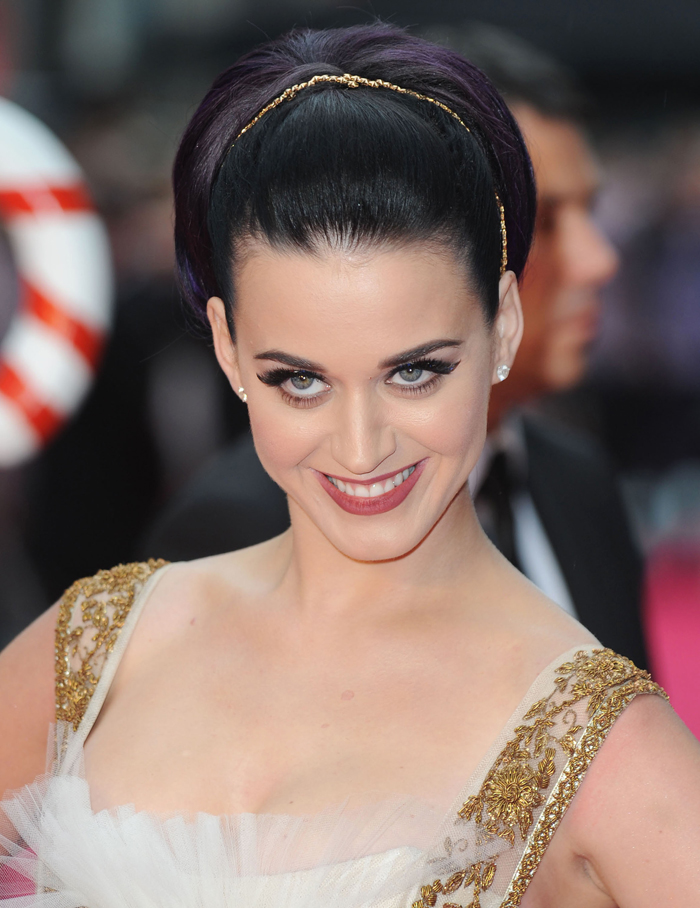 Meanwhile, here are some new details about Katy's exploitation of her marriage and divorce within the movie. As we've already discussed, Russell asked that his likeness be removed from the film, but Katy said no way. Now Katy (within the movie footage) has inadvertently revealed some proof that a big reason for the split was that the couple possessed different ideas about starting a family. Russell was apparently in a huge hurry to have kids and, according to this piece from NY Daily News, was even thinking about baby names. Katy's response to Russell's musings was rather insensitive:
Fans see a different side of Katy Perry in the new film, Part of Me, which shows the bubblegum pop star breaking down backstage over her split from Russell Brand.

The documentary shows Perry, 27, at her emotional breaking point — collapsing in tears moments before she's supposed to take the stage in Brazil. Brand, 37, filed for divorce in February, and Part of Me highlights the roughest part of Perry's struggle to accept the broken relationship.

But the show must go on — and Perry, whose concert gear famously consists of bright, theatrical costumes and florescent wigs — graced the stage with a megawatt smile.

While Brand, a comedian, does appear in the flick, he pops in and out only in early scenes. Later, an exhausted Perry struggles to uphold the relationship, flying to see her husband in between sleepless touring.

A friend interviewed in the film notes that Perry "should be resting, but she wants to fly to wherever Russ is to show she cares. She's running herself ragged."

During another scene, Brand texts Perry, suggesting they name their children after Ronald McDonald. Perry, 10 years younger than her husband and not ready for a family, texts back: "Babies can't have babies, and I'm still a baby."

Conflicting desires about having children only added to the stress of a shared life spent in the spotlight, and — due to demanding travel schedules — often apart. Perry was on tour when Brand filed for divorce, and Part of Me includes the news of the announcement — and the singer's subsequent heartbreak.

Later, Perry tells the cameras she still misses Brand. "I'm a romantic and I believe in the whole fairytale," she says. "Love is a dream, but the reality is making it work. I did everything I could — but it's still failed."
[From NY Daily News]
See, that's kind of a rude thing to text back to a husband when he's getting all googly eyed over baby names. The problem isn't that she didn't want to stop her career to have children. That's certainly Katy's prerogative to feel the way she felt about children at this stage in her life. The issue is more that she did talk about wanting babies, and then she shut down Russell when he was all hopeful that they'd go forward with a family. Katy truly did pull a baby bait-and-switch with the guy. But maybe she's correct in that she is a baby herself.
Naturally, Katy also had to put on some "quirky" airs at the London premiere too. Here she is freaking out with a Union Jack umbrella in hand.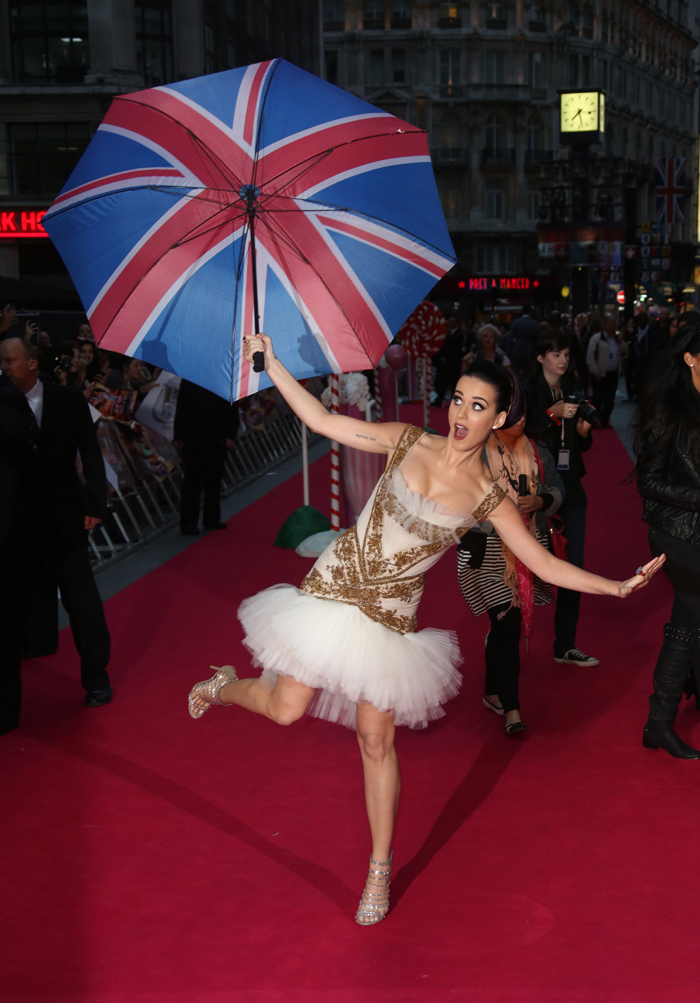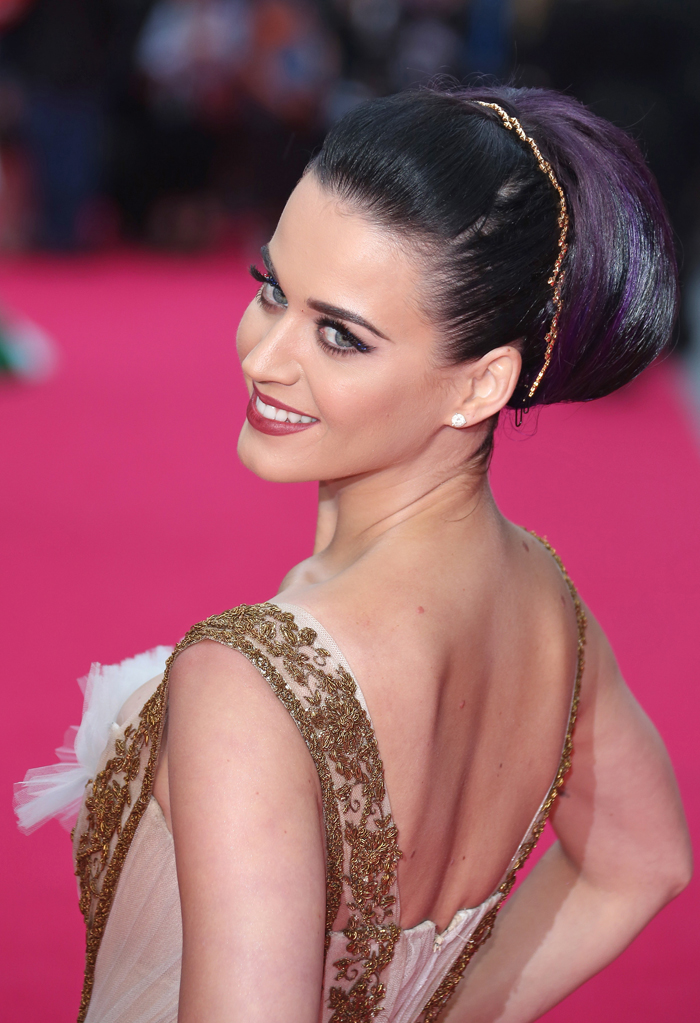 Photos courtesy of WENN