Julia Roberts is ready to quit Hollywood to be a hippie on a Hawaiian farm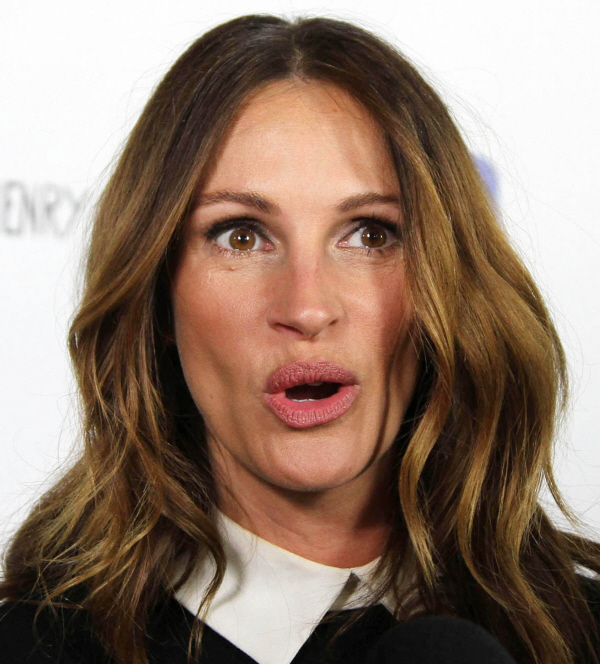 Ever since Julia Roberts married Danny Moder and started having babies, she's been "on holiday" from Hollywood. Which is fine – a little Julia goes a long way. Over the past eight years, she's turned in some interesting performances here and there – she was grossly miscast in Closer and Duplicity, but I actually enjoyed her in Charlie Wilson's War (which is overall a GREAT movie that I would highly recommend). I recently tried watching Eat, Pray, Love but I kept turning it off because the film was awful, her character was a whiner and Julia was apparently the only actor in the film who got to have good lighting – everybody else looked like hell. Julia's last film foray was the disastrous-looking Mirror Mirror, which came and went from theaters earlier this year, making $160 million overall, most of it overseas. That's not bad – and probably better box office than the film really deserved. What is my point? My point is that Julia barely works these days, and when she does, it's rarely some critical darling or huge hit. So if an out-of-work A-lister quits Hollywood, does anyone even care? Well, that's sort of the point of this Enquirer story. Julia might "quit" Hollywood because she wants to be a hippie in Hawaii. Who doesn't?
Julia Roberts has gone from glamorous A-list superstar to country bumpkin at her Malibu eco-mansion – and now friends say she's ready to quit TinselTown altogether to run a sustainable farm in Hawaii.

Julia, 44, raises chicken and goats, using the eggs and milk to feed her family. She also grows organic lettuce, celery, squash and tomatoes, and she fig, lemon, peach, avocado and orange trees on her property.

"Julia has been into healthy eating for some time, but she got even more interested in it after deciding to lose the 10 pounds she gained while playing the Evil Queen in 'Mirror, Mirror'," said the course. "Julia became really fanatical about the food her family was eating – everything had to be organic or homegrown if possible. She's even considering moving to Hawaii where her family vacations every year, so they can live off the land, bask in the sun and surf 365 days a year."

Julia's Earth Mother ways aren't limited to food. She's banned all plastic, gets 85 percent of her home's energy from solar panels, and she and her husband Danny Moder both drive hybrid cars.

Julia also hates using e-mail and social networks like Facebook and Twitter and won't let her kids – twins Hazel and Finn, 7, and Henry, 5 – go online. She also severely limits their TV viewing time.

"She's turning into a real hippie," said the source. "She really believes she's much happier and healthier living down on the farm."
[From The Enquirer, print edition]
I'm assuming that Julia is not out there, toiling in her fields day after day? She has a farming staff, right? And does she really grow all of that stuff on her Malibu estate? That seems less like a vegetable patch and more like… I don't even know. And it's all in Malibu? That's some valuable real estate, so those are like the most precious vegetables ever. ELITIST! No, I get it. I mean, I understand how someone (rich) could say, "Screw this Malibu mansion and exquisite Malibu farm, I'm going to go be a hippie in Hawaii and surf every day and run a sustainable farm." Because, seriously, why not?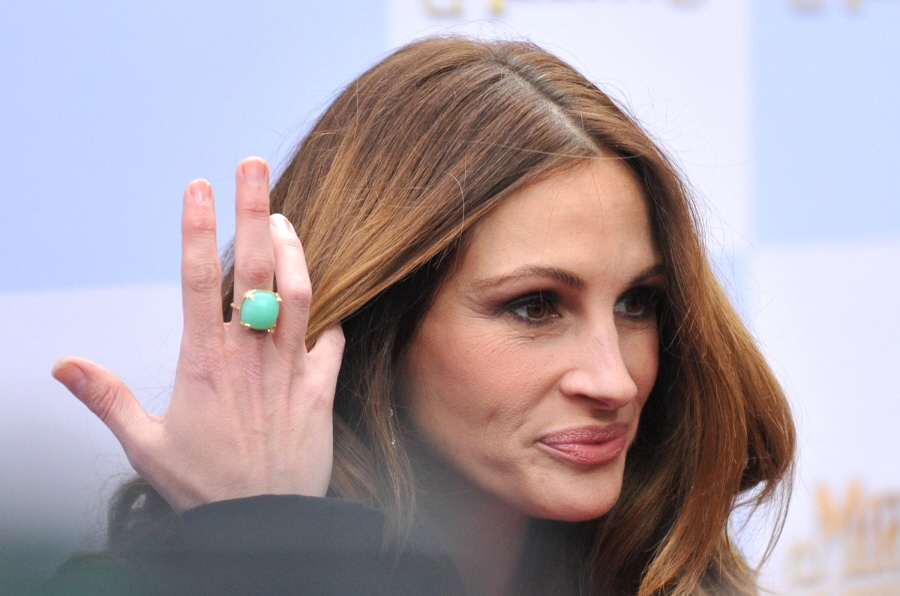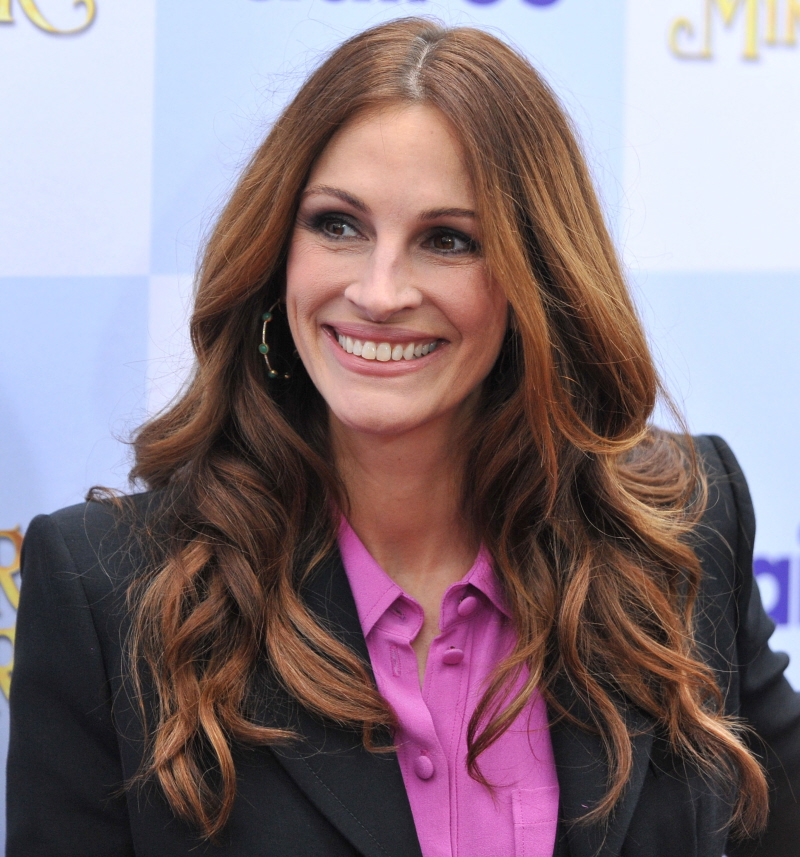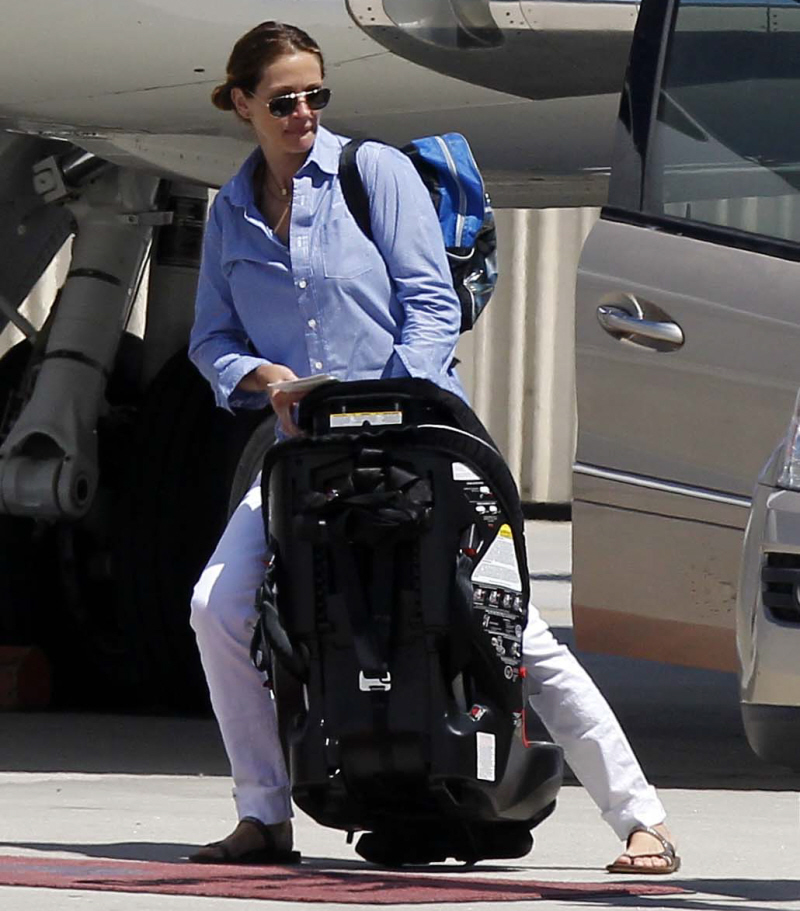 Photos courtesy of WENN, Fame/Flynet.

Written by Kaiser

Posted in Julia Roberts

- Mariah Carey lip synced on American Idol [CDAN]
- Colin Firth is looking good [Lainey Gossip]
- Internet celebrity charged with murder! [D-Listed]
- What is Paz Vega wearing? [Go Fug Yourself]
- New bachelors on The Bachelorette [Reality Tea]
- Goodbye to The Office [Pajiba]
- Bachelor Sean's fiance cheats on him [Evil Beet]
- Britney Spears out with her man [Popsugar]
- Nina Dobrev works it [Popoholic]
- Cindy Crawford needs to lay off the 'tox [Celebslam]
- Who said it: Carrie Bradshaw or The Dalai Lama? [Buzzfeed]
105 Responses to "Julia Roberts is ready to quit Hollywood to be a hippie on a Hawaiian farm"