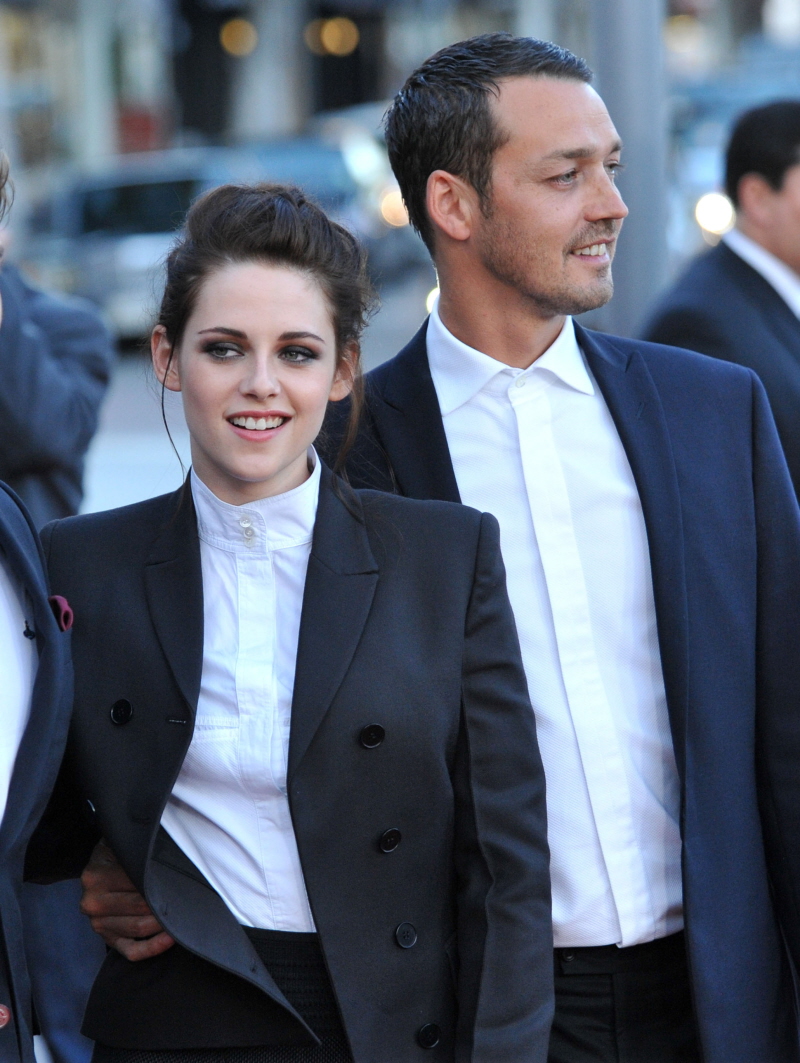 For the love of….!!!!!!! Kristen Stewart has just issued a statement to People Magazine regarding The Great Twihard Meltdown of 2012: Kristen Stewart Gets Some Married Dong. For those you who haven't been paying attention today, Kristen was photographed in a compromising position with her SWATH director, Rupert Sanders, and the photos (exclusive to Us Weekly) are not Photoshopped, and everything Us Weekly is reporting is true. Kristen cheated on Sparkles with a married man and father of two. Here is her statement:
"I'm deeply sorry for the hurt and embarrassment I've caused to those close to me and everyone this has affected. This momentary indiscretion has jeopardized the most important thing in my life, the person I love and respect the most, Rob. I love him, I love him, I'm so sorry," Stewart said in a statement Wednesday.
First of all, "this momentary indiscretion"???? Like, since she only got caught once, she's only saying it happened once. As for the Rob thing and her public declaration of love – I think it's a really interesting move. A public apology – public groveling, really – to the man she loves? And it's like she's asking him not to dump her.
Hollywood Life has been doing stories all morning, some of which is original reporting that seems to contradict both of these ideas. One, a source tells HL that Kristen and Rupert spent a lot of time together on the SWATH set last year: "Kristen would go up after every take to Rupert and have a super engrossed conversation, analyzing everything. It was really weird. But it didn't seem like a romantic thing, at the time." Us Weekly is also saying that the affair began on set and that Sparkles was so concerned when Kristen "wouldn't call him back for a few days," he eventually came to the set to keep his eye on her. To make matters worse, sources tell HL that Rob found out about Kristen's infidelity on Monday when Us Weekly contacted him. The source says: "Robert actually found out about this via his people sometime on Monday when people at US Weekly contacted his people to tell them they were going to run the story. Kristen did not tell him about her cheating. Robert was completely blindsided by the news." OUCH. That really sucks.
Meanwhile, HL has a fuller version of what went down with Us Weekly's exclusive photos. Some highlights:
During the afternoon of July 17, Kristen was on her way home from the gym when she received a phone call. The 22-year-old quickly turned her black Mini Cooper around, according to Us Weekly, and ended up in a deserted parking lot where a curious photographer waited to see WHO the Twilight star was waiting for. Low and behold, her 41-year-old SWATH director, Rupert Sanders, reportedly appeared.

"Kristen was sitting with her back up against the driver's-side window, and this guy was kissing her entire body," a witness tells Us Weekly. At one point Rupert reportedly looked startled and pulled away, but the two went back to smooching quickly. Eventually, according to the report, Rupert looked nervous again and the two left the parking lot.

But it didn't end there. After making out in an abandoned parking lot, the two allegedly drove off to a new location.

"He was all over her," at every stop, the witness tells the mag. The pair ended up in a secluded trail in LA, called Pacific View Trail, which provides a view of the Hollywood sign. The two reportedly stayed in Kristen's car – slouching and kissing — until it appeared to be safe to leave. When the two stepped out, according to the report, Kristen leaned against the rail with the Hollywood sign in the background while he allegedly caressed her hand and the side of her body.

"She was swept up by the moment," a witness tells the mag. However, the two kept their guard up when people walked by.

"A few people would walk by, and as soon as they heard a voice, they would split up and walk in other directions," a witness tells the mag.

At one point, when a group of people walked by with a dog, Kristen and Rupert reportedly went back to her car — but then continued kissing! About 20 minutes later, Kristen allegedly dropped Rupert off three blocks away from his house where he lives with his wife, Liberty Ross, and their two kids. Kristen and Rupert reportedly kissed one last time and he walked the rest of the way home.
Does that sound like a one-time thing? Nope. It sounds like two people who are so used to sneaking around they got tired of the game and they got lazy and they wanted to be bad in public. I'm really starting to get a hate-on for Rupert too – how old is this dude? 41 years old! And he's doing teenage makeouts in cars and sh-t? WTF?
UPDATE: Rupert Sanders issued a statement too – because that doesn't look like two lovers coordinating their messages AT ALL. He says, "I am utterly distraught about the pain I have caused my family. My beautiful wife and heavenly children are all I have in this world. I love them with all my heart. I am praying that we can get through this together."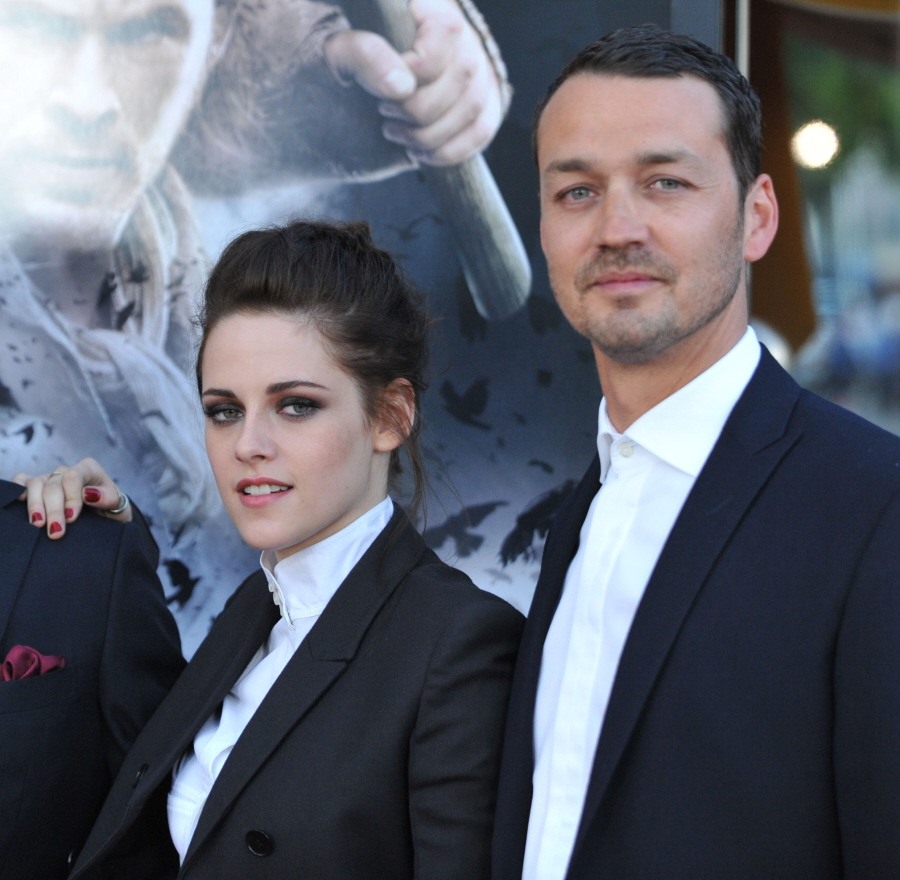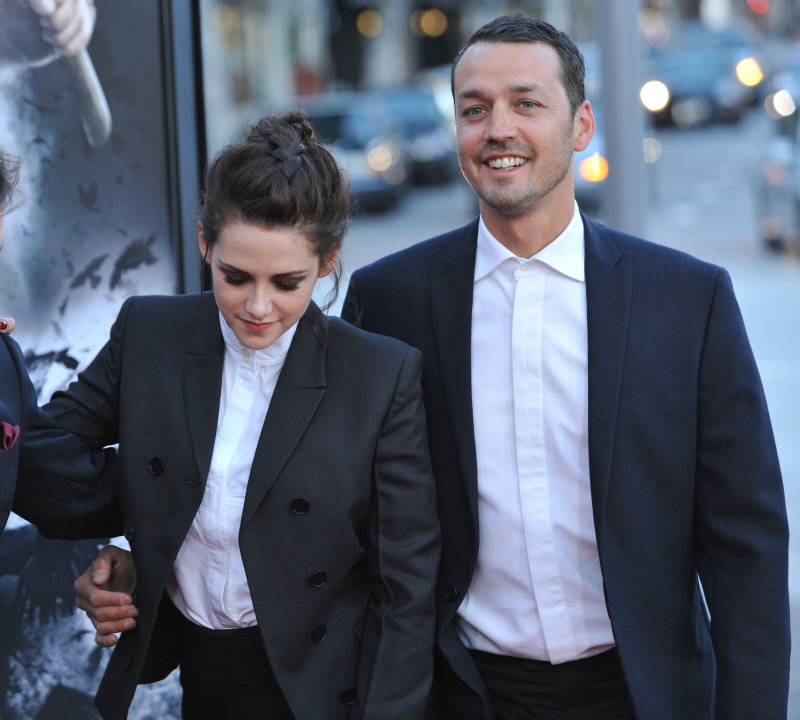 Photos courtesy of Fame/Flynet.