Natalie Portman & Benjamin Millepied hide their ginger (!!) baby at LAX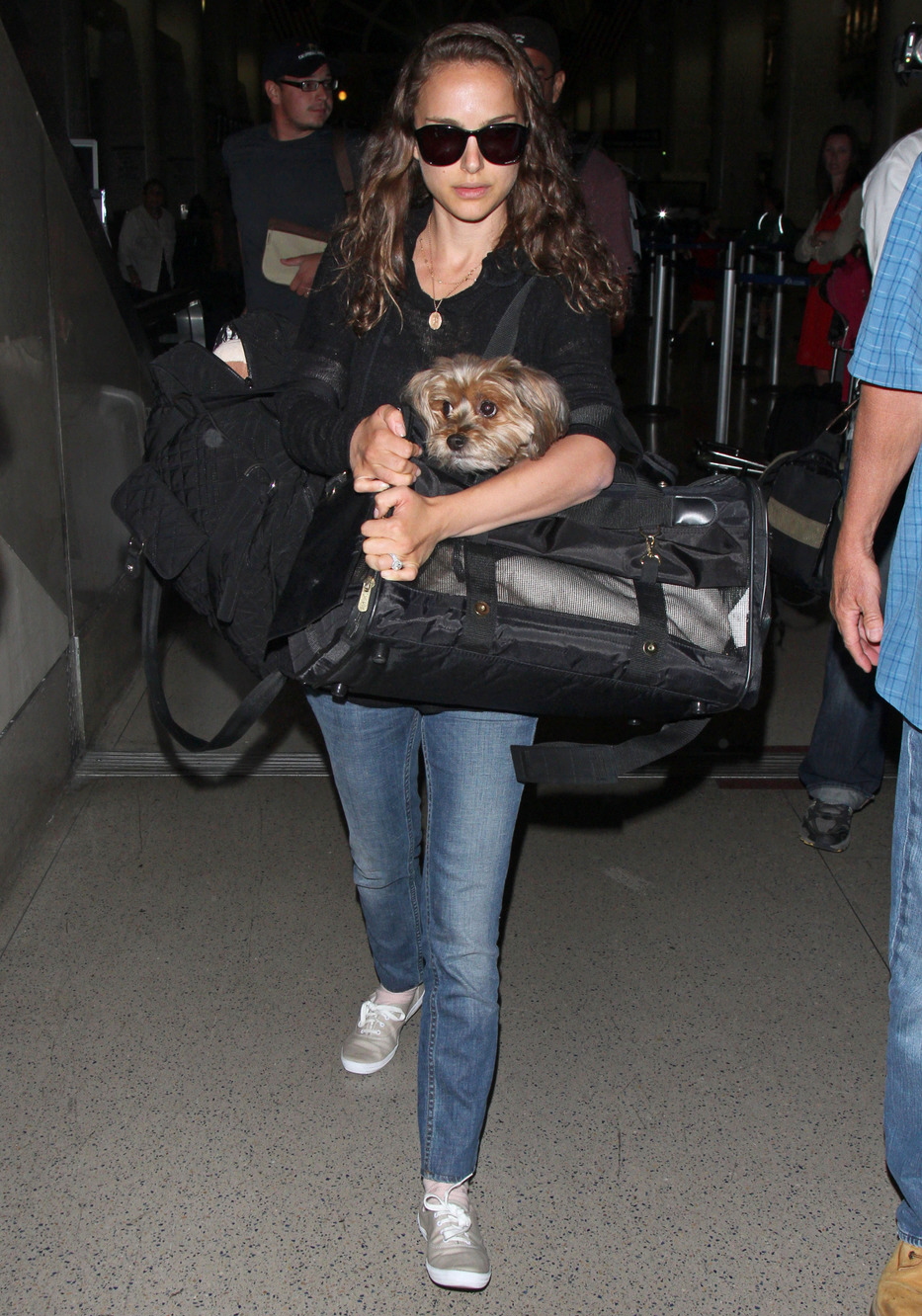 Why is it so dead today? The Olympics? I guess so. And although I would love to analyze every little detail about the gymnastics qualifications (!!!) or the men's relay getting silver (!!!), we don't have a lot of those photos, nor do I have the necessary brainpower to really discuss anything athlete beyond, "OMG, the judges should have scored higher" or "STICK IT!!!" Thus, I'm covering these photos of Natalie Portman and Benjamin Millepied at LAX yesterday.
Benjamin, Natalie, baby Aleph and puppy Whiz made their way from NYC to LA yesterday, and it always fascinating who gets to hold what. I'm assuming Natalie is carrying her own bag (is that her carry-on?), and Natalie's puppy Whiz is totally fine with paparazzi taking his photo while he's out with his mom. Whiz totally looks like a really well-behaved puppy too. Especially when you consider the fact that he JUST got off of a long flight. My puppy would be peeing on a flight attendant.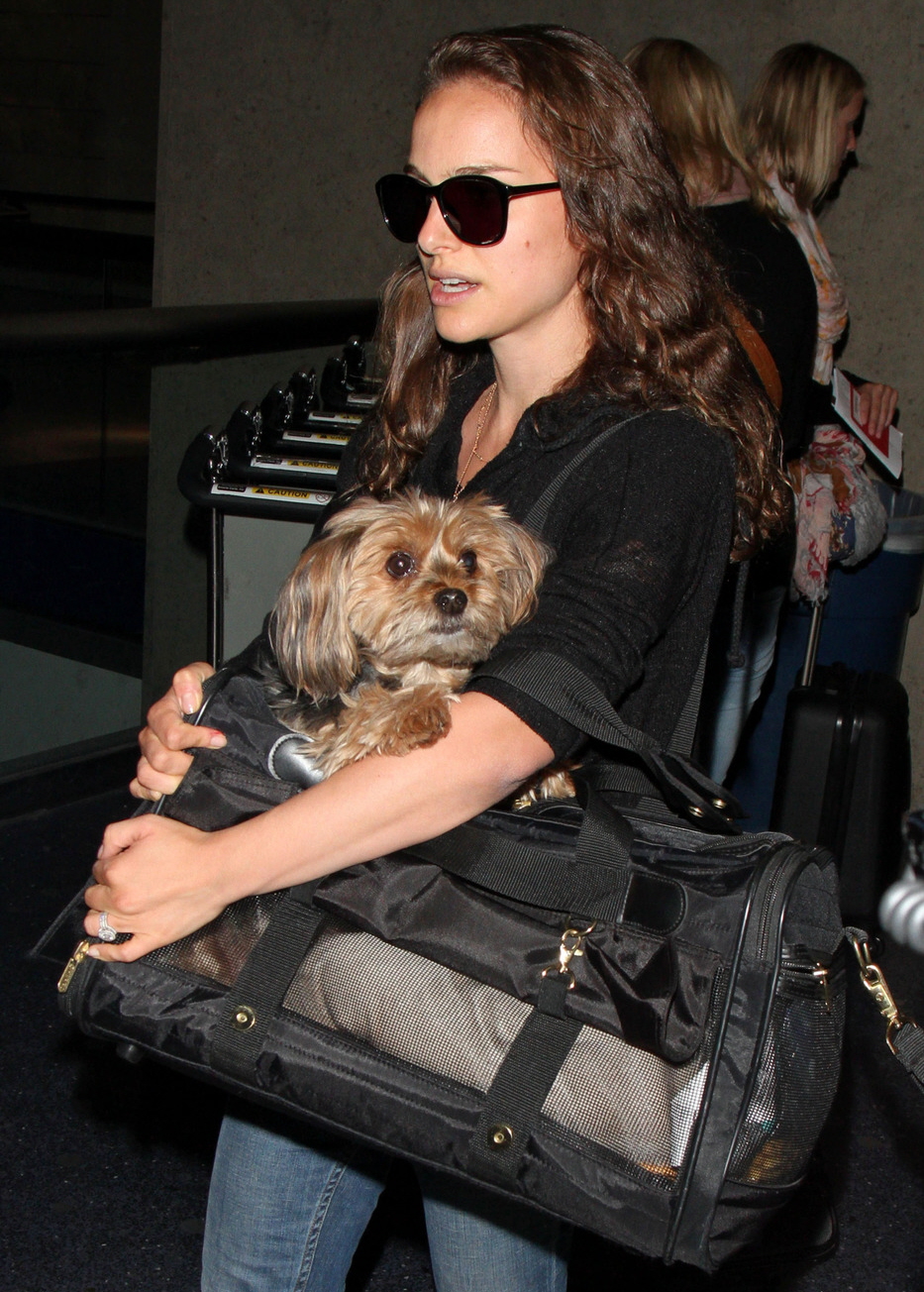 Anyway, Benjamin got to carry their son Aleph. I like when I see a dude with one of those carrier things – and Benjamin looks pretty collected as he deals with the paparazzi trying to take his son's photos.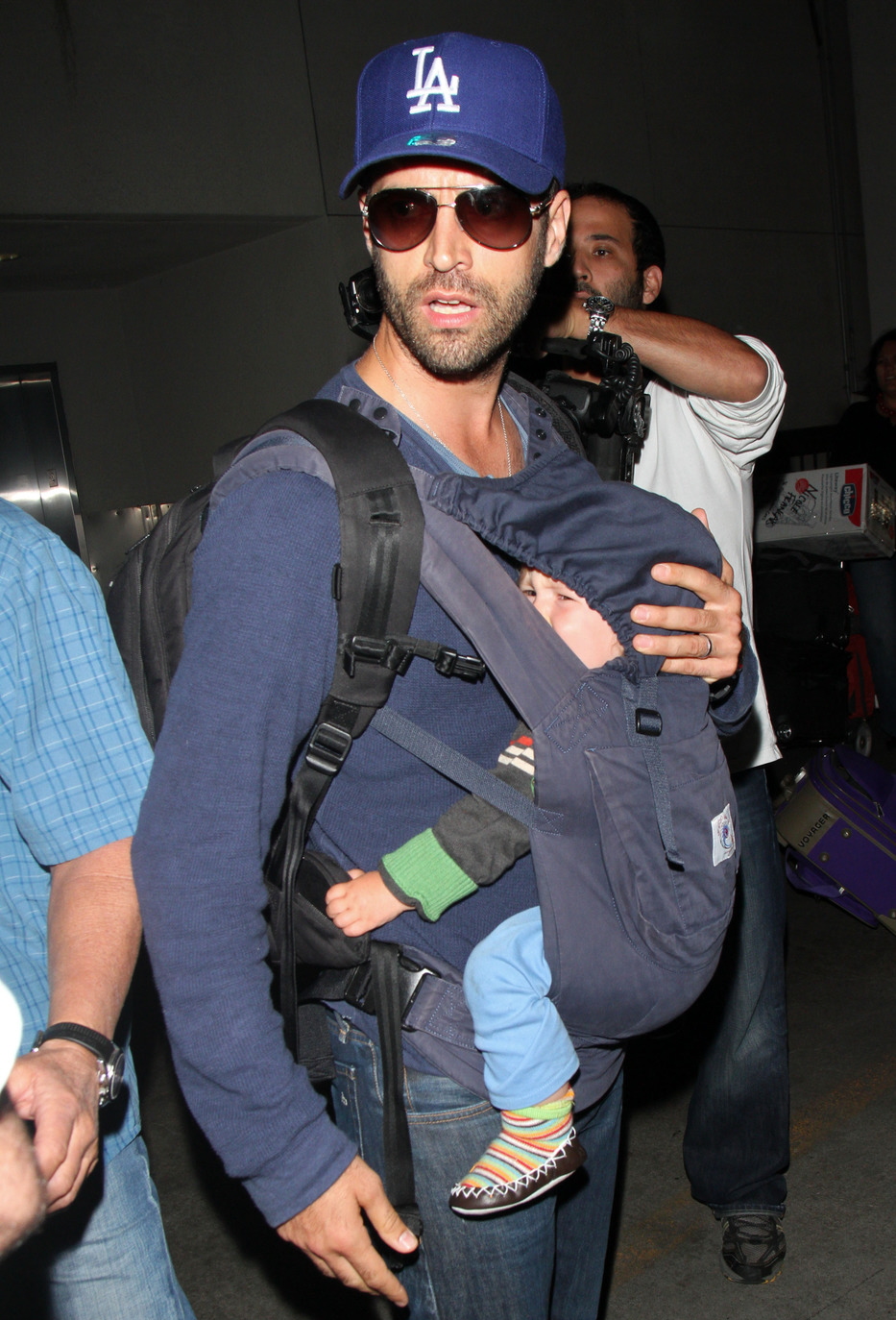 Which brings me to this other photo set from June, which I never got around to publishing – Natalie, Benjamin and Aleph were photographed taking a walk with Natalie's dad. The interesting thing is that you can really see Aleph's face and hair in these photos and… this baby is totally a ginger, right? Is that weird? Is it weird that Aleph looks the dream baby I imagined for Adele and Prince Harry? Is it weird that Aleph doesn't really look like either of his parents? He's a really cute baby, but I'm just saying – did Natalie secretly bone Michael Fassbender or something? There's an epidemic of ginger babies with non-ginger "parents" lately. Maybe Fassbender's to blame. Maybe Prince Harry. Maybe Carrot Top. And YES, I know about the Darren Aronofsky paternity conspiracy – but Aronofsky isn't a ginger, you know?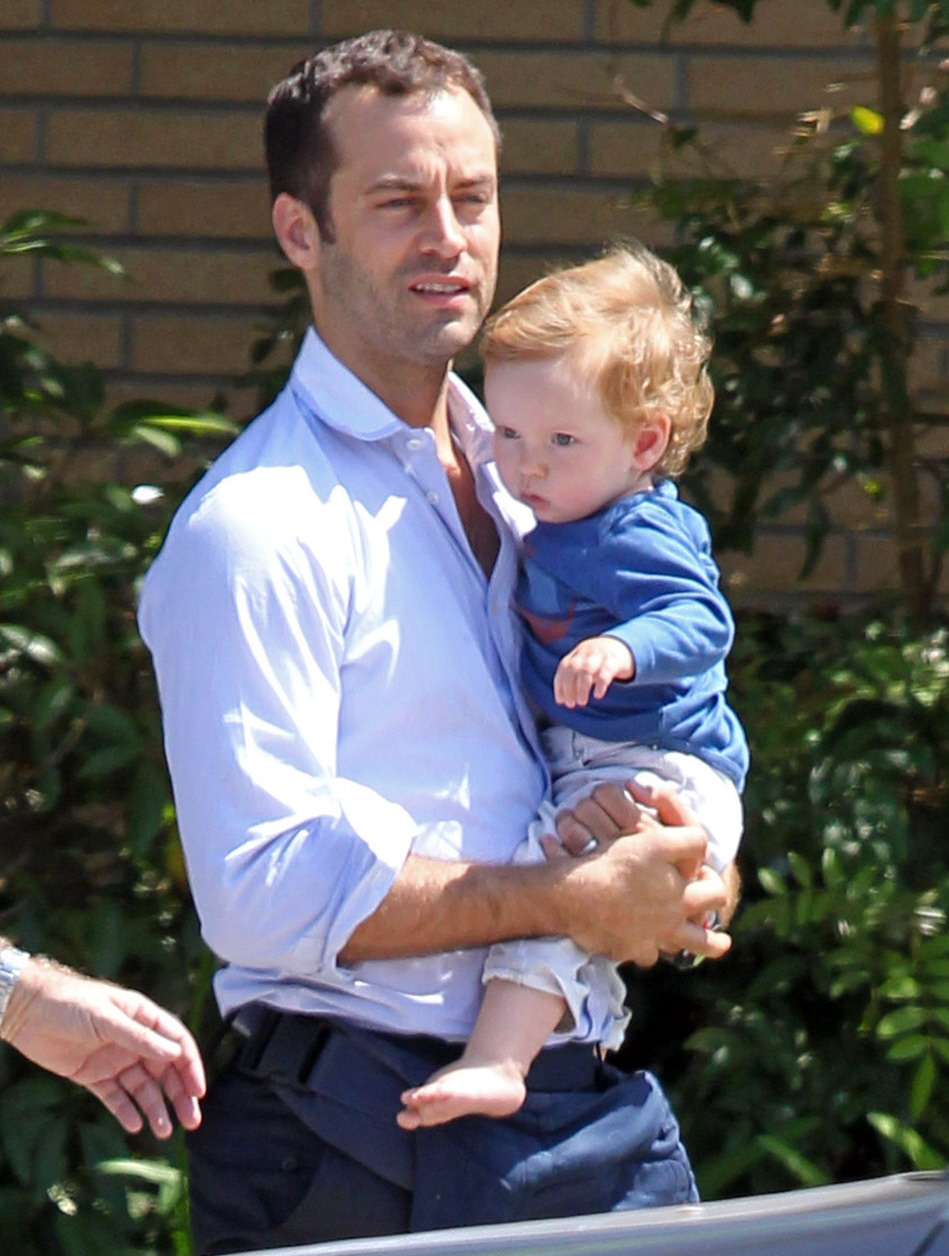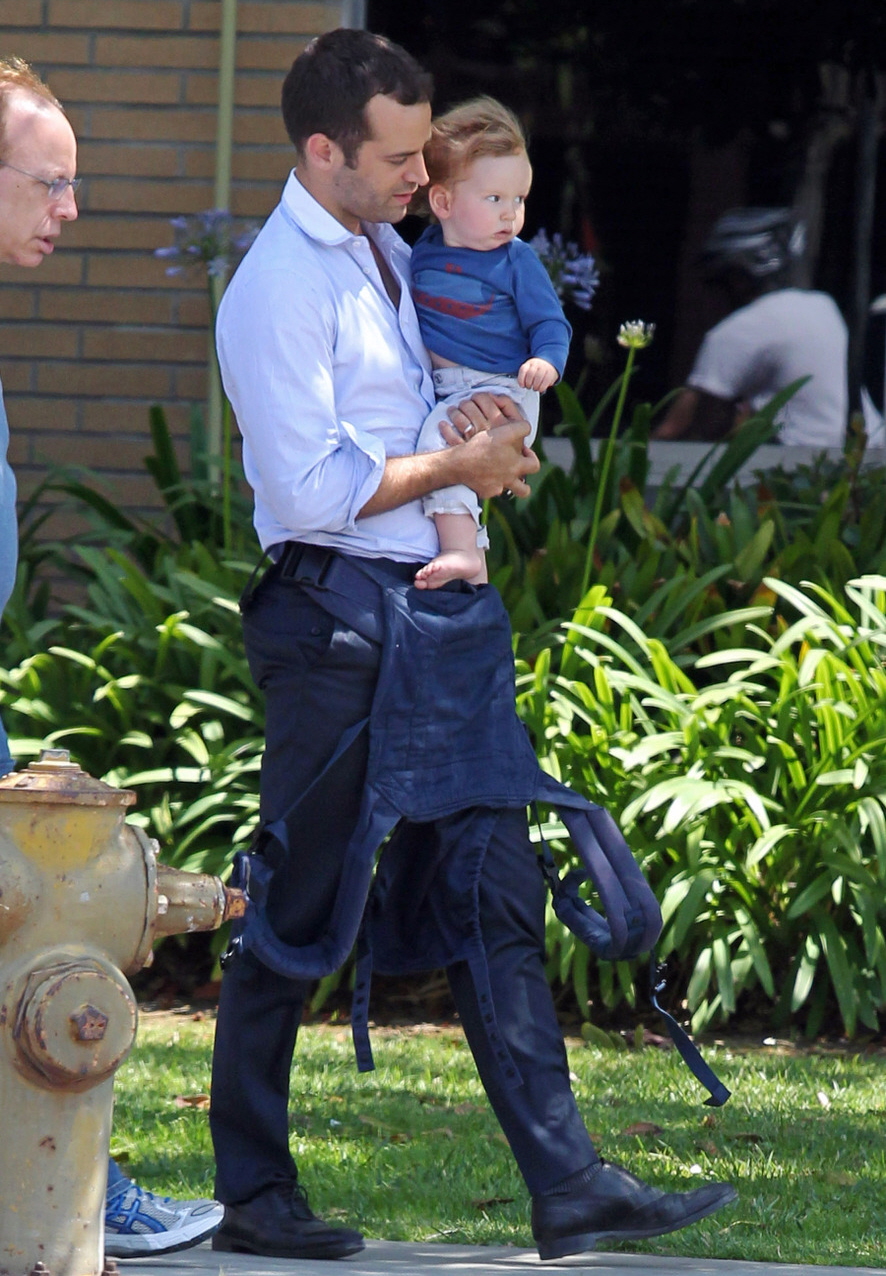 Photos courtesy of Pacific Coast News.

Written by Kaiser

Posted in Benjamin Millepied, Natalie Portman, Paternity

- The Blemish interviews Carmen Electra [The Blemish]
- Rumer Willis joins Pretty Little Liars [Lainey Gossip]
- Morgan Freeman falls asleep during interview [D-Listed]
- Fug or fab: Isla Fisher [Go Fug Yourself]
- Tamra Barney confirms spinoff [Reality Tea]
- Movie franchises that rebounded [Pajiba]
- Why Dylan McKay is the perfect boyfriend [Buzzfeed]
- Saoirse Ronan could have been a Lohan [Evil Beet]
- GIFs from Cannes [Popsugar]
- Cat massages a dog [CDAN]
- Heather Graham is so pretty [Celebslam]
- What is Lucy Hale wearing? [Moe Jackson]
89 Responses to "Natalie Portman & Benjamin Millepied hide their ginger (!!) baby at LAX"