Does Colin Farrell need a new career strategy after 'Total Recall' faltered?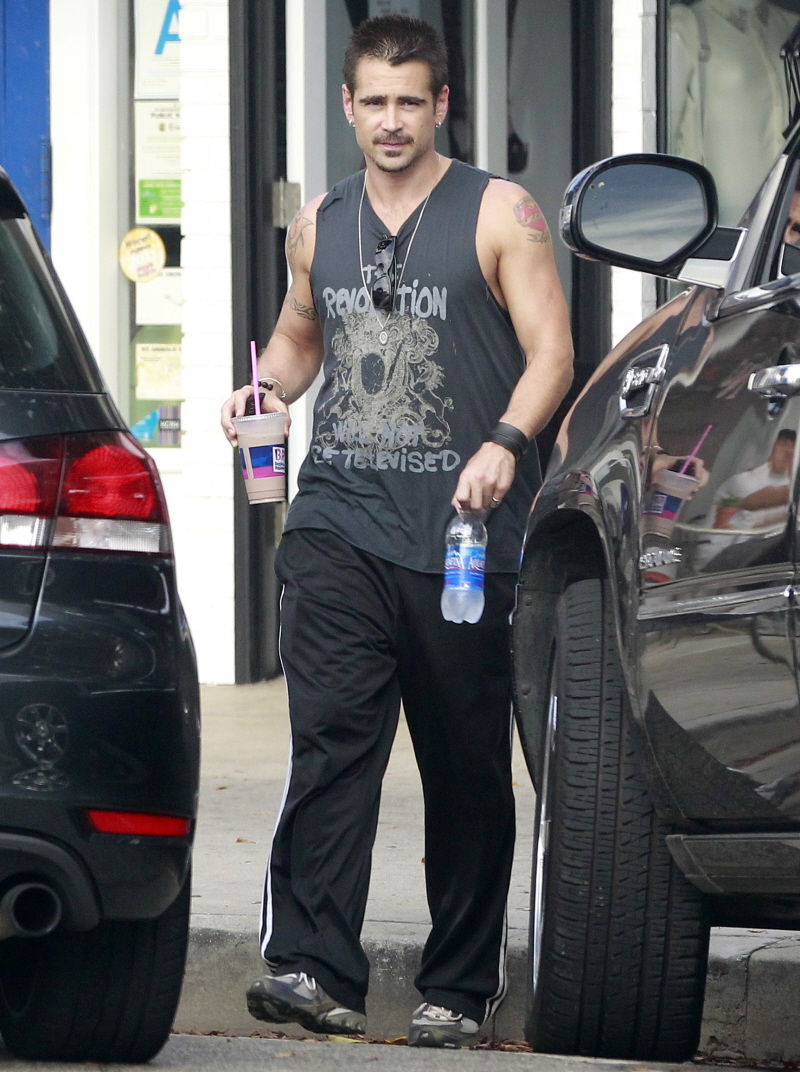 These are some new photos of Colin Farrell exiting a yoga class over the weekend in LA. He looks pretty good – I don't like track pants in general (SO noisy), but it's fine if you're actually leaving the gym or gym-adjacent. I wish Colin's hair was longer – his current hair cut makes him look like he's got hair plugs. Which he might…?
Anyway, Colin had a bad weekend. Sort of. His big remake of Total Recall didn't win the box office – The Dark Knight Rises won again, making about $36 million. Total Recall came in second with a $26 million debut, which MTV calls "soft". Here's the breakdown:
Colin Farrell was no match for the Caped Crusader as "The Dark Knight Rises" fended off "Total Recall" to remain #1 at the box office this past weekend.

The final entry in director Christopher Nolan's Batman trilogy took in an estimated $36.4 million to remain in the top spot for a third consecutive weekend. "The Dark Knight Rises" has collected $354.6 million domestically thus far. "Total Recall" debuted at #2 with a soft $26 million.

"The Dark Knight," which earned Heath Ledger a posthumous Oscar for his role as the Joker, had made about $39 million more than "The Dark Knight Rises" by the same point in its run. Overall ticket sales were down 28 percent versus the same weekend last year, when "Rise of the Planet of the Apes" was new in theaters.

"Total Recall," an expensive remake of the 1990 sci-fi flick, saw Farrell stepping in for Arnold Schwarzenegger. The PG-13 movie also stars Jessica Biel and Kate Beckinsale, whose husband, Len Wiseman, directed. The movie's debut was right in line with what industry experts had predicted to MTV News last week.

A year ago, Farrell starred as a suburban vampire in the remake of the 1985 campy cult classic "Fright Night," which collected just $18 million on opening weekend. While that film at least enjoyed mostly positive reviews, "Total Recall" was dismissed by most critics. USA Today called it "soulless, bombastic and numbingly repetitive."
Yeah… I'm actually surprised that Total Recall made as much as it did. Rotten Tomatoes has it at 31%, and most people don't even know why anyone remade the original film, which is considered (by some) to be a sci-fi classic. Considering that they not only remade a popular and somewhat well-executed film, but they also remade it at a huge cost (a reported $138 million), I expect Total Recall to barely make it's production budget back in foreign markets and rentals.
Which leads me to a question: is it time for Colin Farrell to find a new career strategy? It feels like he's still trying to prove himself to Hollywood, like he's trying to say that he can be a typical Hollywood leading man and carry his own action film. And I think that's the wrong strategy. I'd like to see him choose projects based on the quality of the scripts and the quality of the people involved in the projects. Even if that means he has to spend the next five years doing supporting parts – who cares? At least he would be doing the good work we know he's capable of.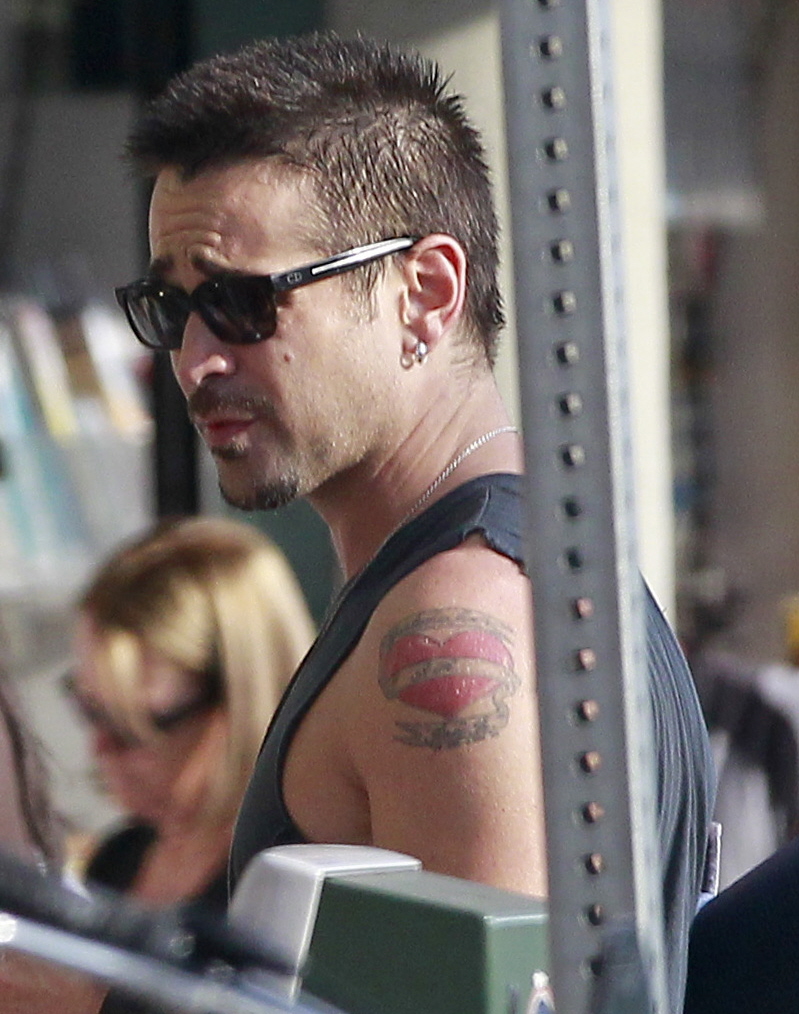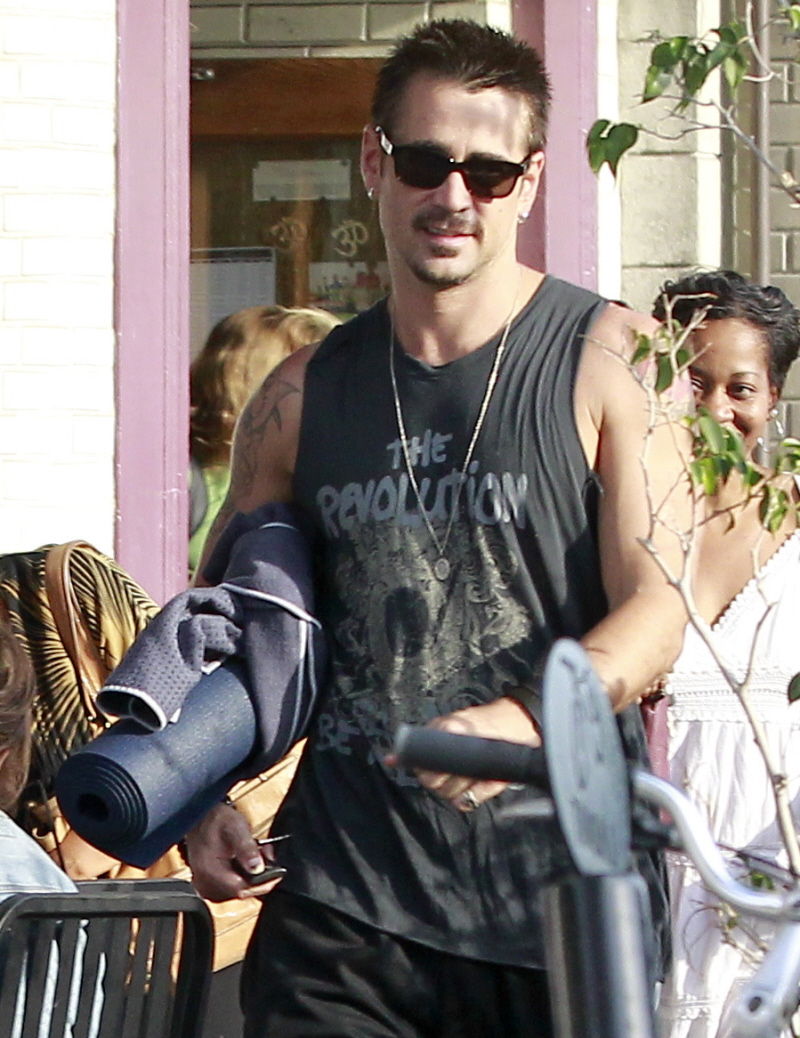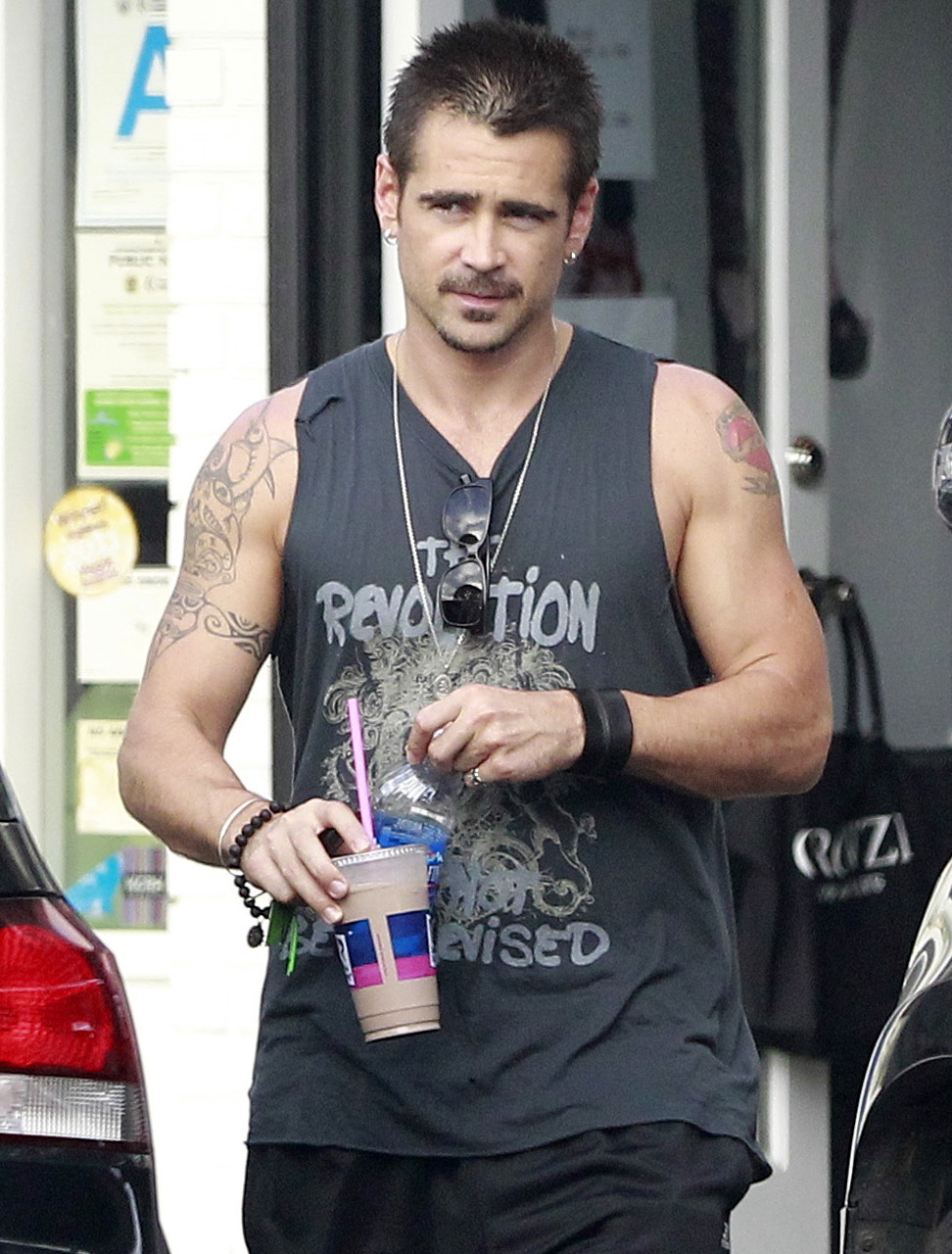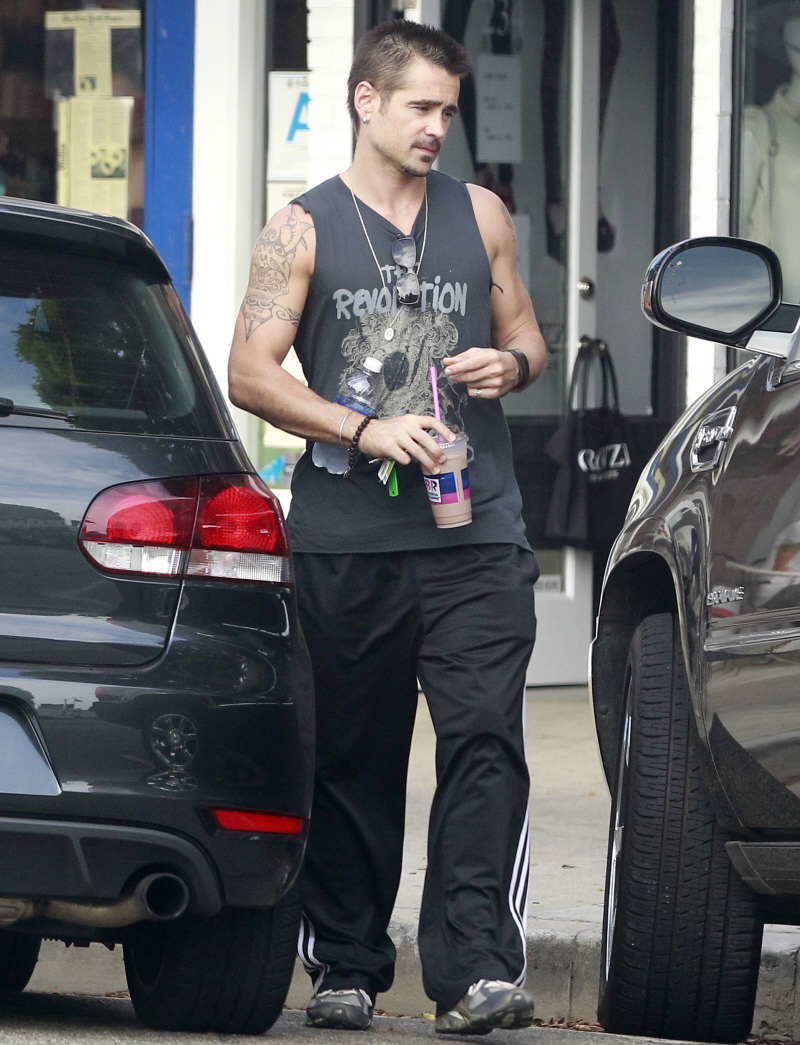 Photos courtesy of Fame/Flynet.

Written by Kaiser

Posted in Colin Farrell

- Mariah Carey lip synced on American Idol [CDAN]
- Colin Firth is looking good [Lainey Gossip]
- Internet celebrity charged with murder! [D-Listed]
- What is Paz Vega wearing? [Go Fug Yourself]
- New bachelors on The Bachelorette [Reality Tea]
- Goodbye to The Office [Pajiba]
- Bachelor Sean's fiance cheats on him [Evil Beet]
- Britney Spears out with her man [Popsugar]
- Nina Dobrev works it [Popoholic]
- Cindy Crawford needs to lay off the 'tox [Celebslam]
- Who said it: Carrie Bradshaw or The Dalai Lama? [Buzzfeed]
51 Responses to "Does Colin Farrell need a new career strategy after 'Total Recall' faltered?"