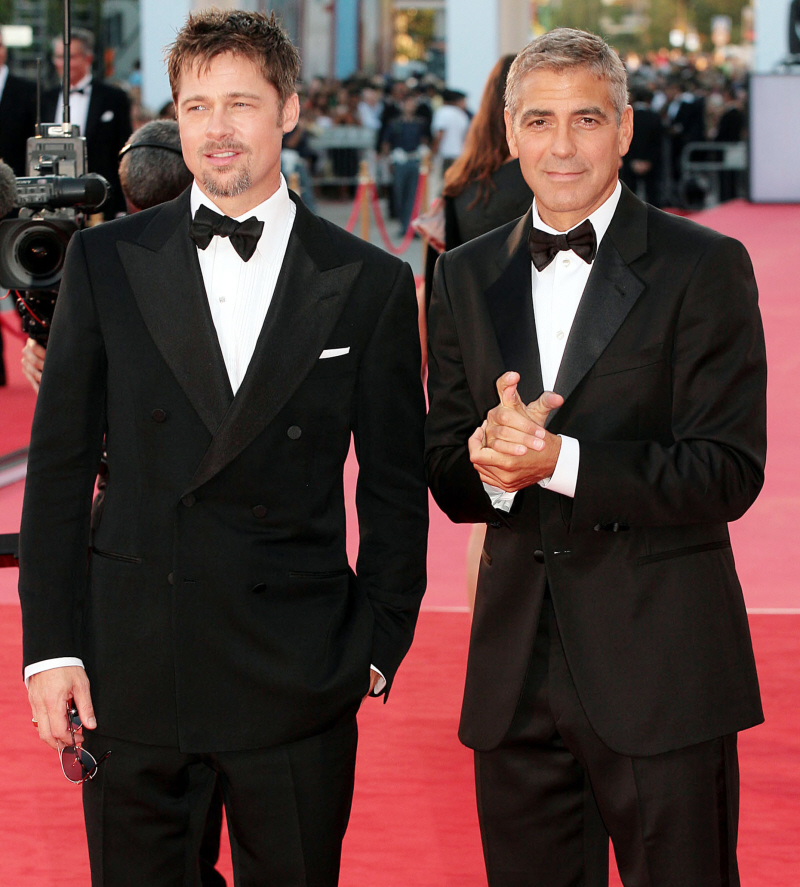 George Clooney is a wanted man. For some reason. I never did get around to seeing The Descendants, because everyone kept telling me how awful it was and how George didn't deserve any awards for it. Which isn't surprising, because I think Alexander Payne is pretty overrated. But I digress, back on topic: everyone wants George. Everyone thinks George has all the answers. Everyone hopes George will help their career. To George's credit, he has helped out many careers, and getting the Clooney Stamp of Approval means a lot… in Hollywood. But is George powerful enough to help out Brad Pitt's catastrophic production of World War Z? WWZ will be in reshoots at some point (or have they already past? I don't even know), and Brad is allegedly seeking George's help to untangle himself from this disastrous money-pit production:
It's like WWIII on the set of Brad Pitt's $170 million zombie movie nightmare, World War Z, and now the star is begging his A-list friends – especially his bestie, George Clooney – to step in and help out any way they can.

"Things are in a dire state, and now the script is being scrapped and completely rewritten," says an on-set source. "As coproducer, Brad is absolutely desperate to turn things around. He's asked for George's help with overseeing the new screenplay and is also talking about bringing in his pals Cate Blanchett and Natalie Portman for cameos."

Brad believes that George's keen story eye will fix a lot of the film's issues.

"He's treating everything George says as gospel and feeding it straight to the director Marc Forster." Marc, who was almost fired from the project, is being compliant,. "He's taking every single note!" says the source.
[From Star Magazine, print edition]
I tend to think that if Brad called Clooney or Blanchett, they would drop everything to help a brother out. But would Brad call them? Eh. Several parts of this story don't make sense – Vulture claimed several weeks ago that Brad wasn't even talking to Forster, and that it was like Brad didn't even care about this unending film anymore. Can you see Brad hustling to make sure WWZ isn't a complete disaster? Eh.
Meanwhile, George's girl wants his help too. She wants to work with him! Oh, no. Stacy, DO NOT go there:
Stacy Keibler is angling to shack up with George Clooney – in a TV trailer. It may not be as glamorous as his Italian villa, but it will give the hot couple an opportunity to work on a project together something sources have been telling In Touch they're very eager to do.

Adult Swim funnyman Paul Scheer has secured Stacy for an upcoming episode of his crime satire, NTSF: SD: SUV::, and is hoping she can recruit George, 51, following his personal invitation.
[From In Touch Weekly, print edition]
If it was Matt Damon, he would totally do that. Matt Damon will appear on whatever dumb skit or TV show he's asked to do. But George? George would only do that for a dear friend. And Stacy is not his dear friend. She's his girlfriend, and that's why he gets his dear friends to hire her for smaller, unimportant gigs: so she won't want to work with him.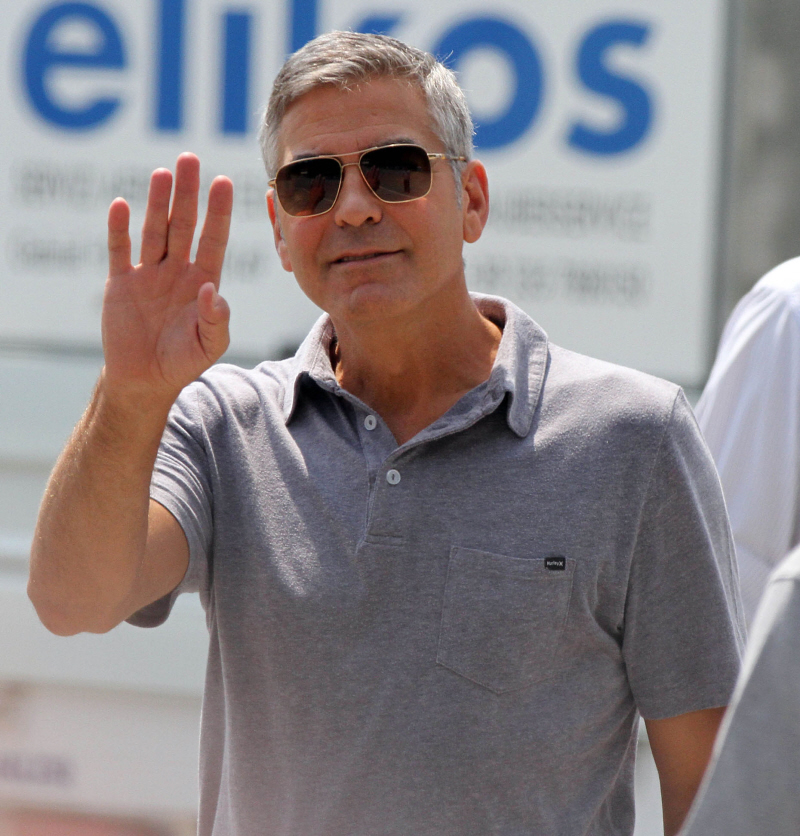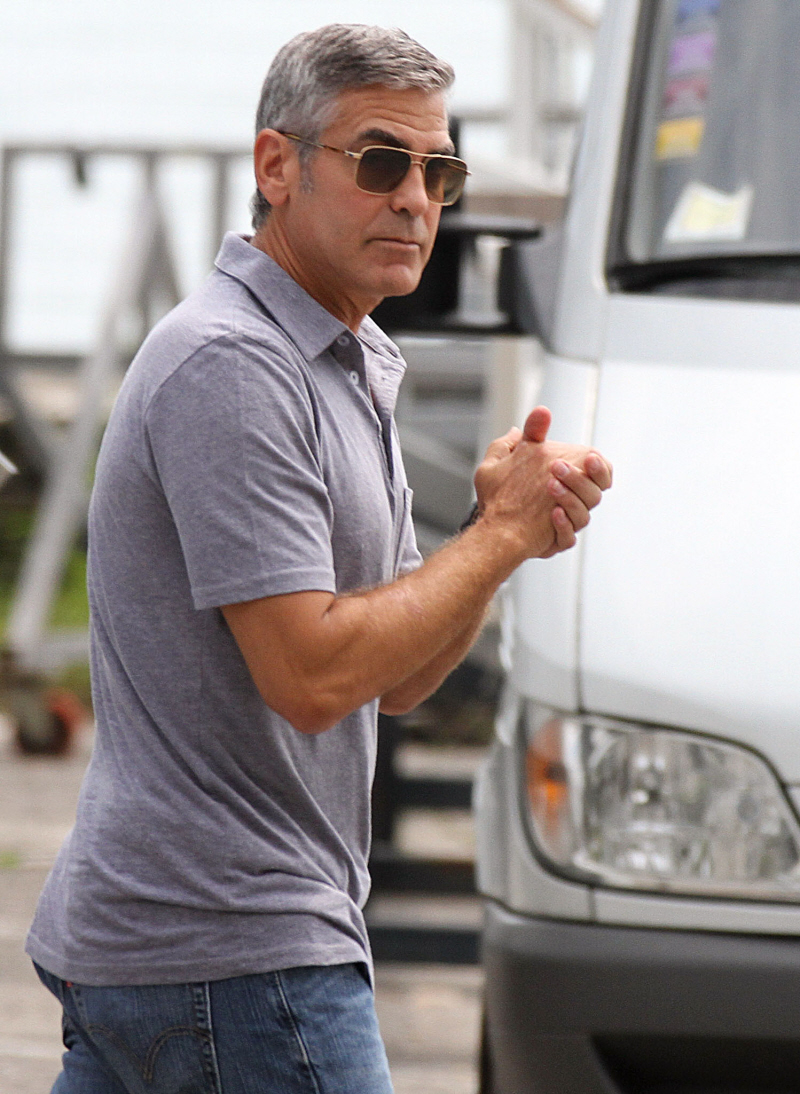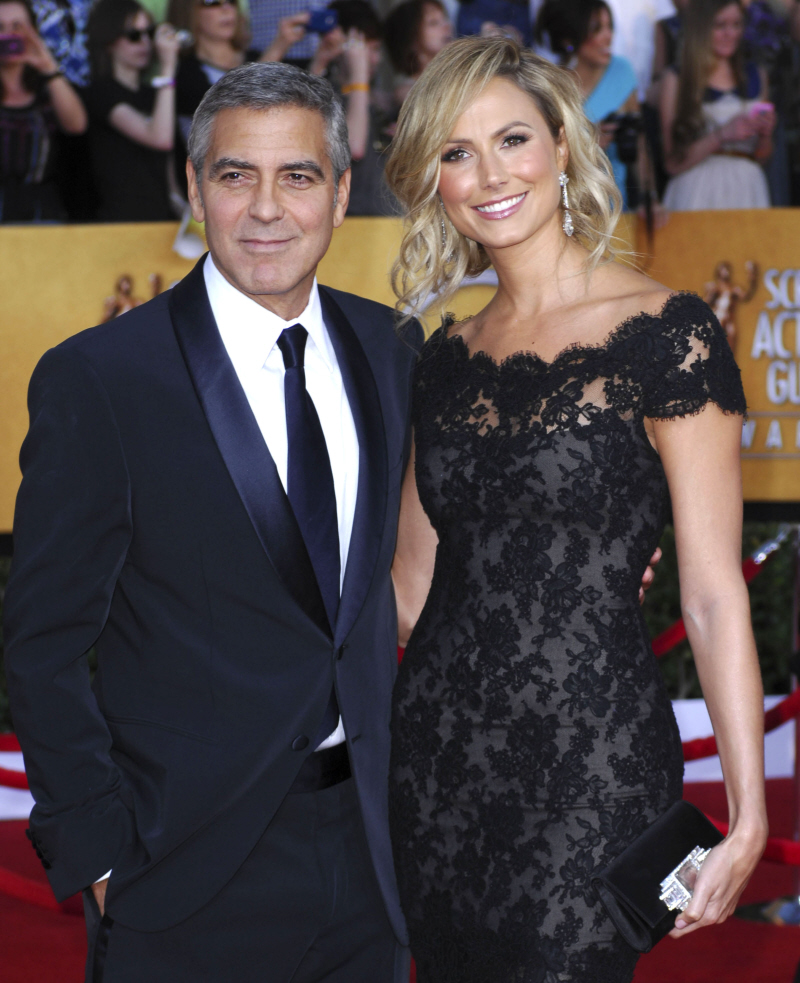 Photos courtesy of WENN.