The Olympics Closing Ceremony: so much better than the Opening Ceremony?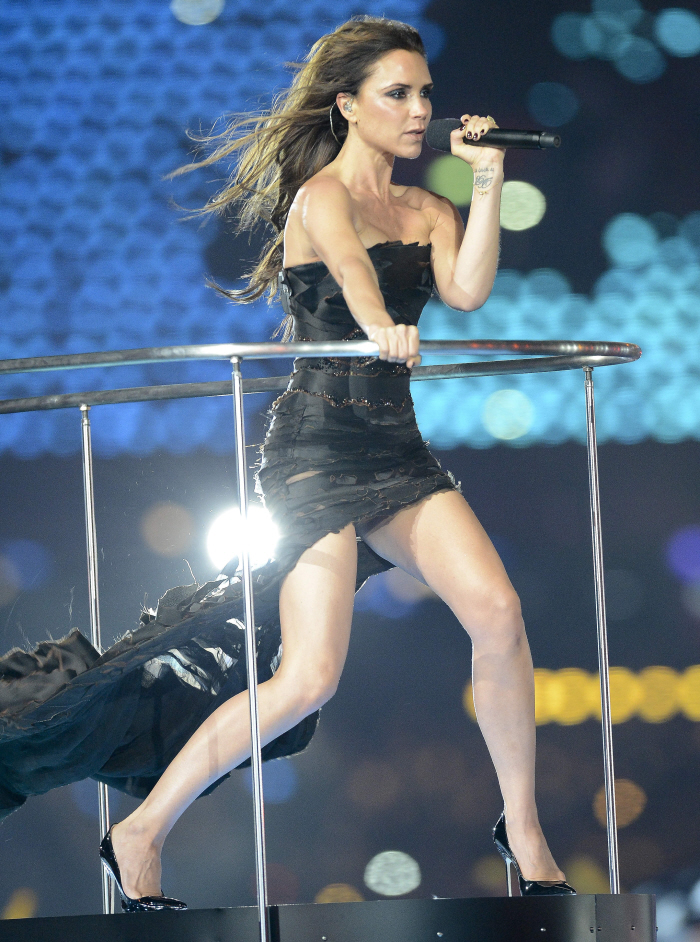 These are some selected photos from last night's Olympics Closing Ceremony. I have to admit… I found it so much more enjoyable than the Opening Ceremony. Was there still some bizarre and "eccentric" stuff? Of course. Timothy Spall as Winston Churchill and the tribute to London traffic? SURE. Why not? But considering the lack of A) giant creepy babies, B) an army of Mary Poppins, C) Pop-up villains that terrified adults, and D) Kenneth Branagh looking embarrassed, I'd say that the closing ceremony was WAY better. I loved all of the music stuff, I got wistful with John Lennon's "Imagine", I adored Russell Brand's cover of "I Am The Walrus" and it was really cool to see George Michael. As for Jessie J – ordinarily, I like her a lot. I think she has a killer voice and I like her general vibe. But I'm not sure if she was the best choice for the Queen tribute, nor do I think her butt cheeks should have made an appearance. Oh, and The Spice Girls! They were kind of meh, right? I was also afraid that we were going to lose a Spice because of how fast those cars were going.
Oh, and you already know my favorite part. DAVID GANDY!! At first, "the tribute to British fashion" felt out of place, but then those screens came down and there was Kate Moss, Naomi Campbell, Stella Tennant, David Gandy, Lily Cole, Lily Donaldson, Karen Elson, and Georgia May Jagger walking the Union Jack catwalk, and it was really cool and unexpected. Gandy was the only male model up there too! And he looked FINE. GAH. I love him so much.
There was no Queen Elizabeth at the Closing Ceremony – Liz is already in Scotland, on holiday. Prince Harry and Duchess Kate were sent as the Queen's royal replacements. Well, more Harry than Kate. But Kate was there too, and the cameras cut to her several times as she whispered sweet nothings into Harry's ear. The camera also caught Harry singing along to "Always Look On the Bright Side of Life" which was super-cute. Kate wore a repeat – the Whistles "Bella Body Conscious Dress". Don't ask me why she's doing an "I'm preggo" pose with her hand on her belly. I'm just assuming she and Harry went off after the Closing Ceremony and they went for a ginger heir, whom they will name Olympia Diana. Yeah, I said it.
PS… this is just a weird question, but why didn't anyone pay tribute to Elton John or Eric Clapton? Right? Elton and Eric are both English singers, arguably two of the most talented and successful people in the music industry… and both now spend most of their time in America. Is that it?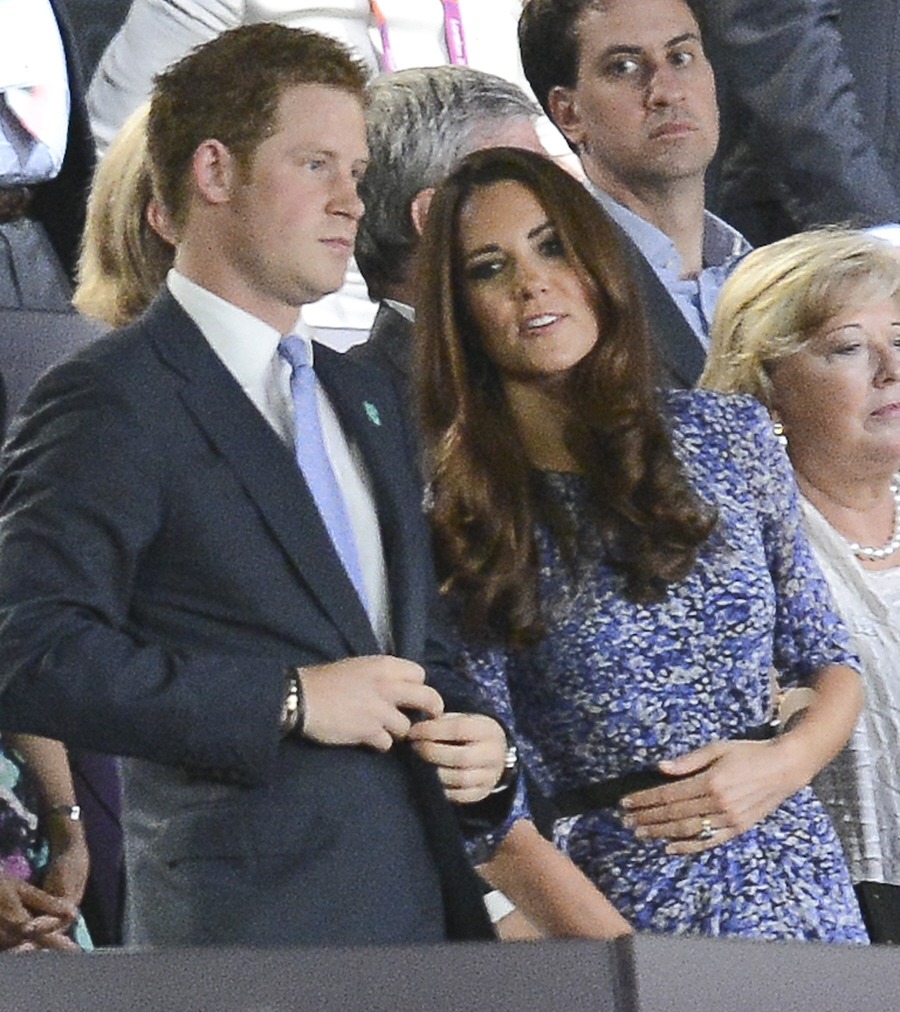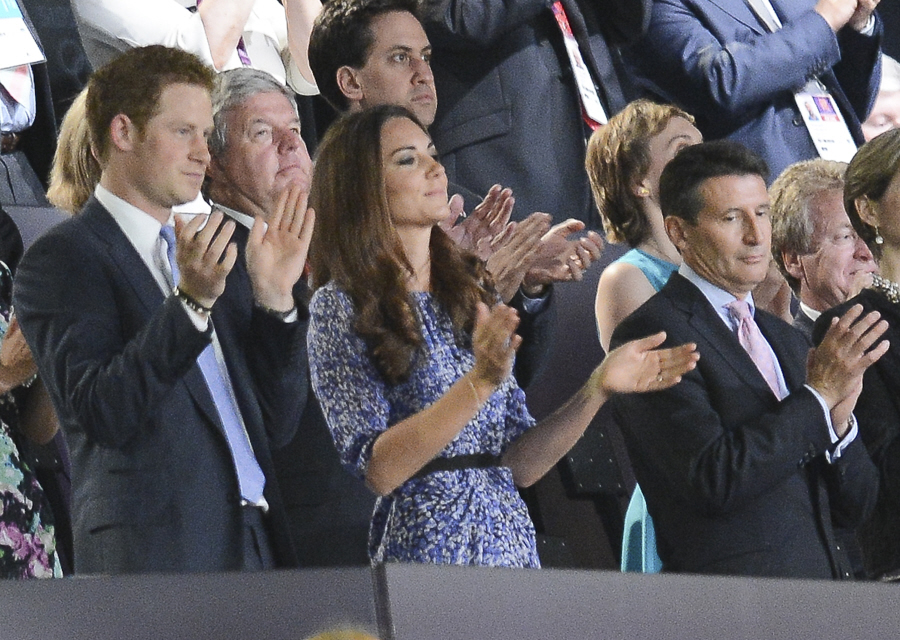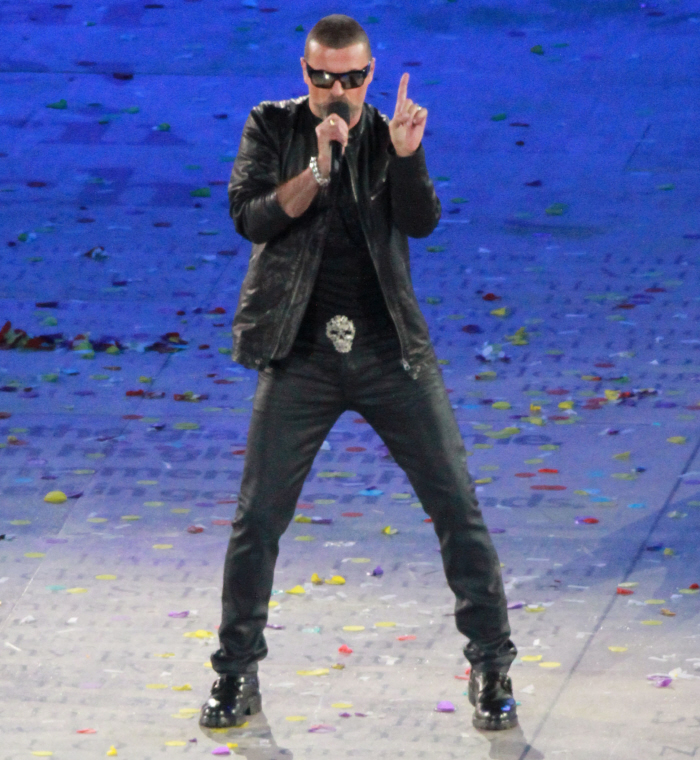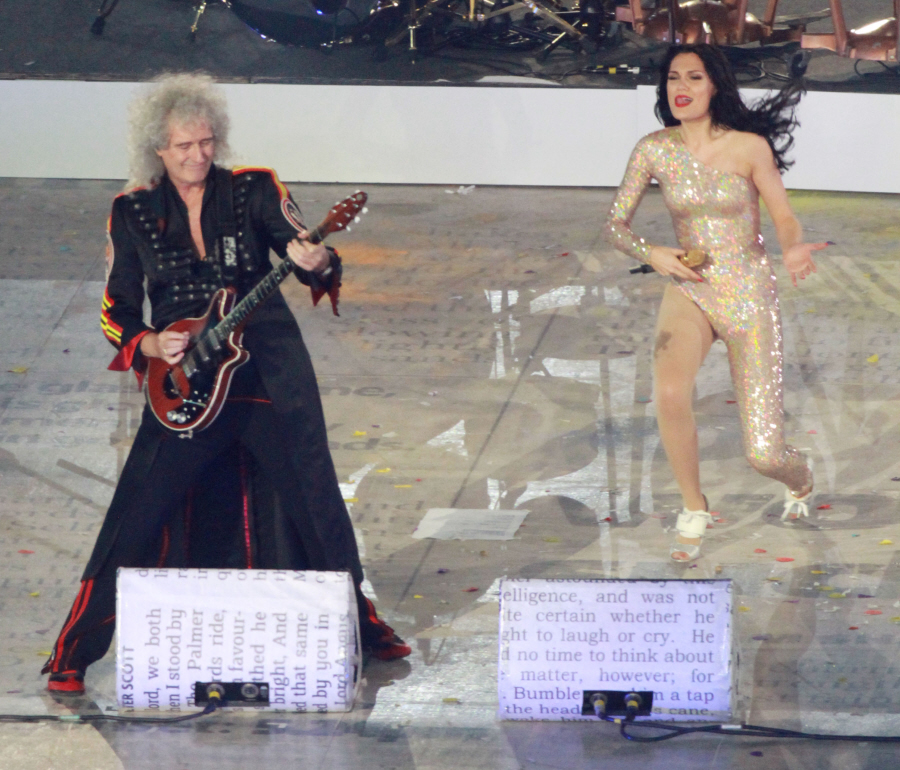 Photos courtesy of WENN.

Written by Kaiser

Posted in Kate Middleton, Olympics, Prince Harry

- Harry Styles & Kimberly Stewart going strong [Lainey]
- Demi Moore's new man is gross [D-Listed]
- Fug or fab: Emma Stone [Go Fug Yourself]
- Arrest warrant issued for Jenelle Evans [Reality Tea]
- Only God Forgives review [Pajiba]
- Hugh Jackman, scooter master [Buzzfeed]
- Who does Drew Barrymore call her sister? [Evil Beet]
- Cannes couples past and present [Popsugar]
- Arrested Development supercut [CDAN]
- Lea Michele's see through skirt [Celebslam]
- Cheating wife's lover escapes out of window [Movin925]
- Joe Francis is crazy [Starcasm]
144 Responses to "The Olympics Closing Ceremony: so much better than the Opening Ceremony?"