Michelle Dockery (Lady Mary): 'Downton Abbey' is like a soap written by a poet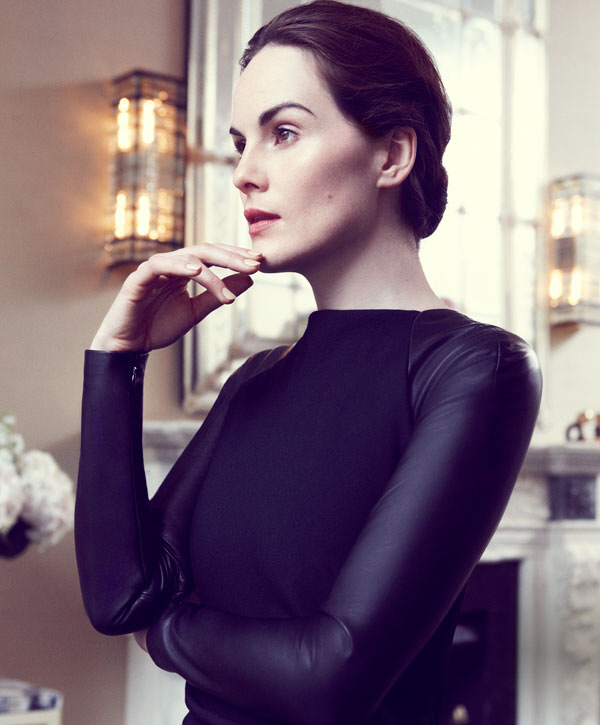 Lady Mary!! These are some lovely new photos of Michelle Dockery, otherwise known as "OMG, Lady Mary from Downton Abbey." Dockery posed for Harper's Bazaar, the September issue. You might remember that Dockery also shared the cover of Vanity Fair several months ago too. She's got a good publicist, and I wouldn't mind at all if Dockery had some break-out success now. Lady Mary is the oldest daughter, the daughter who changed the most during the war, the daughter who was prepared to watch her love marry another… until "another" died suddenly and ridiculously. Now, as it stands for Season 3 (whenever it will air, who knows?), Lady Mary and Cousin Matthew are finally together, finally engaged. Don't worry… I'm sure there will be much more drama.
Incidentally, I'm really proud of the fact that I got CB hooked on Downton Abbey. It's an easy sell, though, so I guess I shouldn't take all the credit. You come into Downton thinking that you're going to be watching some high-minded costume drama in which the main event will be a snappy quip at a formal dinner, and then Downton's completely over-the-top soapy drama pulls you in. And let's face it: it is TOTALLY a soap opera. You can pretend it's fancy and that you are fancy for watching it, but I've made my peace with Downton's ridiculous plot twists and crazy drama. In this Bazaar piece, it sounds like Dockery has made her peace with it too. Here are some highlights:
Drinking in character: She sips a glass of red wine and muses on the endless imbibing of the aristocratic Crawley family. "Sometimes during filming I'll think, No, I'm not going to have a brandy because I just finished my glass of wine at the table." After all, how is Mary supposed to be imperious when she's inebriated? "Exactly!"

What does Dockery have in common with Lady Mary? She does have a superb speaking voice (originally from Essex, she credits drama school at 19 for "poshing you up quick") and posture that would make a mother proud. But that's about it. The most Lady Mary thing Dockery has done to date is wear a fascinator to the Epsom Derby last year. "They are not fascinating," she observes of the first, and likely last, time she will ever wear one. Today she's in the cool-girl off-duty uniform: a navy-and-white-striped T-shirt and jeans, her hair still in slight kinks from a marcel wave. (It's now 1920 at Downton.)

She is often asked why she believes Downton is so celebrated, especially in the U.S. "I think some period drama can be quite alienating, but Downton isn't," she says. "This is going to sound quite, um, pretentious, but someone said that it's like a soap written by a poet." She's right. The writing, by Gosford Park scribe Julian Fellowes, and the cinematography are so elegant that Downton's campier qualities (the dreamy Turk dying in flagrante delicto, the noble valet Bates in jail for murder, Lady Sybil running off with the chauffeur) wash right over you. "I used to get quite defensive of people saying it's soaplike," she says, "but it kind of is."

Oh, the third season will air in America in January! She is finishing Downton's third season, which will premiere in the U.S. in January. Before that, Dockery will appear on the big screen in Anna Karenina, with Keira Knightley, in November, and in the fall she begins filming Restless, a TV adaptation of the William Boyd novel, with Charlotte Rampling playing her mother. Set in the '40s and the '70s, it's positively contemporary compared with the rest of her résumé.

What if Lady Mary were alive today? "She'd be in charge, her own boss. She'd have married very well and maybe had kids, but I don't think she'd be particularly maternal." She laughs. "She'd definitely have help." As for modern Mary's style: "Armani. Simple, clean."

Her own style, and working with Ralph Lauren: She's a fan of actress Charlotte Gainsbourg's boyish aesthetic. "Very French, understated. That's the kind of style I go for." In May, Dockery wore Ralph Lauren to the Costume Institute Gala at New York's Metropolitan Museum, where she was the designer's guest. "I loved it," she says. "It was the first dress I tried on." Lauren's Fall 2012 collection was also inspired by Downton, down to playing its soundtrack during his show. "It's amazing, really, how it has affected fashion." Of course, she wears gorgeous dresses on Downton too, and she's grateful that the passage of time has freed the Crawley girls from their corsets. But it's the hairstyles that take the longest—about an hour to get the marcel wave just right. The makeup needs only 20 minutes because, sadly, a lady didn't wear mascara then.
She sounds like a cool woman. I have to admit… soap opera or not, I liked the evolution of Lady Mary within Season 1 AND 2. She became her own woman, and she became a genuinely GOOD woman in Season 2. I have so many questions about what Season 3 will bring. Will Matthew and Mary have premarital sex? We already know that Mary is a wanton woman who gave it up for the Turk. So will Matthew try to get some before they walk down the aisle? And will Mary and Matthew make it down the aisle? Will Shirley MacLaine mess up the whole wedding plan? Will Matthew still feel all tingly down below? Will the good doctor still be completely awful and continue to misdiagnosis everyone? Will Lady Sybil come back? And seriously, will there be a sex scene between Matthew and Mary? I need to see them shag.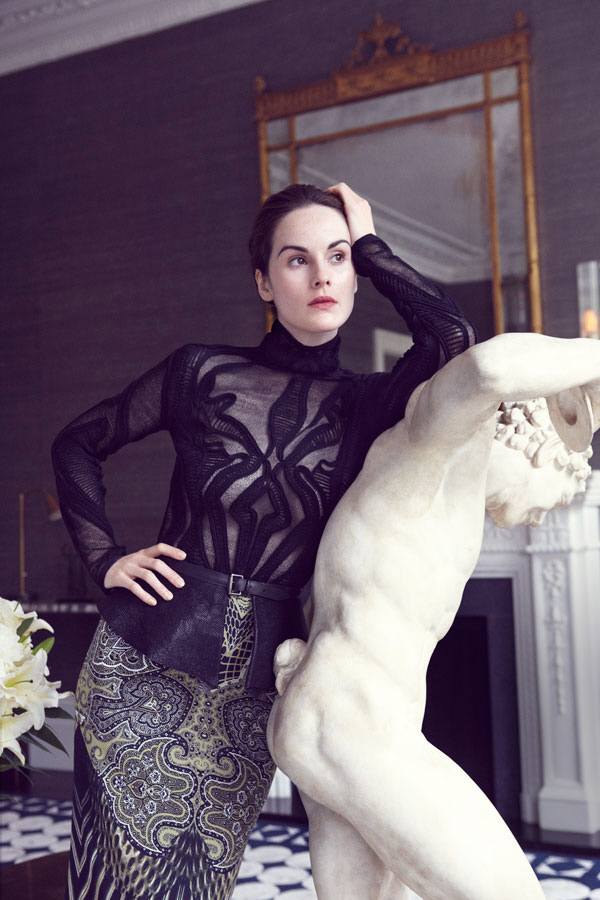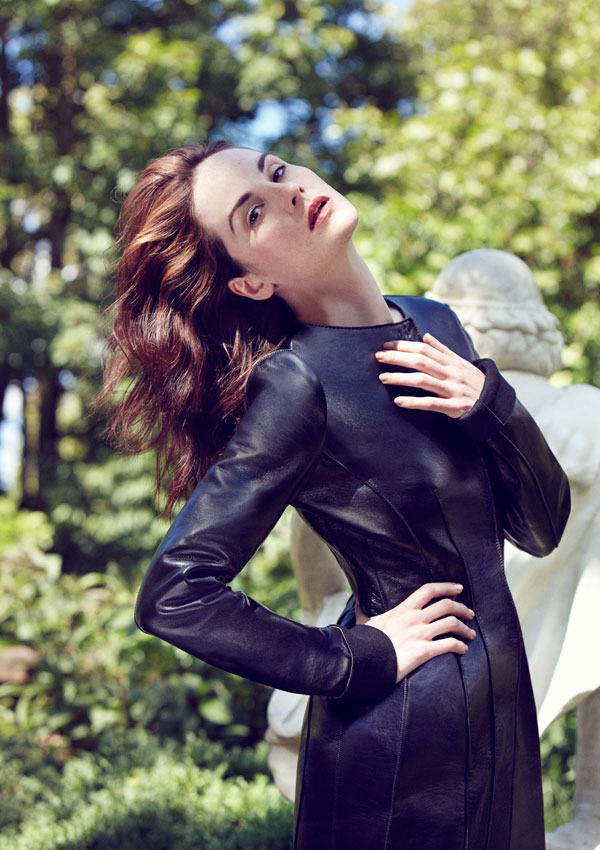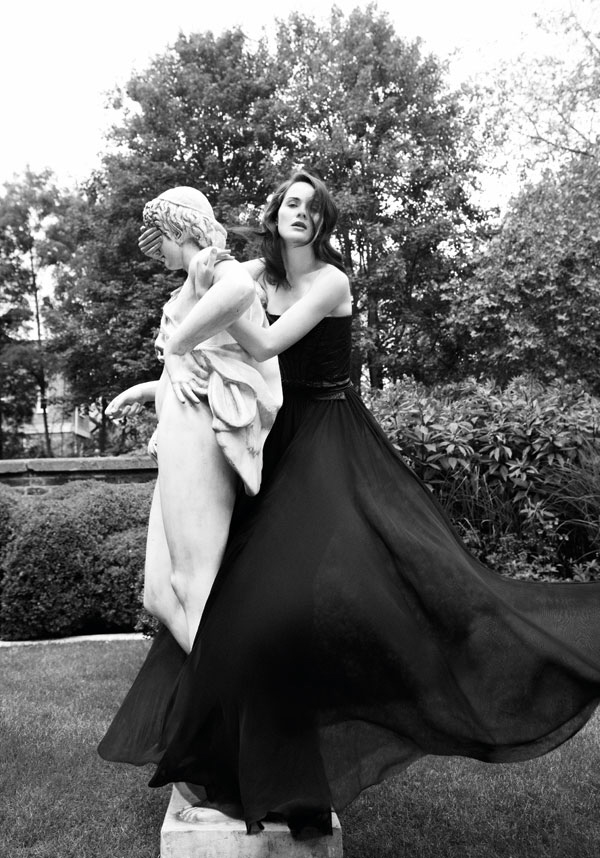 Photos courtesy of Harper's Bazaar.

Written by Kaiser

Posted in Michelle Dockery

- Mariah Carey lip synced on American Idol [CDAN]
- Colin Firth is looking good [Lainey Gossip]
- Internet celebrity charged with murder! [D-Listed]
- What is Paz Vega wearing? [Go Fug Yourself]
- New bachelors on The Bachelorette [Reality Tea]
- Goodbye to The Office [Pajiba]
- Bachelor Sean's fiance cheats on him [Evil Beet]
- Britney Spears out with her man [Popsugar]
- Nina Dobrev works it [Popoholic]
- Cindy Crawford needs to lay off the 'tox [Celebslam]
- Who said it: Carrie Bradshaw or The Dalai Lama? [Buzzfeed]
31 Responses to "Michelle Dockery (Lady Mary): 'Downton Abbey' is like a soap written by a poet"