Kid Rock tells us to remember our troops in Iraq this Christmas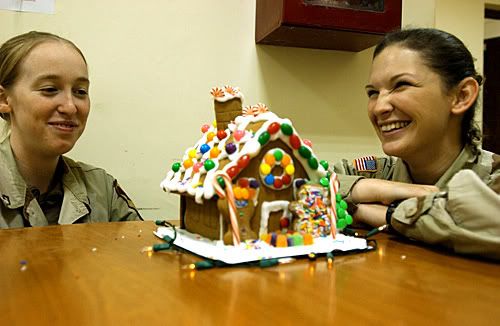 Kid Rock spent Christmas in Iraq and is performing for troops there. He says that it's important that we remember our servicemen and women over the holidays no matter what our views on the war in Iraq: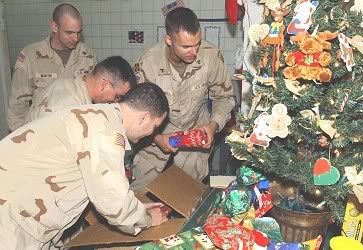 The Michigan country-rap-rock star will perform for troops stationed in Kuwait and Iraq through Dec. 29. The shows are sponsored by two U.S. Department of Defense programs, Armed Forces Entertainment and America Supports You.

Kid Rock, 35, a native of Romeo in Macomb County whose real name is Robert Ritchie, explained his decision to perform for the troops on his Web site:

"This year for Christmas I wanted to make sure somebody was thanking our troops for their service, no matter what our views are on the current situation in Iraq. I could be spending Christmas with my family, but in my heart I know this is the right thing to do — not only for our men and women in service, but also to set an unselfish example for my son and send a strong message to the world to be thankful and think of others at Christmas time."

Kid Rock first visited troops in the Middle East in 2003, when he traveled to Kuwait, Qatar, and Iraq as part of a U.S.O. tour.
Thanks to Kid Rock for reminding us about the troops this Christmas season. Other entertainers visiting the troops include World Wrestling Entertainment, which held a Tribute to the Toops show that aired on the USA Network on Christmas night.
There are several servicemen and women who read the blog and comment here. My cousin is serving in Iraq and has a wife and two toddler sons at home. It must be so hard to be away from your family at Christmastime and our thoughts and wishes go out to the troops serving overseas.
Pictures of servicepeople celebrating Christmas from DefendAmerica.mil and Columbus Federal Voice. Who wants to look at pictures of Kid Rock?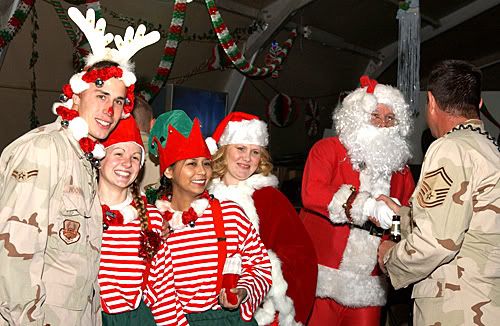 Written by Celebitchy

Posted in Good Causes, Kid Rock, Photos

- Friends reunion on Ellen [Popsugar]
- Lindsey Vonn watches Tigers kids [Lainey Gossip]
- George Michael fell out of a car going 70mph [D-Listed]
- Real Housewives of Orange County recap [Reality Tea]
- New Man of Steel trailer [Pajiba]
- Jared Padalecki's hot bod [Buzzfeed]
- Doctors confirm Taylor Swift's new boobs [Evil Beet]
- Catherine Zeta-Jones finished treatment [CDAN]
- Anna Paquin hates the paps [Celebslam]
- Lance Armstrong is gross [The Blemish]
- What is Barbara Palvin wearing? [Moe Jackson]
- This is Petra Nemcova? [SVC]
3 Responses to "Kid Rock tells us to remember our troops in Iraq this Christmas"