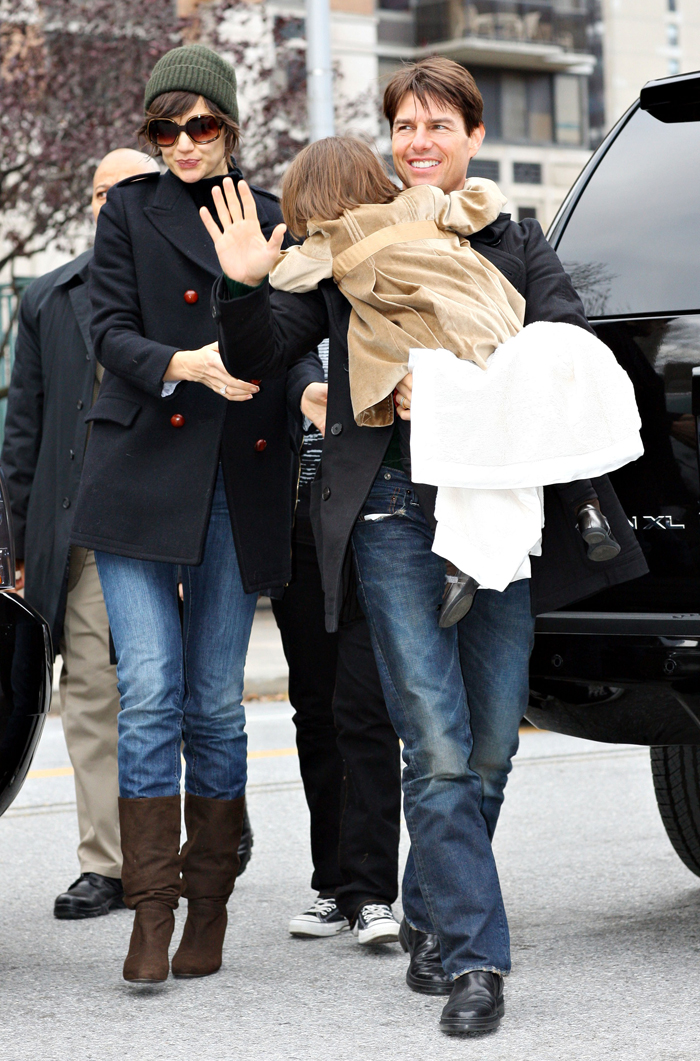 Well, that was quick! If you'll remember correctly, Katie Holmes filed for divorce immediately before Independence Day (naturally), and then a week later, she and Tom had already hashed out a divorce settlement, which included not only all the details concerning property division but also resulted in Katie retaining full legal custody of Suri. Now less than two months later, a Manhattan judge has finalized the decree, and the two are officially single again. More importantly, Katie is officially no longer married to the unhinged, lift-wearing midget!
In a case of interesting timing, new details have emerged concerning Tom's deteriorating physical and emotional states following Katie's departure, which actually shouldn't be an issue at all since Tom's an OT Level VIII Scientologist and, as such, should never fall ill or experience psychological problems of any sort. Right. However, many of you noticed that Tom was looking quite tiny (even more so than usual) in those photos of his recent surfacing in Los Angeles. Perhaps it really wasn't all just one of those "Whoa, he's got a huge driver" or "Maybe Tom should sit on a phone book" sort of phenomena either. Instead, Tom is reportedly much smaller than he was a few months ago. According to Grazia magazine (via the Mail), Tom is on "the heartbreak diet" and has lost 14 pounds over the course of a few weeks: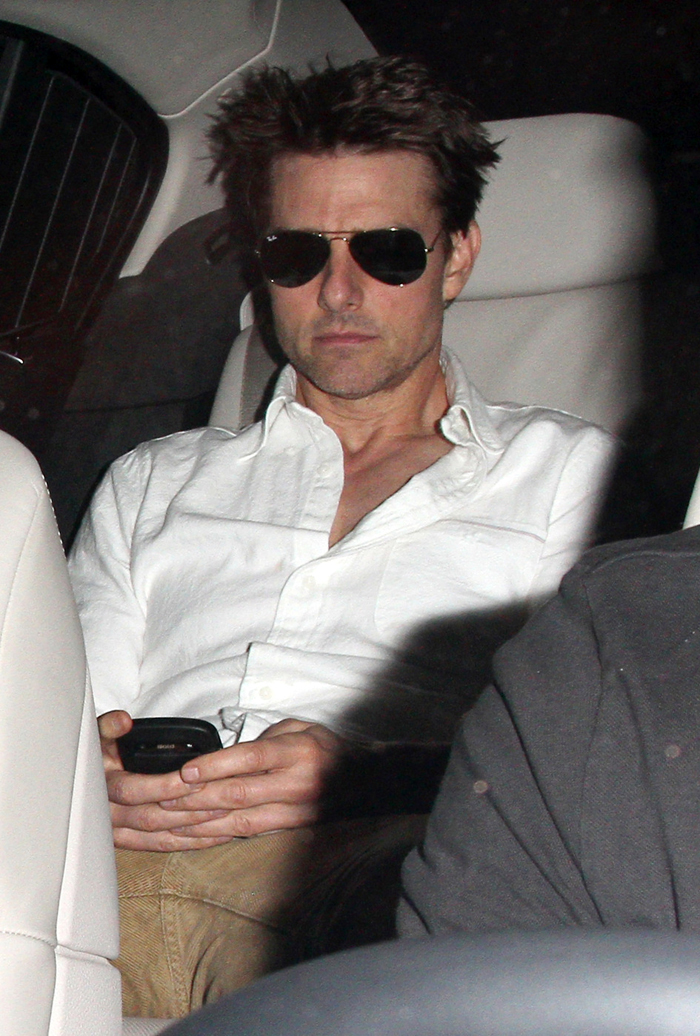 In June Tom Cruise's world was rocked when his wife of five years Katie Holmes filed for divorce. Admitting that he was "deeply saddened" by her choice, the Tropic Thunder actor seemed to be coping well.

However pictures of Tom from last month have now shown what the strain of the collapse of his marriage has had on him, as he had shed 14lbs.

Pictured on July 10 on the set of Oblivion 2, the 50-year-old looked quite beefed out compared to slim figure he cut three weeks later on July 28 in Malibu having lunch with his lawyer.

It has been reported that since Tom got word of Katie's decision he has dived deeper into work, and is ignoring concern from his family members.

Speaking to Grazia a source said: "Tom's friends and family have urged him to take a break, but he has brushed off their concern. He is refusing to slow down and is trying to soldier on. He doesn't seem to be himself. He hasn't been working out like he normally does and doesn't appear to be eating well at all. His clothes just hang off him."

The source also told the magazine: "His way of dealing with this is to throw himself into his work, but as a result he's not looking after himself, and he risks cutting himself off from people who care about him and want to make sure he's OK."
[From Daily Mail]
I feel bad for almost anyone who gets divorced, but it's hard to feel bad for Tom because I don't think he was necessarily head-over-heels in love with Katie any longer. Sure, he acted like he thought he was supposed to act in order to convey undying love, but I really don't think Tom feels normal-type emotions. Humanity has all but been audited out of him. I do think Tom has experienced a massive blow to his ego though, and for the first time in his adult life, someone (that is, Katie) got the better of him. So Tom finally has been forced to realize that he cannot control everyone with whom he comes into contact, and that's probably a hard thing for him to accept.
Still, I can't really feel sorry for a person (in this case, Tom) when their spouse leaves them because of verbal abuse and all sorts of other controlling behavior. Especially since Tom's going to be playing hard ball with Katie for many years to come in regard to Suri. Nope, no pity for Tom on this end. He can go roll around in the splendid fruits of his CO$ slave labor for all I care. Poor, poor Tom.
By the way, here's a new film still of Tom trying to pull off a brick sh-thouse as Jack Reacher in One Shot. Look at how they made Tom look as tall as Robert Duvall with no lifts required!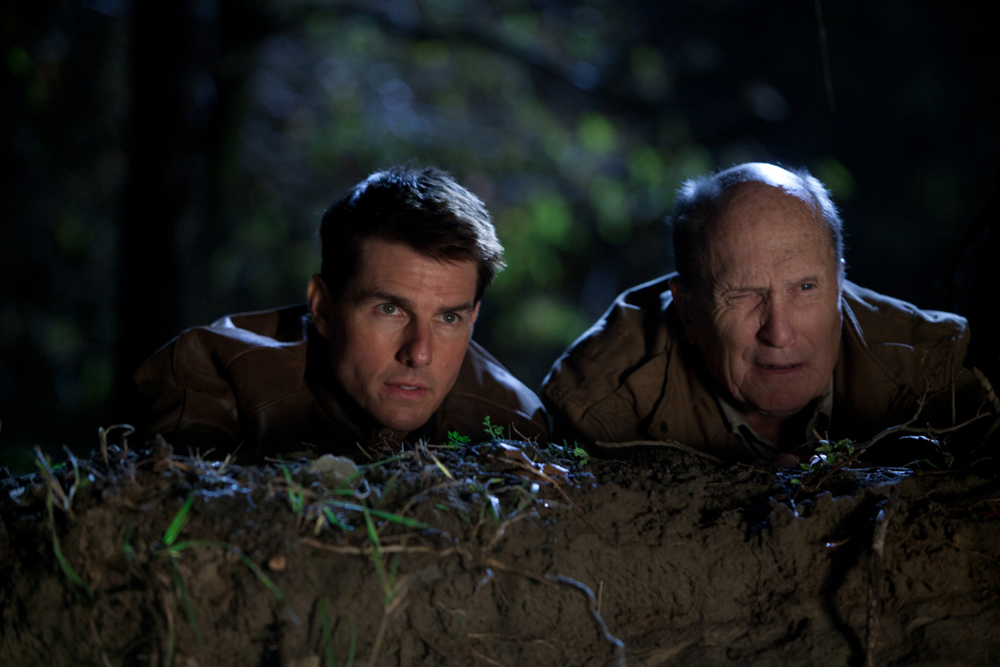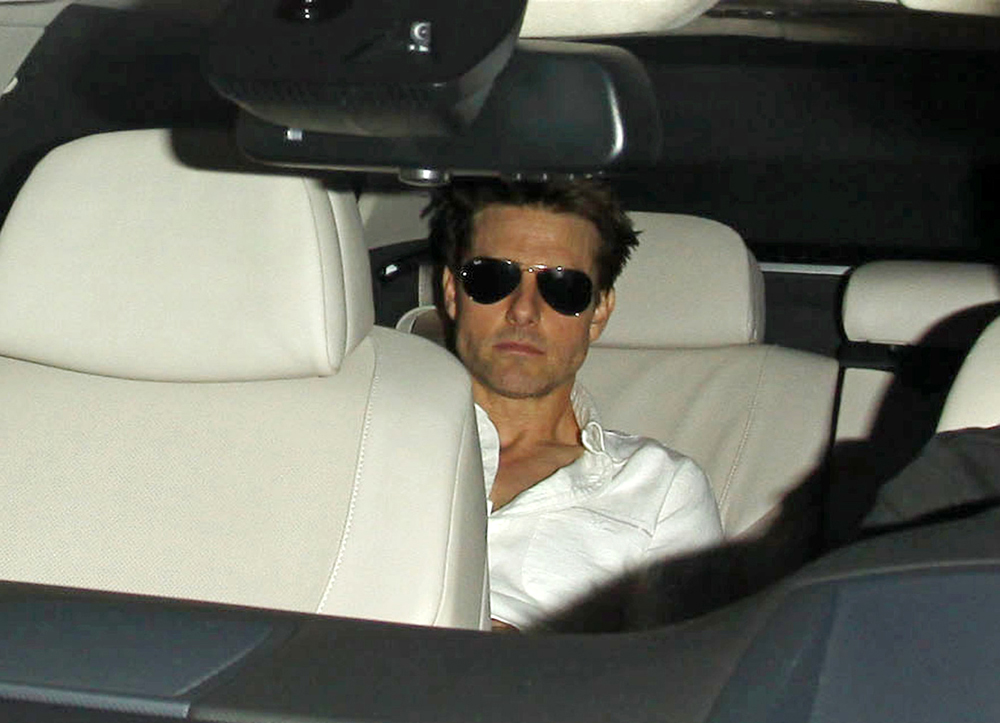 Photos courtesy of Fame/Flynet and Pacific Coast News; film still courtesy of Collider]