Katy Perry with orange hair in L'Officiel mag: fresh & inspired or awful?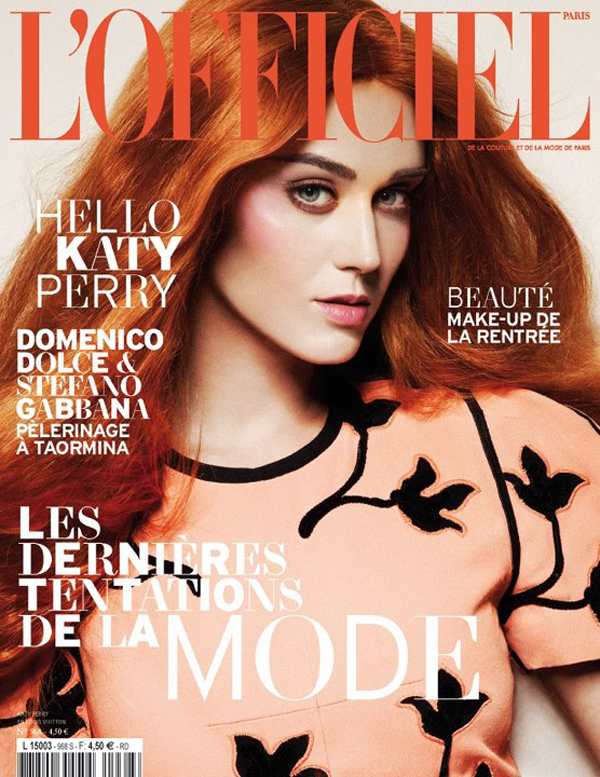 Katy Perry covers the September issue of L'Officiel Paris, and she barely looks like herself because it seems like the magazine was very heavy-handed with its post-production manipulation of the both the cover and picture which is featured below. The cover looks like a really blurry oil painting. Also, it's rather obvious that there was very little imagination involved with the styling of the shoot — almost as if someone decided, "Well, Katy hasn't worn an orange wig yet, and that's a fall color, so let's go with it!" Pretty awful stuff, and I am inclined to feel sorry for Katy since this magazine had no idea what to do with her.

In other (semi-relevant) news, Katy is still getting over John Mayer after two months of dating, and will perhaps take a break for awhile. It couldn't hurt to stand on her own, you know? At the moment, Katy is taking a load off by heading to Disneyland. Eat your heart out, Ryan Gosling.
Where do you go when your heart has been trampled on by not one, but TWO long-haired lotharios in just one year?

Hanging out in bars didn't cut it for a glum faced Katy Perry on Saturday night after it emerged she'd been dumped by serial womaniser John Mayer, so she headed to Disneyland.

Any fool knows that you can't be unhappy at Disneyland, the self-titled Happiest Place on Earth. So Katy slipped on a floral playsuit and flowery headband and went for a walk with Mickey Mouse.

The Wide Awake singer first went to California Adventure to check out the new attractions before going to Disneyland and riding Bizz Lightyear Astro Blasters, Space Mountain, and Star Tours.

It seemed to do the trick, with Katy squealing with laughter on the rides. Katy certainly looked merrier, if posed to heck in a cute picture of her peeking from behind a menu wearing the classic mouse ears.

The lucky Disney fan rounded off her evening at Disney with dinner at the famous members-only Club 33. The five star restaurant is located behind a hidden door above the Blue Bayou restaurant in New Orleans Square.

The club was intended by Walt Disney as a place to entertain his friends and has played host to Presidents and the stars of the showbusiness world.

Not open to the public, it is the only place in Disneyland that alcohol is served, allowing Katy and her friends to have a cheeky drink – all the better to soothe her broken heart.
[From Daily Mail]
Now after Katy mends her broken heart (and she's had a bad year in the romance department), perhaps she'll run into Ryan Gosling at Disneyland one day. After all, it's his very favorite place for hot loving, and I know his fans are tired of seeing him with Eva Mendes, right? Maybe Katy would be a better option for him. Or maybe not.
Seriously though, that orange wig is awful. Katy needs a new gimmick besides just changing out her hair color.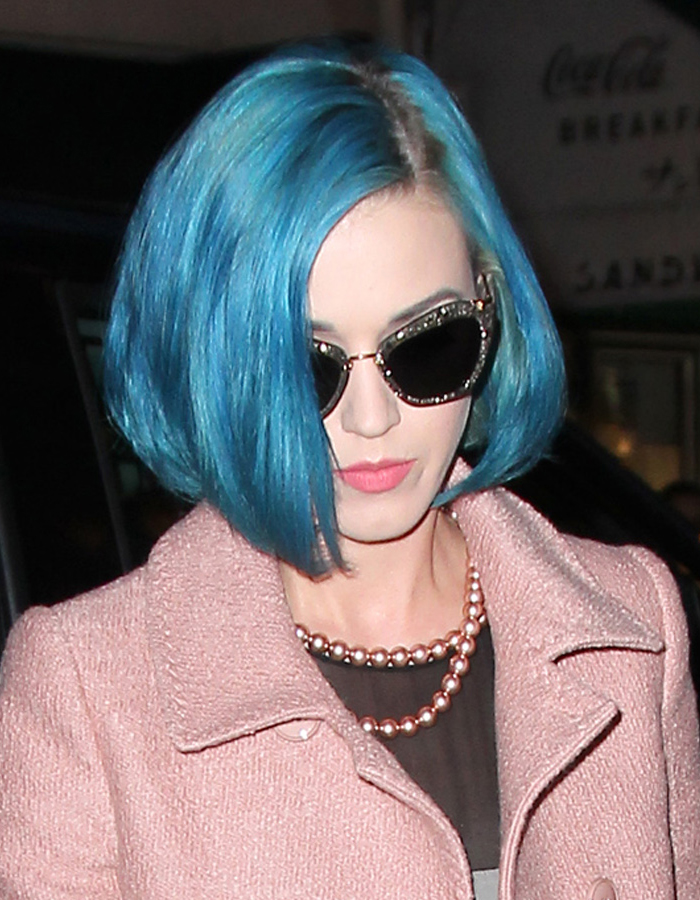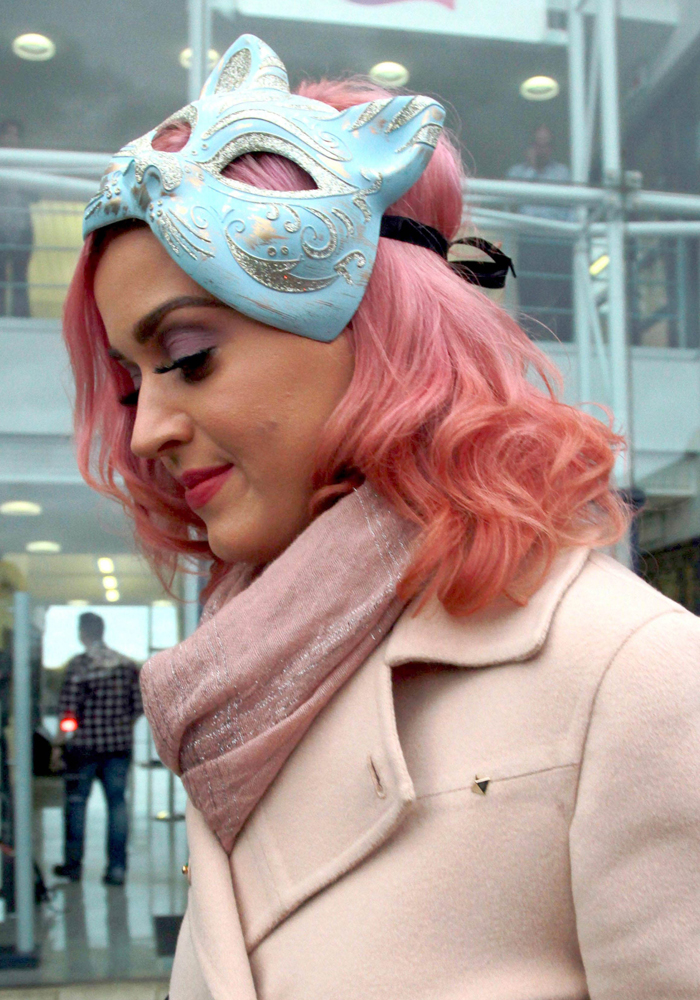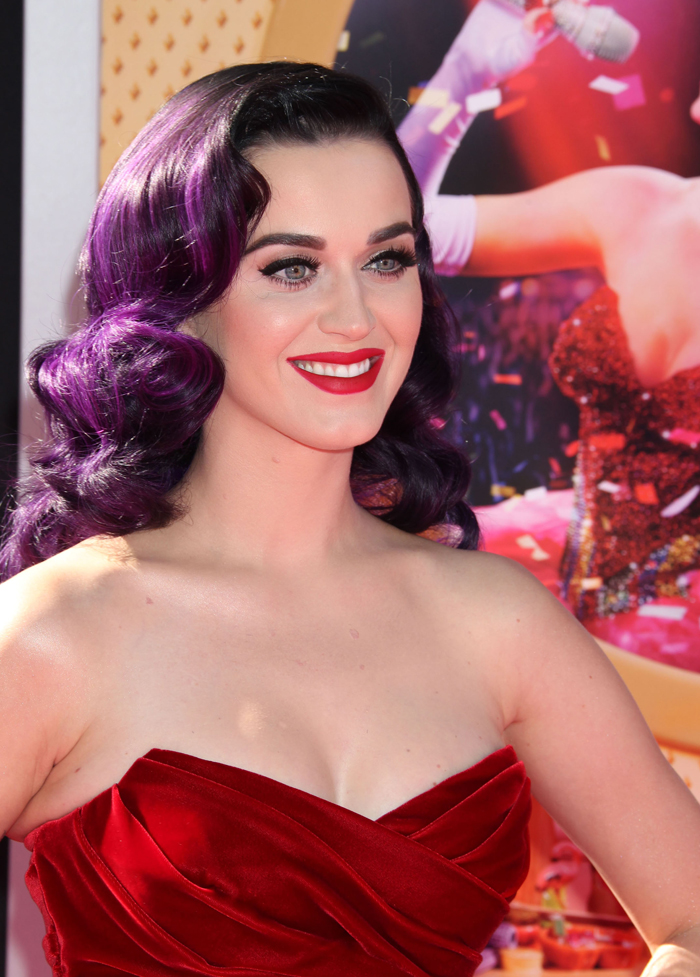 Photos courtesy of Fame/Flynet and L'Officiel
Written by Bedhead

Posted in Hair, Katy Perry

- Zach Galifianakis is awesome [Buzzfeed]
- Prince at the Billboard Music Awards [D-Listed]
- Bieber's Billboard look [Go Fug Yourself]
- Married to Medicine recap [Reality Tea]
- Celebrity first marriages [Pajiba]
- The last Mad Men baffled a lot of people [Lainey]
- Karolina Kurkova's crazy hot dress [Moe Jackson]
- Jennifer Garner on set [Popsugar]
- Kitten vs. Lizard [CDAN]
- Doetzen Kroes' great butt [Celebslam]
- Shameless star Jeremy Allen White [OMG Blog]
- RIP Ray Manzarek [Bossip]
29 Responses to "Katy Perry with orange hair in L'Officiel mag: fresh & inspired or awful?"